Announcement GETTING TO KNOW ME, SO YOU CAN TRUST ME

Hello folks, my name is Ron Snider; friends call me the Ole Woodcrafter.
My wife and I spend our days playing with our grandchildren and making our own brand of pet items and other such items as wooden Trashcans with personalized lids, personalized wood signs that are uniquely made, and other items.
Folks, I have been wood crafting for well over 40 years. My wife, who is also my best friend and high school sweet heart, has be putting up with me and still stands beside me to help produce these wonderful hand crafted items.
In years passed, we sold our items to folks here in the mountains of Virginia at craft festivals and craft fairs down the road in the Great Smoky Mountains.
As of 1999, we have been selling our items worldwide on major auction sites and our website http://www.olewoodcrafter.com/
My interest of course is woodworking and writing. We are now both retired, if there is such a thing... and still crafting from dawn to dark.
Folks, working with wood is in my blood and I mean that literally. My grandfathers on both sides of the family tree were carpenters, and one great grandfather ran his own sawmill.
And now I am really proud to say, our products are not made in another country, they are not bought out of a wholesale magazine, Or come from a drop shipping company where the price is raised and then sold.
We are truly an American made mom and pop shop that enjoys in doing what they do.
God bless and have a very good day
Rev. Ron Snider the Ole Woodcrafter
Ole Woodcrafter™ is now a trademarked name.
Ole Woodcrafter American Made Virginia crafted

****************** WHAT OTHERS ARE SAYING ABOUT HIS BOOKS ********************
Author Ron Snider's Epic Fantasy Series Wizards Of Covington Grabs Attention
Ron Snider, a popular epic fantasy American author, has recently come out with yet another book named, The Parallel Land, book two in the Wizards Of Covington Series under the fiction genre. Ron has been creating magic with his writings in the fiction, epic fantasy areas and has come out with stunning characterizations in his books so far. The Darkling War, book one in the series is one such book that takes one through to an entirely different world of fantasy and imagination. The book is all about the confrontations and war between the Darkling, an evil maniacal creature and the wizard Alistarr. The story takes interesting course and keeps the readers engaged all throughout. The Parallel Land, book two in the series is just as equally entertaining, as the wizard Alistarr is once again fighting the forces of evil that wish to own the Land and the races thereof.

Los Angeles, California, September 6, 2014 – Ron Snider, a well known and popular author in the fantasy genre, has recently published a new book by the name, The Darkling War. The book comes under fantasy, fiction genre and has received much attention and appreciations from all corners. The Darkling War has also won the praise of the critics as it turns out to be absolutely interesting fantasy story. Based on the war between good and evil, the book keeps up with the tempo of the readers from the beginning to the end. There are very few authors who have the ability to write in an excellent manner under the fantasy genre as Ron Snider. He has an impeccable talent to bring together logic and imagination in his writings which has brought in the interest of different spheres of readers.
Author Ron Snider is a famous American author, poet, internet entrepreneur and audio book author who has created his own style of writing. He is also known to be an excellent craftsman in crafting beautiful wooden items. Ron is known to have the writing style of J.R.R. Tolkien and C.S. Lewis and he ensures to keep the readers interested in the plot from the beginning to the end. His recent book The Parallel Land was recently published on May 23, 2016 and has been well received by avid readers all over the world. One of the readers, says, "Ron Snider has come out with a perfect fantasy and fiction plot that is captivating from the beginning till the end."
For more details regarding Author Ron Snider and his books The Darkling War and the Parallel Land visit us at: http://www.amazon.com/-/e/B00DJF6AIY
Announcement
Last updated on
Aug 17, 2016
GETTING TO KNOW ME, SO YOU CAN TRUST ME

Hello folks, my name is Ron Snider; friends call me the Ole Woodcrafter.
My wife and I spend our days playing with our grandchildren and making our own brand of pet items and other such items as wooden Trashcans with personalized lids, personalized wood signs that are uniquely made, and other items.
Folks, I have been wood crafting for well over 40 years. My wife, who is also my best friend and high school sweet heart, has be putting up with me and still stands beside me to help produce these wonderful hand crafted items.
In years passed, we sold our items to folks here in the mountains of Virginia at craft festivals and craft fairs down the road in the Great Smoky Mountains.
As of 1999, we have been selling our items worldwide on major auction sites and our website http://www.olewoodcrafter.com/
My interest of course is woodworking and writing. We are now both retired, if there is such a thing... and still crafting from dawn to dark.
Folks, working with wood is in my blood and I mean that literally. My grandfathers on both sides of the family tree were carpenters, and one great grandfather ran his own sawmill.
And now I am really proud to say, our products are not made in another country, they are not bought out of a wholesale magazine, Or come from a drop shipping company where the price is raised and then sold.
We are truly an American made mom and pop shop that enjoys in doing what they do.
God bless and have a very good day
Rev. Ron Snider the Ole Woodcrafter
Ole Woodcrafter™ is now a trademarked name.
Ole Woodcrafter American Made Virginia crafted

****************** WHAT OTHERS ARE SAYING ABOUT HIS BOOKS ********************
Author Ron Snider's Epic Fantasy Series Wizards Of Covington Grabs Attention
Ron Snider, a popular epic fantasy American author, has recently come out with yet another book named, The Parallel Land, book two in the Wizards Of Covington Series under the fiction genre. Ron has been creating magic with his writings in the fiction, epic fantasy areas and has come out with stunning characterizations in his books so far. The Darkling War, book one in the series is one such book that takes one through to an entirely different world of fantasy and imagination. The book is all about the confrontations and war between the Darkling, an evil maniacal creature and the wizard Alistarr. The story takes interesting course and keeps the readers engaged all throughout. The Parallel Land, book two in the series is just as equally entertaining, as the wizard Alistarr is once again fighting the forces of evil that wish to own the Land and the races thereof.

Los Angeles, California, September 6, 2014 – Ron Snider, a well known and popular author in the fantasy genre, has recently published a new book by the name, The Darkling War. The book comes under fantasy, fiction genre and has received much attention and appreciations from all corners. The Darkling War has also won the praise of the critics as it turns out to be absolutely interesting fantasy story. Based on the war between good and evil, the book keeps up with the tempo of the readers from the beginning to the end. There are very few authors who have the ability to write in an excellent manner under the fantasy genre as Ron Snider. He has an impeccable talent to bring together logic and imagination in his writings which has brought in the interest of different spheres of readers.
Author Ron Snider is a famous American author, poet, internet entrepreneur and audio book author who has created his own style of writing. He is also known to be an excellent craftsman in crafting beautiful wooden items. Ron is known to have the writing style of J.R.R. Tolkien and C.S. Lewis and he ensures to keep the readers interested in the plot from the beginning to the end. His recent book The Parallel Land was recently published on May 23, 2016 and has been well received by avid readers all over the world. One of the readers, says, "Ron Snider has come out with a perfect fantasy and fiction plot that is captivating from the beginning till the end."
For more details regarding Author Ron Snider and his books The Darkling War and the Parallel Land visit us at: http://www.amazon.com/-/e/B00DJF6AIY No items listed at this time
Reviews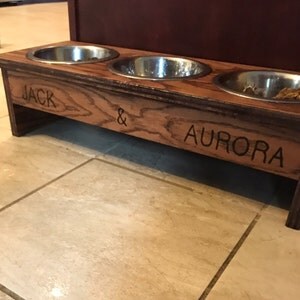 Love it! Shipping was fast and it came in perfect condition.

Great communication, made this bowl really quickly, shipped quickly and it came out beautiful for my cats. Can't beat the price either!

Shop policies
Last updated on
September 6, 2014
Accepted payment methods
Accepts Etsy Gift Cards and Etsy Credits
Payment
Folks for payment, we accept all credit cards through pay pal
Shipping
We use USPS for shipping. We ship every day except on Sunday, USPS is off on Sunday ... they are, we are not.
Additional policies and FAQs
Hello again, here are some answers to common questions.
We do not do wholesale or consignment, we stay busy as it is.
Yes, the wife and I do all the crafting, boxing the items, and taking the items to the post office.
Items are shipped in or within 5 business days.
We do not paint the items, only the staining.