Announcement BACK TO SCHOOL SALE 10% OFF ALL ITEMS IN SHOP FOR LIMITED TIME.
SEE ALSO CLEARANCE SECTION FOR UP TO 50% MORE OFF ON SELECTED ITEMS

LOWEST SHIPPING COST POLICY. Our business is focused on selling vintage bags. We are offended when we discover a merchant is trying to profit from shipping and handling. We have no desire to profit on shipping and handling. If you place a bag in your cart and the amount for shipping calculated looks too high contact us and we will double check the charge. If it's too high and you haven't purchased yet, we will revise the listing and reserve it for you at the correct shipping charge or, you can make the purchase and we will refund the overcharge amount. We will also issue a refund if there is a substantial shipping overage even if you didn't notice the shipping was too high. We use the Etsy shipping calculator. In most cases this results in lower shipping costs but sometimes calculated shipping is higher than the actual cost of shipping. When the overage is substantial we refund it to you. On international shipments the buyer is responsible for any tariff or customs charge. A tariff or customs charge is not a shipping charge but a tax imposed on the buyer by his or her country and the buyer is responsible for any such charge.

RETURN POLICY
Any item may be returned to seller postmarked within 10 days of delivery date shown in USPS tracking. If the item is shipped by 10th day after delivery Seller will issue a full refund of item price if item is returned in same condition it was in when seller shipped. Buyer must pay for all shipping unless the item delivered had a substantial defect not described in the listing or shown not to be authentic with competent evidence.

GUARANTEED AUTHENTIC OR ALL MONEY BACK. We use multiple procedures to assure the products we sell are authentic. One procedure we use is to research authenticity through vintage manufacturer catalogs and to report our research in the listing. Sometimes we include a snippet from the catalog to corroborate our research. The purpose of reporting what the manufacturer says about its product in the catalog is to verify our research on the authenticity and to educate you about how a vintage product was portrayed in the past. It is not intended to hold our shop out as a representative of the manufacturer.

In spite of our efforts to authenticate sometimes a counterfeiter may fool us or our experts. Therefore, we guarantee that if we sell you a product represented to be manufactured by a reputable company like Coach, Cole Haan, Dooney & Bourke, Christian Dior, Hartmann, Gucci, or any other company and you have competent evidence the product is not authentic we will refund your purchase price and delivery cost. In addition, we will pay for return postage.

PEOPLE POTS. Many of our listings have a ceramic character holding the bag, strap or handle. These guys are known as "People Pots". They were the created by potter Bob Black who sold his People Pots at the Ann Arbor Art Fair and elsewhere around Michigan in the 1970's and 1980's. My People Pots are not for sale but I think they add vintage charm to our bags and provide perspective. They are all around 18 inches tall and 3" to 4" at the base so they will give you some sense of the size of the bag you're looking at. Bob passed away at an early age but you can read more about him here: http://www.artfairinsiders.com/forum/topics/in-memoriam-bob-black-people-pots

ProVintageGear was created by a vintage attorney who has been looking at 'lawyer gear' since 1976. The shops creator, Greg collects and sells vintage leather briefcases, attaches, bags, and other professional gear that can be used by all working people. His collection grew to the point where he needed to sell off some of his pieces. To bring in a larger variety of vintage products he convinced his wife Ann, who is also an attorney, to let him sell some of the handbags, purses and totes from her collection. Since then they have continued collecting and adding their collection to their shop.

Manufacturers include Coach, Cole Haan, Fossil, Hartmann, Hidesign, Pegasus, Christian Dior, Dooney & Bourke, Bonnie Cashin for Coach, Bonnie Cashin for Meyer, Pegasus, Homa, Goldpfeil, Renwick, The Leather Specialty Co., Korchmar, George Jacobs, L.L. Bean, Gucci, Louis Viutton and other well known companies. But, now and then, you will see a product that has no identifiable manufacturer but was too neat to pass up.

ProVintageGear's IT'S THE REAL THING PLEDGE: If we sell it, it's the real thing. We guarantee it's the real thing or you get your money back including your delivery costs.

The Deerasaurus is not for sale.

Greg
Announcement
Last updated on
Aug 4, 2017
BACK TO SCHOOL SALE 10% OFF ALL ITEMS IN SHOP FOR LIMITED TIME.
SEE ALSO CLEARANCE SECTION FOR UP TO 50% MORE OFF ON SELECTED ITEMS

LOWEST SHIPPING COST POLICY. Our business is focused on selling vintage bags. We are offended when we discover a merchant is trying to profit from shipping and handling. We have no desire to profit on shipping and handling. If you place a bag in your cart and the amount for shipping calculated looks too high contact us and we will double check the charge. If it's too high and you haven't purchased yet, we will revise the listing and reserve it for you at the correct shipping charge or, you can make the purchase and we will refund the overcharge amount. We will also issue a refund if there is a substantial shipping overage even if you didn't notice the shipping was too high. We use the Etsy shipping calculator. In most cases this results in lower shipping costs but sometimes calculated shipping is higher than the actual cost of shipping. When the overage is substantial we refund it to you. On international shipments the buyer is responsible for any tariff or customs charge. A tariff or customs charge is not a shipping charge but a tax imposed on the buyer by his or her country and the buyer is responsible for any such charge.

RETURN POLICY
Any item may be returned to seller postmarked within 10 days of delivery date shown in USPS tracking. If the item is shipped by 10th day after delivery Seller will issue a full refund of item price if item is returned in same condition it was in when seller shipped. Buyer must pay for all shipping unless the item delivered had a substantial defect not described in the listing or shown not to be authentic with competent evidence.

GUARANTEED AUTHENTIC OR ALL MONEY BACK. We use multiple procedures to assure the products we sell are authentic. One procedure we use is to research authenticity through vintage manufacturer catalogs and to report our research in the listing. Sometimes we include a snippet from the catalog to corroborate our research. The purpose of reporting what the manufacturer says about its product in the catalog is to verify our research on the authenticity and to educate you about how a vintage product was portrayed in the past. It is not intended to hold our shop out as a representative of the manufacturer.

In spite of our efforts to authenticate sometimes a counterfeiter may fool us or our experts. Therefore, we guarantee that if we sell you a product represented to be manufactured by a reputable company like Coach, Cole Haan, Dooney & Bourke, Christian Dior, Hartmann, Gucci, or any other company and you have competent evidence the product is not authentic we will refund your purchase price and delivery cost. In addition, we will pay for return postage.

PEOPLE POTS. Many of our listings have a ceramic character holding the bag, strap or handle. These guys are known as "People Pots". They were the created by potter Bob Black who sold his People Pots at the Ann Arbor Art Fair and elsewhere around Michigan in the 1970's and 1980's. My People Pots are not for sale but I think they add vintage charm to our bags and provide perspective. They are all around 18 inches tall and 3" to 4" at the base so they will give you some sense of the size of the bag you're looking at. Bob passed away at an early age but you can read more about him here: http://www.artfairinsiders.com/forum/topics/in-memoriam-bob-black-people-pots

ProVintageGear was created by a vintage attorney who has been looking at 'lawyer gear' since 1976. The shops creator, Greg collects and sells vintage leather briefcases, attaches, bags, and other professional gear that can be used by all working people. His collection grew to the point where he needed to sell off some of his pieces. To bring in a larger variety of vintage products he convinced his wife Ann, who is also an attorney, to let him sell some of the handbags, purses and totes from her collection. Since then they have continued collecting and adding their collection to their shop.

Manufacturers include Coach, Cole Haan, Fossil, Hartmann, Hidesign, Pegasus, Christian Dior, Dooney & Bourke, Bonnie Cashin for Coach, Bonnie Cashin for Meyer, Pegasus, Homa, Goldpfeil, Renwick, The Leather Specialty Co., Korchmar, George Jacobs, L.L. Bean, Gucci, Louis Viutton and other well known companies. But, now and then, you will see a product that has no identifiable manufacturer but was too neat to pass up.

ProVintageGear's IT'S THE REAL THING PLEDGE: If we sell it, it's the real thing. We guarantee it's the real thing or you get your money back including your delivery costs.

The Deerasaurus is not for sale.

Greg No items listed at this time
Reviews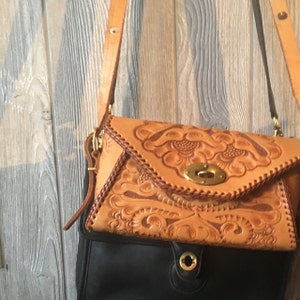 These bags are super clean and cute!

This was my very first vintage purchase ever and I was very happy with the quality of the Coach leather, and mostly with the service and support from Greg. Just a tip for other buyers new to the vintage market: just beware that the items are of vintage nature and may have some scuffs and scratches, so just message Greg beforehand for more photos if you are unsure and want to see the item more clearly... for me, this review loses one star due to having a shallow but long scratch on the bag which I could not see on the listed photos. To be fair, I should have asked for more photos. Once Greg was aware of my issue, he went above and beyond to help me fix it, which I now have with additional leather conditioner products. He was a great help and highly recommend for repurchase! Thanks Greg and ProVintageGear!

Greg was fast to answer any questions, and the bag arrived quickly and was just as described. I couldn't be happier with the bag or with my interactions with Greg and ProVintageGear!
About
So..What's an Attorney Doing Selling Briefcases? ' I Went a Little Overboard with My Collecting
I guess you might say I'm a vintage attorney who has been looking at 'lawyer gear' since 1976. I collect and sell vintage briefcases, attaches, and bags.

I really am a practicing attorney... In fact I will start my 42nd year of practice in November which means I easily meet the 20 years old or more Etsy vintage standard. As proof, I have posted a photo of myself lawyering in black and white as well as a photo of me and my son, also an attorney, speaking to High School students at an annual law day jury selection demonstration. No gear in these photos because they weren't staged to sell briefcases. If you want to see my briefcases and other gear you need to browse my shop ProVintageGear.

So you may ask, 'If you are a lawyer why aren't you practicing law instead of selling vintage bags? Good question.

Next question......Just kidding, I'm still practicing law but these days I am having a lot of fun learning about old bags. Must be that time of life.

The way this started was I decided my nylon trial briefcases were no longer the way to go because they retain a lot of dust and dirt and are difficult to clean. On top of that they are ugly... I had owned some pretty nifty leather briefcases over the years so I got the idea of looking for an older leather briefcases to replace the nylon cases. Found this great vintage Pegasus leather XXL trial case. But then I saw a vintage Hartmann briefcase which was not something I was familiar with but I really thought the case looked great so I bought that and got a pretty good deal on it. This started a domino effect and I purchased another, and another, and another and then suddenly I was buying all makes and models of vintage briefcases like Coach , Hartmann, Dooney and Bourke, Hidesign, Goldpfeil, Tumi, just because I thought they had ten times the class of most of the mass produced new stuff on sale these days and cost much less...even though many of these briefcases have what is called a 'distressed look' to me a distressed bag portrays character. Some of the best trial attorneys I know have old leather briefcases and their briefcases are the ones I remember. Anyway, I digress...

After this failure on my part to respect the virtues of moderation, I began to count my briefcases and realized I would never need them all. So I got this idea of creating a shop on Etsy to sell some of them and use some of the money to offset the cost of the ones I wanted to keep. I set up this Etsy site in one evening with the idea that it would specialize in selling vintage briefcases and other vintage gear for professionals. ( I use the term professional in what I believe is the best sense to refer to anyone working in a job requiring a skill who focuses on using their knowledge and skills to achieve the best possible result . )

After awhile I started adding other kinds of vintage Coach bags, not just briefcases, and that brought in a bunch of "Coach enthusiasts" into my shop. I have discovered many of these enthusiasts also fail to respect the virtues of moderation when looking for a deal on an old bag. Some of those enthusiasts have since become my Coach mentors who advance my knowledge of Coach bags. So I started adding vintage Coach bags to my inventory. Once I started adding vintage Coach, I added other companies like Dooney & Bourke and Fossil and the number of people browsing began to soar.

When I opened this shop my intent was to sell off my excess bags and close up but that changed. Instead, I have continued shopping for vintage leather bags, learning about their creators and listing them along with some of what I learned. You will notice that in my listings which can be as long winded as this narrative.

So that's how it all started. I have been increasing my inventory since then and I'm having a great time buying and selling vintage bags. Please visit my shop and browse all you want.

Greg
Shop members
Greg Gibbs

Owner, Customer Service, Photographer

My name is Greg. A practicing lawyer since 1976, I collect and sell vintage leather gear. ProVintageGear is for professionals looking for leather gear projecting experience and not a rung on a social ladder. I hope you enjoy the selection. Greg
Shop policies
Last updated on
March 7, 2017
I don't know about you but when I price new brand name briefcases,attaches ,bags and other leather accessories and compare them to similar vintage products selling for a fraction of the cost I am inclined to shake my head with wonder that anyone would buy new.

Vintage leather accessories may have scars, scratches, mars or wrinkles but this is seen by some premier leather manufacturers as a sign of quality. As the Coach creed reminds us "scars, scratches, veins and wrinkles are natural markings of full grain leather".

I am drawn to vintage because of the scars, scratches, and wrinkles in professional leather gear. They tell me the professional I hired is experienced and values substance over form. If you share these values you should take a look at the professional gear we feature in our store.
Accepted payment methods
Accepts Etsy Gift Cards and Etsy Credits
Payment
•Payment: Payment may be made by credit cards accepted by Etsy or by Paypal. The permissible methods of payment will be offered when you place the item you select in your cart. Sales taxes are assessed for Michigan residents.
Shipping
•Shipping costs are based on USPS Flat Rates for Domestic or International. We pass on the discounted rate Etsy gives us to our buyers. If you would like different shipping we will agree to provide the shipping you specify at the rate we are charged. If you purchase more than one item we are more than happy to combine shipping and pass on the savings to you.
Refunds and Exchanges
•We do our best to describe each item but please feel free to ask questions . All items are pre-owned and are vintage. All items are AS IS meaning they may not be perfect or may have defects. We do miss things from time to time so please scrutinize each photo with the zoom feature and let us know if you see something we don't have in the description.

•If for some reason the product you receive is not what was pictured or there is a substantial defect not mentioned in the description we will refund the purchase price and our shipping charge if you return the product.

IT'S THE REAL THING PLEDGE. If we sell it, it's the real thing. We guarantee it's the real thing or you get your money back including your delivery costs we this pledge:

GUARANTEED AUTHENTIC OR ALL MONEY BACK. We understand there are counterfeits and knockoffs of vintage products by well known manufacturers for sale all over the internet and in other market places. We use multiple procedures to assure the products we sell are authentic. One procedure we use is to research authenticity through vintage manufacturer catalogs and to report our research in the listing. Sometimes we include a snippet from the catalog to corroborate our research and educate you about the history of the bag. The purpose of reporting what the manufacturer says about its product in the catalog is to verify our research on the authenticity and to educate you about how a vintage product was portrayed in the past. It is not intended to hold our shop out as a representative of the manufacturer. However, if it turns out we are wrong or our research is not correct we guarantee that if we sell you a product represented to be manufactured by a reputable company like Coach, Cole Haan, Ghurka, Filson, Christian Dior, Hartmann, Gucci, or any other company and you have competent evidence that the product is not authentic we will refund your purchase price and delivery cost. In addition, we will pay for return postage.