Announcement Thank you to everyone that has supported over this years I've been working 14 hours a day for weeks straight, and I thank you all for your orders. Each order here helps to put food on our table and presents under our tree. Thank you for your patience - you're all great! If you have any questions, just ask!

Fan us on Facebook or instagram to be the first to see even more Special Deals!!
http://www.facebook.com/RockerByeBabyFans www.instagram.com/rockerbyebaby

<3 the RockerByeBaby Crew
☆☆☆☆☆☆☆☆☆☆☆☆☆☆☆☆☆☆☆☆☆☆☆☆☆☆☆☆☆☆☆☆☆☆☆☆☆☆☆☆☆☆☆☆☆☆

If you are in a MAJOR hurry for something, just shoot me a message and we will see what we can do :) Other than that all "in stock" items will ship between within about 7-10 days... all custom items ship within around 4 weeks... and for crib & toddler bedding which ships in about 12 weeks. Which brings me to... CRIB BEDDING!! YAY!! CURRENTLY WE ARE ON AN APPROXIMATE 12 WEEK WAIT LIST FOR BEDDING. WE REQUIRE A 50% DEPOSIT OR PAID IN FULL TO ADD YOUR NAME TO THE "NEXT IN LINE" LIST... WE ORDER YOUR FABRIC SO EVERYTHING IS READY WHEN YOUR UP. PLEASE MESSAGE ME WITH ANY QUESTIONS AT ALL.
THANKS!
AMBER
☆☆☆☆☆☆☆☆☆☆☆☆☆☆☆☆☆☆☆☆☆☆☆☆☆☆☆☆☆☆☆☆☆☆☆☆☆☆☆☆☆☆☆☆☆☆
RockerByeBaby is proud to have been featured in:
Celebrity gifting/customers:
Josh Cain - Motion City Soundtrack
Brendan Kelly - The Lawrence Arms
Tom Gabel - Against Me!
Tori Spelling
The "Guncles" Scout & Bill
Dallon Weekes - Panic! At the Disco
Nicole Richie
Kourtney Kardashian
Ashlee Simpson
Gwen Stefani
Jessica Alba
Brooke Burke
Jennie Garth
In Pregnancy Magazine for crib bedding we gifted to Angie Everhart!!!
*see our press page for pictures at rockerbyebaby.com
*KEEP YOUR EYES PEELED FOR THESE CELEBS WITH ROCKERBYEBABY!
☆☆☆☆☆☆☆☆☆☆☆☆☆☆☆☆☆☆☆☆☆☆☆☆☆☆☆☆☆☆☆☆☆☆☆☆☆☆☆☆☆☆☆☆☆☆
RockerByeBaby is proud to have been featured on:
http://blogs.babycenter.com/life_and_home/haute-or-horrible-goth-garish-and-ghoulish-nurseries/#comment-939005
http://getyourbizsavvy.com/2010/05/interview-with-amber-zrust-of-rockerbyebaby/
http://offbeatmama.com/2010/05/nursery-walk-in-closet
http://barleyandbirch.blogspot.com/2009/12/who-amber-what-owner-of-rockerbyebaby.html
www.offbeatmama.com/2009/10/punk-baby-blankets
www.offbeatbride.com/2009/10/amber-zaqs-punk-rock-trashy-classy-diy-damask-wedding#more-3149
www.CafeHandmade.com
WWW.aPsychMommy.com
http://cuteable.com/cuteable-guest-editor-andreanna-from-glamasaurus/6886
www.LifeStarringEllieAndEve.com
www.HeadQuest.com
www.MinneapolisPicks.com
www.lipglossandrazorblades.blogspot.com
www.aMominRedHeels.com
www.stylecafemoms.com
www.MomSpark.com
and many... MANY more!
☆☆☆☆☆☆☆☆☆☆☆☆☆☆☆☆☆☆☆☆☆☆☆☆☆☆☆☆☆☆☆☆☆☆☆☆☆☆☆☆☆☆☆☆☆☆
*email: RockerByeBaby [!at] gmail.com
*website: www.RockerByeBaby.com
*twitter: www.twitter.com/RockerByeBaby
*blog: www.PunkRockerByeBaby.blogspot.com
☆☆☆☆☆☆☆☆☆☆☆☆☆☆☆☆☆☆☆☆☆☆☆☆☆☆☆☆☆☆☆☆☆☆☆☆☆☆☆☆☆☆☆☆☆☆
MEMBER OF THE ETSYKIDS STREET TEAM - Please visit other EtsyKids Street Team shops, by searching the tag "EtsyKids team Cen"!
MEMBER OF THE ETSYDARKSIDE STREET TEAM - Please visit other EtsyDarkSide Street Team shops, by searching the tag "EtsyDarkTeam"!
www.etsydarkteam.webs.com
☆☆☆☆☆☆☆☆☆☆☆☆☆☆☆☆☆☆☆☆☆☆☆☆☆☆☆☆☆☆☆☆☆☆☆☆☆☆☆☆☆☆☆☆☆☆
Announcement
Last updated on
Jul 12, 2016
Thank you to everyone that has supported over this years I've been working 14 hours a day for weeks straight, and I thank you all for your orders. Each order here helps to put food on our table and presents under our tree. Thank you for your patience - you're all great! If you have any questions, just ask!

Fan us on Facebook or instagram to be the first to see even more Special Deals!!
http://www.facebook.com/RockerByeBabyFans www.instagram.com/rockerbyebaby

<3 the RockerByeBaby Crew
☆☆☆☆☆☆☆☆☆☆☆☆☆☆☆☆☆☆☆☆☆☆☆☆☆☆☆☆☆☆☆☆☆☆☆☆☆☆☆☆☆☆☆☆☆☆

If you are in a MAJOR hurry for something, just shoot me a message and we will see what we can do :) Other than that all "in stock" items will ship between within about 7-10 days... all custom items ship within around 4 weeks... and for crib & toddler bedding which ships in about 12 weeks. Which brings me to... CRIB BEDDING!! YAY!! CURRENTLY WE ARE ON AN APPROXIMATE 12 WEEK WAIT LIST FOR BEDDING. WE REQUIRE A 50% DEPOSIT OR PAID IN FULL TO ADD YOUR NAME TO THE "NEXT IN LINE" LIST... WE ORDER YOUR FABRIC SO EVERYTHING IS READY WHEN YOUR UP. PLEASE MESSAGE ME WITH ANY QUESTIONS AT ALL.
THANKS!
AMBER
☆☆☆☆☆☆☆☆☆☆☆☆☆☆☆☆☆☆☆☆☆☆☆☆☆☆☆☆☆☆☆☆☆☆☆☆☆☆☆☆☆☆☆☆☆☆
RockerByeBaby is proud to have been featured in:
Celebrity gifting/customers:
Josh Cain - Motion City Soundtrack
Brendan Kelly - The Lawrence Arms
Tom Gabel - Against Me!
Tori Spelling
The "Guncles" Scout & Bill
Dallon Weekes - Panic! At the Disco
Nicole Richie
Kourtney Kardashian
Ashlee Simpson
Gwen Stefani
Jessica Alba
Brooke Burke
Jennie Garth
In Pregnancy Magazine for crib bedding we gifted to Angie Everhart!!!
*see our press page for pictures at rockerbyebaby.com
*KEEP YOUR EYES PEELED FOR THESE CELEBS WITH ROCKERBYEBABY!
☆☆☆☆☆☆☆☆☆☆☆☆☆☆☆☆☆☆☆☆☆☆☆☆☆☆☆☆☆☆☆☆☆☆☆☆☆☆☆☆☆☆☆☆☆☆
RockerByeBaby is proud to have been featured on:
http://blogs.babycenter.com/life_and_home/haute-or-horrible-goth-garish-and-ghoulish-nurseries/#comment-939005
http://getyourbizsavvy.com/2010/05/interview-with-amber-zrust-of-rockerbyebaby/
http://offbeatmama.com/2010/05/nursery-walk-in-closet
http://barleyandbirch.blogspot.com/2009/12/who-amber-what-owner-of-rockerbyebaby.html
www.offbeatmama.com/2009/10/punk-baby-blankets
www.offbeatbride.com/2009/10/amber-zaqs-punk-rock-trashy-classy-diy-damask-wedding#more-3149
www.CafeHandmade.com
WWW.aPsychMommy.com
http://cuteable.com/cuteable-guest-editor-andreanna-from-glamasaurus/6886
www.LifeStarringEllieAndEve.com
www.HeadQuest.com
www.MinneapolisPicks.com
www.lipglossandrazorblades.blogspot.com
www.aMominRedHeels.com
www.stylecafemoms.com
www.MomSpark.com
and many... MANY more!
☆☆☆☆☆☆☆☆☆☆☆☆☆☆☆☆☆☆☆☆☆☆☆☆☆☆☆☆☆☆☆☆☆☆☆☆☆☆☆☆☆☆☆☆☆☆
*email: RockerByeBaby [!at] gmail.com
*website: www.RockerByeBaby.com
*twitter: www.twitter.com/RockerByeBaby
*blog: www.PunkRockerByeBaby.blogspot.com
☆☆☆☆☆☆☆☆☆☆☆☆☆☆☆☆☆☆☆☆☆☆☆☆☆☆☆☆☆☆☆☆☆☆☆☆☆☆☆☆☆☆☆☆☆☆
MEMBER OF THE ETSYKIDS STREET TEAM - Please visit other EtsyKids Street Team shops, by searching the tag "EtsyKids team Cen"!
MEMBER OF THE ETSYDARKSIDE STREET TEAM - Please visit other EtsyDarkSide Street Team shops, by searching the tag "EtsyDarkTeam"!
www.etsydarkteam.webs.com
☆☆☆☆☆☆☆☆☆☆☆☆☆☆☆☆☆☆☆☆☆☆☆☆☆☆☆☆☆☆☆☆☆☆☆☆☆☆☆☆☆☆☆☆☆☆
Reviews
Love the print I picked and the minky underside is so soft. My only complaint is it's a little tough getting on the boppy.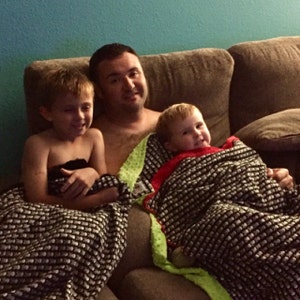 My guys love their skull minky blankets! The most recent arrival was for my husband and he loves the neon green minky dot. We leave all our custom needs to Rockerbyebaby and are never disappointed. 💙☠️🤘🏻
About
Everything in STOCK for your baby to ROCK.
Tell me a little about the shop- how and why you started it?
My whole life all I wanted was to be a stay at home mom. After high school, assuming I was years away from that I started college at Bradley University towards a degree in Psychology with a minor in Sociology and Criminal Justice. Three years in and just one year from finished, I met my handsome husband and plans changed. We had our first son Izzaq then just 11 months after that, we had Zavery. I had tried going back to work a couple times, but it just never worked out right... I needed to be home with my kids... so I found a way. We're a punk rock family and I was constantly trying to find cool things for them (and at the time it wasn't trendy like it is now)... the best options out there were low quality onesies for SUPER high prices from specialty stores. I knew there had to be a better option, so I started making things myself. I bought a cheap sewing machine and just started playing around... small things, bibs, blankets and appliqued onesies... I had gotten SO MANY compliments and requests to make things for friends that I decided maybe I could start selling it. That was 2007... its now 2013 and my little hobby has turned into a full fledged business that is now working to support our family and keep our punk rock daddy home... writing songs and hanging with his kids (including new baby girl Rozzlyn).
Shop members
Amber Zrust

Owner, Maker, Designer, Curator, ...and Mom :)

Thats right, we're real people over here at RockerByeBaby... The only machines working on your products are the ones that I sit behind in my home office. Usually with a baby in a pouch on my chest, two boys running around and daddy playing guitar.
Shop policies
Last updated on
Jul 12, 2016
Shipping
Processing time
The time I need to prepare an order for shipping varies. For details, see individual items.
Optional
Estimated shipping times
I'll do my best to meet these shipping estimates, but cannot guarantee them. Actual delivery time will depend on the shipping method you choose.
Selling to Europe? Make sure to let buyers know when they can expect to receive their order.
Customs and import taxes
Buyers are responsible for any customs and import taxes that may apply. I'm not responsible for delays due to customs.
Payment options
Secure options
Etsy keeps your payment information secure. Etsy shops never receive your credit card information.
Other options
Etsy can't guarantee the security of these options. For details on how to pay with these methods, contact me.
Returns & exchanges
I gladly accept exchanges
I accept the following
Just contact me within:
14 days of delivery
Ship items back to me within:
30 days of delivery
Just contact me within:
days of delivery
Ship items back to me within:
days of delivery
The number of days a buyer has to ship an item back must be greater than the number of days a buyer has to contact you
Don't accept returns or exchanges?
Even if you don't accept returns or exchanges, buyers can still file cases in certain circumstances.
Learn more about cases
Shipping to Europe?
EU buyer protection laws allow European residents to return items by contacting the seller within 14 days. We recommend you accept returns.
Learn more
I don't accept returns or cancellations
But please contact me if you have any problems with your order.
The following items can't be returned or exchanged
Because of the nature of these items, unless they arrive damaged or defective, I can't accept returns for:
Custom or personalized orders
Perishable products (like food or flowers)
Digital downloads
Intimate items (for health/hygiene reasons)
Items on sale
Custom or personalized orders
Perishable products (like food or flowers)
Intimate items (for health/hygiene reasons)
Conditions of return
Buyers are responsible for return shipping costs. If the item is not returned in its original condition, the buyer is responsible for any loss in value.
Questions about your order?
Please if you have any problems with your order.
Privacy policy
I will only use your shipping and billing address, and contact information
Etsy prohibits the use of buyer information for unsolicited messages. See our
Privacy Policy
for more info.
To communicate with you about your order
To fulfill your order
For legal reasons (like paying taxes)
More information
Last updated on
Jul 12, 2016
Frequently asked questions
Custom and personalized orders
Turnaround time estimates:
In stock: 7-10 days (usually sooner, but life does happen)
Most customs/made to order: 4 weeks
Crib bedding: ships in 12 weeks from the order date.

Just reach out, we have rush options if needed.