Announcement I have a passion (some say obsession) for up-cycling antique and vintage jewelry.
An older piece of jewelry that has seen better times, speaks to me and is a challenge to me. I always try to make it more appealing. Getting it out of the junk drawer, rather than in it gathering dust.
I have bought new components and created some custom looks all my own. I always prefer one of a kind in my own life, so choose to do only one of a kind pieces. I feel it's more special if there is only one~
I lean towards the Art Nouveau/Victorian period, but occasionally do a funky piece...mood swings?
If you have an old piece of jewelry and imagine it being something else, email me and I bet we can combine our creativity and make it something you want to wear now.
I am completely self-taught, so far from an expert. But I love to learn, knowledge is power.
I try to keep my prices low and I take very little for my time, I love it, so it doesn't feel like work. Some of the vintage jewels I buy are not cheap so if it seems a high price, it's due to my investment. Feel free to convo me for any reason~
My artistic passion has been with me for as long as I can remember...
As an adult I started a business in 1982 as a miniature sculptor. I used several different mediums, porcelain, polymer and paper clay...wood in various forms.
With a lot of practice, I got pretty good and I had a pretty strong following of loyal clientele, in time they became my friends.
My forte was micro-miniature, 1/8 inch scale. On a few occasions at shows I won "Smallest Teddy Bear" award and my work was featured in several Miniature Magazines with photos of my tiny vignettes. I had so many great fans and a few often said, "you should make jewelry" I guess it stayed in my subconscious, until now~
Move forward to 2005 and arthritis in my hands made it impossible to continue sculpting my teeny tiny treasures. My dexterity for itty-bitty was all but gone. I was pretty bummed about not being able to create my teensy sculptures, but I convinced myself I just needed to find another passion. I'm pretty sure I have..."you should make jewelry"...
Now that my shop has been open for a while, I want to thank all of you for loving and purchasing my pieces. Thank you so much for all the kind and thoughtful things people say about my work, and please, take a peek~
Announcement
Last updated on
Aug 29, 2016
I have a passion (some say obsession) for up-cycling antique and vintage jewelry.
An older piece of jewelry that has seen better times, speaks to me and is a challenge to me. I always try to make it more appealing. Getting it out of the junk drawer, rather than in it gathering dust.
I have bought new components and created some custom looks all my own. I always prefer one of a kind in my own life, so choose to do only one of a kind pieces. I feel it's more special if there is only one~
I lean towards the Art Nouveau/Victorian period, but occasionally do a funky piece...mood swings?
If you have an old piece of jewelry and imagine it being something else, email me and I bet we can combine our creativity and make it something you want to wear now.
I am completely self-taught, so far from an expert. But I love to learn, knowledge is power.
I try to keep my prices low and I take very little for my time, I love it, so it doesn't feel like work. Some of the vintage jewels I buy are not cheap so if it seems a high price, it's due to my investment. Feel free to convo me for any reason~
My artistic passion has been with me for as long as I can remember...
As an adult I started a business in 1982 as a miniature sculptor. I used several different mediums, porcelain, polymer and paper clay...wood in various forms.
With a lot of practice, I got pretty good and I had a pretty strong following of loyal clientele, in time they became my friends.
My forte was micro-miniature, 1/8 inch scale. On a few occasions at shows I won "Smallest Teddy Bear" award and my work was featured in several Miniature Magazines with photos of my tiny vignettes. I had so many great fans and a few often said, "you should make jewelry" I guess it stayed in my subconscious, until now~
Move forward to 2005 and arthritis in my hands made it impossible to continue sculpting my teeny tiny treasures. My dexterity for itty-bitty was all but gone. I was pretty bummed about not being able to create my teensy sculptures, but I convinced myself I just needed to find another passion. I'm pretty sure I have..."you should make jewelry"...
Now that my shop has been open for a while, I want to thank all of you for loving and purchasing my pieces. Thank you so much for all the kind and thoughtful things people say about my work, and please, take a peek~ No items listed at this time
Reviews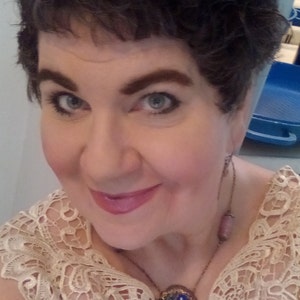 This necklace is amazing, very talented seller😊😊

I love the gorgeous pink and crystal lovelies and the very pretty drop design of the centrepiece. A most beautiful Grandmother-to-be jewel that I shall very much enjoy wearing to my special occasion. Thankyou so much Debra from Annie (Australia)

Debra, I cannot begin to describe to you how I felt when I opened the box of my Mother's Day gift necklace. It is more lovely than I could have possibly imagined , stunning beyond words. I adore it. I'm not sure you are going to be able to surpass this beauty. From Annie (Australia)
About
Upcycled Jewels and original jewelry designs, Come see~
My artistic passion has been with me for as long as I can remember...
As an adult I started a business in 1982 as a miniature sculptor. I used several different mediums, porcelain, polymer and paper clay...wood in various forms.
With a lot of practice, I got pretty good and I had a pretty strong following of loyal clientele, in time they became my friends.
My forte was micro-miniature, 1/8 inch scale. On a few occasions at shows I won "Smallest Teddy Bear" award and my work was featured in several Miniature Magazines with photos of my tiny vignettes.
Move forward to 2005 and arthritis in my hands made it impossible to continue sculpting my teeny tiny treasures. My dexterity for itty-bitty was all but gone. I was pretty bummed about not being able to create my teensy sculptures, but I convinced myself I just needed to find another passion, I'm pretty sure I have.
When you sculpt, you see the art go from nothing (a lump of clay) then transform into something in your imagination. I started looking at everything more closely. And became interested in making stuff, from other stuff. While you can surely do this with all sorts of items, I have a passion for upcycling antique and vintage jewelry.
I am completely self-taught, so far from an expert. But I love to learn, knowledge is power. My grown sons think my greenness is great and I feel good about turning a throw-away into a treasure with new life. I hope everyone will love what I do and check my little shop often.
I try to keep my prices low and I take very little for my time, I love it, so it doesn't feel like work. Some of the oldies I buy are not cheap so if it seems a high price, it's due to my investment. If you see something you LOVE and NEED, contact me and it's possible I may be able to discount it a bit. So feel free to convo me for any reason~
Now that my shop has been open for a while, I want to thank all of you for loving and purchasing my pieces. Thank you so much for all the kind and thoughtful things people say about my work, and please, take a peek~
Shop policies
Last updated on
April 1, 2016
Hi and welcome to my new shop, I was a miniature sculptor in Denver for over 26 years. Then arthritis took my hand dexterity. SWITCH GEARS, now I play with old jewelry, glass beads and various metals. Please take a look and feel free to offer suggestions or request a special piece. Thanks for checking me out!
Accepted payment methods
Accepts Etsy Gift Cards and Etsy Credits
Payment
I accept PayPal, contact me for other options for paying, I'm flexible~
Shipping
FREE SHIPPING WITHIN THE CONTINENTAL US. IF YOU WANT TO INSURE YOUR PACKAGE YOU WILL HAVE TO INCLUDE THE EXTRA $$ FOR INSURANCE WHEN YOU PAY FOR YOUR ITEMS. THE OVERSEAS POSTAGE IS POSTED.
UPON PURCHASE, I INCLUDE DELIVERY CONFIRMATION AND EMAIL YOU A TRACKING NUMBER.
Refunds and Exchanges
Thanks so much for your interest and/or purchase. I understand jewelry is a very personal item, so UNWORN and UNDAMAGED pieces may be returned with in 5 days of receipt, minus shipping. You will also be responsible for return shipping costs. I would much appreciate the packing material I originally shipped with. Thank-you so much~
Additional policies and FAQs
I love the challenge to create a piece via your personal instructions, I will be happy to search out a certain item or style you've been looking for and alter it to your specs. Feel free to email me with any questions and/or suggestions. Thanks again for all lovely comments and purchases, debra