Announcement Messaging UPDATE: As our designs become more and more popular, our orders are a bit overwhelming. We do need to take care of orders primarily so there may be a delay in messaging and communication. Please do not be worried if it takes us a few business days to respond. If it is urgent, feel free to send a second message. We are still the original Sam and Sue husband and wife team so please bear with us as we take care of our orders and messages the best we can :)

~~~~~~~~~~~~~~~~~~~~~~~~~~~~~~~~~~~~~~~~~~~~~~~~~~~~~~~~~~~~

Welcome to Sam N Sue Jewelry Designs. Please take your time to browse through my shop as there is plenty of designs to choose from. If you don't see what you like, please feel free to contact me and we can work on creating a custom piece of your dreams :)

I apologize in advance for any delays in communication and orders. I will definitely try my best for you. We are still a small "mom and pop" type business and have so many requests. We remain a small business and have not hired additional help yet so please bare with us. This is the very main reason are prices are so low. We, for one, don't have a physical store which can cost quite high in the retail aspect and because we answer all questions and take care of all orders by ourselves. So you may find it days before we are able to respond to your questions and we may pass our six to eight week processing time by a couple of weeks. If we find processing time to be overwhelming, we may increase prices in thee future but at this time, we will continue to offer low prices.

Happy Shopping!

We post videos of our designs on instagram. Follow us @samNsuejewelry
Announcement
Last updated on
Mar 28, 2016
Messaging UPDATE: As our designs become more and more popular, our orders are a bit overwhelming. We do need to take care of orders primarily so there may be a delay in messaging and communication. Please do not be worried if it takes us a few business days to respond. If it is urgent, feel free to send a second message. We are still the original Sam and Sue husband and wife team so please bear with us as we take care of our orders and messages the best we can :)

~~~~~~~~~~~~~~~~~~~~~~~~~~~~~~~~~~~~~~~~~~~~~~~~~~~~~~~~~~~~

Welcome to Sam N Sue Jewelry Designs. Please take your time to browse through my shop as there is plenty of designs to choose from. If you don't see what you like, please feel free to contact me and we can work on creating a custom piece of your dreams :)

I apologize in advance for any delays in communication and orders. I will definitely try my best for you. We are still a small "mom and pop" type business and have so many requests. We remain a small business and have not hired additional help yet so please bare with us. This is the very main reason are prices are so low. We, for one, don't have a physical store which can cost quite high in the retail aspect and because we answer all questions and take care of all orders by ourselves. So you may find it days before we are able to respond to your questions and we may pass our six to eight week processing time by a couple of weeks. If we find processing time to be overwhelming, we may increase prices in thee future but at this time, we will continue to offer low prices.

Happy Shopping!

We post videos of our designs on instagram. Follow us @samNsuejewelry No items listed at this time
Reviews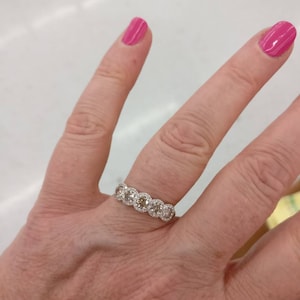 Love this ring! Lots of sparkle and Sue worked hard to get the ring to me in time for our 30th anniversary.

Love you guys! Can't wait to do business again
About
Our Generation to Yours...
Timeless designs that are meant to be worn by many generations. That is the vision Sam and Sue have for their pieces. Their inspiration to create continues and gives them complete satisfaction as their pieces go from a design on paper to a future owner's treasured collection.
Shop members
Sam & Sue

Owner, Maker, Designer, Curator, Photographer, Shipper, Administrator, Creator, Everythinger
Shop policies
Last updated on
August 4, 2016
Thank you for your interest in our etsy store! We hope that you will love our pieces as they are all made with care and heart from our team here at Sam & Sue's.

FINGER SIZING INFORMATION FOR RINGS:
Most sizing is included free of charge for sizes 7 and below. For larger sizing on rings, you can purchase an additional link under "payments/other options" category of my etsy store. This will allow you to pay for additional sizing charges if necessary. When doing so, you can select any size category and the additional purchase of "custom sizing" added to cart will override the original size you select. Sizing cancels the refund policy on most items, but not all. If you are unsure, please contact me for details.

Conflict Free
Feel assured that you are receiving conflict free pieces. We do not purchase diamonds from sources which are not members of the professional diamond trade. Our suppliers guarantee that the diamonds provided and offered are conflict free. We share the same concern with you that the diamonds we come across are not associated with human rights abuses, child labor, violence, or environmental degradation. We appreciate your concern and strive to maintain the highest standards.
Accepted payment methods
Accepts Etsy Gift Cards and Etsy Credits
Payment
We accept many forms of payment. Payment is accepted through Etsy Direct Checkout which takes all major credit cards, through PayPal, or through Etsy Gift Cards.

A layaway plan is offered that requires four total payments for purchases over $500.
Each payment is 1/4 of the total.
First payment would be the deposit which gets the ball rolling on creating the piece.
Next payment is made 30 days later.
Third payment is made 60 days after deposit.
Final payment is made 90 days after deposit.
After final payment is made, the item on layaway will be shipped out next business day.

If a payment is late, we will charge $25 for every week the payment is past due.

If layaway/payment plan needs to be cancelled before the final payment is due, there will be a 15% cancellation fee. If layaway/payment plan needs to be cancelled AFTER four months and BEFORE six months, there will be a 20% restocking fee off the total (not off payments made). Because there are no refunds on custom orders; if layaway/payment plan needs to be cancelled on a custom order because of inability to make further payments, there will be a 25% restocking fee off the total. Refunds made will be made after deduction of restocking fee. If cancellation occurs six months to one year after first payment, there will be a 25% restocking fee off the total amount. If cancellation occurs one year after first payment, there will be a 35% restocking fee taken off the total amount. If the amount paid is less than the restocking fee amount, there will be no refunds made.

You can contact me for layaway instructions at sue(at)samnsue.com

For purchases over $10,000 we can only accept wire transfer. You can contact us for further details. There are no refunds for items over $20,000.
Shipping
We offer free shipping within the U.S. via USPS Priority Mail. If you are interested in other shipping methods, feel free to let us know. For international purchases, we ship to most countries. We charge $35.00 for international shipping via USPS Express Mail. Again, if you are interested in other shipping methods, please let us know and we can try our best to accommodate.

Please be advised that samNsue are not responsible for any possible delays after order has been shipped as the courier is a third party entity that provides shipping options. Shipping time also varies depending on shipping location.

IMPORTANT INFORMATION ON INTERNATIONAL PURCHASES:
Shipping fee by SAMnSUE does NOT include Customs DUTIES fees and taxes. Every country has there own way of calculating customs duties and you will need to check with your own country's shipping policies for the fees that will be charged when the item has arrived in your country's customs. You will be contacted by your postal services as to whether or not there is a fee and the costs of those fees. We will not be able to determine those fees nor will we pay for those fees. Please do not purchase if you cannot pay for the customs duties.
Refunds and Exchanges
We now offer a Thirty Day Return Policy, starting the day of delivery when your package has been received. This applies to all items that are listed as a finished product and does not apply to any custom orders. Return Policy also is voided if the item has been sized, modified, or damaged in any way. To have your return policy valid and not voided, please select stock size in ring size or indicate "stock size" under "notes to seller" during checkout. There are no refunds on customized items or any items purchased over $20,000.

The return policy is valid as long as the item, after being inspected, is in its original condition, free of wear and tear, free of scratches, free of damages, and free of alterations.

Any third party modifications or alterations will cancel the return policy and any other warranties.


When returning an item, please include a copy of your invoice in the package. If one is not included, it may delay your refund significantly.

Please include the original paperwork and package it as you received the packaging originally. Please also include a note as to why you are shipping the package.

You can ship to:

Sam and Sue
29911 Niguel Road # 6004
Laguna Niguel, CA 92607
Additional policies and FAQs
We do all custom orders in 14 karat, 18 karat, white or yellow gold, platinum, most gemstones, diamonds, if you have any questions on a custom order, feel free to message me. It takes 2-3 business days to get a quote on a custom order and it takes 6-8 weeks for a custom piece to be completed unless otherwsie stated.

WARRANTY INFORMATION

We now offer a 90 day warranty policy which we have found to be sufficient time to determine if there are any defects or if any stones fall out. The warranty is voided if there have been any damages or if there have been any third party modifications such as, but not limited, to sizing, repairs, polishing, etc. If you have any questions regarding the warranty, please feel free to contact us.

Please remember, that this warranty covers accent stones falling out only when it is a defect to the ring. Often times, when the WRONG SIZE is selected and the ring is too loose on the finger, this will easily cause accent stones to fall out because the ring will often times spin and it is easily hit. It only takes one hit to break off a prong in a dainty setting. This is NOT a DEFECT and it is the RESPONSIBILITY of the customer to select the proper size or to have the ring resized by our company.

For Charles & Colvard Lab Created Moissanites, please visit the company's main website for warranty information.

REPAIRS AND SERVICES

When shipping to us for repairs and services, please follow our shipping instructions. Please include a copy of your invoice or a note describing what work needs to be done(size needed, replace a stone, etc), when your purchase was made, the name of the original purchaser, the instructions of how to ship it back and your contact information. We will contact you through the contact information given and will discuss fees, if necessary. If there are fees, payment will be set up once the ring is received. And here is how you will ship to us:

Please include the original paperwork and package it as you received the packaging originally. Please also include a note as to why you are shipping the package. Please do not ship UPS as we have had a few issues with missing UPS package and make sure to insure your package. Also, include your etsy id so I can refer back to our previous conversations.

You can ship to:

Sam and Sue
29911 Niguel Road # 6004
Laguna Niguel, CA 92607

~~~~~~~~~~~~~~~~~~~~~~~~~~~~~~~~~~~~~~~~~~~~~~~~~~~~~~~~~~~~~~~~

UPDATE: We also now provide Forever One™ Moissanites by Charles and Colvard. Please review their website for up to date information on the lab created moissanites as well as warranty information.

INFORMATION ON FOREVER BRILLIANT MOISSANITES USED

The moissanite used is a Forever Brilliant®. It is up to four grades whiter than conventional moissanite, enhancing this gem's off-the-charts refraction. With 10 percent more brilliance than diamond, Forever Brilliant® explodes with light. Its icy color is perfect in platinum and gorgeous in white gold. A certificate of authenticity will be provided for every moissanite purchase. Charles and Colvard provides the finest quality of created moissanites.

What really makes Charles & Colvard Created Moissanite® unique are its optical properties. With a dispersion that's 2.4 times that of diamond, it bends light into mesmerizing rainbow flashes of fire. And with a refractive index of 2.65-2.69, it has 10 percent more brilliance than diamond. Double refraction increases the number of light rays that reflect back to your eye. It simply dances with light.

And, carat for carat, no gem offers more beauty for less of an investment. Most consumers won't have to sacrifice size or quality to fit their budgets. While the most popular shape is the traditional round brilliant, a variety of classic and innovative shapes and sizes are available to add brilliance to designer jewelry styles or timeless classics like stud earrings.

Carefully and precisely faceted, each Charles & Colvard Created Moissanite® jewel is cut according to exact angles and proportions designed especially for moissanite to maximize its brilliance, enhance its incredible fire, and reveal its inner beauty. So the woman who wears it can shine through.

Enduring Value & Values
Charles & Colvard Created Moissanite® is a responsible alternative to mined gems, providing jobs for skilled scientists and gem cutters in the United States without damaging the environment.

Charles & Colvard Created Moissanite® comes with a certificate of authenticity and limited lifetime warranty that it will maintain its brilliance and fire, without ever fading or changing color. Its beauty will last for generations.(Source: Charles and Colvard)