Reviews

Monogrammed ring is so pretty and I love the unique oval shape.

Simply classic in style. Well worth the money!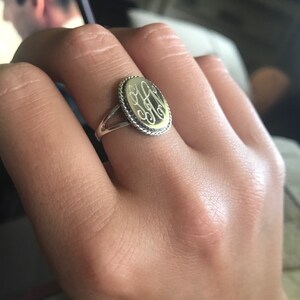 Absolutely love my new ring!!!!
About
Your spark, passion and drive is a song only you can write, If you don't play it the world can't hear it.
After 10 years of having a personalized monogrammed business I have sold my embroidery machines and moved my business back into my basement. Where it all started in 2007. Thank you to everyone that has purchased from Memento. Our website is currently offline as we try to recreate ourselves with all the changes that have taken place over the last year in our custom gift business. We currently are only able to make the items that are for sale in our etsy shop. Thank you Terri

*** History of my shop and business***
Starting with an idea and creating a business is not something I had on my 5 or 10 year plan. I had no idea I was the entrepreneurial type. Fast forward 5 years ahead and I have grown a successful business that I am very proud of. I love that I am building a business for my family & children and creating a brand.

Memento started in my basement with just me and 1 commercial embroidery machine. I thought it would take me 3-5 year to pay off my first embroidery machine. I wore all the hats, convo girl, shipper, sewing ribbon, cutting fabric, ironing, applique cutting, embroidery, listing products. At holidays I would go to bed at 2 or 3 AM back in the early days.

My drive was to exceed in online customer service. Shopping online with Memento was going to be like shopping at boutique but online. When you purchase online you pay and that is the end of the transaction until you get your item in the mail. When will it ship? Did they get my order? What if I have a question? I send each customer an email that we send that has details about their order, shipping date and how to contact us if there is a correction needed on their order details. I have had lots of customers say they love the communication as this lets them know a person and not just a computer received their order.

The first machine took the longest to pay off! Every time I was able to pay us back for the machine, instead I bought another to help me keep up with the growth of my shop. I had 3 machines in 2010 and seasonal helpers at Christmas and peak seasons throughout the years. In August 2011 I hired my first full time employee.

In April of 2012 I took the next step of getting a commercial space! It was exciting and a little overwhelming at the same time. I had 2 full time employees and a part time employee at the time and the thought of rent each month was a bit daunting. We have lots of space for shipping, embroidery machines, sewing table, packaging and all of the laptops needed to manage a growing Etsy shop!

As my shop has grown I could either turn customers away, leave Etsy or keep my business growing and hire individuals that also were sewers and creative like me. I love the fact that we all get to make & create things and help customers find the perfect personalized item they are looking for. I am still very active in my shop and work most days 7 days a week. When my talented staff turn things off for the day at 5 and on weekends I am still the 1 women lady that orders supplies, answers convos, sets up embroidery files.

Featured in Wired Magazine Article - Etsy Goes Pro Oct 2012
http://www.wired.com/design/2012/09/etsy-goes-pro/
Shop members
Terri Johnson

Owner, Creator Of Memento

I am a creative person with a mind that never stops! I am a passionate, detailed, driven, creative gal that loves what I do. I am proud of the business that I have grown & thankful to Etsy for this wonderful marketplace to share my creations.
Shop policies
Last updated on
July 19, 2017
Memento's Personalized and Monogrammed gifts was started and created by Terri Johnson. Terri's vision was to offer products that represent a person's legacy, individual taste, or, makes a unique statement about an individual's spirit and character. It's a timeless reminder of a special moment, person, place or time. It's a gift that's fun and creates smiles and laughter. It also represents a special sentiment or reminder that conjures up memories or tears. Most importantly, we want to offer products that make gift giving easy and personal.

I believe that our selection of products, with your personalized touch, offer your friends and loved ones a gift that is as unique and special as they are. From all of this, Memento was launched.

*** Memento has Grown & Expanded! ***
After 5 years Memento has grown from my personal home studio to a commercial studio/retail space in Cumming GA. In addition we have grown from just Terri to 6 employees! You can see more info in my about page. If you send us a convo we will sign it with one of our names just so we know who is answering which convo. In case we need to ask a question of one another. We are all in the same big open studio space and at any given moment answering convos, sewing ribbons, embroidering, shipping or setting up name files.

I am still actively involved in each order that Memento receives and I still do the same things I have always done I just have more people helping me so we can continue to grow and provide the level of customer service I was able to provide when I had 10 convos a day and 5 orders a day with just me. We now receive over 100 convos per day and have been able to keep our turn around time to 10 business days.

The last part that grew was the embroidery machines. Memento started with 1 embroidery machine and we now have 5 commercial embroidery machines. With all the people and machines we needed to get out of my basement! It is an exciting time and very rewarding to be able to employ some wonderfully talented & creative ladies to be part of the team at Memento.

Memento hours are Monday - Friday 9-5 Eastern Time. Terri may answer convos on the weekend but as the business has grown I try to take the weekend as time with my family. We will gladly get back to you on the next business day during business hours.

Thank you to all the wonderful customers who have helped share Memento's personalized products with their friends and family.
Sincerely,
Terri Johnson
Owner & Creator
Accepted payment methods
Accepts Etsy Gift Cards and Etsy Credits
Returns and exchanges
All personalized items and made-to-order products require payment in full upon order. Because these items are created to your specifications, Memento cannot accept returns of personalized or made-to-order items.

However If we have made an error in your order please contact us and we will correct it right away. Thankfully we have about a 1% error rate or less but we do make mistakes. If we have made your apron on the wrong apron size, forgot to sew ribbon or spelled the name incorrectly from how it was on the order form we will correct the error. Just let us know what is wrong and we will make it right.

Last year I made over 3500 personalized items and I think 15 mistakes were made, which is about .5 %. We try to make every order correct the first time but during peak seasons sometimes we do go too fast and miss something. But we always make it right so no worries if you happen to receive your order with a mistake.

During peak holiday times we are not able to cancel your order. I apologize I really wish we could, But at Christmas, Mother's Day, and Father's Day we have a very large number of individual orders. We are not able to find your order sheet to stop us from physically embroidering the product you order and shipping it. If we can cancel it we will. When 40-80 orders are all confirmed with the same ship date we can find your order and stop us from embroidering it. But when we sell over 200 orders per day we are not able at these peak times to find an order placed 3 days ago that has already been started on and is somewhere in our production process. We are a small business and not automated so we do not have an easy way to stop an order.
Payment
We currently accept Paypal. An existing Paypal account is not required to pay via this method. If you would like to pay with any major credit card, simply select Paypal as your method of payment in the Etsy checkout, click on the green "Pay with Paypal" button, and follow the steps to pay with a credit card. Paypal will simply facilitate the transaction.

If you pay via echeck with Paypal it takes 3-5 days before the payment clears. Your order will not be started until the payment has been cleared. This delays production time by 3-5 days.
Shipping
Current Production time frame is: 10 business days.

Then Orders are shipped. For USA orders they are shipped USPS 2-3 Buss. days Priority Mail. For INTERNATIONAL orders the default shipping cost is regular standard mail which takes 10-21 days. If you need your item faster and shipped with International Express please convo us and we can let you know the shipping time frames and prices.

We make items in the order we receive them. If they are ready sooner we ship them as soon as we have embroidered and packaged your order. You will receive a shipping notification email when your order ships. You can also see in your Etsy account under purchases if the status is changed to shipped.


~ SHIPPING ~

All single order items are shipped USPS Priority Mail (2-3 buss. days). Shipping is an estimate and I try to be as accurate as possible and charge actual shipping costs. Robe and Wrap order that are over 4 lbs the cost is lower to ship UPS Ground and we do ship most of our bridal party orders via UPS ground. This can take 2-5 business days depending on where the items are shipping to.

Shipping to other countries will be sent regular mail. If you would like USPS Priority Mail (6-10 business days) or USPS Express (1 business day) options please convo us & we can look up the cost. If your item weighs more than 4 lbs it can not ship regular first class mail and must be sent USPS Priority Mail or DHL. Costs range from $35 - $55 depending on the shipping country.

International buyers are responsible for any customs fees or duties that your country applies. Memento shipping is for the cost to ship an item from Cumming, Georgia USA to your country. It doesn't include the duties and taxes that the receiving country may or may not charge. Each country has different rules and limits on what is tax and duty free. We are not made aware of these fees when we ship and it is not applied to your items until it arrives into your country and your countries customs department determines these fees. We can not mark items as a gift as we are a business and this is an illegal practice that can result in us being fined and banned from future shipments internationally.

If you do not see your country listed please contact me and I would be happy to calculate the exact shipping to worldwide locations.

The exact same item may cost 5.38 to ship to one State but cost $8.82 to ship to another state that is further away. We try to put a shipping cost that is the average between the two amounts. When the shipping is overcharged by more than $2 we issue a refund. Thank you
Additional policies and FAQs
MEMENTO FREQUENTLY ASKED QUESTIONS (FAQ's)
Thank you taking the time to review Memento's FAQ's. If you did not find the answer to your question, or, if you still have further questions please send us a convo and we will be happy to help. We usually respond within 3 hours during business hours Monday - Friday.
MONOGRAM ORDER
1. What is the correct format for a Monogram?
The traditional Monogram Initial order is as follows: First Name, Last Name, Middle Name. Example: Terri Dawn Johnson is TJD. - J is the last name.
2. Where do I put the personalization info for my order?
At checkout there is a text box for notes to seller. In each of my listings I have "PLEASE PUT IN NOTES TO SELLER AT CHECK OUT:"
You can copy that info and fill in the required info. Orders that are submitted with all the personalization info complete allow for me to start on making your items. When this info is missing we will send you a convo or email and your order will be in the waiting queue until the info has been provided. The order processing time frame starts once we have all the missing info. Your order will ship US Priority Mail 2-3 business days after the order time frame.
ORDER TIME FRAME & CUSTOMER SERVICE
1. How long does it take before I receive my item?
The delivery of your item is based on 2 factors – production time and shipping time. We try to make and ship all orders in an efficient and timely manner. Depending on current volume of orders and season, we have 3 order processing time frames; 7 business days, 10 business days, and 14 business days. You can see my current order time frame listed here:
** We are currently at 10 Business Days**
Please check my shop announcement (click read more at the top of page) for current production times.
http://www.etsy.com/shop/shopmemento
We are not able to start setting up your lettering or embroider your order until we have all the details required for personalization of your order. If we receive an order with information missing we will send you an email or convo requesting the missing info.
Once we receive a response back your order will be added to the current orders to be processed. The 10 business days starts at this point as this is when we can actually start on making your monogrammed item.
Once the item is produced, we ship all orders (from Atlanta, GA) to US locations via USPS Priority Mail (2 – 3 Day shipping) that are under 4 lbs. For orders over 4 lbs we ship UPS Ground as that is typically cheaper. It takes 2-5 business days depending on where you are located.
Canada, Australia and all International locations are shipped via USPS Parcel Post (10 to 14 Days shipping) for orders under 4 lbs. When an item is over 4 lbs we only have the option of shipping Priority Mail with the US Postal service, and takes 7-10 business days.
Example:
If the order time frame is 7 business days your order will ship on or before the 7th business day and 2-3 days later you will receive your item if you are in the USA. This typically is about 10 days total from date of order until it arrives at your door.
2. I sent a convo message how long until I receive a response?
We try to answer convos in a timely manner, in 2-4 business hours from receipt (Eastern). At peak or holiday times it may take 5-12 hours for us to reply. On average we receive 100 convos per day and more during holidays. If it is after 5 pm or on the weekends it may be the next business day before you receive a response.
3. How do you ship your items?
Orders to the USA are shipped US Priority Mail which is 2-3 business days or UPS Ground. International orders are shipped regular mail (Parcel Post) and typically take 10-21 days. If you need your item sooner than either of these options please contact me via Etsy Convo with the zip code or country and the date you need the item(s) for and I can check into the various shipping options.
4. If I need the item quicker than the time frame listed can I request a rush order?
We do offer a rush service If we have the availability to add your order into the production queue. PLEASE contact us first to see if we can accommodate the rush request. The rush fee is $10 ($25 at peak times) per item embroidered. For your order to be processed in 3 days or less, then it will be shipped 2-3 day priority mail. This makes the order arrive to you in 4-6 business days instead of 13 business days. If you need to adjust the order to be express shipping which is next day that is also an option available to you at an additional charge. If you need a rush please convo us with your zip code, or Country, and the needed by date, to confirm we can accept a rush order and to set this up prior to purchase.
We have a limited amount of rush orders we can accept and physically make and ship in a timely manner while still staying on schedule with our current orders. If we do say need to say no to your rush request we are very sorry. We need to balance the orders we have and make sure we do not over commit and under deliver on getting everyone their personalized items in time.
5. Do you offer gift wrapping service?
We do offer gift wrapping. We have gift boxes that fit the 3 different sizes of items that we make. Gift wrapping is $8. This includes the box, Birthday or Christmas wrapping paper, ribbon, and a gift note. Please send me a convo requesting gift wrap and we can add the $8 to your order. Please let us know if it is Birthday or Christmas gift wrap that you would like your items wrapped with.
6. Can I have my item shipped directly to the gift recipient?
Yes we can ship the item directly to the gift recipient. You can enter the ship to address as the recipients or if you place your order and the ship to address is your home address please send me us email or convo with your last name and order date and provide the new ship to address.
7. Do you include a receipt with the purchase?
We do not include an invoice or receipt with my orders. We have a large number of orders that go directly to the gift recipient and therefore do not include an invoice or receipt.
ORDERING MORE THAN 1 AND DISCOUNTS
1. Do you offer a discount for ordering more than 1 of an item?
Each item requires individual lettering to be set up prior to being personalized, which makes discounts for personalized items a little different than an order for 25 shirts with the same logo repeated. We do offer discounts for orders of 5 or more of the same items. The embroidery must be the same color and the font style must also be the same but they can all be 5 different monograms or 5 different names. If you would like to order 5 market totes, spa wraps, robes or aprons please send me us convo with the following info:
# of items required
Ship to zip code
Date needed by
We will send you a quote back with shipping and info needed for your order. We will then set up a custom listing for your order. Once your custom order is set up please place your order within 24 hours to ensure that we can make and ship your order in the time frame we discussed for your custom order. If you purchase the custom listing longer than 3 days after we have set up the custom listing, we cannot guarantee production or shipping times previously quoted and may not be able to make your delivery time frames without a rush fee or expedited shipping.
Gift sets & apron sets already have a 5% discount added into the price.
2. I have seen other Etsy shop's with similar items for a lower cost do you match the price?
We understand where customers are coming from on this question, and we like to be upfront and explain the nature of my pricing vs. others online. The main difference between Memento and other online retailers is that you can expect Memento to provide unique designs and custom fonts for your items, and a reasonable and predictable turn-around on your order (rarely in excess of 10 days – even in peak holiday or bridal seasons).
To accomplish this, we have invested in 5 commercial embroidery machines which allows us to have a more capacity for quicker turnaround time. We typically keep a $4,000 - $6,000 inventory of blank items which also allows for us to make orders with products on hand and not needing to wait on supplier deliveries before we can start on your order. All of these things tie up cash flow and are a part of how Terri operates and manage her business. We use top quality commercial embroidery software that allows for font and lettering styles that are different than others that are on monogramming gift websites or other Etsy shops. Like yourselves, I have found myself disappointed in a purchase from other online retailers – and I promised myself I would never over commit and under deliver. I am sincerely committed to your satisfaction, and to serving your personalized gift purchasing experience.
With all of that said, we typically do not offer a discount for more than what is listed in "Question #1" under discounts (for 5 or more), and avoid price matching. At Memento, we choose to represent our brand with high quality, experience and customer satisfaction above all.
3. What if I need more than what is listed? Apron set with 3 aprons but I need 4 or 5?
We custom make and personalize all of the items listed. 95% of our items are not ready to ship and we make them once they are ordered. We can produce any amount for the items that I have listed in my shop.
If you need 2 or 3 ladies apron you can add 3 single aprons into your shopping cart or you can send us a convo with apron design and number you need and your zip code and we would be happy to set up a custom listing.
SPECIFIC PRODUCT QUESTIONS
APRONS
1. What sizes are the aprons?
Solid Colored Apron with 3 pockets on the ladies adult apron, 2 pockets and longer length for the men's apron, and 2 pockets on the child size. A coordinating ribbon is sewn on the bottom above the pockets for the ladies & girls apron. Regular size aprons will fit up to a size XL for men's and ladies. For sizes 2X and larger I suggest the larger plus size aprons.
APRON DETAILS:
High quality twill fabric 65 % Polyester 35% Cotton
Soil release finish & Wrinkle resistant finish
Aprons are 100% made in the USA
LADIES
Ladies Apron Size: 24"L x 28"W
with Adjustable Neck
**Ladies Larger Size Apron Available: 27"L X 31"W** suggested for sizes 2X and larger
with Adjustable Neck
MEN'S
Men's Adult Apron Size: 34"L x 24"W
with Adjustable Neck
2 center pockets
**Men's Larger Size Apron Available: 36"L X 30"W** suggested for sizes 2X and larger
with Adjustable Neck and no pockets
CHILD'S
Child Apron Size: Size: 20"L x 15"W
Child size can fit 2 - 6 year olds
**Child's Larger Size Apron Available:
24"L x 16"W
For Children 7-12
Children over 12 I recommend the adult size
2. What colors do the aprons come in?
I carry aprons in black, brown, navy and pink.
3. What do you suggest for a family apron set with both male and female family members?
I have two designs that work well for matching family aprons. A chef hat design with Chef and their first name shown here:
http://www.etsy.com/listing/62814945/personalized-mom-dad-daughter-3-apron
The other design has a layered initial and name design with polka dots added to the female aprons shown here:
http://www.etsy.com/listing/82600747/personalized-apron-mom-dad-daughter
You can have the colors the same for everyone by choosing navy, brown or black aprons. Navy aprons look great with green or light blue embroidery. Brown aprons can have blue, green or orange embroidery. Black aprons can have red, orange, blue or green embroidery. Or you may choose pink aprons for the females and black or brown for the males.
VELOUR SPA WRAPS
1. What size is the velour spa wrap?
Ladies velour spa wraps have elastic and Velcro that allow for them to be fitted from a size XS to an XL. If you are ordering the spa wrap for someone who is over size 18 or 2X I would recommend the ladies plus size spa wrap. I do carry both of these sizes in white. If you need the plus size please convo me before hand as the plus sizes I have a more limited stock level.
2. What color do the ladies velour spa wraps come in?
I carry a large quantity of white velour terry bath wraps all year long. I can order the following colors: Light Pink, Navy, Black, Purple, Red, Hot Pink, Lime, Aqua (Turquoise), and Orange. For colors that need to be ordered please contact me via convo to check on availability and time frame. Typically if my supplier is in stock they take a week to get to me before I can start on your order. I try to get these orders out still in a 10 day total time frame before shipping.
3. Do you offer a discount on the wraps for bridal parties?
Please see question #1 under discounts.
4. Do you have children's velour spa wraps?
There are 2 children sizes of spa wraps. Size 4-7 and size 8-12. The child size has shoulder straps. They are available in white or hot pink. I usually have both colors in both sizes. At peak bridal season I may be low on a color or size so please convo me with the color and size you need. I would be happy to check or order more if needed.
5. Do you have a men's velour towel wrap?
I do keep a limited amount of white men's velour wraps in my inventory for Bride & Groom gifts and for groomsmen gifts. Please send me a convo with the number you need and the date required and ship to zip code and I can get back to you with more info.
WAFFLE WEAVE PRODUCTS – Robes, Wraps and Cosmetic Bags
Waffle Robe Product Info
The waffle robes are lightweight and I carry them in a spa kimono style that fits just above the knee at 36" length. I can order them in the calf or ankle length but I do not keep these on hand all year. Please send me a convo if you need the longer length or a men's robe. The waffle robes have become more popular this past year with Brides and certain colors sell out faster than others. I try to keep a good stock level and update my robe listings with the colors I am out of and when I expect to have more available. If you have any question on a color please send me a convo with the number you need and the date you need them by.
1. What size are the waffle spa robes?
Ladies 36" waffle robes fit from a size XS to an XL. We now have plus size robes in select colors: White, Navy, Light Pink, Hot Pink and Purple. If you are ordering the spa robe for someone who is over size 16 or 2X we have plus size robes in white, light pink, hot pink, purple, and navy. If you need the plus size please convo me before ordering.
We also have flower girl robes in white, navy and light pink. We have 2 sizes
2. Do you offer a discount on the robes for bridal parties?
Please see question #1 under discounts.
3. What colors do the spa waffle robes come in?
I typically have light pink, hot pink, black and white. I can order lime, aqua (turquoise), and chocolate brown if they have those colors in stock. If you have any questions on a color please send me a convo with the number you need and the date you need them by.
Waffle Wrap Product Info
I carry the waffle weave spa wraps in black and white. Additional colors that I can order are: light pink, hot pink, lime, chocolate brown or aqua (turquoise) if they have those colors in stock. If you have any question on a color please send me a convo with the number you need and the date you need them by.
1. What size do the waffle wraps fit?
Ladies waffle spa wraps have elastic and Velcro that allow for them to be fitted from a size XS to an XL. The waffle wraps are currently not available in a larger plus size. If you are ordering the spa wrap for someone who is over size 18 or 2X I do have the white velour spa wraps in a plus size. If you need the larger size please convo me before hand as the plus sizes I have a more limited stock level.
Waffle Cosmetic Bags
1. Can I add waffle cosmetic bags to my robe order for my Bridesmaids?
Yes I can order waffle cosmetic bags in any of the robe colors to match. I typically have them in stock but I do not always have the color or amount needed for large bridal party orders. Please send me a convo with color and number you need and the date you need them by and I can let you know the color options and time frame. Typically if my supplier is in stock they take a week to get to me before I can start on your order. I try to get these orders out still in a 10 day total time frame before shipping.
MISC. QUESTIONS
1. I received my item and the personalization is incorrect what can be done?
If it is a personalization error, spelling mistake or color mistake on our part we will gladly produce a new item and ship it to you at our cost. There is no question in this case, and we will make things right.
We strive to catch errors in the order process. Once you order, Memento sends a personal email with the details of your order for you to review prior to us starting your order. We rely on the personalization included in your order as the correct spelling, monogram format, grammar, color and font that you wish to have placed on the item. Due to the personalization of these items, sales are final and Memento does not accept returns.
If the mistake was an error on the customer's part (incorrect monogram order or spelling typo), the product will need to be reproduced. Due to the personalized nature of our products, Memento is unable to resell the item. As a result, we are not able to accept returns of our products. In the event you found you ordered an item in error, please contact us and we will be happy to provide further details, provide you with an invoice and get your item into production as fast as we can.
My business and my customer's complete happiness with my creations is very important to me and I take this very seriously. If there is anything you are unhappy with me please send us a convo and I would happy to work with you to resolve the issue as best I can.
2. What is the correct format for a Monogram?
The traditional Monogram Initial order is as follows: First Name, Last Name, Middle Name. Example: Terri Dawn Johnson is TJD. - J is the last name.
3. Can I choose a different Font or Font Color then what you offer in a listing?
You are welcome to chose colors or fonts offered by Memento, which are shown on the Memento font display. If the product listing does not show a photo of the font examples, that product will be made with the font that is shown in the product photo. You can request a different font but for certain designs, styles or multiple lines of text, not all fonts are well suited. However, Memento cannot guarantee how well the design will turn out. We have developed and tested our designs with fonts and colors that best complement one another.
4. Will you put personalization on items I purchased somewhere else?
Memento does not accept orders for personalization for items that are not purchased from our collection. Memento is not able to accept the liability of damage or loss of your personal item. Additionally, not all store bought personal items are designed for embroidery, and commonly require a great deal of additional preparation and set up.
5. Do you do blog reviews or giveaways?
I appreciate the interest and compliment to my creations. However I do receive a large number of requests each week. If you would like to promote one of my items on your blog you are welcome to convo me with your blog link and please include the number of giveaways you have done and the average number of entries you receive on your giveaways. I agree to some of them if I feel your audience would be a good match. Typically I provide an item that is a sample item monogrammed with Mommy or with Grandma or a generic item. I do not do giveaway and review items personalized with your children and families names. If you are interested in aprons personalized for your family and you would like to review my items you are welcome to contact me and I can discuss offering an apron set at a discount in exchange for a blog write up.
6. Could you please tell me where you purchase your products or embroidery designs?
I do receive these questions and politely reply that I have taken the time to source my products and I do not disclose where or how I purchase my products. Most of my designs I have had created as originals for Memento as my cupcake was drawn and digitized by an artist and is owned by Memento. It is not for sale on other embroidery design sites. I do not disclose where I find my designs or what embroidery or lettering programs I use for my creations. I appreciate the compliment but these are trade secrets.
Thank you,
Terri
Owner Memento