Announcement Slipped Stitch Studios has been tantalizing fiber artists with their innovative designs, quality stitching, and epic fabric selection for almost 10 years! From Project bags and tool cases, to stitch markers and pattern keeping solutions, Laura and her team have the tools you need for your next project!

Knitting & Crochet Project Bags, Pattern Wallets, & Supplies are my specialty! Handmade in the USA.
★Looking for more? This is just a taste of what's available! I have a website! SEND ME A CONVO for more Information!★

★Newsletter Sign Up: http://tinyurl.com/2b2bggc
★Please join my Ravelry Group http://www.ravelry.com/groups/slipped-stitch-studios
★Become a FAN! www.facebook.com/SlippedStitchStudios
★Follow me at www.twitter.com/slippedstitchCA

All handmade and specially designed with fiber artists in mind!

★All product, shop design, content & images © Slipped Stitch Studios 2016★
Announcement
Last updated on
Apr 14, 2018
Slipped Stitch Studios has been tantalizing fiber artists with their innovative designs, quality stitching, and epic fabric selection for almost 10 years! From Project bags and tool cases, to stitch markers and pattern keeping solutions, Laura and her team have the tools you need for your next project!

Knitting & Crochet Project Bags, Pattern Wallets, & Supplies are my specialty! Handmade in the USA.
★Looking for more? This is just a taste of what's available! I have a website! SEND ME A CONVO for more Information!★

★Newsletter Sign Up: http://tinyurl.com/2b2bggc
★Please join my Ravelry Group http://www.ravelry.com/groups/slipped-stitch-studios
★Become a FAN! www.facebook.com/SlippedStitchStudios
★Follow me at www.twitter.com/slippedstitchCA

All handmade and specially designed with fiber artists in mind!

★All product, shop design, content & images © Slipped Stitch Studios 2016★
Reviews

It's soft and useful! I can carry my project everywhere. :)

Well made, very happy with my purchase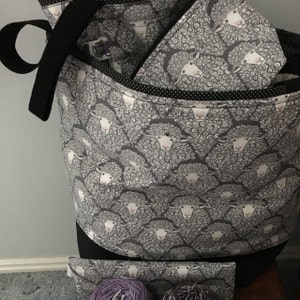 Love this big bag!! I already have a few pieces in this fabric, so this was a great find! Slipped Stitch Studio is fantastic to deal with! 💚
About
Livin' the Dream
I have always enjoyed making things with my hands. I learned how to knit in 2006, and it was a hard and fast love affair, Here I am years later and it is still going strong! In 2007 I went to my first STITCHES WEST. I was so inspired by those that made some or all of their living with fiber. Chained to my desk job, I longed to be apart of that.

After my little girl, Harper, was born in February of 2008; I decided (with a little push from God) that I needed to un-chain myself. I just couldn't reconcile going back to the horrid bump and grind after such a life changing event!

Supporting Slipped Stitch Studios, is supporting my dream of staying at home with my daughter. & I love each and everyone of you for doing that!!!

(April 21st 2011 Welcomes Baby Oliver, Harper's new little brother!)

Slipped Stitch Studios is committed to excellent customer service, and a product that will be sure to inspire the fiber artist in your world.

All items are designed and made, in a smoke-free, pet-free, toddler full environment.

I am a perfectionist so my product will always be well-made for frequent usage. If you ever have any questions or comments, or issues, please convo me! It is my pledge to respond to you quickly, and thoroughly.

I enjoy knitting, sewing, scrap booking and beading; there is very little room in my house for anything else....my husband must love me A LOT! ;)

This shop is now for sales, and seasonal items ★★ SEND ME A CONVO for more Information on where everything else is!★★

Featured in these Magazines: Crochet Today 2010 and Knit Today 2010, and Knitting Today 2011, Knit Simple 2011, and Interweave Crochet in 2011, Crochet Today 2011, KnitScene 2012 and more to come in 2012!

IMPORTANT* everything in my shop has had my hand in it. However, when I need supplies or help, I use Etsy Artists, Small buisness owners, and W/SAHM's. It is a very important thing to me to support the community of people trying to step out and make a living doing things they love. I support Handmade all the way. If you don't buy from me- please buy from someone who makes handmade items! JOIN the revolution!!! :D
Shop members
Laura Lundy

Owner, Maker, Designer
Shop policies
Last updated on
September 30, 2015
Welcome to Slipped Stitch Studios!

This shop is now only for overflow items, we now have a full website with a much wider selection! ★★ Please SEND ME A CONVO for more Information!★★

This shop started as a hope that I could stay home with my then new daughter, back in 2009, and 3 years later it's become more than I could have even dreamed of!

I have always enjoyed crafting of all kinds. I learned how to knit in 2006, and it was a hard and fast love affair, but here I am 5 years later and it is still going strong! in 2007 I went to my first STITCHES WEST, in Santa Clara California. I was incredibly inspired by those that made some or all of their living in the Fiber arts industry. Chained to my desk job, I longed to be apart of that.

After my little girl, Harper, was born in February of 2008; I decided (with a little push from God) that I needed to un-chain myself. I just couldn't reconcile going back to the bump and grind after such a life changing event!

Supporting Slipped Stitch Studios, is supporting my dream of staying at home with my children (now i have 2!). & I love each and everyone of you for doing that!!!

UPDATE: JUNE 2013- we moved out of my house and now have a office space, and 1 part time and 1 full time employee. We now have a showroom, 2 business offices, and a beautifully bright design room!!!

UPDATE 2014 - A new Tote and supplies are now available!

UPDATE 2015 - We are growing strong!

Slipped Stitch Studios is committed to excellent customer service, and a product that will be sure to inspire the fiber artist in your world.

All items are designed and made, in a smoke-free, pet-free environment.

I am a perfectionist so my product will always be well-made for frequent usage. If you ever have any questions or comments, or issues, please convo me! It is my pledge to respond to you quickly, and thoroughly. I am human, even though I moonlight as "SuperMom" so things can happen, just know I will do my best to make it right!

I enjoy knitting, sewing, scrap booking and beading; there is very little room in my house for anything else....

IMPORTANT* Everything in my shop is designed by me and has had my hand in making it. However, as my business grows, I have found the opportunity for my success to benefit others, be it Etsy artists, WAHM's, or awesome friends. I do have helpers, and I love them ALL. Thank you for helping me support other dreams as well!!

It is a very important thing to me to support the community of people trying to step out and make a living doing things they love, especially in the economic climate of the last 3 years. I support Handmade all the way. If you don't buy from me- please buy from someone who makes handmade items!

JOIN the revolution!!! :D
Accepted payment methods
Accepts Etsy Gift Cards and Etsy Credits
Returns and exchanges
If for any reason you are unhappy with your item, please contact me before you leave feedback and we will make arrangements.

Your happiness is ALWAYS my goal.

Please keep in mind that these items are HANDMADE by me and my helpers, Returns not due to a product defect will be considered on a case by case basis. But as a rule only store credit will be issued.

(Please note: Shipping charges are spent when the item is sent, and therefore not refundable.)
Payment
I accept PayPal, Visa, MasterCard, Discover and American Express, and Money Orders.
Payment must be received before the item you purchased is shipped. This includes custom requests.
Money Orders: Please contact me at checkout and let me know when you have mailed the Money Order. If i have no contact from you within 3 days, I will cancel and re- list your order.
Custom orders and made-to-order items, I begin production once the payment has cleared and/or materials are received.
If for any reason you need to cancel a purchase, please contact me as soon as possible. Once an order has shipped, shipping charges will not be refunded.
If you need help with the payment process, please see the information here:
http://www.etsy.com/faq_buying.php#paying_the_seller
Shipping
Shipping is done Mondays, Wednesdays and Fridays. By 12:30pm PST. In stock items will ship on the next shipping day. Items "Made to Order" can take 2 weeks or more to make and then ship, and I will be in touch with you on these.

**If you require expedited shipping, insurance, or have any questions, please contact me BEFORE checking out.

Most packages are shipped via First Class USPS with a confirmation of delivery for US residents. Some packages will be shipped Priority Mail depending on size and weight. The total cost for your shipping includes handling costs.
Most orders arrive within 3-7 business days. If your order seems to be taking unusually long, please feel free to contact me so that we can investigate together. I will do my best to help you get your order.

If a package is lost, and the post office confirms it, we will do what we can to come to a mutually agreeable solution.


International Orders:

1. Most orders arrive within 2 weeks. 10% of my international orders take up to 4 weeks. About 2% of international orders take from 6-8 weeks.

Please feel free to contact me if you feel it has been a long time. I will send you whatever shipping info is available and see if there is anything to note on my end.

2. PayPal does not create shipping labels for international shipments, You will receive a email directly from info [!at] slippedstitchstudios.com with the shipping information from Endicia.

3. If you are ordering over $100 value to ship internationally please contact me for shipping insurance. This is the only way to track and apply insurance to large international orders. If you decide against this method, I cannot be held responsible for lost or delayed orders.
Additional policies and FAQs
Custom orders are made (sewn, or put together) on a first come first serve basis. I attempt to be as accurate as possible on approximate shipping times, but I am human and have 2 small children, so please bear with me, one thing I can do, is send you updates if anything has been delayed.

It is my policy to keep in touch with my customers on longer than normal production times. If I am ordering fabric or materials for your order, it is my intention to contact you as soon as the materials arrive so that you can know when my actual production time begins, and get an approximate shipping date.

Custom Order Fee: $5 per item, unless a set of 6 is ordered then it is just $5 for the set.

Why the cost:
To keep my business growing, I have moved to a more streamlined system to complete orders. This is hard to do when I do NOT want to give up custom orders. I love making special things for my customers, as much as you love getting things that were made just for you. But alas, time is not free, so a lot of thought we added the $5 Custom order fee. This allows me to stop something else and make up your special bag, or hopefully in the future to have a specific person that makes the custom orders.
Providing your own fabric:
There is no discount for providing your own fabric. I purchase my fabric in wholesale quantities and wholesale prices in order to make a profit that helps my business grow. Also I have a system where sets of items are cut and sewn at once. Providing your own fabric is an option, but does slow my production down, and so no discount can be given. But for most, the benefit of having something out of a special fabric that you personally picked out is much greater than a $1- $2 discount.


WHOLESALE
I do wholesale! You can contact me here or at wholesale [!at] slippedstitchstudios.com for a cost sheet and further information.

Please contact me before purchasing if you have questions about time frames and fabric positioning.

Most items will be similar, but not exactly like the picture shown. I am the photographer for the shop as well as many other things, and I have found that it is best to take one picture that best represents the fabric. However the position of the fabric on the item you get may differ slightly. If there is a specific part of the fabric you love best, feel free to contact me for availability!


★Please Stalk me!★

This shop is now for sales, and seasonal items ★★ SEND ME A CONVO for more Information!★★

★I am on Ravelry! http://www.ravelry.com: Slippedstitchs- Come say Hi!
★Please join my group for deals and updates! http://www.ravelry.com/groups/slipped-stitch-studios
★Check out my Facebook page and become a FAN!
www.facebook.com/slippedstitchstudios
★Do you TWEET? I do! Follow me at slippedstitchCA