Announcement ༂ Fixed Price Shop ༂ 谢绝议价 🙏
✿International Shipping✿ All purchases will be shipped within 24 hours (except for weekends & holidays). Please read about shipping before you purchase, under FAQs section, pls scroll down the page, thank you.

✿Promotion✿ Shop of the Day (7/25) - Buyers Shop and Sellers Promote!
https://www.etsy.com/teams/21915/promos/discuss/17946262/
Announcement
Last updated on
Jul 25, 2016
༂ Fixed Price Shop ༂ 谢绝议价 🙏
✿International Shipping✿ All purchases will be shipped within 24 hours (except for weekends & holidays). Please read about shipping before you purchase, under FAQs section, pls scroll down the page, thank you.

✿Promotion✿ Shop of the Day (7/25) - Buyers Shop and Sellers Promote!
https://www.etsy.com/teams/21915/promos/discuss/17946262/ No items listed at this time
Reviews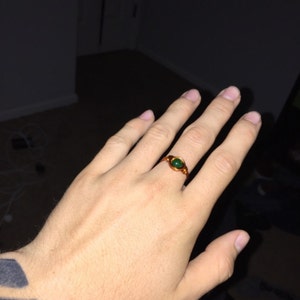 Awesome product thank you so much!

A beautiful red carnelian ring in a lovely silver setting. Perfect fit, beautiful color. Love it! Many thanks.
About
Craft to pamper beautiful people
Thank you for visiting this page. Beautiful people are the essence of altruism, live life with good and pure motivation to benefit all beings.

1. Stone, beads supplies
I buy in bulk directly from factories, so that the saving can pass on to you. All stone beads are soaked, washed and dried before storage. Yes, all items are made by my own two hands.

2. Needlecraft
All are hand sewn stitch by stitch by me. Because my sewing machine went out of the house one day, and has never returned home. Never mind, I still have my two hands.

3. My background
Since young, I was taught that the most important thing in life is to be a useful person, and altruistic.

However as I grow up, I see that self-cherishing and self-indulgent is the way people live! Everyone is driven by money, power and fame. I see, learned and followed ignorantly. I worked hard, by age 21, I wrote my own pay cheque, had a spacious house, maid, work recognitions and a lavish lifestyle. The endless envy of many, my nose was on top of my big stupid head. Manipulated by my own desire and self-cherishing thoughts. I used my skills for self-benefiting, moral and ethic are all rubbish. Very soon, bad karma caught up, and i fell from the highest peak together with a bad health. Hunger and poverty became my life. I started to realize and regret for my egoism, huge appetite for desires and worldly pleasures, and my ignorance.

I met with a wise motivator, Gan Ah Seng, who corrected and affirmed me the importance of being a useful person; and to do more for others. Never to believe and follow others' action blindly. When everyone is doing wrong, it does not mean that the action is acceptable and morally correct! Let go of self-cherishing thoughts and practice altruistic to work off my bad karma. And the importance of generating a good attitude, a good heart, as much as possible. Moral and ethic are not rubbish, they are good karma, not superstitious, they are very real! And soon I also met my fengshui teacher, Lillian Too.

4. The lead and setting up shop
It all started when I cannot understand why is it so pricy for a pair of pretty earrings that is not gold, silver or stone. I tell myself I can help make reasonably priced items, so that more people can have nice earrings. I started with a blog shop, then I stumbled upon Etsy! Shortly I have to leave my day job. Making just barely enough to cover for the minimum necessities. No more luxe malls shopping, but I don't feel deprived. I am in fact very happy, and contented; able to work within my taught belief and precepts.

5. Crafting intention
Made with the thought to help spread some correct attitude. The lack of moral education in today academic has intensified self-cherishing selfish thoughts. Because monkey see, monkey do. Everyone learned and followed each other's action blindly. It gets so intense that sadly I have to leave my day job. I now try to put some of my teachers' teaching into my craft. With this intention, craft ideas just keep flowing in.

6. Shop leading to inner peace
In late 2011, as i crafted in front of the computer, I came across Dharma teaching by Venerable Master Chin Kung. I was touched to know that what Gan Ah Seng has taught me are in accordance to the Sutra. And Lillian once said 'When one has accumulated an amount of positive karma, opens up the opportunity to receive true Dharma teaching. Because negative karma means our mind is ignorant and blocks us from understanding the Dharma.' I am very fortunate and rejoiced that the sutra lift me into a state of pure bliss. I listen to Dharma teaching, repetitively everyday, as I craft. No other job allows this to happen. To me, life can never get any better.

7. Spiritual practice
Is a constant battle of good and evil within. Watching the mind so that all thoughts, actions and words manifest a kind and compassionate attitude toward all others. The ultimate goal of gaining spiritual awareness and attainment of the highest level is not being more 'superior', but merely to reach the other shore for the benefit of all beings. Renunciation will come naturally when one begin to truly understand the Dharma. Spiritual practice is never driven by egoism, worldly pleasure or self-cherishing thoughts. So it is very important to always reflect on our spiritual motivation, so as not to be lead astray. If you find what I said above is useful, than I am very grateful. If not, please accept my apologies and forget about it.

8. Merits dedication.
If you are still reading this, I am very thankful for your time, and I rejoice at your good roots (善根). May the above bring forth the realization of kindness, compassion and good intentions for your family, your friends and loved ones.

May any merits arise from the above writings and works dedicate to those who see or hear of this, and bring forth the Bodhi mind.
Amituofo 🙏
sophine
Shop members
Sophine Giam

Owner, Maker, Photographer, Packer, Shipper And The Sole Breadwinner.

A simple mother to a teen son and four lovely dogs. I love to work; it has always been my leisure and pleasure. I am more like a hermit, don't use a mobile phone, so i don't text. To me, being alone is pure contentment bliss. Amituofo 🙏

Singapore

My Country

i live in Singapore, a tiny island near the equator. Singapore is not in China, Japan or Korea. It is a developed country, the world's fourth-leading financial centre. Hope these info are helpful and clarified. Thank you.
Shop policies
Last updated on
March 18, 2016
Sophine Giam Creations is a registered business with the Accounting and Corporate Regulatory Authority of Singapore, registration number: 53186620C

Thank you very much for dropping by. I really hope you like what you see here. Each piece is made with much care and to the best of my humble standard. My standard is low and knowledge is shallow, please feel free to contact me if there is anything you don't like about your purchase. So that i can make good your shopping experience. Thank you kindly.
感恩 🙏阿弥陀佛
Amituofo
Accepted payment methods
Payment
I accept PayPal.
How to pay for your purchase with a credit card without a PayPal account:
https://www.etsy.com/help/article/361
Bank transfer is only applicable for Singapore buyer, please convo me prior to your purchase. My account: POSB Saving 091350742.
Shipping
Christmas Deadline for international shipping is 30th Nov annually. Thank you for your kind understanding that i cannot do magic on any international shipping delay.

Q. How long will my item take to arrive?
A. It would normally takes about 8 business days, exclude weekends and holidays. Possible long delay do happens occasionally. Please note that package less than 8 weeks is not considered lost. No refund or replacement, please kindly wait up to 8 weeks for any justification. Kindness and patience is always a virtue choice available to you. Thank you kindly.

Q. Do you provide tracking info?
A. If you require tracking, please upgrade to tracking service during checkout. Please also note that tracking service do not guarantees on time delivery.
Refunds and Exchanges
Package less than 8 weeks is not considered lost.
No refund or replacement, please be kind to wait up to 8 weeks for any justification. Please be nice and understanding whenever possible, it is always possible.
Additional policies and FAQs
Q. Do you offer discounts, wholesale, bulk purchase?
A. As prices are quoted in terms of material, workmanship, quality and already kept very low, there is no room for further discount. Ditto my shipping fee, as it is inclusive of packaging material, handling and postage and the lowest in my region. Thank you for your kind understanding that i am not anorexia, not yet immortal, and i too need a proper meal (my only rice bowl). Thank you very much for your little act of kindness for not practicing exploitation.

Q. Do you do custom Order?
A. Yes, i do, except for custom order that are readily available for sale from other Etsy sellers. They too need your support, and i too cannot custom made to be any cheaper than them. Thank you very much for not exploiting materials and labour hours, the correct attitude, to make this a better world. Your kindness is very much appreciated.

Q. No Copyright?
A. All my designs have no special blend materials. If you use any of my design, you CAN sell it here or anywhere else you like. Each crafter has their own pool of cliental. Designs are just like a recipe; anyone can use the same but the end product always finished differently from each individual skill. Lighting another candle with our own light is just to keep the flame from being extinguished. Egoism cannot be eaten nor can it enriched our life. Design and ideas are meaningful only if they are shared. And merit is always created for the act of sharing. If every simple thing are 'copyrighted', there will be nothing left for the future crafting generation, this practice is nurturing selfishness and insanity.
隐藏秘方、技艺, 使不得传播, 是人心不善 违反道义天理. (老子语)
忏悔改过, 坚持下去,必定得吉祥喜庆.

Q. Review vs Courtesy etiquette for online shopping.
A. Review is always OPTIONAL. Before you bring down the star rating of any shops, please be kind to contact the seller for clarifications. Every sale transaction is meant to be a happy one, and not meant for down grading any shop unnecessary in spite of the ego. Honesty without compassion and understanding is not honest, but subtle hostility. It is not only a reflection of your personality but it also has a huge mental impact on the seller. Please be mindful, always cultivate a good intention, be a good human. The opportunity to be kind is always a choice available to you. Good courtesy etiquette for online shopping help spread true kindness.

Thank you very much for reading 🙏