Announcement
Last updated on
Apr 3, 2017 No items listed at this time
Reviews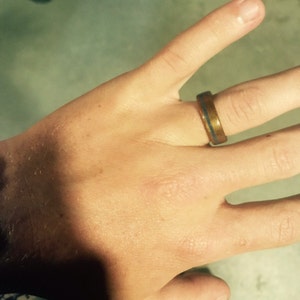 Since my husband is a gen mec for the Marine Corps and works around electricity all day, he can't have a traditional metal ring and we've never liked the plain rubber ones. Once again we have been blessed to work with stoutwoodworks for a wedding band for my husband! The first one we bought almost two years ago. After about a year, it was really in need of refinishing which they actually offered to do for free even though it was a few days past the one year mark! We lost track of time and never sent it in and sadly a few months ago it broke 😞 finally we were able to order a new one and they were again so helpful and polite and the ring turned out even more beautiful than the first one! We will be lifelong customers and we recommend them to my husbands coworkers!

About
Stout Woodworks and The Origin of "Bentwood" Rings
The inspiration for making wooden rings came unexpectedly during a drawknife session.

When shaping wood with a drawknife, thin layers are removed gradually, leaving you with a pile of wood shavings and spirals. These pieces of curled wood were the initial spark to try making actual wearable wooden rings.

There were wooden rings readily available online - though mostly of the lathe-turned or laminate variety. Convinced that bending the wood, orienting the grain around the circumference, is the strongest way to make a ring, I started experimenting.

After many trials with getting the right thickness, choosing the most durable, waterproof bonding agent, and finding a finish that was both extremely resilient, yet safe for skin contact, I was happy with the result. More testing ensued, including our own water + heat + friction trials, as well as giving rings to friends and family for wear testing.

Although the technique of bending wood has been around for many years, to help differentiate our rings from the standard lathe-turned or cut-wood variety, we started calling them "bentwood rings".
Shop members
Frank Ladner

Owner, Maker, Designer

I've had an interest in handcrafting things - particularly wooden items - since childhood. Wood is an incredible material; each piece is different. I prefer to work it with traditional hand tools whenever possible.

Janna Ladner

Curator, Customer Service, Photography, Shipping

Being able to work from home means so much to me. I get to spend all day with my little family and be right by Frank's side, helping in any way I can.
Shop policies
Last updated on
July 12, 2017
Thank you for visiting Stout Woodworks on Etsy!

All of our "bentwood" rings are handcrafted using techniques which orient the wood's grain around the ring's circumference. I prefer not to cut rings from wood laminates or turn them on a lathe, as that leaves weak points ("short grain") in the ring.

We welcome custom requests, questions, and comments.
Accepted payment methods
Accepts Etsy Gift Cards and Etsy Credits
Payment
We accept payment through Etsy's direct checkout system (including Etsy gift cards) and through Paypal.
Shipping
US orders are shipped using USPS Priority Mail and will take 2-3 days for delivery.

We prefer to send international orders via USPS Express Mail International- if you would like to choose a different method please convo for a price quote.
*INTERNATIONAL ORDERS* Please note that your package might be subject to customs fees or taxes.

We will typically have an order ready to ship within 1 week.
Refunds and Exchanges
We prefer to offer a full refund to those who truly aren't happy with their ring (we completely understand how hard it is to gauge things like this when ordering online) – however, we've had some take advantage of this and order more than one ring with the intention of returning the one(s) they don't want. We're a small, family run business and at this time, Frank is our sole ring maker. With so much time and attention being put into each ring, this act affects us in a big way. With all that said, our current policy is – if the ring is returned within 30 days, in new condition, we will offer a refund minus a 25% fee.

If your item becomes damaged through regular use within the first year, we will rectify the situation through repair or replacement. The cost for repair/refinishing after that time will be $35.

If you get your ring and find that it doesn't fit just right, we're happy to work with you to get the right fit. We just ask for shipping to be covered along the way.

After being made, our rings can be adjusted by up to 1 size bigger or smaller. Anything over 1 size would require an exchange for a new ring – in which case there would be a $45 fee. We highly recommend being professionally sized at least once before ordering (please be sure your hand is nice and comfortable when getting sized – if your hand is too warm or if you've recently eaten something salty, your finger will be swollen – if your hand is too cold, your finger will shrink).

**Note** Jeweler's mandrels/sizers sometimes differ from one another. You should consider being sized at a couple of different places and/or at different times of the day (as fingers tend to swell and shrink).
Additional policies and FAQs
How durable are your wooden rings?
Since our rings are not laminate-cut or lathe-turned, but instead made using the "bentwood" technique, they are very durable.

What does "bentwood" mean?
This is the technique used to make our rings. In 2008, we needed a way to differentiate our bent wood rings from standard lathe-turned or cut-out wooden rings, so we started calling ours "bentwood rings". This name eventually caught on and is now used by other wooden ring makers.

How long will a wooden ring last?
The common short answer to this question is that it depends largely on how they are treated. Due to the specialized hands-on bending technique that capitalizes on the strength of the wood, the rings themselves are incredibly durable. However, any wood finish – particularly on a wooden object that will see constant contact/rubbing/friction with skin – will eventually wear away. To prolong the life of the ring's finish, we recommend avoiding the use of hand sanitizers, alcohol based soaps and other harsh chemicals. We also recommend removing your ring when working with tools or doing any heavy lifting to avoid dings and scratches.

We've worn our wooden rings since 2009 (it is 2017 at the time of writing this) and they are structurally just as sound as when first made. They have been refinished a couple of times, and we never remove them except for heavy-lifting or working with machinery.

Do you have a warranty on your wooden rings?
Yes. If your wooden ring breaks within 1 year from the date of purchase, we will make a new one for you at no charge. (We've had one instance of a dog gnawing on the owner's ring, which we repaired + refinished. Though we do ask that you try and prevent that sort of thing. 😉 )

What about refinishing?
If your ring needs refinishing within 1 year from the date of purchase, we will refinish it for nothing more than the price of postage. If your ring needs refinishing after 1 year, there will be a refinishing fee of $35.

I bought a ring from an Etsy seller who is no longer in business. Will you refinish it?
Sorry, but we only offer to refinish the rings we've made.

How do you make your wooden rings?
Our wooden rings are hand-made using a steam-bending technique.

What's the difference between your rings and much cheaper wooden rings?
Our wooden rings take considerably longer to build, and they are constructed with greater care to ensure their durability. After 2012, many sellers started outsourcing their wooden rings to be manufactured in China. Those types of rings are churned out quickly, and designed to be sold cheaply while maintaining profit. NONE of our rings (and none of our components in metal rings) are manufactured overseas. Each and every bentwood ring from Stout Woodworks is made by Frank Ladner in our workshop.

Do the rings have seams? / Where are the seams?
The rings do have seams, but they are usually not obvious (this varies depending on wood type).

What kind of finish is used on the rings?
Our standard finish is a medical-grade cyanoacrylate adhesive which is buffed to a high sheen, resulting in a hard-wearing and glassy surface that adds contrast (makes the grain "pop") and leaves a shimmering effect in many wood species. Upon request, we can also finish the ring using a natural Walnut penetrating oil (food-grade, used in wooden salad bowls). With the oil finish, the ring will have a very low sheen and the "wood feel" is allowed to come through, but more maintenance is required.

Where does your material come from?
Material from native species has come from storm-blown trees, fallen limbs, and scraps or cut-offs. Exotic species are purchased from eco-conscious suppliers, with much of their own material being reclaimed from warehouses. Very, very little material is required for wooden rings. We're still cutting on some of the same wood pieces we've had since we started in 2008. Given the tiny amount of wood required to make a single ring, we are able to use small pieces from wood prunings, and small chunks from tree stumps, as is the case with Brazilian Rosewood and other species protected from harvesting.