Announcement Hi All Co-opers.

In the spirit of sharing, here are some more news on the goods and bads within our company,... just for fun.

- 2017-18 was an incredibly dead year for us on the retail front, especially considering the 10% of energy we've invested. We are probably one of the slowest performing companies on ETSY -- but we still love it.
- Where we lack on the front end we made up for on the backend.
- 45% of our resources went to building our own sew shop.
- Another 45% went into curating a technology for the hat industry, and our own hats, that is fortunately in the completion phases.
- We haven't spent any time on community services all year and we'd love to get back to that this year.
- Haven't done a great job of following up on everyone's suggestions so we'd love to do a better job of connecting with all of our followers. Sorry for having let down whomever, it is our goal to address each and everyone's desire to connect -- the best we can.

With all of that said, absolutely looking forward to getting more involved this year on the retail front and keep everyone posted as usual. So, stay tuned.

On the note of cannabis, as always:
If there is something you absolutely love, but cannot afford, please let us know how we can make that happen for you . Hesitate or not, we will still be here for ya. :D

Much love,
TheHempCoop
Announcement
Last updated on
May 1, 2018
Hi All Co-opers.

In the spirit of sharing, here are some more news on the goods and bads within our company,... just for fun.

- 2017-18 was an incredibly dead year for us on the retail front, especially considering the 10% of energy we've invested. We are probably one of the slowest performing companies on ETSY -- but we still love it.
- Where we lack on the front end we made up for on the backend.
- 45% of our resources went to building our own sew shop.
- Another 45% went into curating a technology for the hat industry, and our own hats, that is fortunately in the completion phases.
- We haven't spent any time on community services all year and we'd love to get back to that this year.
- Haven't done a great job of following up on everyone's suggestions so we'd love to do a better job of connecting with all of our followers. Sorry for having let down whomever, it is our goal to address each and everyone's desire to connect -- the best we can.

With all of that said, absolutely looking forward to getting more involved this year on the retail front and keep everyone posted as usual. So, stay tuned.

On the note of cannabis, as always:
If there is something you absolutely love, but cannot afford, please let us know how we can make that happen for you . Hesitate or not, we will still be here for ya. :D

Much love,
TheHempCoop
Reviews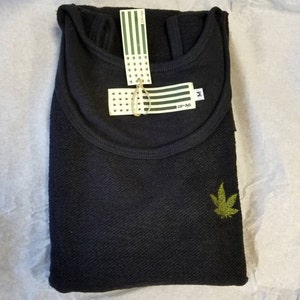 I absolutely love it! It has a great fit, feels warm and cool at the same time. Perfect for this SoCal weather that changes its mind quickly. 😆 Awesome team! I can't wait to see what's coming in the future! 👏

Great fit, good quality and amazing service.
About
Counseling. Community. Contrast. "We're into the awareness game."
We chose hemp & organic cotton blend to express our appreciation for coexistence.

We chose "co*op" to represent the subtly visible cooperation of opposites within all things.

We chose to make our goods in the USA to enhance the communities nearest us.

We chose simplicity as our motivation for design to balance our daily complexities.

We chose to sell and donate our clothing to ensure that everyone owns a piece of our creation.

And, we chose to "take the road less traveled by," or doing things different, no matter the difficulty that lies in our choices.

90% of our proceeds go toward creating the changes we wish to see in the world.


Sincerely,
TheHempCoop
Shop members
dany

Owner, Customer Service, Assistant

I gravitate toward Universal wisdom, which is a byproduct of doing things unorthodox to my upbringing. The more I practice putting myself in positions of lostness, the more me I'd inevitably own. Sharing all the above is now my one true passion.

Kailee

Creator, Designer, Customer Service

music, fashion, yoga, sewing, food, nature, vanlife, motorcycle, love.

daniel o.

Marketer, Customer Service, Curator

donny

Designer, Creator, Curator

charles k

Shipper, Security, Designer

Prija P.

Operations, Logistics

Traveler, Vlogger

charles

Customer Service, Shipper

nature, vanlife, yoga, ooddles of noddles, music, art, motorcyle
Shop policies
Last updated on
January 30, 2018
What does Co-op mean to us?

We found ourselves on these three basic principles: Counseling. Community. Contrast

Our COOPerative day starts with counseling one another on the virtues of contrast (no right no wrong) to enhance our immediate work environment. This Pow-Wow reinforces ownership and appreciation for any unsettling feelings; whether right or wrong, negative or positive. In other words, we use the Pow-Wow to shoulder one another's negative energy in hopes of transmuting them into positive energy, in effect, strengthening a community within and without. That is our ultimate purpose… and a mission we wish to impart on all COOPers.

Thank you for reading and a big thank you for your support. Cheers. :)
Accepted payment methods
Accepts Etsy Gift Cards and Etsy Credits
Returns and exchanges
You are our number one priority. As such, we offer a 100% customer satisfaction guaranteed.
Please do not hesitate to ask us any questions. Cheers!
Payment
Currently, we are accepting PayPal and all major credit cards. If you don't have a PayPal, you can still proceed to purchase through Etsy utilizing their "non-user" option that will allow you to input your credit/debit card account information.
Shipping
All our domestic deliveries are shipped via USPS, and are typically fast enough. Just sit back, relax, and allow the Universe to deal with the rest. =)

If you have any questions, we we wish to answer them for you. Talk to us, anytime.