Announcement WELCOME TO THE HONEY BEE SHOP! CUSTOMIZE YOUR GARTER AND/OR SASH! Virtually every item in our shop, can be customized to your preference. We have many selections and colors of lace, shabby, chiffon, and rolled satin flowers, rhinestones, appliques, and ribbons. Please contact us and we will do our best to help you execute your vision! IT'S ALL ABOUT YOU AND YOUR SPECIAL DAY!

**YOUR GARTERS COME COMPLETE WITH DOUBLE-SIDED BODY TAPE TO ENSURE THEY STAY UP ALL DAY . . . NIGHT!

**YOUR GARTER SET COMES NICELY PACKAGED AND READY TO GIVE AS A GIFT**

Due to availability, the style of lace and/or embellishments may vary slightly, but will be equal to quality and beauty.

ARE YOU DIY??? CHECK OUT OUR SUPPLY SHOP BELOW "THE HONEY BEE SUPPLIES"!

https://www.etsy.com/shop/thehoneybeesupplies?ref=search_shop_redirect

FOR DIY SUPPLIES! IF YOU HAVE SEEN SOMETHING IN THIS SHOP THAT YOU HAVEN'T SEEN IN THE SUPPLY SHOP THAT YOUA RE INTERESTED IN, LET ME KNOW AND I WILL GIVE YOU A PRICE!

**Current production time is two weeks (sometimes sooner) from payment receipt, plus shipping.** We ship USPS First Class so you need to allow an additional 3-5 days for shipping time in the United States. If you need it sooner, you will need to purchase an additional Rush Listing (see below). If you need it overnight or within a few days, please contact us for rates. We are happy to work with your timeline if possible! :)

https://www.etsy.com/listing/105756029/rush-listing-add-on-custom-garter

USPS RUSH ORDERS: A rush order is a 1-2 day production time and has priority mail shipping built in to the price of the listing. Price Breakdown: $10.00 (Rush fee) + $2.50 (upgrade to Priority Shipping) = $12.50. USPS ESTIMATES Priority shipping to arrive in 2 to 3 days from day shipped (U.S. Only). *If you need faster shipping please contact us prior to purchasing for a shipping quote. Add this listing to your cart along with the garter of your choice. We look forward to making your garter for Your Special Day!

https://www.etsy.com/listing/105756029/rush-listing-add-on-custom-garter

ALL INTERNATIONAL ORDERS PLEASE ALLOW 6 WEEKS FOR PRODUCTION AND SHIPPING TIME! IF YOUR WEDDING IS LESS THAN 6 WEEKS OUT FOR PURCHASE, YOU WILL NEED TO ADD THE ADDITIONAL RUSH LISTING TO YOUR ORDER, WHICH IS BELOW!!!!!!

https://www.etsy.com/listing/191987696/international-rush-listing-add-on-custom?ref=shop_home_active_1&ga_search_query=international

DISCLAIMER: PLEASE UNDERSTAND THAT ONCE IT IS SHIPPED, WE HAVE NO CONTROL OVER THE POSTAL DELIVERY SERVICE!

***CUSTOMS, DUTY FEES, TAXES, ETC.***

IT IS THE CUSTOMER'S RESPONSIBILITY TO PAY ANY CHARGES IMPOSED BY THEIR COUNTRY SUCH AS (BUT NOT LIMITED TO) TAXES, CUSTOMS, DUTY FEES, ETC. THE HONEY BEE SHOP IS NOT RESPONSIBLE FOR THESE FEES AND WILL NOT REFUND, EXCHANGE OR ACCEPT RETURNS IF BUYER REFUSES TO PAY THE FEES AND COLLECT THE ITEM.

WE SHIP TO ETSY ADDRESSES. Please confirm your ETSY address is correct prior to purchase. We will be unable to give you a refund or reship if address was incorrect in ETSY.

IMPORTANT: PLEASE LEAVE YOUR **ACTUAL THIGH MEASUREMENT** WHERE YOU WANT TO WEAR YOUR GARTER. WE WILL ADJUST THE LACE ACCORDINGLY TO ENSURE A PERFECT FIT! ALSO, PLEASE LEAVE YOUR WEDDING DATE IN THE NOTES TO SELLER AT CHECKOUT SO THAT WE CAN BE SURE YOU RECEIVE YOUR GARTER IN TIME FOR YOUR WEDDING!

PLEASE NOTE: If no measurement is given, we will make your garter to fit leg size 20 inches for a general fit.

IF THERE IS A PROBLEM WITH YOUR ORDER, PLEASE CONTACT US PRIOR TO LEAVING NEUTRAL OR NEGATIVE FEEDBACK, SO WE CAN WORK WITH YOU TO RESOLVE ANY ISSUES!

OUR GOAL IS TO PRODUCE THE HIGHEST QUALITY PRODUCTS THAT OUR BRIDES DESERVE!

**GARTERS CONTAIN SMALL PIECES AND CHILDREN SHOULD NOT BE LEFT WITH THEM UNATTENDED!

Thank you for visiting our Etsy site... Please stay awhile, and keep coming back. :)
Announcement
Last updated on
Jul 20, 2017
WELCOME TO THE HONEY BEE SHOP! CUSTOMIZE YOUR GARTER AND/OR SASH! Virtually every item in our shop, can be customized to your preference. We have many selections and colors of lace, shabby, chiffon, and rolled satin flowers, rhinestones, appliques, and ribbons. Please contact us and we will do our best to help you execute your vision! IT'S ALL ABOUT YOU AND YOUR SPECIAL DAY!

**YOUR GARTERS COME COMPLETE WITH DOUBLE-SIDED BODY TAPE TO ENSURE THEY STAY UP ALL DAY . . . NIGHT!

**YOUR GARTER SET COMES NICELY PACKAGED AND READY TO GIVE AS A GIFT**

Due to availability, the style of lace and/or embellishments may vary slightly, but will be equal to quality and beauty.

ARE YOU DIY??? CHECK OUT OUR SUPPLY SHOP BELOW "THE HONEY BEE SUPPLIES"!

https://www.etsy.com/shop/thehoneybeesupplies?ref=search_shop_redirect

FOR DIY SUPPLIES! IF YOU HAVE SEEN SOMETHING IN THIS SHOP THAT YOU HAVEN'T SEEN IN THE SUPPLY SHOP THAT YOUA RE INTERESTED IN, LET ME KNOW AND I WILL GIVE YOU A PRICE!

**Current production time is two weeks (sometimes sooner) from payment receipt, plus shipping.** We ship USPS First Class so you need to allow an additional 3-5 days for shipping time in the United States. If you need it sooner, you will need to purchase an additional Rush Listing (see below). If you need it overnight or within a few days, please contact us for rates. We are happy to work with your timeline if possible! :)

https://www.etsy.com/listing/105756029/rush-listing-add-on-custom-garter

USPS RUSH ORDERS: A rush order is a 1-2 day production time and has priority mail shipping built in to the price of the listing. Price Breakdown: $10.00 (Rush fee) + $2.50 (upgrade to Priority Shipping) = $12.50. USPS ESTIMATES Priority shipping to arrive in 2 to 3 days from day shipped (U.S. Only). *If you need faster shipping please contact us prior to purchasing for a shipping quote. Add this listing to your cart along with the garter of your choice. We look forward to making your garter for Your Special Day!

https://www.etsy.com/listing/105756029/rush-listing-add-on-custom-garter

ALL INTERNATIONAL ORDERS PLEASE ALLOW 6 WEEKS FOR PRODUCTION AND SHIPPING TIME! IF YOUR WEDDING IS LESS THAN 6 WEEKS OUT FOR PURCHASE, YOU WILL NEED TO ADD THE ADDITIONAL RUSH LISTING TO YOUR ORDER, WHICH IS BELOW!!!!!!

https://www.etsy.com/listing/191987696/international-rush-listing-add-on-custom?ref=shop_home_active_1&ga_search_query=international

DISCLAIMER: PLEASE UNDERSTAND THAT ONCE IT IS SHIPPED, WE HAVE NO CONTROL OVER THE POSTAL DELIVERY SERVICE!

***CUSTOMS, DUTY FEES, TAXES, ETC.***

IT IS THE CUSTOMER'S RESPONSIBILITY TO PAY ANY CHARGES IMPOSED BY THEIR COUNTRY SUCH AS (BUT NOT LIMITED TO) TAXES, CUSTOMS, DUTY FEES, ETC. THE HONEY BEE SHOP IS NOT RESPONSIBLE FOR THESE FEES AND WILL NOT REFUND, EXCHANGE OR ACCEPT RETURNS IF BUYER REFUSES TO PAY THE FEES AND COLLECT THE ITEM.

WE SHIP TO ETSY ADDRESSES. Please confirm your ETSY address is correct prior to purchase. We will be unable to give you a refund or reship if address was incorrect in ETSY.

IMPORTANT: PLEASE LEAVE YOUR **ACTUAL THIGH MEASUREMENT** WHERE YOU WANT TO WEAR YOUR GARTER. WE WILL ADJUST THE LACE ACCORDINGLY TO ENSURE A PERFECT FIT! ALSO, PLEASE LEAVE YOUR WEDDING DATE IN THE NOTES TO SELLER AT CHECKOUT SO THAT WE CAN BE SURE YOU RECEIVE YOUR GARTER IN TIME FOR YOUR WEDDING!

PLEASE NOTE: If no measurement is given, we will make your garter to fit leg size 20 inches for a general fit.

IF THERE IS A PROBLEM WITH YOUR ORDER, PLEASE CONTACT US PRIOR TO LEAVING NEUTRAL OR NEGATIVE FEEDBACK, SO WE CAN WORK WITH YOU TO RESOLVE ANY ISSUES!

OUR GOAL IS TO PRODUCE THE HIGHEST QUALITY PRODUCTS THAT OUR BRIDES DESERVE!

**GARTERS CONTAIN SMALL PIECES AND CHILDREN SHOULD NOT BE LEFT WITH THEM UNATTENDED!

Thank you for visiting our Etsy site... Please stay awhile, and keep coming back. :) No items listed at this time
Reviews

So beautiful! In love with my garter! Much more sparkly in person :) would highly recommend!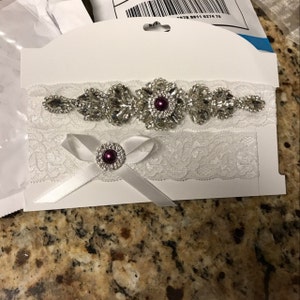 I absolutely love my garters. Very fast shipping. They are a pleasure to work with. I had a concern about them getting to me on time because I was ordering them late, and the lady who messaged me back assured me I would have them in time. So I made sure everything was handled, and I received them a week after I made payment. Couldn't have been happier. And my groom loved the look of them!

Shop policies
Last updated on
June 24, 2015
We are dedicated to our customers and brides and are willing to work with you to create the perfect bridal garter for you! :)

**YOUR GARTERS COME COMPLETE WITH DOUBLE-SIDED BODY TAPE TO ENSURE THEY STAY UP ALL DAY . . . NIGHT!

**YOUR GARTER SET COMES NICELY PACKAGED AND READY TO GIVE AS A GIFT**
Accepted payment methods
Accepts Etsy Gift Cards and Etsy Credits
Payment
We accept all major credit cards, PayPal, and E-checks. E-checks usually take 5-7 days to process so please plan accordingly.
Shipping
**Current production time is two weeks from payment receipt, plus shipping.** We ship USPS First Class so you need to allow an additional 3-5 days for shipping time in the United States. If you need it sooner, you will need to purchase an additional Rush Listing (see below). If you need it overnight or within a few days, please contact us for rates. We are happy to work with your timeline if possible! :)
UNITED STATES -- USPS RUSH ORDERS: A rush order is a 1-2 day production time and has priority mail shipping built in to the price of the listing. Price Breakdown: $10.00 (Rush fee) + $2.50 (upgrade to Priority Shipping) = $12.50. USPS ESTIMATES Priority shipping to arrive in 2 to 3 days from day shipped (U.S. Only). *If you need faster shipping please contact us prior to purchasing for a shipping quote. Add this listing to your cart along with the garter of your choice. We look forward to making your garter for Your Special Day!
https://www.etsy.com/listing/105756029/rush-listing-add-on-custom-garter
INTERNATIONAL -- ALL INTERNATIONAL ORDERS PLEASE ALLOW 6 WEEKS FOR PRODUCTION AND SHIPPING TIME! IF YOUR WEDDING IS LESS THAN 6 WEEKS OUT FOR PURCHASE, YOU WILL NEED TO ADD THE ADDITIONAL RUSH LISTING TO YOUR ORDER, WHICH IS BELOW!!!!!!
https://www.etsy.com/listing/191987696/international-rush-listing-add-on-custom?ref=shop_home_active_1&ga_search_query=international
DISCLAIMER: PLEASE UNDERSTAND THAT ONCE IT IS SHIPPED, WE HAVE NO CONTROL OVER THE POSTAL DELIVERY SERVICE!
***CUSTOMS, DUTY FEES, TAXES, ETC.***
IT IS THE CUSTOMER'S RESPONSIBILITY TO PAY ANY CHARGES IMPOSED BY THEIR COUNTRY SUCH AS (BUT NOT LIMITED TO) TAXES, CUSTOMS, DUTY FEES, ETC. THE HONEY BEE SHOP IS NOT RESPONSIBLE FOR THESE FEES AND WILL NOT REFUND, EXCHANGE OR ACCEPT RETURNS IF BUYER REFUSES TO PAY THE FEES AND COLLECT THE ITEM.
WE SHIP TO ETSY ADDRESSES. Please confirm your ETSY address is correct prior to purchase. We will be unable to give you a refund or reship if address was incorrect in ETSY.
Refunds and Exchanges
Since each item is custom made, no refunds will be given. However, if there is an issue once you receive your item you must contact us via email, phone, or etsy convo within 48 hours. We will work with you on how to resolve the issue to work best for you. Each situation is different -- please contact us immediately so we can resolve it quickly! :) Prior to leaving neutral or negative feedback, PLEASE contact us so we can work with you to resolve any issues. Our goal is to produce the highest quality products for our Brides!
Additional policies and FAQs
Virtually every item in our shop, can be customized to your preference (i.e., colors of shabby and rolled satin flowers, rhinestones, appliques, ribbons, lace). Please contact us and we will do our best to help you execute your vision! IT'S ALL ABOUT YOU AND YOUR SPECIAL DAY!