Announcement Handcrafted natural Bath, Body & Beauty products. Lip Balm, Lip Scrub, Body Lotion and Body Scrub all made with the most natural of ingredients - no chemicals, no preservatives and always tested on our human friends and never animals. We love to work with you on custom favors for your event and always welcome wholesale inquiries.
Announcement
Last updated on
Jun 20, 2016
Handcrafted natural Bath, Body & Beauty products. Lip Balm, Lip Scrub, Body Lotion and Body Scrub all made with the most natural of ingredients - no chemicals, no preservatives and always tested on our human friends and never animals. We love to work with you on custom favors for your event and always welcome wholesale inquiries. No items listed at this time
Reviews

I love this lip balm. The smell is out of this world and my lips feel so soft. Love it :)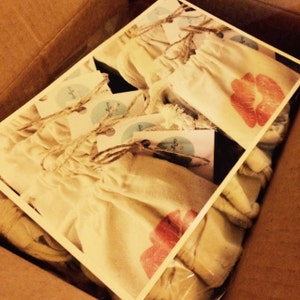 Recieved the items! I ordered an assortment of lip balms for my upcoming baby shower and they are beautiful! I had tulip go go, lemoncello and soothe me. My favourite being Tulip go go which comes tinted and smells heavenly. Perfect bespoke shower gift!! Thanks Amanda!
About
Tulips Apothecary is Born
It all started in the land where it seems all good ideas are formed, the land where simple or crazy ideas somehow morph into something genius after a few too many cocktails are consumed in the waning afternoon sun. It's the land where sequins are appropriate in the middle of the day. Where a $14 Bloody Mary with bacon, small sausages, shrimp, a sirloin, and a full veggie salad is considered a "good" lunch (I was kidding about the sirloin, but it got you thinking...right!). Yes, the land I speak of is Vegas and this time what happened in Vegas didn't stay in Vegas.

So here is what you need to know, we are Tulips Apothecary. And the "We" in this venture is made up of my sister and I and as you probably guessed...we spent a few days in Vegas! My sister is a corporate chick living in Irvine, CA...La La Land as I like to call it! She is married with two furry, barking babies and is constantly on the go with work. Always flying here and there. As for me, I am a married stay-at-home momma of three small ones living in Alpharetta, GA...Domestic Goddess as my sister likes to call it!
You are probably curious to know how I made a Vegas weekend work with three small one under 6 years of age? I don't really know, but lucky for me my courageous hubby documented the weekend on Facebook! So a girls weekend in Vegas it was and at least I have one pic to prove I was there...

Somewhere over the course of the weekend (between eating, drinking, shopping, drinking, gambling, and more drinking…sorry Mom) we were complaining of the dry desert air.

We were literally fighting over the 1 oz. hotel lotion bottle! We were asking the same questions...How does anyone live here? I feel like I can't breathe! Why is my skin scaling before my very eyes? How did I lose my voice? Where are my eyes drops? Why are my lips falling off? (It couldn't be dehydration from drinking champagne for breakfast?) Where is the lip balm!!!!????

Now don't get me wrong we have always been lip balm freaks (my sister has a tube or tin in every handbag, random drawers in her house, several melted ones in the car, in her work bag, in every suitcase, and probably her own lip balm store in her office). We are obsessed with the smell, texture, and packaging of the product....remember your first small tub of Carmex...ugh, we fell in love! If we found a goodie one of us would always call the other to share the good news!

No cost was too great to get the perfect lip pucker. Somewhere in between hotel shopping and slot machines our idea was sprung! My sister thinks it happened over a Champagne cocktail and quarter video poker...it just may have! We can and should make our own lip balm!

Something that would satisfy even the snootiest lip balm connoisseurs! I mean my sis does live in Southern California....just kidding (sort of). Let's make a product that contains as many natural ingredients as possible. Let's put it in the containers we love and sell it to the masses. Let's create scents that invigorate the senses and cure the relentless chapping. Let's HELP the women of Las Vegas...and the World!!! Alright, so that's probably a bit on the dramatic side, but you get the point. We are seriously committed to bringing you the highest quality, most natural, and best looking lip balm you can find. Our recipes have been tested and tweaked to ensure perfection. Were so very proud of our new product and can't wait to hear from you.

And that my new friends, in a nutshell is the beginning....two sisters, two lips, Tulips Apothecary.

Love and Tulips Forever!
Shop members
Co-Owners of Tulips Apothecary

Owner, Maker, Designer, Curator

Amanda is the Corporate, Conservative, Business Savy, Beauty junkie living and creating on the West Coast. Nicole is the Crazy, Risk Taker, Stay at Home Mom of three (apparently out on a really long maternity leave?) Two sisters, Two Coasts, Tulips!
Local
Find TulipsApothecary at the following upcoming market!
Sis and Moon's

Sis and Moon's, 24 Milton Ave, Alpharetta, GA 30009

Alpharetta, GA

Dec 11–Dec 10, 2016

A shop in the heart of historic downtown Alpharetta, filled with curated Vintage finds and local artists.
Shop policies
Last updated on
April 16, 2013
Shipping
All products are shipped via USPS unless otherwise specified. All products are made and packaged by hand and will be shipped within three days of purchase. Note: some products containing oil have a higher melt point. If shipped during warmer months, please allow the product to come to room temperature before opening.
Refunds and Exchanges
We want you to be 100% satisfied with your Tulips Apothecary purchase. If you are unhappy with anything please convo us. We will do our best to find you a new product that is just right for you or refund your full purchase price less any shipping.
Additional policies and FAQs
Some of our items including the Pucker Pots can make wonderful favors or gifts for your baby or wedding showers, birthday parties or as hostess gifts. If you are interested in a bulk order, please convo us with the details.

INGREDIENTS: For a full listing of ingredients, please convo us.


**ALLERGY and PREGNANCY CAUTIONS** Please convo us for ingredients if you have allergies. Do not use lotions, perfumes, or scrubs on broken skin, and always avoid getting products into eyes.
. SHEA BUTTER, SWEET ALMOND OIL, MACADAMIA BUTTER and PISTACHIO BUTTER should not be used by people who have NUT allergies. If you are allergic to COCONUT, please contact me before ordering. Some flavor and fragrance oils may contain coconut oil.


IMPORTANT: The following essential oils should not be used by pregnant women - Cedar, Clove, Cinnamon, Eucalyptus, Fennel, Ginger, Jasmine, Nutmeg, Peppermint, Rose, Rosemary, Sage, Spearmint, Thyme, Wintergreen.

 This may not be an all inclusive list, please contact your doctor if you have concern.

KEEP LIP PRODUCTS OUT OF REACH OF CHILDREN AND PETS.