Announcement Thank you for visiting Turquoise Wood Works.
Dog Bowls,Bookcases, Custom Signs & Nursery Storage Solutions Featured In the 2015 Room to Create Magazine in Apartment Therapy, Modern Dog Magazine, Good Morning America, Six Sisters & Examiner.com We hand craft every order with Love and attention to detail. Personalize any item for a small fee.

The Correct Height for a Dog Food Bowl
Determine the correct height for a dog food bowl by measuring your standing dog from the floor beneath the front paws up to the top of the shoulders and then subtract approximately 6 inches depending on the length of the face and nose. Dogs should be able to eat without lowering their necks or stretching them upwards. The top of a dog food bowl at the correct height should sit level with the dog's lower chest.

Extra small Dog Breeds
Some examples of small sized dog breeds are dachshunds, Maltese, pugs, Shih Tzu's, toy poodles and Westies. The correct height for a dog food bowl for a small dog ranges from 4 to 7 inches depending on the specific breed and individual dog. Bowls size: half pint, pint and 1 quart

Small to Medium Dog Breeds
Beagles, border collies, Brittany spaniels and standard schnauzers are examples of medium-sized dog breeds. Medium dogs will be comfortable with a dog food bowl that is at a height between 7 and 12 inches. Bowl size: 1 quart and 2 quart

Large Dog Breeds
Large sized dog breeds include Dalmatians, labs, golden retrievers, boxers and collies. A dog food bowl that is somewhere between 12 and 18 inches high generally works for large dogs. Bowl size: 2 quart and 3 quart

Extra Large Dog Breeds
Bloodhounds, borzois, Great Danes, mastiffs and Saint Bernard's are several of the dog breeds that are classified as extra large. An extra large dog will do best with a food bowl at a height ranging from 18 to 24 inches. Bowls size: 2 quart 3 quart and (5 quart custom only)

Thank you for visiting Turquoise Wood Works
Business Hours
Monday - Friday 9AM to 6PM EST
Saturday & Sunday By appointment only
Announcement
Last updated on
Jul 20, 2017
Thank you for visiting Turquoise Wood Works.
Dog Bowls,Bookcases, Custom Signs & Nursery Storage Solutions Featured In the 2015 Room to Create Magazine in Apartment Therapy, Modern Dog Magazine, Good Morning America, Six Sisters & Examiner.com We hand craft every order with Love and attention to detail. Personalize any item for a small fee.

The Correct Height for a Dog Food Bowl
Determine the correct height for a dog food bowl by measuring your standing dog from the floor beneath the front paws up to the top of the shoulders and then subtract approximately 6 inches depending on the length of the face and nose. Dogs should be able to eat without lowering their necks or stretching them upwards. The top of a dog food bowl at the correct height should sit level with the dog's lower chest.

Extra small Dog Breeds
Some examples of small sized dog breeds are dachshunds, Maltese, pugs, Shih Tzu's, toy poodles and Westies. The correct height for a dog food bowl for a small dog ranges from 4 to 7 inches depending on the specific breed and individual dog. Bowls size: half pint, pint and 1 quart

Small to Medium Dog Breeds
Beagles, border collies, Brittany spaniels and standard schnauzers are examples of medium-sized dog breeds. Medium dogs will be comfortable with a dog food bowl that is at a height between 7 and 12 inches. Bowl size: 1 quart and 2 quart

Large Dog Breeds
Large sized dog breeds include Dalmatians, labs, golden retrievers, boxers and collies. A dog food bowl that is somewhere between 12 and 18 inches high generally works for large dogs. Bowl size: 2 quart and 3 quart

Extra Large Dog Breeds
Bloodhounds, borzois, Great Danes, mastiffs and Saint Bernard's are several of the dog breeds that are classified as extra large. An extra large dog will do best with a food bowl at a height ranging from 18 to 24 inches. Bowls size: 2 quart 3 quart and (5 quart custom only)

Thank you for visiting Turquoise Wood Works
Business Hours
Monday - Friday 9AM to 6PM EST
Saturday & Sunday By appointment only No items listed at this time
Reviews

Really cute sign, however, the size was a lot smaller than I thought it would be (which is my fault for not reading the details carefully enough). The color was a lot darker than I thought it would be; I ordered vintage blue, however I would call it navy. The sign was also not distressed. It will work okay with my decor, just not what I was expecting. They did ship it much sooner than expected, less than a week after purchase, which was appreciated.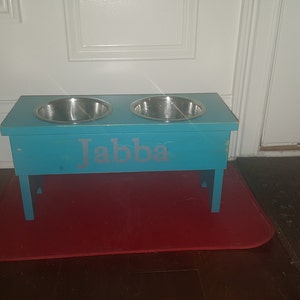 This is so cool. Absolutely love it. Thank you
About
Empty Nesters and the handmade life
I retired as an educator and my husband is retired from the Fire Department. We were concerned about having to much time on our hands since our 6 children were all grown up and on their own We knew we needed something to occupy our hands and mind. We had adopted two sweet Shih Tzu's to add to the one pup we already had. We soon realized we needed a more controlled way to feed them all at once. My husband is a master carpenter with over 30 yrs experience in the building industry and I had an art background, so we decided to design and build a multi bowl pet feeder stand for them to use. The pups were happy and we loved it. Friends and neighbors all wanted one. Not long after, Turquoise Wood Works was born. The colorful cute little designs with personalization soon took over, along with other custom storage shelves, signs bookcases. We were so busy with the creative process of designing building, painting and shipping of our wood children that we sometimes forgot we were empty nesters . We could not be happier, we are so blessed to do what we love and who we get to share it with.

Turquoise Wood Works Business Hours
Monday - Friday 9AM to 6PM EST
Saturday & Sunday By appointment only
Shop members
CJ & Joni

Owner, Maker, Designer

All Handmade by ME Team

Owner, Maker, Designer, Curator

Staying True to 100% handmade art thought the All Handmade by Me Team
Shop policies
Last updated on
August 7, 2017
Thank you for visiting our shop.

Items that are custom made may take 2 weeks or more to construct before they ship. Let us know if you need your item by a certain date.

Business Hours
Monday - Friday 9AM to 6PM EST
Saturday & Sunday By appointment only

We are delighted to take customs orders. Please note that our products are handcrafted and custom items may take 3 weeks or more to construct before they ship. If you need a specific in hand date for a wedding or other special event please contact us before purchase so we may discuss shipping options

Please note: Custom and Personalized items may not be returned.
Made to order items may be returned however: the buyer will pay shipping cost to return as well as a %20 restocking fee. After the item is return in new condition A refund will be processed for the item less the original shipping cost. We can not get a refund from the shipping agent

We are a family owned company specializing in infusing art, textiles and wood. We provide ever evolving, stylish handmade gifts and accessories. Our family design team covers the generation gap by combining unique designs and primitives for all ages.



The Correct Height for a Dog Food Bowl

Determine the correct height for a dog food bowl by measuring your standing dog from the floor beneath the front paws up to the top of the shoulders and then subtract approximately 6 inches depending on the length of the face and nose. Dogs should be able to eat without lowering their necks or stretching them upwards. The top of a dog food bowl at the correct height should sit level with the dog's lower chest.

Extra small Dog Breeds
Some examples of small sized dog breeds are dachshunds, Maltese, pugs, Shih Tzu's, toy poodles and Westies. The correct height for a dog food bowl for a small dog ranges from 4 to 7 inches depending on the specific breed and individual dog. Bowls size: half pint, pint and 1 quart

Small to Medium Dog Breeds
Beagles, border collies, Brittany spaniels and standard schnauzers are examples of medium-sized dog breeds. Medium dogs will be comfortable with a dog food bowl that is at a height between 7 and 12 inches. Bowl size: 1 quart and 2 quart

Large Dog Breeds
Large sized dog breeds include Dalmatians, labs, golden retrievers, boxers and collies. A dog food bowl that is somewhere between 12 and 18 inches high generally works for large dogs. Bowl size: 2 quart and 3 quart

Extra Large Dog Breeds
Bloodhounds, borzois, Great Danes, mastiffs and Saint Bernard's are several of the dog breeds that are classified as extra large. An extra large dog will do best with a food bowl at a height ranging from 18 to 24 inches. Bowls size: 2 quart 3 quart and (5 quart custom only)
Accepted payment methods
Accepts Etsy Gift Cards and Etsy Credits
Payment
We accept paypal and credit card payments.

Custom and Personalized items can not be returned.
Shipping
Our custom items made in the USA at the time of order and may take 2 to 3 weeks to construct before they ship. Let us know if you need your item by a certain date.

Please note we are not accountable for shipping delays due to weather or other
circumstances once the item is scanned into the shipping company service USPS, UPS or FEDEX
All of our items are handmade to order at time of purchase and may take Two weeks or more to construct before shipping.
We are happy to ship outside of the USA. Just contact us with your item choice and information and we will gladly configure shipping to your destination.
Refunds and Exchanges
We do appreciate your business.

Our custom items are not premade. The build starts after you order and may take to 3 weeks to construct before they ship. Let us know if you need your item by a certain date.

Please note Custom and Personalized items can not be returned.

We are not accountable for shipping delays due to weather or other circumstances once the item is scanned into the shipping companys service USPS, UPS or FEDEX

If you are unsatisfied with the made to order item you purchased and have not used it you may return it
After the item is returned in new condition ,We will refund the full product amount paid less shipping an a %20 restocking fee

It is up to the buyer to pay the return shipping.

Exchanges: Buyer is responsible for paying the return shipping as well as the shipping cost on the new item since seller cannot be refunded shipping cost from the shipping agent.
The original purchase price of the item less shipping cost will be applied to the exchanged item

*Please report all Damages items with in 24 hours of receipt
We will need pictures of the box ,the item and the packing materials
to file a claim with the shipper*

The Correct Height for a Dog Food Bowl

Determine the correct height for a dog food bowl by measuring your standing dog from the floor beneath the front paws up to the top of the shoulders and then subtract approximately 6 inches depending on the length of the face and nose. Dogs should be able to eat without lowering their necks or stretching them upwards. The top of a dog food bowl at the correct height should sit level with the dog's lower chest.

Extra small Dog Breeds
Some examples of small sized dog breeds are dachshunds, Maltese, pugs, Shih Tzu's, toy poodles and Westies. The correct height for a dog food bowl for a small dog ranges from 4 to 7 inches depending on the specific breed and individual dog. Bowls size: half pint, pint and 1 quart

Small to Medium Dog Breeds
Beagles, border collies, Brittany spaniels and standard schnauzers are examples of medium-sized dog breeds. Medium dogs will be comfortable with a dog food bowl that is at a height between 7 and 12 inches. Bowl size: 1 quart and 2 quart

Large Dog Breeds
Large sized dog breeds include Dalmatians, labs, golden retrievers, boxers and collies. A dog food bowl that is somewhere between 12 and 18 inches high generally works for large dogs. Bowl size: 2 quart and 3 quart

Extra Large Dog Breeds
Bloodhounds, borzois, Great Danes, mastiffs and Saint Bernard's are several of the dog breeds that are classified as extra large. An extra large dog will do best with a food bowl at a height ranging from 18 to 24 inches. Bowls size: 2 quart 3 quart and (5 quart custom only)
Additional policies and FAQs
The Correct Height for a Dog Food Bowl

Determine the correct height for a dog food bowl by measuring your standing dog from the floor beneath the front paws up to the top of the shoulders and then subtract approximately 6 inches depending on the length of the face and nose. Dogs should be able to eat without lowering their necks or stretching them upwards. The top of a dog food bowl at the correct height should sit level with the dog's lower chest.

Extra small Dog Breeds
Some examples of small sized dog breeds are dachshunds, Maltese, pugs, Shih Tzu's, toy poodles and Westies. The correct height for a dog food bowl for a small dog ranges from 4 to 7 inches depending on the specific breed and individual dog. Bowls size: half pint, pint and 1 quart

Small to Medium Dog Breeds
Beagles, border collies, Brittany spaniels and standard schnauzers are examples of medium-sized dog breeds. Medium dogs will be comfortable with a dog food bowl that is at a height between 7 and 12 inches. Bowl size: 1 quart and 2 quart

Large Dog Breeds
Large sized dog breeds include Dalmatians, labs, golden retrievers, boxers and collies. A dog food bowl that is somewhere between 12 and 18 inches high generally works for large dogs. Bowl size: 2 quart and 3 quart

Extra Large Dog Breeds
Bloodhounds, borzois, Great Danes, mastiffs and Saint Bernard's are several of the dog breeds that are classified as extra large. An extra large dog will do best with a food bowl at a height ranging from 18 to 24 inches. Bowls size: 2 quart 3 quart and (5 quart custom only)