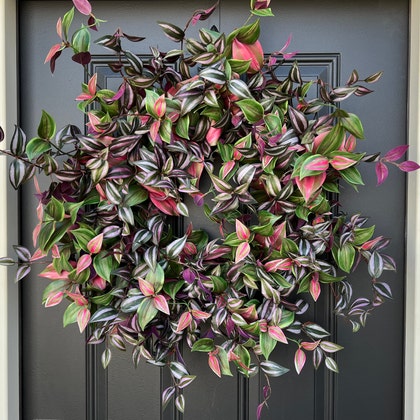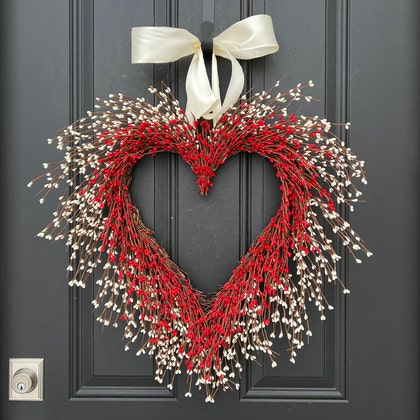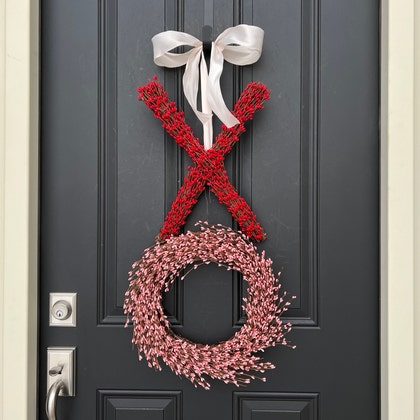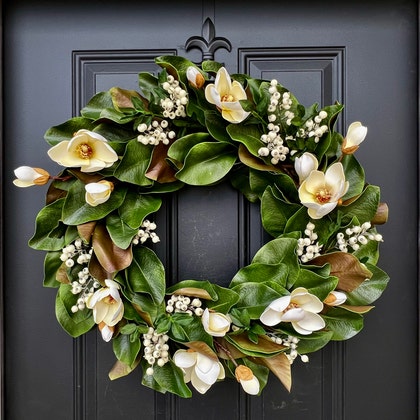 Announcement Twoinspireyou is your place to find the highest quality handcrafted front door wreaths, baskets and home decor for every season and every reason! We've also been adding NEW summer designs to our website at twoinspireyou.com.
For thirteen years we have focused on sourcing the highest quality materials for our handcrafted wreaths and strived to innovate new ways to create and offer the finest product for our customers.
PRODUCTION TIME
: Currently 2-4 business days for all wreaths
SHIPPING TIME: 
Domestic (continental US) 1-4 business days (provided weather isn't a factor)
Therefore, it will take approximately 3-8 business days(PRODUCTION+SHIPPING) after order date to receive your wreath unless other arrangements are made. If you have any questions, please don't hesitate to ask.

TwoInspireYou is THE destination for the greatest variety, highest quality and most lifelike artificial handcrafted wreaths you can find for Every Season and Every Reason.

Please note that "ship by" date on your receipt is NOT the same as the actual "delivery" date. 

- SHIP BY DATE = When your package leaves our shop. 

- DELIVERY DATE = When your package arrives to you!

**If you reside outside the continental US, please contact us for current ship times and pricing.

GIFTS:
Wreaths make the perfect wedding gift, new homeowner's gift or thank you gift! At checkout, please utilize the "add a note" box to let us know the recipient's name, address and the special note you'd like to go along, and we'll take care of the rest! We'll let you know when it ships and provide a tracking number for you as well.

You can find TwoInspireYou premium wreaths featured in: This Old House Magazine, RedBook Magazine, HouseBeautiful.com, ElleDecor.com, TownAndCountrymag.com, Countryliving.com. Goodhousekeeping.com, Womansday.com, Styleandcheek.com, BrightBoldBeautiful.com, GreenwichGirl.com, and many other amazing blogs, magazines and specialty shops. Many thanks to our loyal customers and those who have pinned, posted, tweeted, and blogged about our unique creations!

Sincerely,
Tonya | Owner at TwoInspireYou
Announcement
Twoinspireyou is your place to find the highest quality handcrafted front door wreaths, baskets and home decor for every season and every reason! We've also been adding NEW summer designs to our website at twoinspireyou.com.
For thirteen years we have focused on sourcing the highest quality materials for our handcrafted wreaths and strived to innovate new ways to create and offer the finest product for our customers.
PRODUCTION TIME
: Currently 2-4 business days for all wreaths
SHIPPING TIME: 
Domestic (continental US) 1-4 business days (provided weather isn't a factor)
Therefore, it will take approximately 3-8 business days(PRODUCTION+SHIPPING) after order date to receive your wreath unless other arrangements are made. If you have any questions, please don't hesitate to ask.

TwoInspireYou is THE destination for the greatest variety, highest quality and most lifelike artificial handcrafted wreaths you can find for Every Season and Every Reason.

Please note that "ship by" date on your receipt is NOT the same as the actual "delivery" date. 

- SHIP BY DATE = When your package leaves our shop. 

- DELIVERY DATE = When your package arrives to you!

**If you reside outside the continental US, please contact us for current ship times and pricing.

GIFTS:
Wreaths make the perfect wedding gift, new homeowner's gift or thank you gift! At checkout, please utilize the "add a note" box to let us know the recipient's name, address and the special note you'd like to go along, and we'll take care of the rest! We'll let you know when it ships and provide a tracking number for you as well.

You can find TwoInspireYou premium wreaths featured in: This Old House Magazine, RedBook Magazine, HouseBeautiful.com, ElleDecor.com, TownAndCountrymag.com, Countryliving.com. Goodhousekeeping.com, Womansday.com, Styleandcheek.com, BrightBoldBeautiful.com, GreenwichGirl.com, and many other amazing blogs, magazines and specialty shops. Many thanks to our loyal customers and those who have pinned, posted, tweeted, and blogged about our unique creations!

Sincerely,
Tonya | Owner at TwoInspireYou
Average item review
(10680)
See reviews that mention:
Loading
Your front door tells a story. What story does yours tell?
Your front door reflects the heart of your home; it's the first thing people see when they enter and the last thing they see as they leave. A wreath on your door gives visitors a sense of what's inside, inviting them to come into your home and experience the life within. Your front door tells a story. What story does yours tell?

TwoInspireYou seeks to help you tell that story by offering unique and beautiful wreaths, with designs that span from traditional to modern aesthetics. Each wreath is arranged by hand using the highest quality materials. A one-of-a-kind piece from TwoInspireYou forms the foundation of an inspiring entryway that celebrates the memories created within your home throughout every season of the year and every season of life.

TwoInspireYou was founded on the belief that inspiration is born when craftsmanship and nature's beauty unite. This combination results in the creation of something truly beautiful and unique, much in the same way that life blossoms when we welcome family and friends into our homes and make memories filled with laughter, imagination, love and joy. We hope you see our wreaths as a beautiful way to tell the unique story of the life found inside your home.

Visit us at twoinspireyou.com for the latest creations and up to date info on how we're growing and continuing to innovate to create the best in home decor for your front door as well as your home. With you in mind, we are forward thinking and constantly researching to offer the highest quality and latest trends for every season and every reason!
Shop members
Tonya

Owner

I am the owner and designer behind TwoInspireYou.

Cara

Wreath Creator, Quality Control, Lead Trainer
Shop policies
To Our Valued Customers:
THANK YOU for your continued support of our small business as we all navigate through many tough issues affecting this great country we share. We at TIY promise to continue creating with you in mind. It is our top priority to deliver the highest quality arrangement to your front door.

We know that front door wreaths are not necessity during these times but if you were planning to purchase this fall, please know we so appreciate your support of our small business and families during this time. If you have any questions for us, we are here to help.

Sincerely,
Tonya, owner at TwoInspireYou

**********************************************************************************************

Thanks so much for your interest in our wreaths! Along with the very talented and amazing women in the TIY shop that create amazing wreaths, we really love what we do and we are committed to creating beautiful and unique arrangements that look fab on any door or in any room in your home.

For us, an arrangement on the front door of a home speaks of what's on the inside. Our greatest hope for our creations is that they inspire, giving a sense of love, joy and peace to a home.

Because we seek to use the most lifelike florals on the market, some of the materials in our wreaths are not fully weatherproof, therefore, we cannot guarantee the lifespan of a wreath placed outdoors. For more details and tips to ensure the longevity of your outdoor wreath, see the "Additional Information" section below. If you have any questions or concerns, please don't hesitate to convo me or email me at twoinspireyou [!at] gmail.com.

**While we may sell several of the same wreath, each one is made by hand in the shop with great attention to quality and detail. We always do our best to create with the exact materials shown in the photos but may need to substitute due to manufacturer change in materials or an unforeseen quality issue with current materials. If you have any questions or concerns, please don't hesitate to ask!

Thanks for stopping by my shop!
Tonya
Accepted payment methods
Accepts Etsy Gift Cards and Etsy Credits
Returns & exchanges
See item details for return and exchange eligibility.
Privacy
This Privacy Policy describes how and when Twoinspireyou ("I", "me", "my") collects, uses, and shares information when you purchase an item from Twoinspireyou (www.etsy.com/twoinspireyou/MyEtsyShop), contact me, or otherwise use my services through Etsy.com or its related sites and services.
You agree that by purchasing an item from Twoinspireyou or otherwise interacting with Twoinspireyou, you have read, understood, and agree to be bound by all of the terms of this Privacy Policy. If you do not agree, you must leave Twoinspireyou immediately.
I may change this Privacy Policy from time to time. If I make changes, I will notify you by revising the date at the top of the page.
This Privacy Policy does not apply to the practices of third parties that I do not own or control, including Etsy or any third party services you access through Etsy or through Twoinspireyou. You can reference the Etsy Privacy Policy to learn more about Etsy's privacy practices.
Additionally, I will make every reasonable effort to inform you when I interact with third parties with your information; however, you are solely responsible for reviewing, understanding, and agreeing to or not agreeing to any third-party privacy policies.
Information I Collect
To fulfill your order, you must provide me with certain information (which you authorized Etsy to provide to me), such as your name, e-mail address, postal address, payment information, and the details of the product that you're ordering. You may also choose to provide me with additional personal information from time to time if you contact me directly.
Why I Need Your Information and How I Use It
I collect, use and share your information in several legally-permissible ways, including:
  - As needed to provide my services, such as when I use your information to fulfill your order, to settle disputes, or to provide you with customer support;
  - When you have provided your affirmative consent, which you may revoke at any time, such as by signing up for my mailing list or to receive notifications from me;
  - If necessary to comply with a court order or legal obligation, such as retaining information about your purchases if required by tax law; and
  - As necessary for my own legitimate interests, if those legitimate interests are not overridden by your rights or interests, such as (a) providing and enhancing my services; (b) Compliance with the Etsy Seller Policy and Etsy Terms of Use;
Information Sharing and Disclosure
Protecting my customers' personal information is crucially important to my business and something I take very seriously. For these reasons, I share your personal information only for very limited reasons and in limited circumstances, as follows:
  - With Etsy. I share your information with Etsy as necessary to provide you my services and comply with my obligations under both the Etsy Seller Policy and Etsy Terms of Use;
  - With Third-Party Service Providers. I engage the following trusted third parties to perform functions and provider services to my shop:
Google Analytics, which helps me understand how visitors browse Twoinspireyou. You can read more about how Google uses your Personal Information here:
https://www.google.com/intl/en/policies/privacy/
. You can also opt-out of Google Analytics here:
https://tools.google.com/dlpage/gaoptout
.
  I share you personal information with these third parties, but only to the extent necessary to perform these services;
  - In the Event of a Business Transfer. If I sell or merge my business, I may disclose your information as part of that transaction, only to the extent permitted by law.
  - In Compliance with Laws. I may collect, use, retain, and share your information if I have a good faith belief that doing so is reasonably necessary to: (a) respond to legal process or to government requests; (b) perform legal obligations to which I am bound by agreements; (c) prevent, investigate, and address fraud and other illegal activity, security, or technical issues; or (d) protect the rights, property, and safety of my customers, or others.
How Long I Store Your Information
I retain your personal information only for as long as necessary to provide you with my services and as otherwise described in my Privacy Policy. However, I may also be required to retain this information to comply with my legal and regulatory obligations, to resolve disputes, and to enforce or perform under my agreements. I generally keep your data for the following time period: five (5) years.
See this Seller Handbook article for a sample privacy policy you can customize for your shop.
More information
Last updated on
May 18, 2022
Frequently asked questions
Does the wreath come with the ribbon in the picture?
Yes, if you see a ribbon on the wreath in the picture, your wreath will come with that ribbon unless you request otherwise.
What does "In Stock" mean for your shop?
"In Stock" for my shop means that we have enough material to create the wreath shown. We are truly a handmade company and create everything after purchase. Our "Ready to Ship" section here https://www.etsy.com/shop/twoinspireyou/?section_id=30389192
offers our originals for sale.
We would love the opportunity to create for you and appreciate your understanding and patience with the time it takes us to create our one of a kind pieces just for you!
How do I determine the finished size wreath to purchase?
For the most part, this is really personal preference. Some people like a wreath to look proportionate to their entrance and many like an oversized wreath on their door. A standard door used to be 36" wide and I would always recommend a 22-24" for a proportionate look and 26-28" for a bit oversized. I would definitely recommend measuring the width of your door and deciding how many inches you want on each side of the wreath to still show your door and subtract that number from the total width of your door. This will give you a finished size wreath to purchase.
What if I have a taller than the average door?
We offer adjustable hangers to 25" in length here: https://www.etsy.com/shop/twoinspireyou/?section_id=11480447
My door gets afternoon sun. Do I need your UV protectant spray?
We always recommend having us spray your wreath with our UV protectant spray before we ship your wreath out to you but we also recommend purchasing a UV spray at your local Walmart or Home Depot to spray on your wreath before each new season or once each month. This will help give your wreath longevity and to help fight against the sun's harmful rays.
Do your wreaths have a hook/wire loop on the back to hang from a nail or wreath hanger?
We create our wreaths on a natural grapevine base which provides a place to hang from anywhere on the backside. We don't recommend a hook/wire loop as that will offer only one angle to hang the wreath from. If you'd still prefer we add a wire loop to the back, please request this at checkout in "Note to Seller".
When will my wreath ship?
If you have not ordered yet, please note this info in my "Shop Policies" page. It will have current create and ship times for you.
If you've ordered a wreath(thank you :)), you received an order confirmation that was emailed to the email address attached to your Etsy account. There you will find your order date and when the wreath is expected to ship out to you. You can also go to your Etsy Home Page and in the right corner, click on "You". From there, click "Purchases" and there you will find your order details. It is absolute priority for us to ship by the expected date for our customers. If there is ever any unforeseen circumstances that would delay this by any amount of time, we will make sure to contact you immediately.
Do you sell the materials you create with?
Yes, we are planning to start a new site that will focus on selling most of the materials you see in our wreaths, baskets and buckets. Please stay tuned and sign up for more info at twoinspireyou.com
I have a storm door. Will any of your wreaths work for my situation?
Most of our wreaths have a greater depth than the space between the two doors provide, so please check your depth before ordering. We highly recommend placing the wreath on the outside of your storm door unless this causes the wreath to be completely exposed to the elements. Also, if your door gets direct sun or you live in a warmer climate, the space between the the two doors can heat up and cause the glue to melt and therefore cause the wreath to fall apart prematurely. We do have a select group of wreaths that are created with just wire to accommodate this situation. Please inquire if you're interested.
How do you measure your wreaths?
We always use finished wreath size. We create on a smaller grapevine base and measure generally from tip to tip on the finished wreath. We find this to be the most effective measurement for our customers because customers want to envision the actual size on their door. Often times the base we use is 4"-8" smaller than the finished wreath measurement which isn't the best for visualizing a finished product on a door or space. If you have any further questions about measurements, please don't hesitate to ask.