Announcement Moztrend offers a unique and fun selection of rhinestone and glitter bachelorette clothing including Bridesmaid lace tanks, Oversized Bridesmaid T-Shirts, Loose, comfortable Tank Tops, off the shoulder long sleeves , crew neck sweatshirts, Hoodies, Velour Jogging Sets, Sashes and other apparel for you and your squad to get ready in! We are an established business providing wedding apparel since 2008. Moztrend Wed is also a recipient of the Knot Best of Weddings and has100% positive feedback on the knot and wedding channel.

Some of the unique slogans we offer are below:

Bride
Tribe
Squad
Disney
Bridesmaid
Maid of Honor
Matron of Honor
Bridal Babes
Thats What She Said
I said YES !
Pink Martini High Heel
Red Wine Stiletto
Bride's Entourage with Shoe
Bridal Entourage
Team Bride
Mother of The Groom
Sister of The Bride
Best friend of The Bride
Flower Girl
Team Groom
The MRS
Mrs. Future last name
I do
Sexy little Bride
Little Mrs
Future Mrs
Bride & Co
Bride's Crew
She Said Yes
Bride's Posse
My Last Yee-Haw,
I'm Getting Hitched
Dropping Anchor and Tying The Knot
Wedding Planner & Coordinator
Wedding photographer
Bridal make-up artist
Bride & Co.
Wifey
Just Married
Bride's Bitches
Head Bitch In Charge
Drinking with My Bitches
I'm Getting Married Bitches
I cant keep Calm, I'm Getting Married
Just Engaged
Monogram Initials
Stickers for your shoes
Bachelorette Party In Progress

The Bride Pink Martini Shoe & all Martini / shoe Wedding Designs- designed first in 2008. All Bridal Wine / Shoe Designs also.

We also offer themed shirts for Las Vegas, South Beach & New Orleans Bachelorette Party's.

**You can also find sports mom, childrens, maternity, birthday designs at our new store below:
http://www.etsy.com/shop/MOZtrendMOMMAandME

**MOZtrend PRINT / INK
You can find print and glitter designs below:

https://www.etsy.com/shop/WeddingApparel

**Like our Facebook page for giveaways/promotions:

https://www.facebook.com/pages/Moztrend
Announcement
Last updated on
Jan 8, 2017
Moztrend offers a unique and fun selection of rhinestone and glitter bachelorette clothing including Bridesmaid lace tanks, Oversized Bridesmaid T-Shirts, Loose, comfortable Tank Tops, off the shoulder long sleeves , crew neck sweatshirts, Hoodies, Velour Jogging Sets, Sashes and other apparel for you and your squad to get ready in! We are an established business providing wedding apparel since 2008. Moztrend Wed is also a recipient of the Knot Best of Weddings and has100% positive feedback on the knot and wedding channel.

Some of the unique slogans we offer are below:

Bride
Tribe
Squad
Disney
Bridesmaid
Maid of Honor
Matron of Honor
Bridal Babes
Thats What She Said
I said YES !
Pink Martini High Heel
Red Wine Stiletto
Bride's Entourage with Shoe
Bridal Entourage
Team Bride
Mother of The Groom
Sister of The Bride
Best friend of The Bride
Flower Girl
Team Groom
The MRS
Mrs. Future last name
I do
Sexy little Bride
Little Mrs
Future Mrs
Bride & Co
Bride's Crew
She Said Yes
Bride's Posse
My Last Yee-Haw,
I'm Getting Hitched
Dropping Anchor and Tying The Knot
Wedding Planner & Coordinator
Wedding photographer
Bridal make-up artist
Bride & Co.
Wifey
Just Married
Bride's Bitches
Head Bitch In Charge
Drinking with My Bitches
I'm Getting Married Bitches
I cant keep Calm, I'm Getting Married
Just Engaged
Monogram Initials
Stickers for your shoes
Bachelorette Party In Progress

The Bride Pink Martini Shoe & all Martini / shoe Wedding Designs- designed first in 2008. All Bridal Wine / Shoe Designs also.

We also offer themed shirts for Las Vegas, South Beach & New Orleans Bachelorette Party's.

**You can also find sports mom, childrens, maternity, birthday designs at our new store below:
http://www.etsy.com/shop/MOZtrendMOMMAandME

**MOZtrend PRINT / INK
You can find print and glitter designs below:

https://www.etsy.com/shop/WeddingApparel

**Like our Facebook page for giveaways/promotions:

https://www.facebook.com/pages/Moztrend
Reviews

Our tanks look great can't wait to wear them! We received them super fast too! Thank you!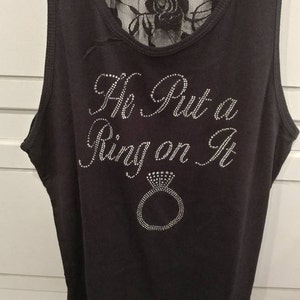 I Love It! It is just what I was looking for...The sizing is Perfect...Fast Shipping!

Perfect! Exactly as written and sized just right!
About
Our journey from Education & Non Profit to an established online t-shirt Business
Welcome to MOZtrend Wed where we embellish , print and ship all of our apparel from the USA. We are a recipient of the Knot BEST OF WEDDINGS . We hope you enjoy shopping in our store for unique and trendy Bride & Bridesmaid Tank Tops, bedazzled oversized T-Shirts, lace tanks, Robes, Bikinis, Sashes, Totes & More. We are constantly adding new, creative and funny designs for bachelorette party's and their Squad!

Our Business model centers around great customer service while providing glitzy, urban, hip shirts for our bride's and their Wedding tribe! We aim to create and sell glamorous clothing that stands out from other shops. Over the years our online store has developed from a one person Etsy shop to a thriving family owned business.

We hand make all of our items and use only the best line of tanks, t-shirts , sashes and tote bags. We do not use drop shipping or print on demand services. Everything is custom made by our staff. We do make personalized bachelorette party shirts when we are able to so please ask.

Our Journey?

Moztrend was Established in 2008 when I decided to leave an administration position in non profit to go after a dream of having my own tee shirt business. It eventually led me to Etsy.

I am Moe aka Moz. After college, I began my career working hands on with victims of child abuse & their families. But after being promoted & working in administration, I realized that I was no longer doing what I enjoyed most, empowering others. After some thought, I gave a 30 day notice & began a journey that led my husband & I to start an Empowerment Business geared towards helping women & youth & soon after, to start a rhinestone t-shirt business. I have always struggled between a career path where I could design, craft and create and one where I could make a difference in the lives of others. Over the years we have expanded our rhinestone shirt business to include glitter, screen print and vinyl clothing and gifts.

In late 2012, my husband resigned his position in Higher Education and began to work with me full time. My husband began to take design classes, sparking a creative flame and the want to grow our business together. Thanks to Etsy's Platform we are able to live the American Dream, working together each day with our staff, expanding our ideas and online market one customer at a time. We currently ship in the USA and globally.

Trials?

Like everything else, business has his challenges and so does life! In 2013 our lives were put on hold as my husband, Jeff, suffered an aortic dissection out of no where. He did not smoke, was young and had no health issues. Through the grace of God he is alive and we were able to get the testing we needed to determine the cause of it. Although his diagnosis was not what we wanted to hear, we learned to accept that this was now a part of our new life. In 2016 he had to undergo a serious surgery for an aneurism but has since returned to work full time and more determined to continue to grow our business. At times our life requires balancing many follow-ups and doctor appointments. But through this personal experience we have learned to have a greater appreciation for life and for our family (we have one amazing son and big baby German Shepard!). We learned to Give It to God and to LIVE and we are super excited for 2017 and all the opportunities we have to grow our printing business!

We do wholesale our clothing to smaller businesses/ boutiques. If you are interested in carrying our clothing, please contact us. At this time we do not manufacture / outsource clothing.

Being a mom, a wife and business owner, I appreciate your business & support more then you know. Over the years, we have grown our handmade, family business because of our customers. From my heart to yours, THANK YOU :) Etsy a wonderful place to shop and sell - and - we are so so thankful to be a part of its community for the past several years and are excited to continue to grow our business here one day at a time ! Please feel free to email me any questions you may have.

Below are the other stores on Etsy that we own and operate:

Birthday Shirts, big sister / brother shirts can be found here:
https://www.etsy.com/shop/birthdaysquad

Bridal Print Shirts can be found here:
https://www.etsy.com/shop/WeddingApparel

DIY Wedding Supplies can be found here:
http://www.etsy.com/shop/WeddingTransfers
Shop members
Maureen & Jeffrey

Owner, Maker, Designer

Jeff has his degree in higher education but he began taking design classes soon after starting our business. He also handles the accounting. Both create new designs weekly. Maureen handles customer service, social media & is also a creator.

Angela

Maker, Bow Maker

Angela is Maureen's BFF. We recently asked her to help by helping us make handmade bows. Her work is beautiful . She also is a very creative / crafty. We hope to have her help more in the future :)

RJ

Inventory /Assistant

Rj handles inventory, packaging, shipping and stocking.

Tamika

Assistant, Creator

Tamika is a creator, maker , printer and also handles shipping when needed.
Shop policies
Last updated on
October 10, 2016
We are excited to announce MOZtrend is a recipient of the Knot BEST OF WEDDINGS.

Thank you for visiting MOZtrend. Customer Service and Quality Products are of most importance to us. Any issue, please email us, we will always do our best to help. MOZtrend is a family owned handmade business.
Accepted payment methods
Payment
** We accept all major credit cards and debit cards via ETSY and PAY PAL.
** We accept Debit Cards / E-Checks via PAY PAL.
**E Checks do take longer to clear.
Shipping
**We normally ship items in 2-5 business days.

** Custom orders and during certain times of the year it may take slightly longer to ship your items out.

** We suggest you order in advance to be sure your items arrive timely.

** If you need your shirts for a specific date, please leave the date needed in the notes section which pops up after you add to cart and before you pay.

** You can choose an expedited shipping service at checkout if needed.

PLEASE ORDER BRIDAL ORDERS IN ADVANCE IF YOU CAN, DURING SEASON THE SHIPMENT TIME DOES CHANGE.
Refunds and Exchanges
**Although rare, mistakes can happen. If we make a mistake we will always correct it at no cost to you. We will always help you the best we can even if you make a mistake as well. If there is a mistake on an order you must notify us within 3 business days of delivery.

** If you have questions regarding sizing, please email us and we will help. Please use the size guides inside the link. We will exchange non-customized items (without a specific name, saying or date or specific shirts not ordered in for you to make) for another size. Please note: We do not exchange personalized items, bathing suits, hoodies and long sleeve shirts. If you wish to make an exchange for another size on a non custom t-shirt or tank top, you can do so but will be charged for shipping and a re-stocking fee of 5.00 per shirt/ tank top. We do not offer refunds but will exchange per above as noted.