Announcement Specializing In Unique Ready To Ship and Made To Order Quality Paintings. I use only top "artist grade acrylic paint, mediums and canvas. You can purchase with confidence when you purchase from me. My paintings are hand painted by only ME. I am a one person shop. My desire is to make all of my paintings affordable to all who enjoy the.

Need a painting in your size and colors? Custom paintings can be created on any size canvas and I can also match your color palette. Simply send me the colors you want to use.
If you see a painting that has sold and would like me to re-create one, this I can also do - no two paintings can be EXACT but made to look very similar. Re-creating a painting to look like the original may differ slightly as it is difficult to recreate exactly but will be uniquely yours. If you choose your own color palette this will give it a different look but in the end you will receive a custom piece that you can call a one of a kind since no two are ever alike.

Time- I keep a very busy schedule with customs and originals but will try my best to get your painting completed in a timely manner 1-3 weeks for completion.

Process- I will post a "Custom Order Listing with your Name" on my VickisArt/Etsy Gallery. Once payment has been receive I will begin your painting. I will send approximately 2 photos during the process to make sure colors and composition are approved by you. Prior to varnishing I will send a "final Photo" for approval. At which time I can make minor changes a little more/less of this or that. I will make 1 change request, after that (which has never happened) I will charge $35 per change. Once "final photo" is approved I will varnish, dry 24 hrs and ship. No refunds on Custom Made to Order Paintings.

ARTIST STATEMENT
I love to paint! My greatest compliment was a client that said, "my paintings make them happy!" What a joy to bring happiness to others through my paintings. My desire is to make my paintings affordable to all who enjoy them.

MY INSPIRATION comes from the many places I have hiked in the beautiful mountains of Utah, Colorado, and Alaska. Long walks along the beaches of Maui, Kauai, and Del Mar, CA. The beautiful spring desert of Arizona. The countryside of Tuscany, the Amalfi Coast, Venice, Italy to Dubrovnik, Croatia.

Most of my paintings are heavily textured. I paint with a palette knife and paint in layers. You can zoom in to see the definition and texture. I take the time to paint the sides of the canvas the same as the painting. I don't just paint them black.

Read my reviews!! Send me a message, I reply quickly. I will Frame with 1/2 Wooden Frames (color options available) when requested.
MOVING SALE 30% off until May
If you see a painting you like, and want to see how it looks in your room there is an app "Artview" which will allow you to view in your room.

If you live in the Park City area and would like to see my paintings in person, they can be viewed at Expressions Gallery.

Thank you for your interest in my work. I hope you find something you love. If you have any questions please feel free to contact me. I will be happy to answer.

If you like the photo of the painting you see in my gallery you will absolutely love it in person!!

Below are emails received from some of my customers. Most of my customer email me when they receive their paintings rather than provide feedback on this site.

I WOULD LOVE TO SHIP INTERNATIONALLY. Contact me to discuss shipping costs.
Thank you for your interest in my work. I hope you find something you love.
Vicki


Sender: Kris Date: Feb 16, 2017 11:03am EST
Message: Vicki-
Received, and in great condition. No shipping damage.
It is hung in my office and looks perfect.
Thanks!
-Kris

Lorrie sent you a conversation on January 20, 2017

Hello... I LOVE it! Thank you!!!
Lorrie

Emma sent you a conversation on December 20, 2016.

Aspen Birch Tree Original Acrylic Painting 24 x 36 x 1 Gallery Wrapped Canvas Commission this painting Free Shipping in US, listing #244460907

Yay! I received it and love it. Thank you so so much! I'll give it to my husband this week and write a review for you after. Thank you!!

April 21

Hi Vicki--We got here this evening and found it. Thank you--just in time for our houseguests! It will look great in our dining room at our second home. Do let me know when you get the check for the expedited shipping. Thanks again!
All best,
LB

Hi Vicki,

The painting arrived yesterday and it is awesome! I was trying to figure out how to leave a review and was having limited success. Really happy with this painting. This is going to be great at our Hilton Head place!

Chris

Hi Vicki,
I realized I never responded to you, my apologies! I've had several crazy weeks at work. The correct painting came and we love it! It's across from our bed and get gorgeous light in the mornings.
Thanks again, we love having it in our home.
Happy holidays!
Melissa

Dear Vicki,
I have received your painting! Thank you very much. We have it on a narrow wall in our great room area and it looks absolutely beautiful!
Much appreciated, Danielle

Your beautiful painting arrived safely. We love it! It will have a nice home here in VA, which is beautiful. But, there is nothing like the mountains in Utah! That's why I go visit
them when I can. Thanks!

Great condition and perfect!!
Will definitely contact you again!
Kathy

Got it and love it!! Was just getting home from work (on call) at 4am and immediately hung it.
Gail

It's GORGEOUS, Vicki! You are a very talented woman. The colors are so vibrant and we love everything about it. It's already up over our couch (how did we live here for a year with that awful blank wall?!).

I'll also post on your gallery site. :)
Announcement
Last updated on
Apr 23, 2018
Specializing In Unique Ready To Ship and Made To Order Quality Paintings. I use only top "artist grade acrylic paint, mediums and canvas. You can purchase with confidence when you purchase from me. My paintings are hand painted by only ME. I am a one person shop. My desire is to make all of my paintings affordable to all who enjoy the.

Need a painting in your size and colors? Custom paintings can be created on any size canvas and I can also match your color palette. Simply send me the colors you want to use.
If you see a painting that has sold and would like me to re-create one, this I can also do - no two paintings can be EXACT but made to look very similar. Re-creating a painting to look like the original may differ slightly as it is difficult to recreate exactly but will be uniquely yours. If you choose your own color palette this will give it a different look but in the end you will receive a custom piece that you can call a one of a kind since no two are ever alike.

Time- I keep a very busy schedule with customs and originals but will try my best to get your painting completed in a timely manner 1-3 weeks for completion.

Process- I will post a "Custom Order Listing with your Name" on my VickisArt/Etsy Gallery. Once payment has been receive I will begin your painting. I will send approximately 2 photos during the process to make sure colors and composition are approved by you. Prior to varnishing I will send a "final Photo" for approval. At which time I can make minor changes a little more/less of this or that. I will make 1 change request, after that (which has never happened) I will charge $35 per change. Once "final photo" is approved I will varnish, dry 24 hrs and ship. No refunds on Custom Made to Order Paintings.

ARTIST STATEMENT
I love to paint! My greatest compliment was a client that said, "my paintings make them happy!" What a joy to bring happiness to others through my paintings. My desire is to make my paintings affordable to all who enjoy them.

MY INSPIRATION comes from the many places I have hiked in the beautiful mountains of Utah, Colorado, and Alaska. Long walks along the beaches of Maui, Kauai, and Del Mar, CA. The beautiful spring desert of Arizona. The countryside of Tuscany, the Amalfi Coast, Venice, Italy to Dubrovnik, Croatia.

Most of my paintings are heavily textured. I paint with a palette knife and paint in layers. You can zoom in to see the definition and texture. I take the time to paint the sides of the canvas the same as the painting. I don't just paint them black.

Read my reviews!! Send me a message, I reply quickly. I will Frame with 1/2 Wooden Frames (color options available) when requested.
MOVING SALE 30% off until May
If you see a painting you like, and want to see how it looks in your room there is an app "Artview" which will allow you to view in your room.

If you live in the Park City area and would like to see my paintings in person, they can be viewed at Expressions Gallery.

Thank you for your interest in my work. I hope you find something you love. If you have any questions please feel free to contact me. I will be happy to answer.

If you like the photo of the painting you see in my gallery you will absolutely love it in person!!

Below are emails received from some of my customers. Most of my customer email me when they receive their paintings rather than provide feedback on this site.

I WOULD LOVE TO SHIP INTERNATIONALLY. Contact me to discuss shipping costs.
Thank you for your interest in my work. I hope you find something you love.
Vicki


Sender: Kris Date: Feb 16, 2017 11:03am EST
Message: Vicki-
Received, and in great condition. No shipping damage.
It is hung in my office and looks perfect.
Thanks!
-Kris

Lorrie sent you a conversation on January 20, 2017

Hello... I LOVE it! Thank you!!!
Lorrie

Emma sent you a conversation on December 20, 2016.

Aspen Birch Tree Original Acrylic Painting 24 x 36 x 1 Gallery Wrapped Canvas Commission this painting Free Shipping in US, listing #244460907

Yay! I received it and love it. Thank you so so much! I'll give it to my husband this week and write a review for you after. Thank you!!

April 21

Hi Vicki--We got here this evening and found it. Thank you--just in time for our houseguests! It will look great in our dining room at our second home. Do let me know when you get the check for the expedited shipping. Thanks again!
All best,
LB

Hi Vicki,

The painting arrived yesterday and it is awesome! I was trying to figure out how to leave a review and was having limited success. Really happy with this painting. This is going to be great at our Hilton Head place!

Chris

Hi Vicki,
I realized I never responded to you, my apologies! I've had several crazy weeks at work. The correct painting came and we love it! It's across from our bed and get gorgeous light in the mornings.
Thanks again, we love having it in our home.
Happy holidays!
Melissa

Dear Vicki,
I have received your painting! Thank you very much. We have it on a narrow wall in our great room area and it looks absolutely beautiful!
Much appreciated, Danielle

Your beautiful painting arrived safely. We love it! It will have a nice home here in VA, which is beautiful. But, there is nothing like the mountains in Utah! That's why I go visit
them when I can. Thanks!

Great condition and perfect!!
Will definitely contact you again!
Kathy

Got it and love it!! Was just getting home from work (on call) at 4am and immediately hung it.
Gail

It's GORGEOUS, Vicki! You are a very talented woman. The colors are so vibrant and we love everything about it. It's already up over our couch (how did we live here for a year with that awful blank wall?!).

I'll also post on your gallery site. :)
Reviews

The custom painting by Vickisart is just what I had hoped it would be, and she got it done quickly! Thank you Vicki!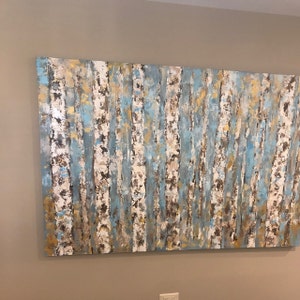 The piece came and looks exactly like I wanted it!! It goes amazingly in my home and adds exactly what I needed as far as color. Super happy with how fast the turnaround was also!! Could NOT be happier!!

The painting arrived today and we were were so pleased with this work. The photos could not do it justice. Now a permanent and beautiful part of our home!
About
Vickis Original Fine Art
Vicki Conlon is most widely recognized for her unique fresh style and acrylic painting technique. Painting with her palette knife layer upon layer. Making powerful visual statements using color, her palette knife and striking imagery, the prism through which the artist views the world and nature is reflected in her original body of work. Vicki also collaborates with interior designers and their clients to complete their interior design plan by providing custom original paintings in any size, and/or color scheme which reflect the client's desires. Vicki's custom sized canvases fit any size real estate and her design techniques work wonders for her clients. In addition she has created an art gallery on Etsy and is now collaborating with clients all over the world to enhance their interiors with her original art. Vickis art has been in Galleries in Park City and Sandy, Utah.

ARTIST STATEMENT, I love to paint. My inspiration comes from the many places I have hiked in the beautiful mountains of Utah, Colorado, and Alaska. Long walks along the beaches of Maui, Kauai, and Del Mar, CA. The beautiful spring desert of Arizona. The countryside of Tuscany, the Amalfi Coast, Venice, Italy to Dubrovnik, Croatia. My greatest compliment was a client that said, "my paintings make them happy!" What a joy to bring happiness to others through my paintings. My desire is to make my paintings affordable to all who enjoy them.
Shop members
Vicki

Owner

RAW Event in Salt Lake City, Utah March 2013
Shop policies
Last updated on
April 7, 2018
Welcome!! Come in and take a look around. I hope you find something you love.

~ Vicki
Accepted payment methods
Accepts Etsy Gift Cards and Etsy Credits
Returns and exchanges
I don't accept returns, exchanges, or cancellations
But please contact me if you have any problems with your order.
Questions about your order?
Please if you have any problems with your order.
Money Back Guarantee
Your satisfaction is guaranteed! If not completely satisfied, just return your painting in its original condition within 7 days for a refund. No questions asked! Unfortunately, I cannot refund shipping charges and there will be a 20% restocking fee. NO REFUNDS on Made To Order Paintings.
Payment
I accept PayPal, all major credit cards
Shipping
Items will be shipped within 2 business days upon receipt of payment.

All paintings are currently shipped UPS ground within the CONTINENTAL US. If you would prefer a different shipping carrier or method please contact me to determine if there will be a change in price.

If you are in Hawaii or Alaska please contact me for shipping rates, as those listed DO NOT apply.

I WILL ship internationally. However please contact me prior to purchasing with your location details so I may determine cost of shipping. Customer agrees to pay shipping and handling charges as quoted. International buyers, please be aware you are responsible for all foreign taxes and customs charges.

All orders shipped via UPS will receive a tracking number within 24 hours of shipment.

Shipping rates apply to orders within the United States. International orders please contact me for shipping rates prior to purchasing.
Additional policies and FAQs
I will ship items within 2 days from receipt of purchase. I ship 5 days a week and typically ship paintings within 24 hours of payment. All domestic shipments are sent UPS ground and international shipments are sent USPS Priority Mail International. You will receive an email with tracking information either way.

Shipping & Handling Charges:
Customer agrees to pay shipping and handling charges as quoted. International buyers, please be aware you are responsible for all foreign taxes and Customs' Charges.

I will certainly take commissions. Just email me a photograph or picture. Commission prices vary based on the desired artwork.