Announcement ❤❤ Welcome to Wandering Mermaid! ❤❤
♡♡♡♡♡♡♡♡♡♡♡♡♡♡♡♡♡♡♡♡♡♡♡♡♡♡♡♡♡♡♡♡♡♡♡♡♡
Come wander through my collection of handmade vintage-inspired treasures. Everything in my shop is "antiqued" by hand, one paper at a time and no two are exactly alike. I use a special technique of tea dyes and inks to make each paper look and feel like old, vintage paper. Unlike many other artists who do vintage inspired art I never use a computer program to imitate an "antiqued" look, then print it out so it resembles an old or distressed-looking paper.

Every one of my items is made with loving care and is a unique work of art!

❥ BOOKS
Each book is my original design and is lovingly assembled by ME! I handcut my own acid-free archival boards and then cover them with beautiful papers that I collect from my travels around the world. My first love is vintage and vintage-look papers. Each book is delicately cut, sewn and bound by hand. Please allow 7-10 BUSINESS DAYS for these books to be made and shipped.
✩✩✩Antiqued Journals: Each page of the Antiqued Journals are delicately treated and dried to give them a lovely vintage look. There are ragged edges, light distressing, and other details added that make it look like it's been sitting in the corner of the Antique Book Store for centuries! Made with the highest quality bookmaking materials, they are works of art in themselves! Each book has a theme with a variety of vintage illustrations, quotes, folklore and facts throughout their pages. See listing of each book for specific details.

❥FORTUNE TELLER CARDS
These mysterious, unique cards have mystical images on one side and antiqued paper fortunes on the other side. Cards are on sturdy matte board and cut by hand. There are several themes to choose from and new ones coming all the time! A fun and unique idea for your next party or special event.

❥TAROT CARDS
My mini-tarot card set is ANTIQUED BY HAND with sepia inks and pressed overnight. Truly a one of a kind set of cards.
PLEASE PLEASE PLEASE NOTE THAT THE POCKET TAROT CARDS LISTED IN MY SHOP ARE A MINI DECK OF THE 22 MAJOR ARCANA ONLY! I have listed photos for perspective as well as given dimensions in the listing description. PLEASE do not purchase these if you are looking for a regular size deck. PLEASE READ LISTING CAREFULLY BEFORE PURCHASING! ❤︎

❥ BOTTLES
✩✩✩✩MAGIC BOTTLE LOVERS! I'm SO sorry to have to announce that I am completely out of the beautiful OVAL SHAPED BOTTLES I have used for over a decade and have not been able to find a supplier for them ANYWHERE! This means that the bottles listed below will be discontinued until further notice. I'm hoping to re-design these bottle themes with different bottles and re-list them in the future. ✩✩✩✩
DISCONTINUED BOTTLES: Mermaid Song, Fairy Whispers, Fairy Godmother Wishes, Pirate's Secrets, Nightmares, Stardust, and Moonshadows.
RETIRED BOTTLES: Vampire Bites, Fairy Dust, Angel Wings, Ice Princess Tears
✩✩Did you know all the sea shells and sea glass in my bottles have been collected by ME! - and never purchased in a shop? See where my seashells and glass have come from by taking a world tour on my blog: http://mermaidcottage13.blogspot.com/2015/11/beachcombing-around-world-story-behind.html

❥SHIPPING
**AS OF JANUARY 2017, USPS RAISED SHIPPING COSTS SUBSTANTIALLY. I'M SO SORRY TO SAY I WILL HAVE TO RAISE MY SHIPPING COSTS ACCORDINGLY, but will do my best to keep costs as low as possible. Please remember all items shipped on ETSY come with tracking, so even the smallest of items have shipping charges over $3.00 (in U.S.A.)

❥NON-HOLIDAY SHIPPING: FORTUNE TELLER CARDS are usually shipped within 5-7 BUSINESS DAYS. BOOKS are usually shipped within 7-10 BUSINESS DAYS. Multi-item orders and custom orders take longer and times vary. If you need your items by a certain date, please contact me before ordering and I can give you an approximate shipping date.

☆☆☆☆PLEASE NOTE SIZE OF CARDS AND BOOKS! ☆☆☆☆
They may seem larger in the photos than you might think. Measurements of items are mentioned in the listing, please double check! If you have any questions, please contact me BEFORE ORDERING!

♡♡♡♡♡♡♡♡♡♡♡♡☆☆☆☆♡♡♡♡♡♡♡♡♡♡♡♡
If you like my shoppe, feel free to follow my blog MERMAID COTTAGE 13
http://mermaidcottage13.blogspot.com/

Wandering Mermaid is on FACEBOOK! If you "like" my page you will hear about new items, moon lore, and seaside stories ❤

I teach classes and workshops in Northern California on bookmaking, illustration, watercolor sketching, and other creative ventures and would love to see you there! Please see listings at www.davisartscenter.org
☆☆ ☆☆
Announcement
Last updated on
Feb 16, 2017
❤❤ Welcome to Wandering Mermaid! ❤❤
♡♡♡♡♡♡♡♡♡♡♡♡♡♡♡♡♡♡♡♡♡♡♡♡♡♡♡♡♡♡♡♡♡♡♡♡♡
Come wander through my collection of handmade vintage-inspired treasures. Everything in my shop is "antiqued" by hand, one paper at a time and no two are exactly alike. I use a special technique of tea dyes and inks to make each paper look and feel like old, vintage paper. Unlike many other artists who do vintage inspired art I never use a computer program to imitate an "antiqued" look, then print it out so it resembles an old or distressed-looking paper.

Every one of my items is made with loving care and is a unique work of art!

❥ BOOKS
Each book is my original design and is lovingly assembled by ME! I handcut my own acid-free archival boards and then cover them with beautiful papers that I collect from my travels around the world. My first love is vintage and vintage-look papers. Each book is delicately cut, sewn and bound by hand. Please allow 7-10 BUSINESS DAYS for these books to be made and shipped.
✩✩✩Antiqued Journals: Each page of the Antiqued Journals are delicately treated and dried to give them a lovely vintage look. There are ragged edges, light distressing, and other details added that make it look like it's been sitting in the corner of the Antique Book Store for centuries! Made with the highest quality bookmaking materials, they are works of art in themselves! Each book has a theme with a variety of vintage illustrations, quotes, folklore and facts throughout their pages. See listing of each book for specific details.

❥FORTUNE TELLER CARDS
These mysterious, unique cards have mystical images on one side and antiqued paper fortunes on the other side. Cards are on sturdy matte board and cut by hand. There are several themes to choose from and new ones coming all the time! A fun and unique idea for your next party or special event.

❥TAROT CARDS
My mini-tarot card set is ANTIQUED BY HAND with sepia inks and pressed overnight. Truly a one of a kind set of cards.
PLEASE PLEASE PLEASE NOTE THAT THE POCKET TAROT CARDS LISTED IN MY SHOP ARE A MINI DECK OF THE 22 MAJOR ARCANA ONLY! I have listed photos for perspective as well as given dimensions in the listing description. PLEASE do not purchase these if you are looking for a regular size deck. PLEASE READ LISTING CAREFULLY BEFORE PURCHASING! ❤︎

❥ BOTTLES
✩✩✩✩MAGIC BOTTLE LOVERS! I'm SO sorry to have to announce that I am completely out of the beautiful OVAL SHAPED BOTTLES I have used for over a decade and have not been able to find a supplier for them ANYWHERE! This means that the bottles listed below will be discontinued until further notice. I'm hoping to re-design these bottle themes with different bottles and re-list them in the future. ✩✩✩✩
DISCONTINUED BOTTLES: Mermaid Song, Fairy Whispers, Fairy Godmother Wishes, Pirate's Secrets, Nightmares, Stardust, and Moonshadows.
RETIRED BOTTLES: Vampire Bites, Fairy Dust, Angel Wings, Ice Princess Tears
✩✩Did you know all the sea shells and sea glass in my bottles have been collected by ME! - and never purchased in a shop? See where my seashells and glass have come from by taking a world tour on my blog: http://mermaidcottage13.blogspot.com/2015/11/beachcombing-around-world-story-behind.html

❥SHIPPING
**AS OF JANUARY 2017, USPS RAISED SHIPPING COSTS SUBSTANTIALLY. I'M SO SORRY TO SAY I WILL HAVE TO RAISE MY SHIPPING COSTS ACCORDINGLY, but will do my best to keep costs as low as possible. Please remember all items shipped on ETSY come with tracking, so even the smallest of items have shipping charges over $3.00 (in U.S.A.)

❥NON-HOLIDAY SHIPPING: FORTUNE TELLER CARDS are usually shipped within 5-7 BUSINESS DAYS. BOOKS are usually shipped within 7-10 BUSINESS DAYS. Multi-item orders and custom orders take longer and times vary. If you need your items by a certain date, please contact me before ordering and I can give you an approximate shipping date.

☆☆☆☆PLEASE NOTE SIZE OF CARDS AND BOOKS! ☆☆☆☆
They may seem larger in the photos than you might think. Measurements of items are mentioned in the listing, please double check! If you have any questions, please contact me BEFORE ORDERING!

♡♡♡♡♡♡♡♡♡♡♡♡☆☆☆☆♡♡♡♡♡♡♡♡♡♡♡♡
If you like my shoppe, feel free to follow my blog MERMAID COTTAGE 13
http://mermaidcottage13.blogspot.com/

Wandering Mermaid is on FACEBOOK! If you "like" my page you will hear about new items, moon lore, and seaside stories ❤

I teach classes and workshops in Northern California on bookmaking, illustration, watercolor sketching, and other creative ventures and would love to see you there! Please see listings at www.davisartscenter.org
☆☆ ☆☆ No items listed at this time
Reviews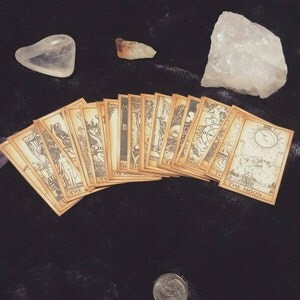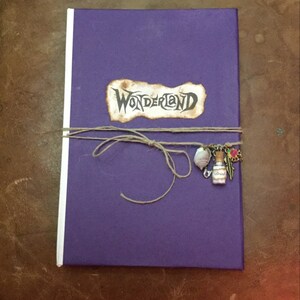 I made a request for a personalized custom made Alice & Wonderland journal. Courtney was absolutely wonderful to work with. This journal turned out perfect! The pages have amazing drawings & awesome quotes & poems from Alice & Wonderland & The Looking Glass. She added a lot of creative fun surprises & paid attention to every detail! I would recommend any of her items & her customized work! Thanks so much for this treasure!💜😊
About
Tale of a Wandering Mermaid...
I grew up on the beach in Malibu and began traveling to Europe at a young age. Although my heart belongs to the sea and life at the beach, I loved the history and old-world feeling of Paris, London and Athens compared to my sunshine filled beach life at home and I would find myself searching through antique stores and vintage shops while on my travels. Dusty leather bound books, vintage handbags, luggage, and old apothecary bottles were my favorite things to collect. After attending colleges in California, Hawaii and England I graduated with a degree in illustration and I planned to become a children's book illustrator, but then I took a course on bookmaking and letterpress at Otis College of Design in Los Angeles and I began making my own books. As my handmade book collection grew I decided I really wanted to recreate more of the beautiful antique books and other things I remember finding in the little shops in Europe and thus WANDERING MERMAID was born. I like to think of my ETSY shop as the mysterious little vintage shop you find down a hidden alleyway . You never know what you will find ❤

❤ Find out more about my shoppe, studio, process and insight into the inspiration for my items by visiting my blog:
www.mermaidcottage13.blogspot.com

❤ A bit of history about my Spell Book:
http://mermaidcottage13.blogspot.com/2015/02/the-story-behind-my-antiqued-journals.html
Shop members
Courtney

Owner, Artist, Dreamer, Beachcomber, Photographer, Dancer, And Lover Of All Things Mermaid ❤
Shop policies
Last updated on
March 15, 2016
I am a stay at home artist and mum to my beautiful twins, dividing the year living in both California and England. I have been an artist and craftsperson my whole life and trained as an illustrator in undergraduate and graduate college both in America and England. I worked many years in the museum world and have now found peace and harmony in my home studio, creating and working with my hands- and imagination!
Accepted payment methods
Payment
Paypal is my preferred method of payment. Payment, of course, must be made in the full amount before any items are prepared and shipped.
Shipping
I try to ship Fortune Teller cards within 5 business days of purchase unless otherwise stated in the listing and ship handmade books within 7-10 business days. Multi-item orders take longer and shipping times vary. I ship via USPS First Class Mail for most single items. I will ship Priority or Overnight upon request and agreed shipping price quote. Insurance is not included in any of the shipping costs, it is an option. If you are ordering glass items (bottles, framed art, etc.) and would like to insure your package, please send me a message and I will bill you separately. Insurance is usually very inexpensive, around $4.00 for up to $200.00 coverage for domestic shipping.
Refunds and Exchanges
If you are not happy with your purchase for any reason, please contact me and I will make every effort to rectify the problem. I value my work and reputation and want every customer to be completely happy with their item(s) and comfortable to purchase from my shop again.