Announcement woodZwayz is an artist / artisan shop located in Kremmling, CO, offering contemporary wood art and furnishings, cabin and lodge decor, wood carvings, chainsaw carvings, and fine art by Mark Allen Mahorney.

For more about woodZwayz and what we do: www.woodzwayz.com
Like us on Facebook, see our latest creations: www.facebook.com/woodzwayz
or www.facebook.com/markmahorney
Peruse Instagram pics, highlights of our work: www.instagram.com/woodzwayz
Announcement
Last updated on
Sep 3, 2016
woodZwayz is an artist / artisan shop located in Kremmling, CO, offering contemporary wood art and furnishings, cabin and lodge decor, wood carvings, chainsaw carvings, and fine art by Mark Allen Mahorney.

For more about woodZwayz and what we do: www.woodzwayz.com
Like us on Facebook, see our latest creations: www.facebook.com/woodzwayz
or www.facebook.com/markmahorney
Peruse Instagram pics, highlights of our work: www.instagram.com/woodzwayz No items listed at this time
Reviews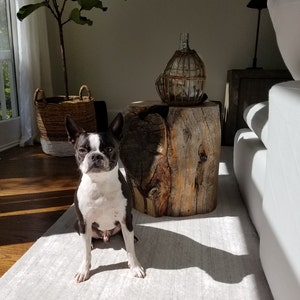 great product detail, great service, thanks!

It arrived a little later than anticipated, but it came well wrapped and was perfect.
About
Carving out a living through a bad economy.
Mark started the business carving what we call "stump jobs" - people who had tree stumps on their property and wanted them made into art. He made extra money by carving small items in our backyard and taking them to fairs and other events. Carving in the backyard was becoming frowned upon by the town and neighbors, so we started looking for work space.

Since work space also meant taking on the expense of rent, we decided we also wanted something that could function as a retail space (even though neither of us had experience managing retail). We were approached by a local businessman who owns what used to be a gas station, and we decided it was just about perfect. We got access to the building August 1, 2011, and opened Labor Day weekend.

We put all of our eggs in this basket and opened a business in one of the worst economies in U.S. history. We're pretty proud that we made it through our first year, and are continuing to make bigger and better plans for the next ones to come...
Shop members
Mark

Owner, Maker, Carver

Mark has been carving professionally for nearly a decade. We opened a retail shop in 2011, which serves as both a work space and "gallery."

Christine

Maker, Owner

I'm Mark's wife, and I also do much of the sanding and other finish work here at the shop. I quit my corporate job shortly after we opened in the fall of 2011 to help him, and don't regret it! So far I've only suffered one relatively major injury.
Manufacturers
A printer that specializes in printing on wood panels

Riverside, CA, United States

The process of printing onto wood panels allows me to offer my work in a variety of sizes and to a wider audience at affordable prices, while being analogous to the original wood art.
Shop policies
Last updated on
January 22, 2016
PREFACE
If you think this is all a bit persnickety, don't worry it's just meant to protect us from those very few people who have to get one up on a deal every chance they get, since this isn't you I'm sure we'll get along swimmingly, you'll love your product and we'll love making it for you.

**Due to the nature of our work, SHIPPING & PRODUCTION TIMES are ROUGH ESTIMATES, NOT GUARANTEED. If you have a firm deadline, we must approve that we can meet it BEFORE you purchase the product.**

***Shipping to Alaska requires a custom order with shipping cost adjustment, it's quite a bit more, two to three times more usually, for our large and heavy items, we cannot ship to Alaska for the standard shipping cost. Etsy doesn't have built in way to eliminate or adjust for this. If you order from Alaska without a custom order we will have to cancel your order and refund your money.

WORKING WITH US
We are two very hard working people, husband and wife team, who make all of our products BY HAND. We are not Amazon. We have a family. We work a lot. We also chose this career path because we are able to fully engage and participate in our children's lives. Like most people, we enjoy our down time, especially evenings and holidays. And our down time is probably not the same as yours, it's just whenever we can sneak it in or it's desperately needed.

If you email or contact us during what the non-artisan world considers "business hours," you may not get an immediate response. We work with our hands, loud power tools and machinery. We may even be out on delivery or acquiring more wood. The more time we spend talking to customers is less time we're working on your and others projects. Please be patient.

If you call us at 10:30 at night, or 7:30 Sunday morning, or call our parents in the middle of the night because you Googled our last name and mistakenly called them instead (don't laugh, it's happened), don't expect an immediate response. And don't expect us to be entirely kind when you do get a response and that may result in a cancelled order. The same goes for stalking, nagging or being an excessively needy or overly particular customer.

In an ideal world, we would work through our orders, well, in order. But that's not really how it works. We mill our own tables, stools, and benches. So on a day we're running the mill, we will typically do parts and pieces for a bunch of orders. We're a diverse woodworking shop, which is probably what you liked about our shop, but this means that we have jobs that take one hour and jobs that take 100 hours. What you see on Etsy is just a small fraction of what we've done and what we do. We don't do Christmas presents, period! We make grown up things for grown ups, we have a backlog all year around, and at Christmas time, as you might imagine, it gets longer very quickly starting way back in October and we have people asking us if we can deliver for Christmas up to the week before. if you want something us you need to put on your big boy / girl pants and remember you're ordering something you'll have forever. If it's a gift for someone else, they're grown ups too, they'll understand. Your Christmas won't be ruined if you don't have it by then, and we're not going to allow anyone to ruin ours, ever again, lesson learned. Furthermore, if you can't be patient and polite, we reserve the right to send your order to the back of our queue or refund your money, we're going to put customers we want repeat business from first, and know that threatening us with a bad review won't get your work done any quicker. Some customers do have hard deadlines, like wedding dates, if we have that date at the time of order and have agreed to accommodating that date, then that is an exception to the above. If we have a lot of small orders come in or a lot of hard deadlines, like in the spring wedding season, obviously our larger projects will take even longer to complete. We've been at this for about ten years now, and in the past pulled a lot of all nighters, like the reality TV shows. We don't do that anymore. We've found people yell at us just as much regardless of how hard we work, so we're not going above and beyond in that way anymore, it's amazing how immature people can be. Let's set reasonable expectations and make this an enjoyable experience for both of us.

If you have a have a hard deadline of less than say a month, you MUST have it approved by us prior to making your purchase. If you surprise us two weeks after placing your order that you absolutely have to have it in three days or someone will spontaneously combust, there's a good chance we won't be able to meet that deadline. In this case, we reserve the right to keep your money and produce the product in a timely manner as determined by us and our project load. In short: No surprise deadlines, check with us first.

Brides trump everything. Especially in the spring, we manage our workload by putting wedding related items first. Again, if you have a deadline - you MUST let us know!

Likewise, if you have a deadline and it's not for a ways off, you can expect to wait for it while we catch up on those more time intensive projects and other non-deadline orders. In that case, turnaround times go out the window. Turnaround times are merely guidelines and guestimates anyway, not hard and fast.

If we think you're making up deadlines to cut in line (and we'll probably know if you are) we probably won't want to work with you. That's just rude. We're not your contractor, we're artisans who have paid our dues and make unique products that can be hard to find elsewhere.

So basically, just don't be a jerky customer. It's completely unnecessary, and will get you sent to the back of the line, or your project cancelled, SERIOUSLY, the squeakiest wheel waits the longest!

PICTURES
As mentioned above, projects aren't always done in a neat, linear, start-to-finish process. If you ask us for pictures a month before your project is due, we may send you a picture of a log. Quite seriously, our products are made from what most people would consider firewood, and spend a lot of time looking like firewood before we create artwork from it. Customers tend to not see what we see in the wood, which has created anxiety, or the need to direct, which will be misguided. It's never, ever, the case that we post pictures of nice things and then send you something not nice. So please, please, please don't ask us for progress pictures. We can absolutely send you a picture once it's been completed and is ready to be shipped, and we will often have progress pictures that we can share with you after the fact.


WOOD
Wood is organic. It twists, moves, cracks, expands and in general, does its own thing. We work almost exclusively with standing-dead timber harvested locally in our area of the Northern Rocky Mountains. This means the wood comes to us very dry, and, by the time we use it, is even drier.

We do not kiln dry, because of our arid climate kiln drying is unnecessary. Kiln drying is inferior to air drying anyway and is totally overrated and marketed, so that large wood producers can expedite the time to market.

If you aren't cool with some cracking, shrinking, expanding, knots, color variations and general character which is inherent in RUSTIC WOOD PRODUCTS - our products are not for you. If you are the kind of person who will examine every square millimeter of a table top looking for scratches, dents and imperfections, our products are not for you. Any of the aforementioned wood traits that occur after your piece has been delivered is normal. Refunds will not be issued for this reason.

COLOR VARIATIONS
As previously mentioned, we primarily use beetle kill pine. The beetle kill has a blue stain that varies from piece to piece.

Regardless of whether you order a carving, table, log stool or other product, there WILL BE VARIATIONS. We cannot exactly match the color of a previous piece.

And speaking of color matching…

STAIN
We generally do not stain our table and furniture products. We will not - repeat WILL NOT - put a dark stain on pine to look like oak, walnut, or some other higher end hardwood. It just doesn't look good. Ever. If you want a walnut table, you need to buy a walnut table (which we can source, but expect a much heftier price tag). In general, stain obscures the natural beauty and grain of the wood. The lodgepole pine is a beautiful wood, not like white pine, and we tend to use wood with knots, twists, character, and interesting grain patterns. It always pains us to stain it. If you absolutely must have stain - and in the unlikely event that we agree to stain something for you - know that it is entirely on you; it's a you-break-it-you-bought-it thing. If we stain it, and you don't like it, we will not issue a refund.

TREATMENT
Unless specified in the listing, carvings leave us coated with SPAR varnish, which is an outdoor, marine grade waterproof flexible varnish. Benches, tables and other outdoor pieces typically have the same treatment. In our experience, this is the best product available for this application.

Indoor pieces will usually have several coats of polyurethane, unless otherwise specified.

On indoor pieces made with blue stain (which primarily includes log stools), we typically use a water-based finish that keeps the blue stain from turning black.

We've experimented a lot of finish products throughout the years, and are using products that have been tried and tested by us and by the industry.

That being said - this is wood we're talking about. If your piece is outside, it must be treated every year to extend its life. If you choose not to treat it after years of wind, snow, sun and rain, expect that it will fade and gray.

REFUNDS & RETURNS
We will not issue refunds based on color, size, character, warpage, shrinkage, cracking, or anything else that wood inherently likes to do, especially when moving from one climate to another.

We will not issue a refund because you don't like the look on your bear's face. Our carvings are one-of-a-kind creations. Pictures are general ideas of what your pieces will look like - do not expect an exact replica.

Our pieces are hand crafted, RUSTIC items. Again, if you like the sleek perfection of a high gloss finish, our products will not be for you.

If a piece arrives broken, we will require pictures of the breakage, and proof that it arrived that way from the shipper (i.e. that you did not drop it down the stairs while moving it inside and that's what really broke the ear off your new bear). We require that items be returned to us from the purchaser for us to evaluate the condition. If it can be repaired, we will be repair the item - and we usually can. PURCHASER WILL BEAR (no pun intended) THE FULL SHIPPING EXPENSES OF RETURNING IT TO US AND SHIPPING A REPLACEMENT.

Just as it's a little sketchy to buy a dress with the full intention of wearing it once and keeping the tags on so you can return it after your event, the same is true of our products. Please remember if this is something you're considering that this is how we feed our children and pay our mortgage. You should feel guilty. And because we've had this happen to us at least once and suspected other cases, our final word on Refunds & Returns is this:

Because most of what we make is custom and one-of-a-kind, we do not accept returns, In the unlikely event that we do accept a return, we reserve the right to charge a 20% restocking fee. YOU MUST CONTACT US PRIOR TO RETURNING AN ITEM. If you return an item without authorization, do not expect a refund.
Accepted payment methods
Payment
Payment is via direct checkout or paypal, on more expensive and time consuming custom items we may choose to work on a deposit basis.
Shipping
As many of our products are large and heavy shipping can be expensive and many shipping methods are used.
Refunds and Exchanges
See above welcome message, since we generally are dealing with custom orders, we generally do not offer refunds.
Additional policies and FAQs
We may entertain wholesale arrangements and price breaks for larger volumes, which would be on a case by case basis.