Announcement See pictures and other info at: http://www.facebook.com/blocksprites

See a video / short interview with us from MAGFest: http://www.youtube.com/watch?v=ZdymyPQob6Y

If you have an idea, or would like to commission something, feel free to contact me and I'll see if it's possible: nicholai.conliff [!at] gmail.com
Announcement
See pictures and other info at: http://www.facebook.com/blocksprites

See a video / short interview with us from MAGFest: http://www.youtube.com/watch?v=ZdymyPQob6Y

If you have an idea, or would like to commission something, feel free to contact me and I'll see if it's possible: nicholai.conliff [!at] gmail.com No items listed at this time
Reviews

A few pieces had snapped off by the time it arrived, but this was more than likely due to handling. The figure itself was very well-packed (lots of bubblewrap!), and any damage done was easily fixed with super glue. Despite a small communication error which led to delayed shipping, I'd definitely buy from them again. The sprite is absolutely gorgeous -- like Kuja popped right out of the TV! :)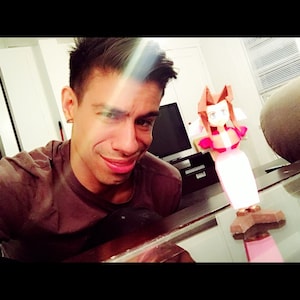 She's perfect!! Thank you so much!

About
Video Game Sprites made from LEGO Bricks!
Block Sprites are basically perler bead sprites, except bigger and cooler. I had been seeing perler beads and other sprite-based artwork at events for a while, and wound up being inspired to try making a Magnet Man (from MegaMan 3) with some dirty, gnarly old Legos in my mom's basement. From there, I wound up getting addicted, always looking for MORE Legos to build MORE things.

Cut to a few months later--when I had spent embarrassingly large sums of money buying Lego bricks online--I still wanted to make more. Somebody suggested selling them on Etsy or even at conventions, and in time, I discovered something incredible: I could pay for the addiction by feeding the addiction. Other people seemed to think they were as cool as I did, and so, I've been building bigger and bigger things--attending more and more shows--ever since.

EVERYTHING I make is made with 100% genuine LEGO bricks (no Megablocks, nothing is painted or modified, etc.) in BRAND-NEW condition.

EVERYTHING is glued.

FAQs:
Q: "What if it breaks?"
A: This is pretty rare--since everything is glued, the sculptures will never shatter--if you drop them, for instance, they'll generally just crack in half and all you need to do is press them back together and move on. I'm happy to provide assistance if anything comes apart though; I can easily give instructions on how to repair something yourself.

Q: "Why can't I just go home and make these myself?"
A: You can! Nobody's making you buy anything! Don't misinterpret my intentions: I'm not getting (nor is it my plan to get) rich off of this. I think it's a cool idea, and I make this stuff as dirt-cheap as I possibly can. You can probably build an original SMB Mario with the grungy, tooth-mark riddled LEGOs in your mom's attic...... but I guarantee you can't find enough dark red, turquoise, dark blue and the discontinued sand-blue LEGO color to make anything from Chrono Trigger :)

Q: "I saw a guy making these on [insert website or forum here] , doesn't that piss you off??"
A: No. I never claimed to have invented this idea. But as far as I know, I'm the only person actively attending gaming/anime conventions, making these widely available to people whom otherwise a) wouldn't have thought of it, or b) wouldn't want to do it themselves. I don't think there's anyone out there doing this on quite the same scale as I am, and if they were, I wouldn't care! Tedious misery loves company. :)

Q: "How are these so cheap?" (often said by people familiar LEGOs)
A: I buy LEGOs in ridiculous bulk. Thousands of dollars and tens of thousands of bricks at a time. My life is a joke.

Q: "Why are these so expensive?" (said by other people)
A: I dunno. Take it up with the LEGO corporation! In seriousness, though, I charge--with a few small exceptions--$0.10/pixel, rounded down to the nearest $5.00 increment. Block Sprites remain a hobby for me--not a business--and so the profit margin is just enough to recoup costs. You'll see prices increase very rapidly as sculptures get larger; not because they're more difficult, but because more pieces are needed.

Q: "Can you make a [insert character from a modern-era 3D game here]?"
A: Probably not. LEGOs are a limited palette, and sprites are not the same thing as 3D rendered models. Since this is a hobby, for which I charge nothing other than the production cost itself, it isn't really feasible for me to spend several hours custom-designing a retro-style sprite based on a modern game. If you HAVE a sprite of your own or that you found online, I'm happy to take a look at it and let you know if it is possible.

Q: "How long do they take to make?"
A: It depends. I've gotten pretty good at it. Small stuff can take just 10-15 minutes, but the big stuff can still take 4-5 hours. Some things have to be built in sections and take several days (so glue can dry) before they can be fully assembled.

Q: "Where do you get your LEGOs?"
A: I get about 85% of them from a website called http://www.bricklink.com/

Q: "What kind of glue do you use?"
A: E-6000; a pretty basic crafting glue that you can get pretty much anywhere (Jo-Ann, Michaels, Target, etc.)
Shop members
Nicholai

Owner, Maker, Building Stuff!

I like video games and I play with Legos. Basically, I haven't matured in the slightest since I was about 9-years-old.
Shop policies
Last updated on
November 28, 2013
I make stuff from sprite-based video games using legos; it's really just a hobby... Prices cover the cost of the legos and the Etsy fee, and that's about it.

Your sprite can be sent glued or un-glued (un-glued typically require some degree of simple assembly upon receipt)

If purchased, your model will look exactly the same and remain 100% true to the game, but, different pieces than in the photo may be used to create the model...
Accepted payment methods
Payment
I can accept Paypal, checks and money orders.
Shipping
Typically I've been using USPS Priority Mail, but, you're welcome to choose a different shipping method and we'll figure out the cost. I only charge exact shipping--nothing for packing or handling.
Refunds and Exchanges
I'll work with you to fix any problems that arise. :)
Additional policies and FAQs
If you have a request for a particular sprite, I'm happy to build it (provided that the right colors exist / are available to me) ... Just let me know what you want!