Goth n Gorgeous
New treasury
This topic has been closed.
This discussion is public.
Original Post

Responses

My latest treasury is all about the creative applications of felt and felting:

www.etsy.com/treasury/NTQxNDIwOHwxOTM5NjQ4MDAw/felt-up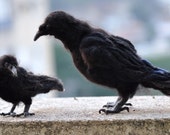 Needle Felted bird. Black crow.
$88.00 USD
I also post a weekly feature in my blog with clickable widgets of the treasuries that have included my work during the preceding week.
moiracoon.blogspot.com/2012/01/treasury-inclusions-from-week-of.html
Please take a peek and share some love if you're so inclined!
~Moira
I'm also find-able at:
www.facebook.com/MoiracoonsShinies
twitter.com/MoiraCoon
Posted at 6:25 pm Jan 28, 2012 EST