Etsy Alchemists
Looking for an icicle necklace for evil ice queen costume
Sign in to participate in this discussion.
This discussion is public.
Original Post

I am looking for an icicle necklace for my halloween costume this year

I like the look of this one: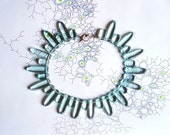 $32.00 USD
but I am look for a more jagged icicle look
I don't need to fancy of materials, just as long as it resembles ice, in that tint of light blueish green
Looking to spend between 20-25 bux. Sorry budget is super tight
Posted at 11:00 pm Jun 7, 2012 EDT
Responses

Quartz points are expensive. I know this personally as my store uses them. It's unlikely anyone will be able to afford to make exactly what you are showing. They would "go in debt" creating it. Acrylic and plastics would be your only option to get a similar look that cheaply. Just the act of making it would be 25 dollars, so the materials would need to be practically free.

My store has several quartz crystal pieces and Skadi necklaces. Here is one slightly pricier look. I could do a glass a snowflake piece for 35 but I wish you luck finding a quartz point solid color for anywhere near 25 dollars

www.etsy.com/listing/85487392/ice-crystals-snowflakes-and-snowball?...
Posted at 9:16 am Jul 24, 2012 EDT