Etsy Talent Hunt
New Listings
This topic has been closed.
This discussion is public.
Original Post

Please check out or list new items!
This is a few of my newest listings:


www.etsy.com/listing/82455910/metal-tree-of-life-sun-catcher-window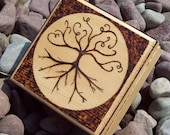 Wood Burned Tree Of Life Trinket Box
$19.99 USD
www.etsy.com/listing/81269695/witchs-brew-multi-purpose-apron
Posted at 1:42 pm Sep 24, 2011 EDT
Responses




Lovely pink pastels make a wash cloth or dish cloth to cheer you!
It comes with an exfoliating scrubbie for bath time or a help with something stubborn in the kitchen!!?? You get to choose!! Christmas is coming.
If you shop bit by bit on Etsy, you'll avoid the angst of last minute gift stress!!


Thank you, Janet Long (◕‿◕)♥
Posted at 11:06 pm Sep 24, 2011 EDT