Etsy Rabbits
International Rabbit Day TEAM TREASURY
Sign in to participate in this discussion.
This discussion is public.
Original Post
Leader
Hi everyone! IRD weekend is next weekend, and in honour of this special occasion, i would like to make a treasury featuring your favorite bunny items. Anything bunny will do, it just has to be the Etsy bunny you are most admiring at the moment.

Your bunny item doesn't have to be a team member's item. Post your favorite bunny item in this thread, and i will make an Etsy Rabbits Team treasury with our top picks for IRD weekend!

I need 16 items, so participate!
Posted at 4:43 pm Sep 18, 2011 EDT
Responses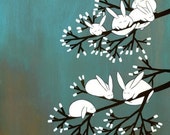 Marshmallow Garden - Signed Art Print
$20.00 USD
Posted at 9:04 pm Sep 18, 2011 EDT