MULTIPLE SHOPS on ETSY
may - post your promotions
Sign in to participate in this discussion.
This discussion is public.
Responses


Use code: CLEARANCESALE for 60% off in my Etsy shops, getting ready to move and need to clear out the shops within the next couple weeks!
Posted at 6:42 pm Jun 17, 2012 EDT

We're celebrating our 1,000th Etsy sale by giving 20% off everything in our shop through the end of this week!

www.etsy.com/shop/RefrigeratorProse

Use coupon code 1000SALE to save 20%!

TONS of magnetic poetry for any taste!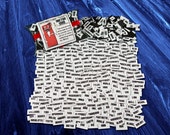 $12.00 USD
Posted at 2:29 pm Jun 18, 2012 EDT
ALMOST ALL ITEMS ON SALE NOW in shop! I have sections of Under $10-20-50-100! Everything needs to go for this "Take Me Home" Sale! :)
Posted at 12:03 am Jun 19, 2012 EDT