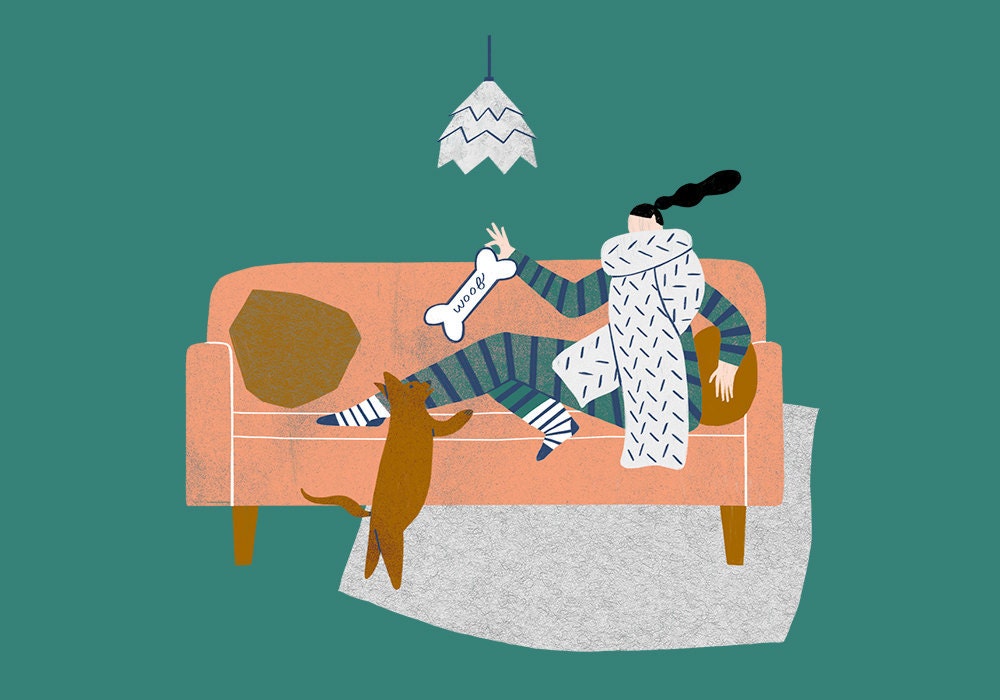 The following is a transcript of a podcast episode released in October 2019. The transcript has been edited slightly for this format. You can listen to the episode on Apple Podcasts, SoundCloud, Spotify, or wherever you get your podcasts.
Tess: Welcome to the show, Rosa! Thank you for being here today.
Rosa: Thanks for having me.
Tess: First, can you tell me more about you? What do you and your team do at Etsy?
Rosa: I'm on the Market Research team at Etsy, which is part of the larger Etsy Marketing department. My team and I do a lot of different types of research. We conduct in-depth interviews and surveys. We combine our one-on-one information with data from our analysts and data from the site to understand more about the types of things that buyers look for. A lot of the findings that I'll be discussing today originate from those interviews, some from the surveys, and some from the data that we have from on-site.
Tess: Awesome. And I hear you've become somewhat of a super buyer on Etsy lately. Do you have a favourite Etsy purchase so far?
Rosa: I do! It's dangerous. I shopped on Etsy before I started working here, but now that I'm looking at the site more I am a super buyer. I recently bought a personalised cheeseboard that's made to look like a golf course. It was actually a wedding gift for a friend and it was a huge hit, so that's my favourite recent purchase.
Tess: OK, let's get into the mindset of the Christmas shopper. Can you tell me what you've learned about what buyers are thinking and feeling during the Christmas season?
Rosa: The Christmas season is a rollercoaster of emotions for buyers. We hear a lot about the stress of the Christmas season and I think that's the first emotion that comes to mind. It's one that people especially remember when they're thinking about the upcoming Christmas season. People feel a lot of responsibility around Christmas. They feel responsible for hosting and responsible for creating Christmas experiences for friends and family. And they're doing this on top of their day-to-day duties, so it's a lot to take on.
In general, gifting is a source of stress and worry. You want to find the right thing, which can take a long time and be a lot of pressure. Finances can be very stressful this time of year too. You're buying more and things are expensive. Also as soon as you hit October, the pace of the year really seems to speed up. All of this culminates in a ton of stress around the Christmas season.
So we hear about stress, but we also hear about positive emotions. People love Christmas. There's a lot of anticipation and excitement. People look forward to Christmas as a time to relax and celebrate. You've worked through all of that stress, and there's the idea that there's a light at the end of the tunnel where you can celebrate and be with loved ones. People travel during Christmas which can be a source of stress, but it's also a source of excitement. We also hear about joy and satisfaction. This refers to the genuine happiness and satisfied feeling from being with family and giving gifts to family, and getting to see the excitement that you can bring others.
Tess: All of this sounds very familiar to me. The stress phase probably feels longer than the other ones, but I think that buying on Etsy provides an opportunity to even these phases out a bit. There can be so much satisfaction and joy from giving a gift that you got on Etsy because of the thought that goes into it. There's a lot of opportunity to find something really personal or custom-made. Something that makes the recipient feel like it's just for them, or bought with them in mind specifically.
Rosa: Definitely.
Tess: It seems like a good idea to keep those stages in mind when you're marketing products to your shoppers, and even when it comes to the tone of your messaging on social media or in your Convos. Just trying to be mindful of that stress that shoppers are also experiencing. So one thing people want to know about is timing. When do buyers start shopping for Christmas?
Rosa: Christmas shopping can begin as early as September and goes all the way through December, so through Christmas. This covers many different categories, including gifts and festive decorations. In the early months — so for most people, that's September through November — buyers are updating their home decor. They're buying ornaments for their Christmas trees, they're buying decorations for Thanksgiving tables, and they're just in general updating seasonally to create a festive environment. We see searches for Christmas decor actually peak in November, so this is when a lot of people are focusing on creating that festive atmosphere.
In order to do this, buyers often look to smells, textures and colours. They look to those sensory cues to help reflect the cozy feeling that they want to evoke during this time of year. A lot of the items that we see purchased in this early phase are scented candles, throw pillows, blankets, tableware and other festive statues or trinkets.
Tess: That's a great point: Christmas shopping doesn't just apply to gifting.
Rosa: Absolutely. There's just a lot of shopping happening for many different reasons during those months. When gifting does kick in, though, it's actually as early as September for a lot of buyers. We see about 34% of our buyers start shopping in September, or sometimes even earlier. This is often when big ticket items are purchased. Buyers get nervous that things are going to sell out or they want to buy expensive or larger items earlier on. Then in October we see about 31% of buyers start their shopping, and this is when the big gifting rush starts to begin. Next, 26% of buyers wait until November.
Black Friday and Cyber Money, and really Cyber Week in general, are really, really big sales weeks for us. Self-gifting is also big during Black Friday and Cyber Monday. I know I fall prey to this. You have other people in mind, but the sales and deals that you're looking for as a buyer lead you to buy for yourself too. During Cyber Week we see a big spike in all of our top categories. Those categories are homeware and home furnishings, jewellery and personal accessories, apparel, craft supplies, paper and party supplies and beauty and personal care. We also see a lot of searches spike, and popular searches last year were related to Christmas and gifting. We saw "personalised gift", "Christmas decor", "Christmas stocking" and "gifts for men". These kind of gift and Christmas-specific searches. We also see spikes in seasonal searches, things like "chunky knit blanket" or "cozy sweater". And finally we see spikes in evergreen popular searches, so things that we know are popular year-round, such as "name necklaces", "initial necklaces" or "address stamps".
Tess: I think I fall into that last category that you described. September is too early for me, and then in October I get distracted by figuring out my Halloween costume. Some of us are not planners.
Rosa: No, definitely not everyone is a planner. Actually 9% of our buyers do the bulk of their shopping in late December right before Christmas and it's kind of a frenzy. Many shoppers also partake in at least a little bit of later shopping. They may have bought the bulk of their gifts by this time, but buyers are also looking for smaller items, stocking stuffers, and other more impulse-type buys to add to their existing purchases.
Tess: For sellers, even if you're done with most of the selling at that time, it could be a good time to promote those ready-to-ship items that are at lower price points, like you were describing. So what has your team found about the shopping journey itself? What does that typically look like on Etsy?
Rosa: That's a great question and something that my team spends a lot of time thinking about and doing research on. We could do a whole separate podcast on just the purchase journey. But the purchase journey as it relates to gifting does take time and buyers often browse for weeks before finally buying. This is usually because they want to find the perfect gift for their friends, family and loved ones.
The first step is thinking about what they want to buy, which takes a while. Buyers want to spend time thinking about the recipient's likes, personality and habits. And they think through all of the initial destinations that they might usually look at when buying for that person. Then they move to what we call being "on the hunt." This is when they actually go and search the internet. Often this starts with a Google search. They collect options, so that could be in the form of links, emails, pins and adding items to their basket. This phase is pretty long. I know personally I'm already starting to think about what I want to buy for Christmas, and I can spend a couple of weeks just looking for the perfect gift and collecting some options.
On Etsy specifically, searches around Christmas spike for gifts in conjunction with a descriptor of the recipient. We see searches like "gifts for grandma", "gifts for boyfriend", and "unique gift for a friend" spike. This is because buyers who are in this hunting phase are still looking for inspiration and want to collect options that fit the criteria they're looking for. We also see a big spike in searches around personalisation during this time.
Tess: It seems like a good time to consider updating your tags if you offer personalisation in your shop. It could also be a good idea to add those recipient descriptor tags that you mentioned. So if you have a mug that says "Best Grandma Ever" for example, you might want to tag it with "grandma gift" or "gift for grandma".
Rosa: So to continue on the journey, once buyers find something they like - or oftentimes many things that they like - they may purchase right away or they may leave trails for themselves. We call these breadcrumbs because it's like leaving a little trail to come back to. One way of doing this is adding items to a basket, but not actually purchasing. On Etsy, you can favourite items and shops. Any way that you can save a specific item to make sure that you can come back to it later is something that's very popular to do around this time.
Tess: Yeah, you should see my favourites list on Etsy in the month of December. It gets out of control. So how do buyers decide what to buy?
Rosa: The criteria for making the choice of what to buy is actually a bit different during the Christmas season than it is around the rest of the year. First and foremost, on-time arrival is huge: 88% of buyers think it's important that sellers have an explanation of a timeline for made-to-order gifts. They really want to make sure that the gift is going to be on either their doorstep or the recipient's doorstep before Christmas. Sending a confirmation that a buyer is going to get their order on time is really important to 86% of buyers, and any type of tracking information is important to 83% of buyers.
We also hear that free delivery is very important: 57% of buyers think about whether or not an item has free delivery when they decide whether or not they want to buy it. And other extras like flat rate postage — paying the same postage fee no matter how much you order — or expedited delivery, are also important to over 40% of buyers when they're thinking about what to buy around Christmas.
Tess: Those delivery stats you mentioned are really interesting. It sounds like a great opportunity to provide tracking info if you can. And it's a good opportunity to make sure your delivery profiles are up-to-date to include processing times and frequently used mail carriers. That way, we can show shoppers an estimated date range for when the order is going to arrive.
Rosa: We actually get a ton of new and first-time buyers during the Christmas season, so these are all great ways to tip them a little bit closer to making a purchase.
Tess: Right. Considering all those new shoppers, this is a key time to win them over and keep them coming back. A big part of that comes from those customer service touch points, like accepting returns or offering delivery upgrades to ensure gifts arrive in time. Those can be a huge help in establishing trust with potential buyers.
Rosa: Yes, returns come up a lot with buyers around the Christmas season. Gifts are a pretty risky purchase. The ability to return something either before giving it as a gift (if it's not as expected) or after giving it as a gift (if the recipient doesn't like it) gives buyers the confidence to shop. When it comes to returns, 54% of buyers say that a seller offering returns on any gift purchase is important when shopping on Etsy.
Tess: Yeah, like you said, this is a stressful time. I know that when I shop online, I'm comforted just knowing that returns are an option. Even if it's not very likely that I'll need to return something, it's reassuring and decreases my anxiety to know that it'll be OK no matter what.
Rosa: For sure. And trust is actually a huge part of purchasing on Etsy all year round. A few other things that can help establish trust with buyers and that we know they look for are high quality photos. This is often what encourages them to click on the listing to begin with. Another one is clear and detailed item descriptions. These descriptions help buyers understand more about what to expect from the item, and whether or not it's what they're looking for. So think about things like size and texture. If it's vintage, think about the era it came from or the condition it's in. These are all details that buyers look for when they're shopping on Etsy.
Payments are also an indicator of trust. Offering PayPal is something that many buyers look for, or any type of payment security. And finally, fast response time when it comes to answering Convo messages or emails. This helps reassure buyers that there's a real person behind the shop and that someone will be there for them throughout their purchase experience.
Tess: Right, that response time can really help show buyers that you're paying attention and that you want to help them in any way that you can. So what have you learned about what exactly buyers are searching for around this time of year?
Rosa: Buyers really want to find the perfect gift for their loved ones, and they prioritise uniqueness and deals. In terms of uniqueness, 90% of Etsy buyers would rather give a unique or one-of-a-kind gift. Because of this, searches for personalisation or personalised items spike during the Christmas season. In 2015, 21% of transactions in the last three months of the year were custom orders.
Tess: Yeah, this is a great time to think about ways that your items could be personalised if you aren't already offering those options. Like if you make hand-stamped jewellery, do you have a custom listing that allows shoppers to select personalised initial or name necklaces? Or if you make illustrations or paintings, could you offer custom portraits? In my experience, pet and family portraits are often a big hit.
Now it's time for our lightning round, where we've collected questions from sellers in the Forums for you to answer. First up, DanielaBarbieriCo has a question about personalised gifts. They're wondering what kinds of phrases are good for gifts around Christmas.
Rosa: I would recommend offering both short and long inscription options. As I mentioned earlier, we see many people searching for personalisation or customised items. This could be monograms, it could be longer messages, or even a short phrase. So depending on the item, it's great to offer a few different ways to personalise to keep options open for buyers.
Tess: BrillandBen says, "Is there a measurable difference in shoppers' Christmas buying habits between the US, Australia, New Zealand, Russia, Canada and Europe? In my experience, European customers don't start seriously buying for Christmas until the start of December, so quick delivery might be a good selling point for that market."
Rosa: There are nuances in Christmas shopping habits across the different countries that Etsy has a presence in. One of the key behavioural differences we see is around when Christmas shopping starts for buyers in different countries. We've done specific research on this in the UK and Germany. Buyers in the UK and Germany start shopping in November, compared to the US where we see many buyers starting to shop in September.
Timelines per celebration differ slightly as well. A big day to celebrate in Germany is 24th December as opposed to 25th December here and in the UK. Also in Germany, the Advent period — the days in December leading up to Christmas — is a time that people give gifts to children. In the UK, Boxing Day, which is 26th December, is also a very big shopping day. It's kind of like Black Friday here in the US, and there are often many promotions and sales happening.
Purchase considerations are also different. The UK is similar to the US in that buyers say they factor price into shopping and look for gifts that are on sale or discounted, but in Germany buyers are willing to spend a little bit more.
Tess: BlairMade asks, "Is there data to show whether Christmas-specific tagging or gift-type-specific tagging is more effective for the Christmas season?"
Rosa: We've done a lot of research about how buyers shop, and this research is a key input in our Seller Handbook article, Keywords 101. This is a great place to start for sellers who want to know more about how they should tag and list their items. Overall, when it comes to tagging your items for the Christmas season, the more tags, the better. As we talked about earlier, buyers often search for recipient-based gifts when they're in the Christmas exploration phase. So tags like "gifts for grandpa" and "gifts for friend" are a good idea this time of year. Also, if your item is tied specifically to an occasion, like "Christmas stocking" or "Christmas ornament", this type of tagging is a great way to set up for the Christmas season. To learn more, check out the Keywords 101 guide for best practices on tagging.
Tess: You can also check out our last podcast episode for tips on using attributes, which are like "free super tags", according to our taxonomy manager. Next, TheRoyalTouch asks, "Are buyers interested in [eco-friendly] packaging options, such as paper baggies or no plastic? Would Etsy be willing to add that option as a checkbox in checkout?"
Rosa: Sustainability is one of our core beliefs here at Etsy and we're always thinking about how to waste less as a company. Every time you purchase an item on Etsy, we balance out the carbon emissions by creating a positive environmental impact. From our research, we've learned that overall buyers are interested in sustainability initiatives, as long as it doesn't increase the cost of their items. We encourage you to offer your own eco-friendly delivery alternatives and to let buyers know that you offer these options.
Tess: LightningBugCraftsMI asks, "Do buyers really look at thank-you notes enclosed with their purchase? How important are these notes to them? What should be included? I include a reminder to look at their purchase order for a discount code for their next order. Is this a good idea, or does it really matter to them?"
Rosa: Buyers do recognise the small touches that sellers do to make the purchase experience special. When asked about their best experiences on Etsy, buyers often reference the handwritten thank-you notes, the special packaging, or just interactions with sellers in general as reasons why they feel a personal attachment to Etsy and why they love to shop the site. The thank-you notes serve as a really good reminder of the hard work that you as a seller put in to make and source your products. And it really helps facilitate that human connection that buyers come to Etsy for. We don't have a checklist of what specifically you should include in the note, but buyers like when it feels personal. I know I really love getting handwritten notes that use my name.
Tess: Next up, WildatHeartWood has a few questions. The first one is, "Does the research indicate how photos, price, description and listing category rank in importance to shoppers when they're searching and when they're making a final buying decision?"
Rosa: All of the things you mentioned — photos, price, description, listing category — are important at multiple points throughout the shopping experience for buyers. They're important for trust, like we talked about earlier, and they're especially important for first-time buyers. As a seller, it's a best practice to make sure all of these elements are optimised, and this means a high level of transparency throughout the shopping process. Accurate and detailed product descriptions, images that are clear and show the actual product from multiple angles, prices that reflect the full cost of the items with no hidden fees, and transparency about delivery times are just a few things that buyers expect when they shop on Etsy.
Tess: WildatHeartWood's second question is, "Do those shopping for handcrafted items prefer descriptions that include all pertinent info in bullet points, ones that are written in a folksy manner that include personal info about the maker or do they prefer a different way?"
Rosa: When it comes to product descriptions, it's most important that buyers are able to find the detailed information about the product that they're looking at. We know that buyers do appreciate personal details about the maker and the shop. It's one of the things that makes shopping on Etsy fun and unique, so that's great to include. There's no one-size-fits-all approach to tone or formatting. Just be sure that you're highlighting item-specific information to make shopping easy for buyers.
Tess: Our last question comes from littlenomadsociety, who says, "Do you think special Christmas gift wrap attracts more buyers during Christmas shopping? What tips can you offer?"
Rosa: Gift wrapping can be helpful for buyers, but research has shown that there are a couple of different things to consider as a seller when offering this service. Many buyers ultimately want to wrap their own gifts. It's part of the fun of gifting and it helps them feel like they're putting their own creative stamp on the gift. And they really want to see the product before gifting it. They're also not sure what the item is going to look like when it's wrapped if they're not doing it themselves.
But we know that buyers do like having the option for gift wrap. This is specifically appealing for buyers when they're purchasing for people who live abroad. It makes life a lot easier when timing is short, so it's a good thing to offer. Offering multiple paper options can help buyers feel like they have a little more control over what the gift is going to look like. Showing photos of wrapped gifts helps build buyer trust and shows them what the finished product will look like when it's dispatched. Also using clear language when talking about packaging helps instill trust. Pricing is also very important. We've found that between £2 and £5 as a charge for gift wrap is the sweet spot.
Learn how to offer personalisation in your shop by checking out this Help article. You can get more tips on how to meet shopper expectations in our Seller Handbook article, How to Get 5-Star Reviews.