Announcement Pet Memorial Gifts, Name Wall Letters for Kids, Painted Flower Pots, Wedding and Baby Shower Favors, Kids Event Favors and much more!

Welcome to Happy Moose Garden Art via Etsy! My business sprouted from a love of painting and planting. My pieces are fun and funky, and customizing them for you is my passion. My hand painted flower pots have been used for centerpieces, baby shower and wedding favors, house-warming gifts, teachers gifts, and personalized with everything from hummingbirds to bowling pins. They were also featured in the Celebrity Swag Bags at the 2012 Oscars!

Kids name wall letters and hand painted wall initials are also a big part of my shop. Send me a photo of your room, nursery, or a link to bedding for a great match!

The Pet Memorial Planters are very close to my heart, so check out my rustic, vintage look, hand painted flower pots for pets. I'll personalize them with a saying of your choice, the pets name, and will send it straight to the recipient with a note from you. $1.00 from the sale of each pet memorial planter will be donated to K9s for Warriors. They provide and train service dogs for American Warriors suffering from PTSD, TBI and/ or MST. 95% of their canines come from rescue shelters.



Enjoy!

Joanne Culbreth
Happy Moose Garden Art
Get the Monthly Newsletter! http://eepurl.com/bxLpIf
Announcement
Last updated on
09 Oct, 2016
Pet Memorial Gifts, Name Wall Letters for Kids, Painted Flower Pots, Wedding and Baby Shower Favors, Kids Event Favors and much more!

Welcome to Happy Moose Garden Art via Etsy! My business sprouted from a love of painting and planting. My pieces are fun and funky, and customizing them for you is my passion. My hand painted flower pots have been used for centerpieces, baby shower and wedding favors, house-warming gifts, teachers gifts, and personalized with everything from hummingbirds to bowling pins. They were also featured in the Celebrity Swag Bags at the 2012 Oscars!

Kids name wall letters and hand painted wall initials are also a big part of my shop. Send me a photo of your room, nursery, or a link to bedding for a great match!

The Pet Memorial Planters are very close to my heart, so check out my rustic, vintage look, hand painted flower pots for pets. I'll personalize them with a saying of your choice, the pets name, and will send it straight to the recipient with a note from you. $1.00 from the sale of each pet memorial planter will be donated to K9s for Warriors. They provide and train service dogs for American Warriors suffering from PTSD, TBI and/ or MST. 95% of their canines come from rescue shelters.



Enjoy!

Joanne Culbreth
Happy Moose Garden Art
Get the Monthly Newsletter! http://eepurl.com/bxLpIf No items listed at this time
Reviews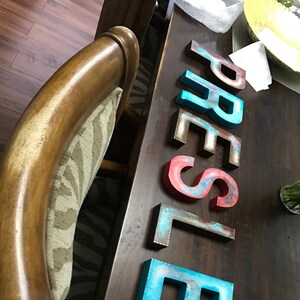 Awesome job! Thank you! And super fast shipping!!

LOVE LOVE LOVE! I was very happy with the letters I recueved for my son's room! Perfect shape length and width! Fit perfect with the rustic home feel I wanted in his room(:

Such a beautiful mix of colors. I am pleased that I ordered this pot!
About
It's all about You
How can I help you? If you are looking to personalize a wall in your home in a way that is all about you or your child, then allow me to create some hand painted name wall letters or initials that will do just that. If you are looking to have wedding or shower guests not leave their favors behind because they fall in love with them at first sight, then I'll hand paint a beautiful set of flower pots to make sure that happens. That goes for kids parties too…let's make those big fun. Need something unique and personal to gift someone who has recently lost a pet? Check out my sympathy gift pet pots... https://www.etsy.com/shop/HappyMooseGardenArt?section_id=15595504&ref=shopsection_leftnav_7

I see what I do as a gift straight from God. I was longing to work with my hands and He knew it. My style is unique, and when that rare client comes along and just says 'Do your thing' they will likely get something that looks natural, rustic, vintage-like with a twist. I might throw a flower with metallic gold petals into a mix of rough textures and cracks. My hands love clay, unpainted wood and texture finishes. My apron loves paint. A beautiful neighbor that I love and miss (as she moved away) taught me so much, and while learning my craft I frequently found my way to her garage as she was working with acids on mirrors that needed antiquing or painting a child's step stool.

My work is very personal, and once someone makes a purchase I tend to dive in and ask about the child the letters are for…what they like, what they don't, what their wall color is. People lovingly provide details around a friends lost pet, so my rustic flower pots are hand painted accordingly…those really have my heart. Brides want their wedding guests to have something perfect and usable to remember the occasion by. I'm on it.

From childhood I have always loved being outside in the dirt or up in a tree. My parents ate numerous mud pies after my baking sessions. Mornings are my favorite time of day, and my favorite place to be before the sun comes up is on my back porch in the glider or rocker (gotta move) talking to God about my yesterday (always be thankful) and about my today (making sure He is going to be with me all day). Then it's straight to my studio (unless I need to walk my horse-sized dogs first). I sell online predominantly. Sitting at craft fairs all day long just doesn't appeal to me. Too much set up, too much break down, and too much sitting still in between.

My studio is colorful, and despite the neatness of the rest of the home I share with my husband, my mom, two needy old cats and two goofy Great Danes…my studio is loaded with stuff that I can't live without. Textures, paints, brushes, bobbles, a colorful string of lights, a soapstone dolphin who holds incense in his mouth, glass stones, magazines, tons of pencils, paint pens, art work our children created when they were very young. (I promised my son (now grown) that I would incorporate that smiling moose he loved to draw for years on end into my business name one day.) There are tons of unpainted wood letters, terracotta pots of all sizes, books on art, books on techniques, books on how not to have clutter in your life :o)

I love my life, and I love working to make my clients happy, their weddings more memorable, their children smile, their friends touched by a gift to let them know that someone is really loving them and thinking of them.

Thank you for taking the time to read a bit about me….not everyone does, and I appreciate it more than you know. Now I hope you'll go visit my shop and let me know if I can create something special for you! Step on in! https://www.etsy.com/shop/HappyMooseGardenArt

Joanne
Happy Moose Garden Art
Want 10% off your purchases? Get the Newsletter!
Sign up here! >>>> http://eepurl.com/bxLpIf
Shop members
Joanne

Owner

It is a real pleasure creating something that makes your event more special, your garden more beautiful, your child's room more fun, or to gift someone who has lost a beloved pet. My customers are treasures. My goal is for my work to reflect that.
Shop policies
Last updated on
11 May, 2016
My goal is to create true pieces of art that make my customers smile. Customers are a treasure, and creating something that makes a wedding more special, a child's party more delightful, or a wall more 'you' with personalized wall letters....that is why I do this.
Accepted payment methods
Payment
Payment can be made by PayPal, Credit Card, or personal check (I can begin work once cleared). I'll get your purchase in the mail as soon as I receive and confirm payment if it is an item available in my shop. If it is a custom item we will discuss when you need your order by, and I will work on it accordingly to make sure it arrives as expected.

If for some reason you've changed your mind just let me know and I can cancel the sale unless it has been sent to you, or I have begun work on it (if a custom order).

If payment is not received within 48 hours I will contact you to make sure everything is ok, or cancel the sale if I am unable to reach you within a reasonable time frame.
Shipping
I have researched shipping thoroughly, and due to the weight and package shapes needed for my products I have found that USPS is the way to go. If your order is extremely large and heavy, UPS will be used instead. I allow extra room in the box for packing as these are breakable items, and I want them to arrive safely.

For large orders (such as wedding favors) I will ask if standard or priority postage is preferred. While the cost for priority is higher, the chances of good handling and less breakage are much better. Due to the weight of my items I don't generally advertise internationally as the postage is extremely high, but I will be glad to work with international customers if they are willing to handle the postage costs.
If you have any issues with items arriving damaged please let me know. I will need a picture of the damaged item, and we can discuss a refund or re-make at that time.

NOTE: During the order process if there is a required 'need by' date I will let you know if the order can be completed and sent out in time to arrive by that date. I will make sure that I get the item(s) shipped in time to arrive by the date needed, however, I do not issue refunds on items not delivered by your specified date due to the fault of the UPS or USPS.

Happy Moose Garden Art will not be held personally responsible for items lost or delayed by the USPS or UPS. This includes items that are reported as stolen after delivery is confirmed.
Refunds and Exchanges
I will be happy to refund any item that you are not happy with that you order straight from my shop. Just send it back undamaged and you will receive a full refund. (Return postage will NOT be covered.)

If you order a customized item and payment is confirmed, I will begin purchasing materials and creating it right away, therefore customized items cannot be refunded. If a customized item is returned for any reason, postage will not be refunded.

If breakage occurs from shipping I will be able to refund those specific items or replace them if time allows, and will need to see a photo of the broken item(s) before taking action.

If a letter or letter(s) should fall after being adhered to the wall with mounting strips as I recommend, Happy Moose Garden Art is not responsible. The instructions for mounting strips and what will and will not adhere to specific surfaces is on the mounting strips packaging. There are specific surfaces which do not work well with mounting strips. Make sure that you read all instructions for mountings strips to make sure your particular surface will work with this adhesion method.
Additional policies and FAQs
These items are painted with water-based acrylic paints, and are then sealed with water-based sealer, and last, they are polyurethaned for an extra coat of protection and shine.

Do not place any unwrapped food inside the product. That includes pet treats.

If the items are left out in the open weather the finish will eventually fade and become weathered, but not any more so than another item that may be left out in the open weather for long periods of time.

I will do everything in my power to assure that the product you receive is exactly what you were looking for. If it isn't, please feel free to contact me and I will do my best to work something out based on the policies above.

Color matching is something I try very hard to accommodate, but please know that it is not always possible to get an exact match. I work with photos and images from online resources, etc. and at times the online version (or printed version) does not display an accurate shade. I use Sherwin Williams as my paint vendor, and will be happy to have customers request a specific shade from their line if I do not already have it. The additional cost for a specific shade I do not have in stock is $6.00.

Mounting Name Wall Letters - I always recommend that customers mount my letters with mounting strips. It is up to the customer to determine which mounting strips work best based on the weight of the letter(s) and the surface of the wall. There are some surfaces that will not work well with mounting strips. Happy Moose Garden Art cannot be responsible for letters that may come loose due to a non-recommended surface (based on mounting strips instructions). I advise against installing the heavier block letters directly over a crib unless the customer is sure the letters are adhered well and cannot fall. I do offer a paper mache' version of the block font letters which look the same when painted, but are extremely light-weight, so that is a good option if weight is a concern.
More information
Last updated on
28 Jul, 2016
Seller details
Joanne Culbreth
Neptune Beach, Florida
United States