Announcement * Every ring is made per special order and great attention is given to customer preference and jewelry I design
* Delivery is within 8 to 10 business days upon completed payment
* I make top quality gold diamond jewelry affordable for many at designer direct price
Announcement
Last updated on
29 Oct, 2015
* Every ring is made per special order and great attention is given to customer preference and jewelry I design
* Delivery is within 8 to 10 business days upon completed payment
* I make top quality gold diamond jewelry affordable for many at designer direct price
Reviews

Absolutely beautiful piece! Very well made, great quality. Shipped with in the time the seller stated and arrived quickly. Thank you!

Gnel was immediately communicative and flexible and helped me create the ring of my fiancé's dreams! He literally won't take it off, he loves it so much, and we haven't even married yet! Gnel also worked with me to ensure I was requesting an accurate size. For this style of ring, it was possible to make the band in "gunmetal grey gold" instead of the listed "black gold," for a little bit more money, which made this ring even more unique. When I requested an update at the 10 week day mark, he answered quickly about when the ring would ship out (~2 more week days due to the holiday), and it was shipped at that date in a large, plain box (insured & certified), which also made me more comfortable. An outstanding and gorgeous piece.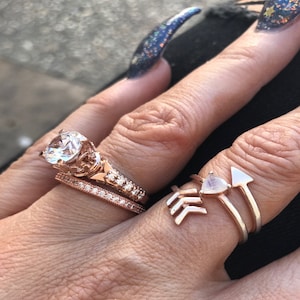 So beautiful 😍I can't stop staring at it💍💖thank you!!!!
About
Welcome to Art Masters Jewelry
Art Master Jewelry is a world class Computer Aided Design and Computer Aided Manufacturing, luxury bridal fine jewelry design, production and retail company in Jewelry and Fashion district of Los Angeles, California. Vast number of our works are presented in world's most prestigious jewelry catalogs and fashion magazines. Art Masters Jewelry and it's executive designer is featured in VOGUE, GLAMOUR and BRIDES magazines on a regular basis. We have designed many jewelry models for well recognized North American and International brand name jewelry companies, jewelry manufacturers and retailers since 1999. Emphasis of designing and crafting an Art Masters Jewelry product is on quality, creativity and innovation, utilizing state of the art 3D jewelry design software applications, advanced jewelry production equipment that conform and exceed bridal jewelry benchmark standards. We have in depth knowledge of art, history of art, concept of beauty, elegance, academic design styles, color concepts, quality jewelry craft and more. Art Masters Jewelry constantly designs, publishes and markets never before seen jewelry models and is well known to introduce many innovative designs, concepts, signature color styles and color combinations to luxury bridal jewelry category for the first time. We design and make top quality platinum, gold, diamond, gemstone, luxury bridal jewelry pieces affordable for many with good taste marketed at designer direct production cost. Every product is made per customer special order and great attention is given to customer preference and quality of jewelry peaces we craft. We appreciate and hold dear our customers and are very responsive addressing every customer whim, their likes and wants going above and beyond to make sure we meet and exceed their expectations of receiving quality jewelry product and attentive customer service. Communications with us are very informative and timely to insure we deliver pleasant internet shopping experience to our customers ordering jewelry pieces for their special occasions. Contact us, ask as many questions as you would like and you will be delighted with our customer service and gorgeous jewelry pieces crafted for you at Art Masters Jewelry guaranteed. Thank you so much! Gnel K.
Shop members
Gnel

Owner, Designer, Customer Service

Product Design, Product Manufacturing, Image Rendering, Stone Setting, Publishing, Marketing, Customer Service

George

Assistant, Designer, Shipper

Product Design, Product Manufacturing, Stone Setting, Shipping, Jewelry Sizing

Siranush

Assistant, Accounting, Production

Accounting, Production, Merchant Services
Production partners
Avo's Casting

Los Angeles, CA

Avo's Casting is a state of the art Precious Metal Casting company in Jewelry and Fashion District of Los Angeles, California utilizing industries latest electromelt precious metal casting equipment.

Christy Design Inc

Los Angeles, CA

Christy Design has been printing 3D models since 2001. Their goal has always been to offer the fastest and highest quality 3D model printing service for their corporate clients like us. Their high-end 3D printing machines run 24h.
Shop policies
Last updated on
11 March, 2017
Welcome to Art Masters Jewelry - Designer Direct Custom Bridal Jewelry where we offer top quality advanced CAD jewelry design pieces at designer direct production prices inspired by styles such: Classic, Modern, Edwardian, Victorian, Italian, French, Vintage, Antique, Renaissance, Baroque, Scandinavian, Armenian, Persian, Aztec, Art Deco, Art Nouveau, Mixed as well as academically refined known brand name jewelry styles.

Art Masters Jewelry is Los Angeles, California based state of the art American jewelry design, production and retail company. All jewelry products are made to order available via internet only retail with current virtual inventory catalog of over 8000 products and product variations. Art Masters Jewelry does not operate via conventional retail showrooms and there is no live inventory of finished product showcased locally.

Note:

All jewelry pieces presented in Art Masters Jewelry's Etsy shop catalog are made of 100% solid gold using "lost wax metal casting" technique and are officially stamped: "10k, 14k, 18k, 22k" gold grades based on the model selected. Platinum is stamped: "PL or PLAT" having a platinum grade of 950.

All white diamonds on Art Masters Jewelry pieces are genuine select Euro brilliant cut: VS-SI grade natural diamonds in a white color range of G - H having diamond cuts and hardness of 10 on a Moh hardness scale.

Most color gemstones; including black diamonds and color diamonds are high-purity laboratory grown Cubic Crystal Structure (Cubic Zirconia, Zirconium Dioxide: ZrO2) or Hexagonal Crystal Structure (Corundum: Al2O3) based show grade stones, having diamond cuts, corresponding color range standard reflective indexes and hardness of 8.5 and 8.0 on a Moh hardness scale.

All color change alexandrite gemstones are high-purity laboratory grown Orthorhombic Crystal Structure (Chrysoberyl: BeAl2O4+Fe,Ti) based show grade stones, having diamond cuts or ceylon cuts and hardness of 8.5 on a Moh hardness scale. Growing method for alexandrite stones is: Floating Zone Pulling (the most advanced method).

Natural gemstone upgrades are available for most gemstone types through exclusive product catalog releases and special customer requests.

Official Laboratory Certificates are available for all laboratory grown and natural gemstones for an additional fee upon customer request.

I look forward to master crafting your special jewelry piece and will do my absolute best to deliver a product that exceeds your expectations of quality and value.

Thank you,
Art Masters Jewelry - Designer Direct Bridal Jewelry
Accepted payment methods
Accepts Etsy Gift Cards and Etsy Credits
Returns and exchanges
Jewelry Return Policy

I am confident that you will be pleased with your purchase. However, please be careful when ordering our jewelry items and let us know if we can be of assistance in selecting the right jewelry for you. You can return jewelry products within 10 business days of order receipt for a full refund. All returns must be authorized by me prior to shipping them back. If the style was altered in any way, shape, size and form: no returns are accepted. Please contact me prior shipping a return and I will provide return shipping instructions. Returning items must be shipped to me within 10 business days of receipt. Item is not returnable if 10 business days have passed from the date you sign for the package. Returns are only accepted in their original packaging and buyer pays for return shipping.

Items not returnable, not refundable and not re-stockable terms:

Custom, alternate, special order definitions, applicable terms and exceptions:

Sales on custom, alternate, special order jewelry pieces are final and not returnable, not refundable and not re stockable (no exception)
If a custom (alternate or special) design order creation, alteration (including finger re-sizing selection other then stated product listing in US finger size 7 for women and finger size 9 for men) was done to an existing catalog ring model listing, product in order per customer special request, then jewelry piece is not returnable, not refundable (no exception)

* Sales on natural gemstone jewelry is final, not returnable, not refundable.

* Sales on all exclusive black gold rings, 14k black gold rings and colored gold rings (black rhodium and color rhodium) coated rings are final and not returnable, not refundable (no exception)
* Sales on all alexandrite rings, chrysoberyl alexandrite rings are final and not returnable, not refundable (no exception)
* If an item listing has been sold out or has been expired from catalog and re listed by customer request for purchase, then sale is final, item is not returnable, not refundable, not re-stockable as it falls under custom jewelry order not refundable terms (no exception)
* Ordering and existing ring product as a semi mounting ring (without any stones or center stone/s)
* Adding or removing stones and or revising the stone sizes, stone colors and stone types; stone setting types in prong, micro prong, channel, pave, micro pave and bezel
* Ordering a ring or a band product in size other then standard US finger size 7 for women and standard finger size 9 for men as original jewelry product listing descriptions state
* Exception may be granted on re-sized ring product below size 9 or above size 5 for women rings originally listed at finger size 7
* Absolutely no exception on re-sized ring product over size 9 or below size 5 for women and re-sized ring products over size 11 or below size 7 for men
* Designing a new jewelry product based on your idea and or sketch provided
* Altering the existing design and it's elements in any way

PLEASE READ THESE POLICY TERMS AND CONDITIONS CAREFULLY. BY ORDERING PRODUCTS FROM ARTMASTERS ETSY SHOP YOU AGREE TO BE BOUND BY THESE TERMS AND CONDITIONS.

THESE TERMS AND CONDITIONS ARE SUBJECT TO CHANGE WITHOUT NOTICE, FROM TIME TO TIME IN ARTMASTERS ETSY SHOP SOLE DISCRETION. IF YOU DO NOT AGREE WITH THESE POLICY TERMS AND CONDITIONS, PLEASE DO NOT ACCESS THIS WEBSITE.
Payment
Etsy Direct Checkout, PayPal or Money Order. Each order is custom made within 10 to 12 business days upon payment receipt subject to metal and stone supply availability. No sales tax is collected except 8.25% sales tax may apply to all sales within state of CA. Order may be canceled within 24h of purchase (sent payment) prior processing and may be subject to 10% cancellation fee. No cancellation fee is charged on a void or wrongfully placed orders, nor if you plan on reordering a different style.
Shipping
I ship customer orders within 2 - 3 business day upon completion of the jewelry piece that takes about 10 to 12 business days to custom craft and finish. I ship via USPS insured mail and standard US Nationwide shipping is free. International orders are shipped via insured USPS Express International mail. Tracking number is provided for customer convenience via shipment note on all orders.

We ship US Nationwide, Central America, South America and World Wide to:

Canada, United Kingdom, Ireland, Australia, Germany, Netherlands, France, Italy, Spain, Switzerland, Poland, Norway, Sweden, Finland, Austria, Greece, Czech Republic, Slovenia, Slovakia, Russia, Belarus, Ukraine, Mexico, Argentina, Brazil, Chile, Peru, UAE, Japan, Singapore and New Zealand
Additional policies and FAQs
I look forward to master crafting your special jewelry piece and will do my absolute best to exceed your expectations of quality and value.

Thank you,
Art Masters Jewelry - Designer Direct Bridal Jewelry