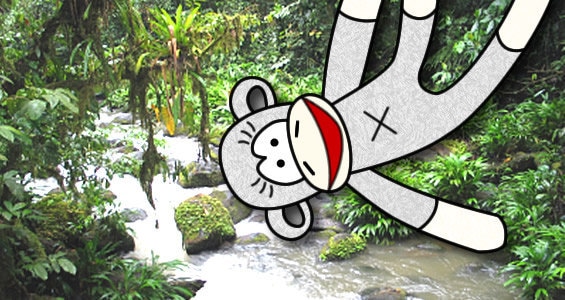 Gila von Meissner of Hamburg, Germany goes by strumpfkunst on Etsy.

Everyone knows what a sock monkey is. You probably played with one yourself as a child. But did you know that a sock monkey actually made an appearance at the Academy Awards? And that one of them even starred in Batman Returns?

Stuffed toys are a rather recent invention. The first manufacturer to concentrate on soft toys was the German company Steiff, which was founded in 1880 and invented the teddy bear in 1902.

When the European trend reached the United States in the 1920's, mothers started making their own stuffed toys from socks. Nowadays, when people think of sock monkeys, they automatically think of so-called Original Rockford Red Heel® socks — gray work socks with a distinguished red and white heel.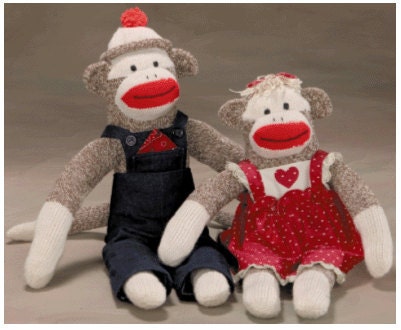 ("The Original Rockford Red Heel® sock monkey" Courtesy of Fox River® Mills)
These socks were originally made by the Nelson Knitting Mills in Rockford, Illinois (hence the name) since 1890, and patented in 1915. When the company decided to include sock monkey instructions with every pair of the Red Heel® socks in the 1950's, the true marketing magic began.

The pattern was published in a craft magazine in 1955, and in 1958, the first book dedicated to sock monkeys was published. By then, elephant instructions were published as well, and sock monkeys became an important part of every American childhood.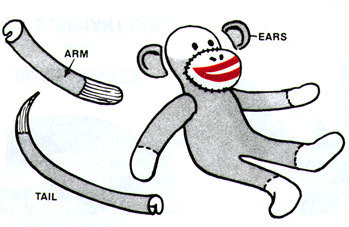 As with every trend, it slowly died down, only to be resurrected again in the 1990's, when the baby boomers shared their own childhood memories and started making sock monkeys again.

By 1992, Fox River® Mills, Osage, Iowa, had bought the Nelson Knitting Mills. They continued with the tradition of including sock monkey and elephant instructions with their products. In the same year, the first children's book featuring sock animals was published (Tiger's New Friends, by Ann Jacobs Mooney).

Were you wondering about the Academy Awards and Batman Returns? David Letterman featured a sock monkey during his Academy Awards appearance, promoting the movie Cabin Boy — where he was playing a street vendor selling — you guessed it — sock monkeys. In Batman Returns, Catwoman gives into evil by throwing hers away. 
I believe that with Etsy's growing popularity, we are in for another revival. You can currently find more than 250 sock monkeys on Etsy, along with hundreds of items using sock monkey fabrics, art, and prints. Sock monkeys are adorable, no matter in which form they appear — so have a look around!

Further Resources:
Wikipedia sock monkey entry
Fox River® Mills
free Sock Monkey Pattern and Lenny Taylor's Sok Monkey site