"all i did was listen" is a 232-page, full-color, illustrated gift-book, filled with inspiring quotes from rachel's psychotherapy clients, that strung together, tell a story about how healing can happen for all of us. rachel awes accompanies each quote with a colorful illustration + written reflection. the book closes with a few pages of questions that can be used for personal inspiration/reflection +/or group study/book club.

please indicate in your order if you would like your book signed. thank you dearly!

for international orders, i may have to contact you once the book has been shipped to adjust the shipping price because it varies greatly, depending on which country it is going to, + is very difficult to predict. thank you for your patience with this!

endorsed by author/artist SARK who says "rachel's words and art are an uncommon elixir that travels straight to the heart by way of the soul. her book is simply a spiritual must. i've dreamed about its pages and know you will too. profound, transformational, and elegant."

endorsed by author/artist/possibilitarian KELLY RAE ROBERTS who says "i was so moved by this lovely and honest book by rachel awes. i found myself returning to its pages day after day for a daily dose of meaningful inspiration. rachel's gift for pairing her unique illustrations with touching, often profound, wisdom spoke to my most tender pieces of what it means to live bravely, love deeply, and pay attention to the beauty that exists in our everyday lives. "all i did was listen" truly inspired me to lean into my life a bit closer, and take a closer listen for all big and small ways it teaches, uplifts, and heals."

LIN SALISBURY, community relations manager at barnes + noble, says about the book " for the record... rachel awes' book is the most polished, professional self-published book i have ever encountered... and i see a lot of them.... buy it and give it...you know someone (like me) who needs it!"

LEAH GRIFFITH, artist/author, says "Rachel Awes, author an artist, cast a spell on me with her book, all i did was listen. Simple, wise, and eye-opening, this little book will take you by the hand and introduce you to the beauty of the ordinary and the magic of being you. I absolutely adored this book!"

AMANDA FALL, creator/editor/publisher, says "Oh, this book. I've never seen another quite like it. Lavishly illustrated, deeply thoughtful, funny, honest, full of hope. Somehow rachel captures the beauty of our vulnerability in a way that zings straight to my heart. I keep this book right by my desk, ready to flip through and savor a few pages at a time whenever I need a smile, a lift, a bit of strength and community. I find myself here. I find family. I find the wild beauty of a perfectly imperfect life. Please don't miss this rare gem of a book."

CHRISTY TOMLINSON, artist, says "I fell in love with this book from seeing it online. The art attracted me to it first.. but then when I received it and read through all the wonderful bits of wisdom and healing words.. I FELL IN LOVE. one of my favorite books ever. I purchased 15 books for my girlfriends and sisters for Christmas everyone loved it! I have this book in my art studio as well and whenever people come to visit and play.. they always seem to find that book and then MUST KNOW where they can purchase it! TRULY a great book! thanks Rachel for this wonderful present to all of us!"

NATASHA REILLY, artist, says "This book fell into my hands and I simply could not put it down. I carried it everywhere; it was like having my best friend with me. The beautiful words that string together insightful thoughts and dance with unforgettable images leave you with the most gorgeous sense of connection. Rachel Awes manages to make you feel as though you are not alone in what you experience in life by reminding you that there are people out there who "get it". This book is a place of solace. It is laughter in the rain, a midnight conversation, a heart dangling from a shirtsleeve, a listening and understanding friend, a gift that keeps on giving and a vibrant, joyful celebration of what it means to love yourself and others just as they are - splendidly, perfectly imperfect human beings!"

JULIA FEHRENBACHER, artist/author, says "In the midst of the everyday, which, at times, can get so very noisy, All I Did Was Listen is as filling and cleansing as a deep breath. Rachel's book helps us to remember what matters--reminds us to embrace our messy, glorious selves, to listen deeply, to come back to what is right here, to breathe each breath more fully. Her color-filled, whimsical paintings dance alongside her fresh, poetic words--words & images that hold and whisper sweet songs of support and heart-opening love. Reading this book feels like having tea with someone who loves you best or sitting by a river and allowing its flow to move gently through you. It's a blessing-of-a-book I'd like to give to every person I know. Rachel, thank you for this rare and rich treasure--the world is so much brighter because of it/you."
Learn more about the shop and process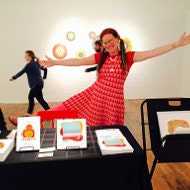 rachel awes
The book "all i did was listen" by Rachel Awes. Endorsed by SARK and Kelly Rae Roberts.
---
Listed on Nov 12, 2016
7395 views