Designing our living, breathing headquarters
We'd like a fully regenerative ecosystem, please
Building a movement
Designing our new headquarters gave us the chance to do more than just build a bigger and prettier office. It was an opportunity to instigate change in the building industry, and to set a new standard for sustainable construction and design. That's why we were excited to learn about (and embrace!) the Living Building Challenge.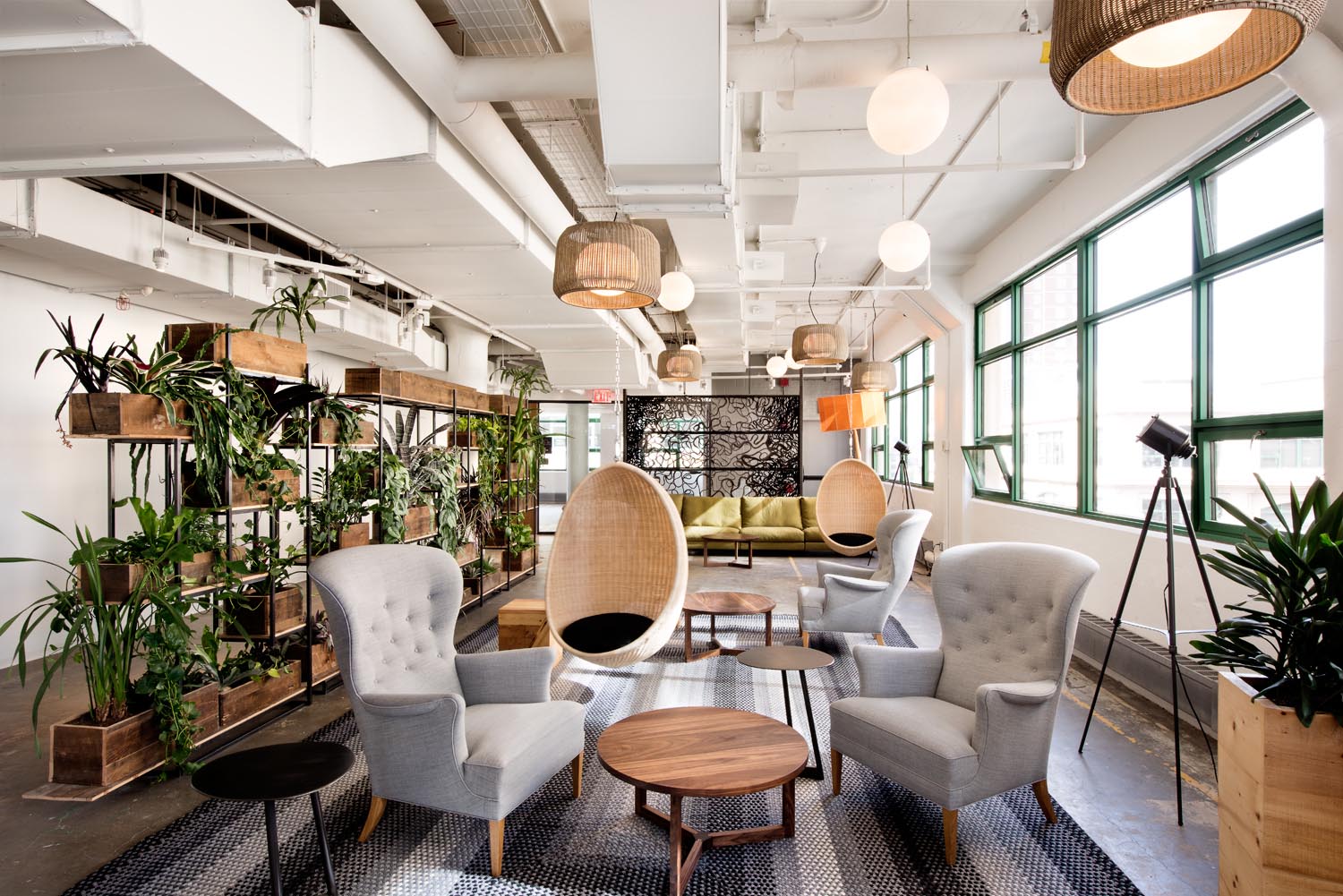 What is the Living Building Challenge?
The Living Building Challenge was established in 2006 by the International Living Future Institute, a team of green-building experts and thought leaders committed to creating resilient, living systems that are healthy, vibrant, and beautiful, but that also strengthen local economies and communities.
So far, our Brooklyn headquarters has completed four of the seven petals: Materials, Place, Health and Happiness, and Beauty. We've also met imperatives across all seven petals.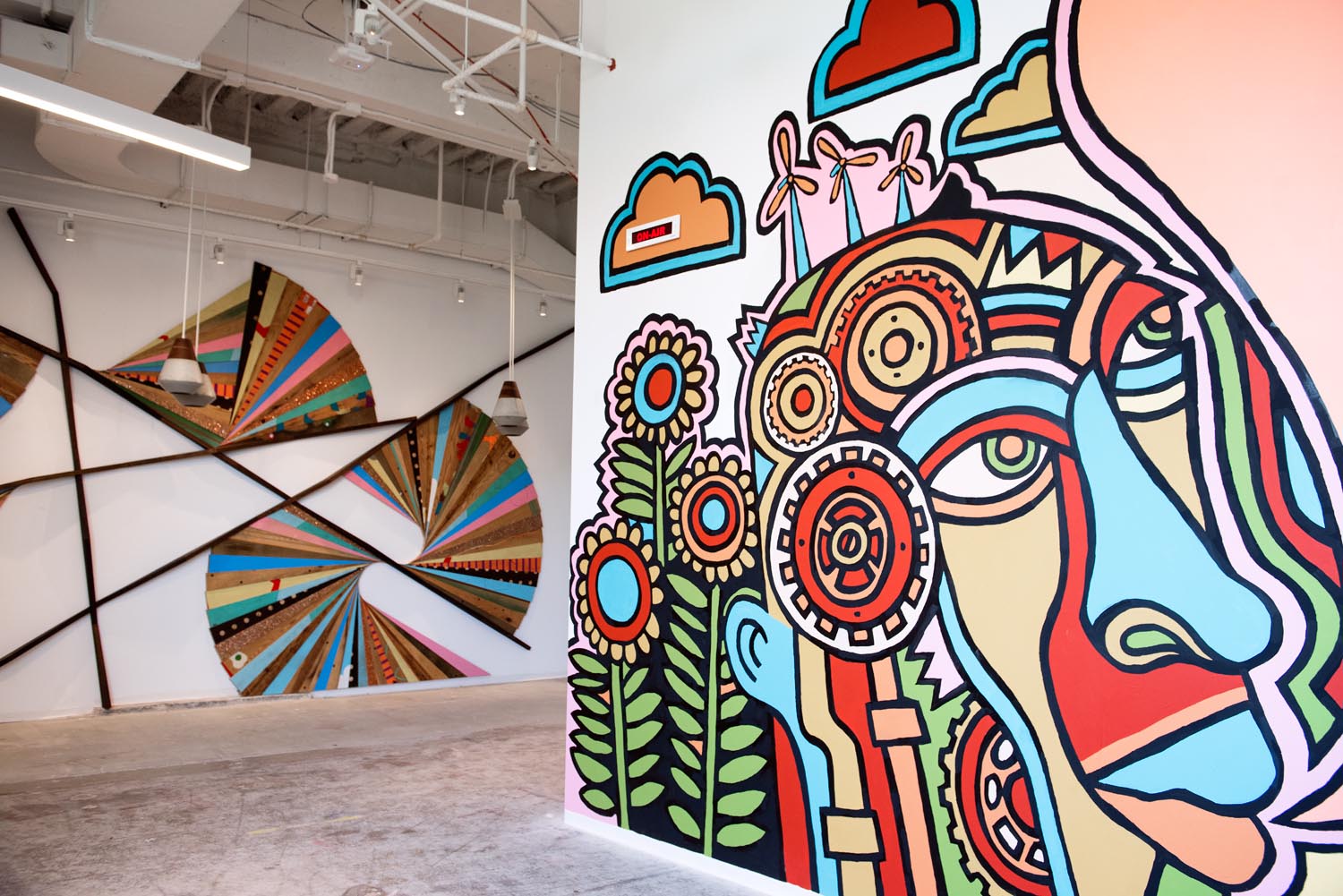 Our building principles
We knew we wanted to build and operate our office as sustainably as possible. We also wanted to fill it with furnishings and artwork from Etsy sellers and local artisans. As the largest Petal Certified Living Building Challenge project to date, proving that a project of this size could be completed with the support of artists, makers, and micro-businesses would be huge.
To help guide us through the entire design and construction process, we came up with
These five principles guided this project from concept to ribbon-cutting:
Aspire to be a fully interdependent, regenerative ecosystem: Carefully consider the long- and short-term effects of design and materials selection on all stakeholders.
Celebrate the handmade: Architect a reprogrammable work platform that is committed to working with and engaging makers and local artists on a large scale.
Create positive community impact: Support local businesses and the responsible use of local, natural resources.
Implement resilient, mission-aligned infrastructure: Use resilient and efficient materials and systems.
Make spaces that embody Etsy's values: Integrate local, sustainable materials from makers and artists, with an emphasis on inspiration from the natural world.
The wide range of collaborators on this project are nearly innumerable. They included many of our internal teams—Workplace Ecology & Design, Sustainability & Social Innovation, Culture & Engagement, Global Food, Brand Design, Audio Visual, and IT, among many others)—the design firm Gensler, dozens of local artists and Etsy sellers, and hundreds of other partners. We worked together to thoughtfully create a space that reflects Etsy's values and our overarching mission. The final product is an embodiment of community, craft, and sustainability.

Meeting the challenge
Petal 1
Materials
Complete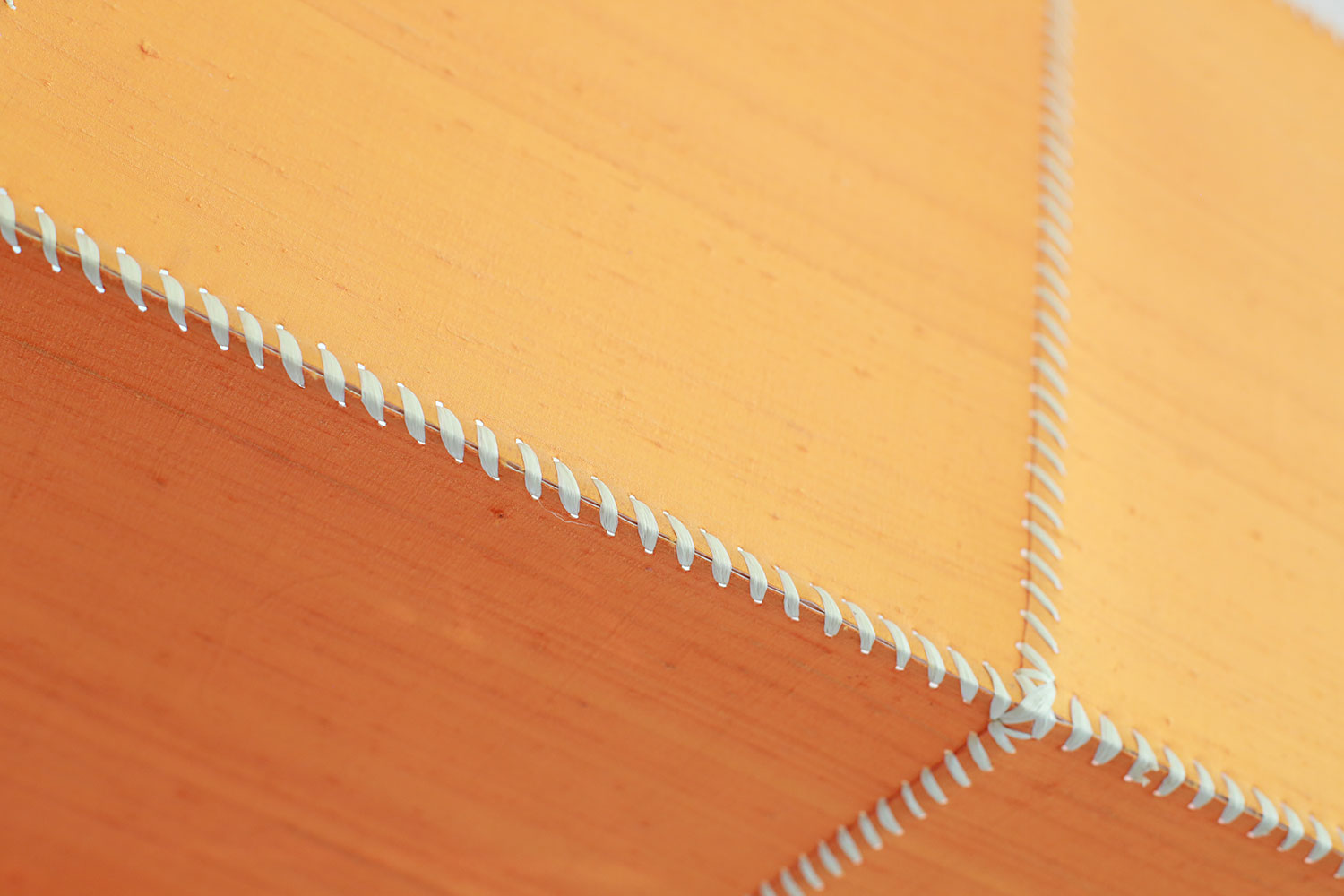 The challenge
Help create a materials economy that is non-toxic, ecologically regenerative, transparent, and socially equitable.
Our approach
When sourcing materials for this project, we insisted on radical transparency of ingredients, raised demands for cleaner non-toxic materials, and purchased locally whenever possible.
In the end, we sourced more than 60% of the materials within 500 kilometers of the site, representing over 400 products in our space. We collaborated with manufacturers to ensure that none of the 1,500+ materials we used contained harmful or toxic chemicals commonly used in commercial office buildings, a.k.a. Red List Materials.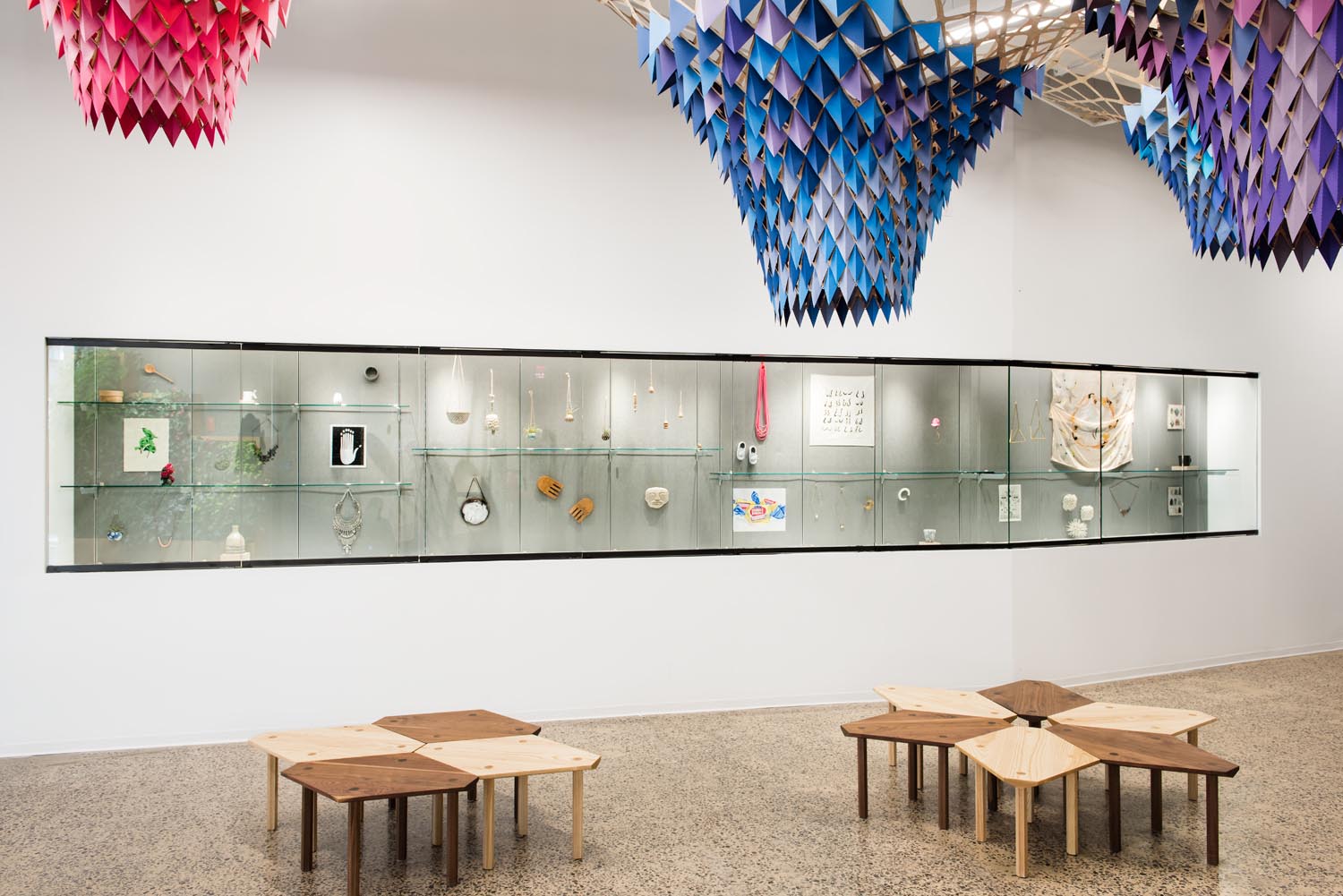 More than 31 maker products in our office proudly sport Declare labels, in addition to 38 Declare labels on products we selected, disclosing every material used to make them. The Declare initiative is working to bring much-needed transparency to the building materials marketplace.
All wood for this project was either Forest Stewardship Council certified (FSC) or salvaged and reused. We incorporated more than 750 salvaged pieces into the space. The stairs in our entryway, for example, were constructed with wood from the water tower that used to sit atop the building. We also repurposed multiple industrial doors from when this building housed a printing and publishing house.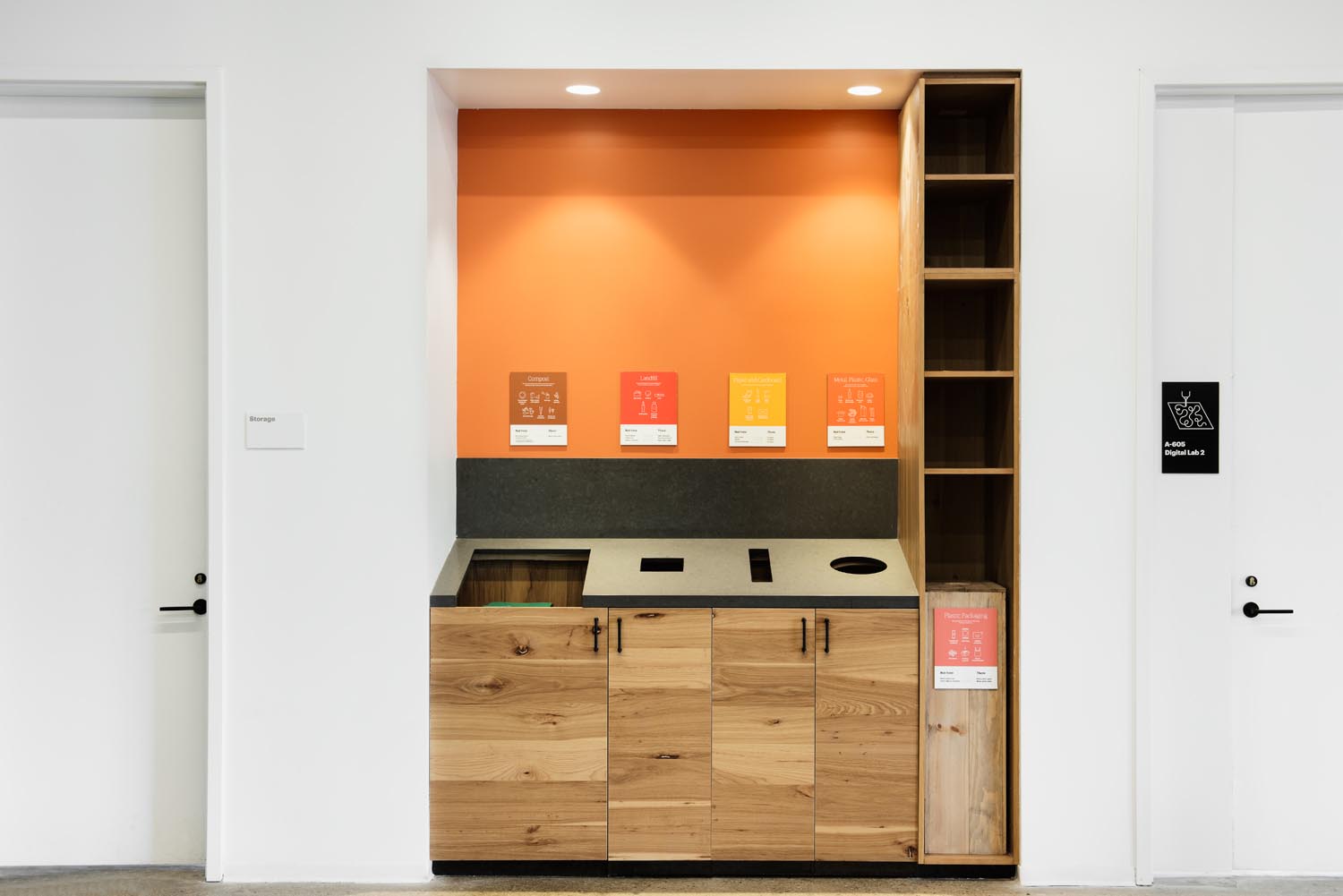 Throughout demolition and construction, we diverted more than 90% of our waste away from landfills, partnering with BIG Reuse, a local nonprofit, to donate excess materials to nearby building projects. Scrap wood went directly to our on-site woodshop, where it will all eventually be repurposed for projects around the office.
As we moved into our new HQ up the street, we also worked hard to minimize our moving waste. 87% of it never saw the landfill, including more than 30,000 pounds of donated materials and 11,500 pounds of recyclables.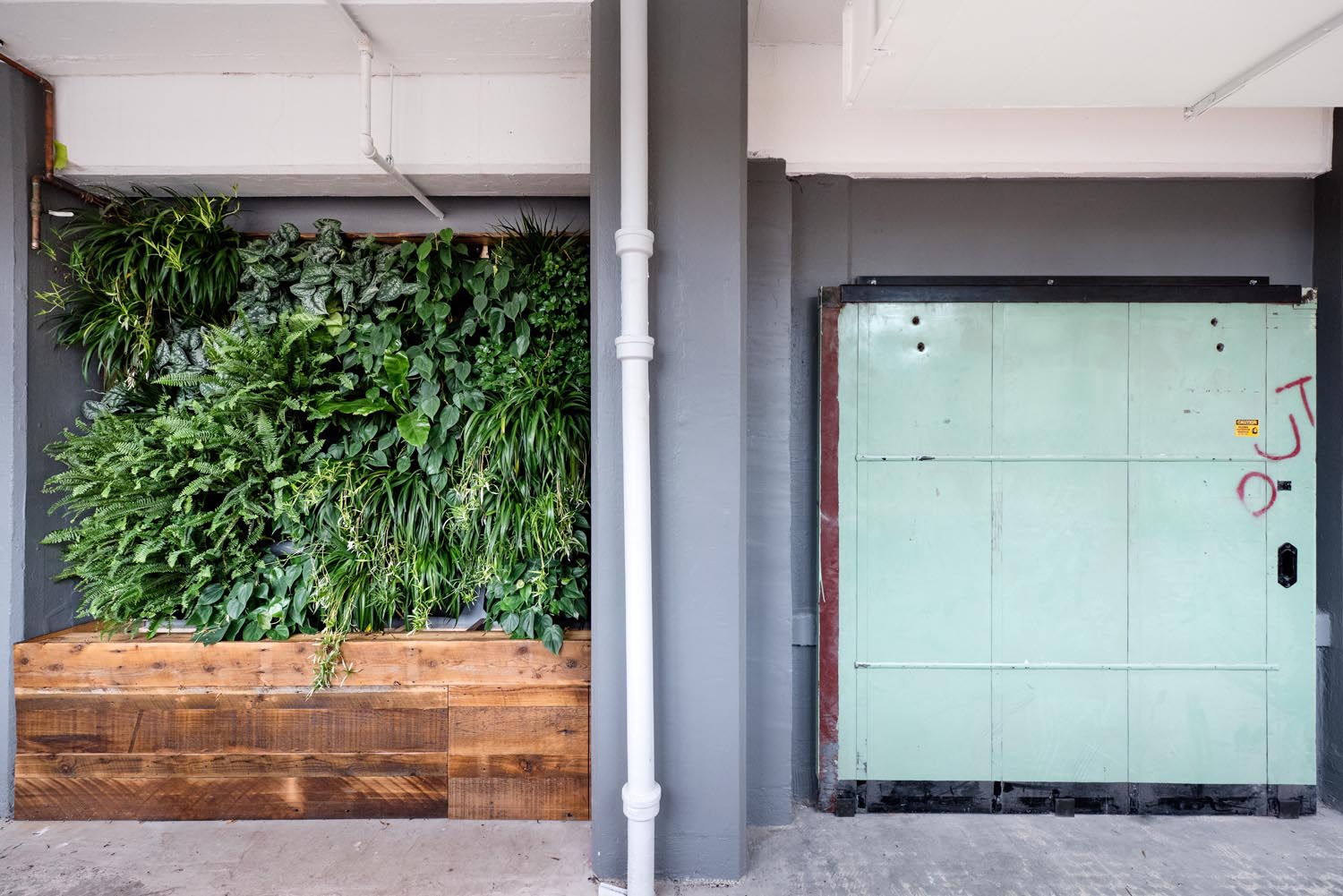 To keep our day-to-day waste down, we weigh all trash, compost, and recycling on site, and have developed extensive strategies to reduce consumption and ultimately send zero waste to landfill.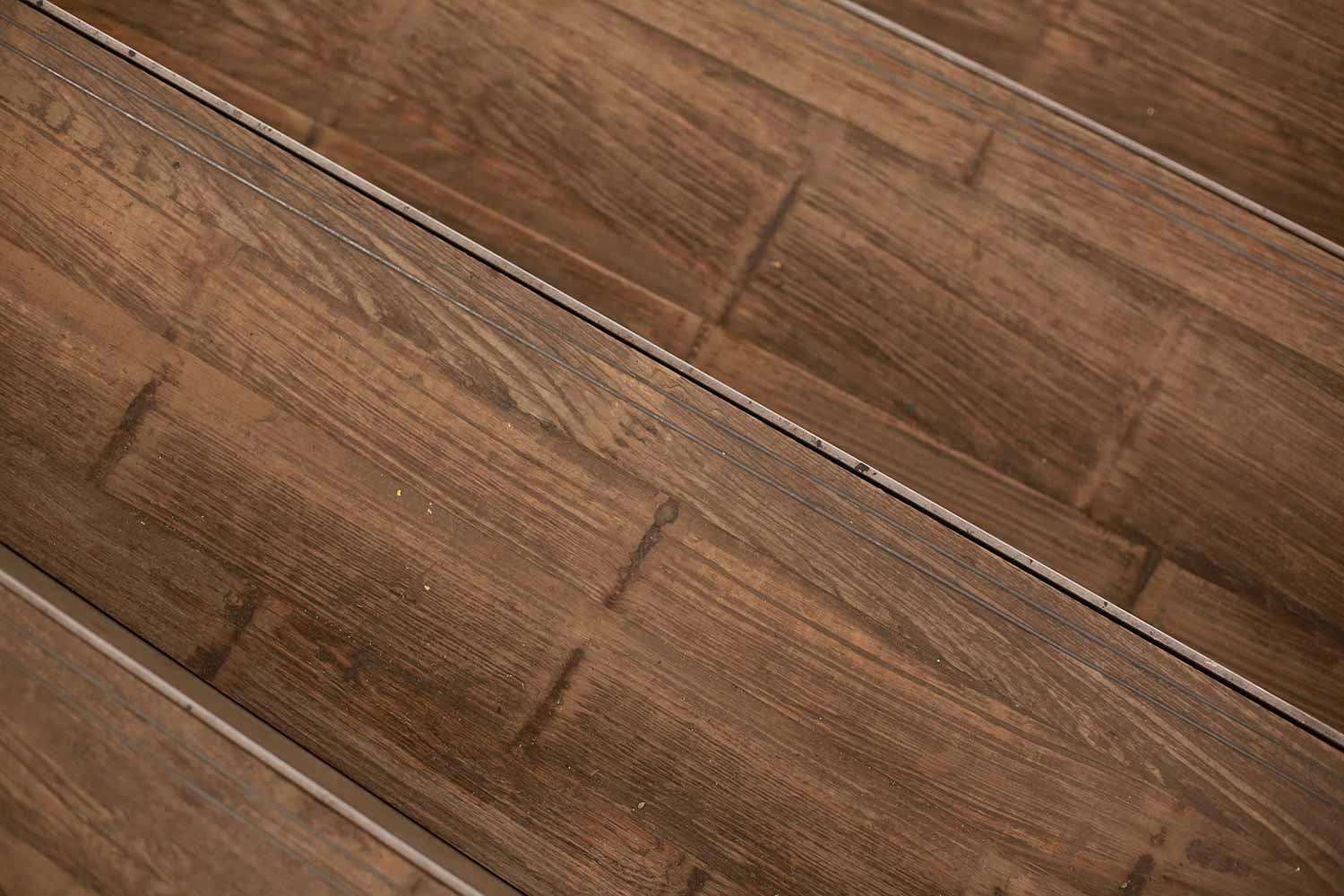 Petal 2
Energy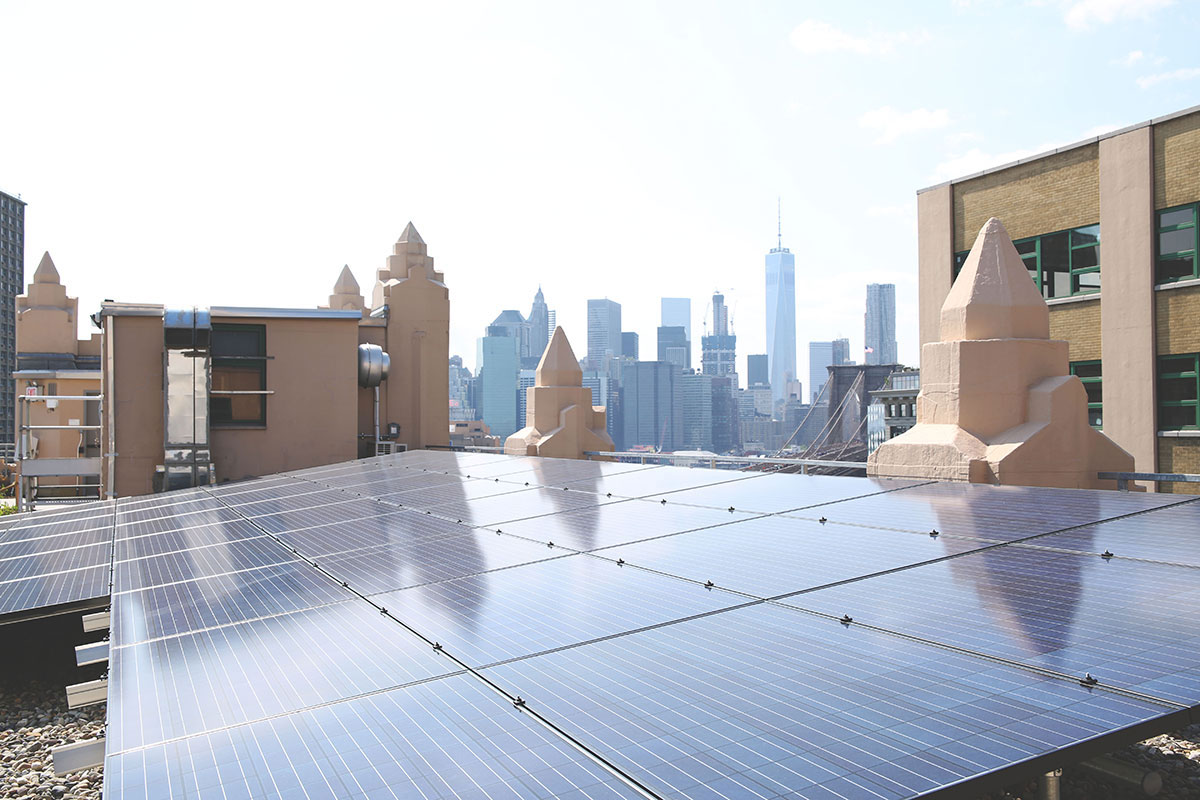 The challenge
Signal a new age of design, where the built environment relies solely on renewable forms of energy, and operates safely and pollution-free year-round.
Our approach
Some of the best lighting at Etsy is free—with an open floor plan, and by placing workspaces near windows, we're able to harvest daylight and reduce energy use, saving an estimated 80,000 kWh of energy each year.
If we do use electricity, a 12 kW solar power system on our roof is helping to power a portion of our office, and the rest we are looking to source from renewable energy projects.
All the non-natural lighting in the building comes from LEDs, which are 30% more efficient than the industry-standard fluorescent bulbs. If lights are left on in an unoccupied room, our occupancy sensors will automatically turn them off. After 8pm, most of the lights shut off completely. So do half of the workspace electrical outlets.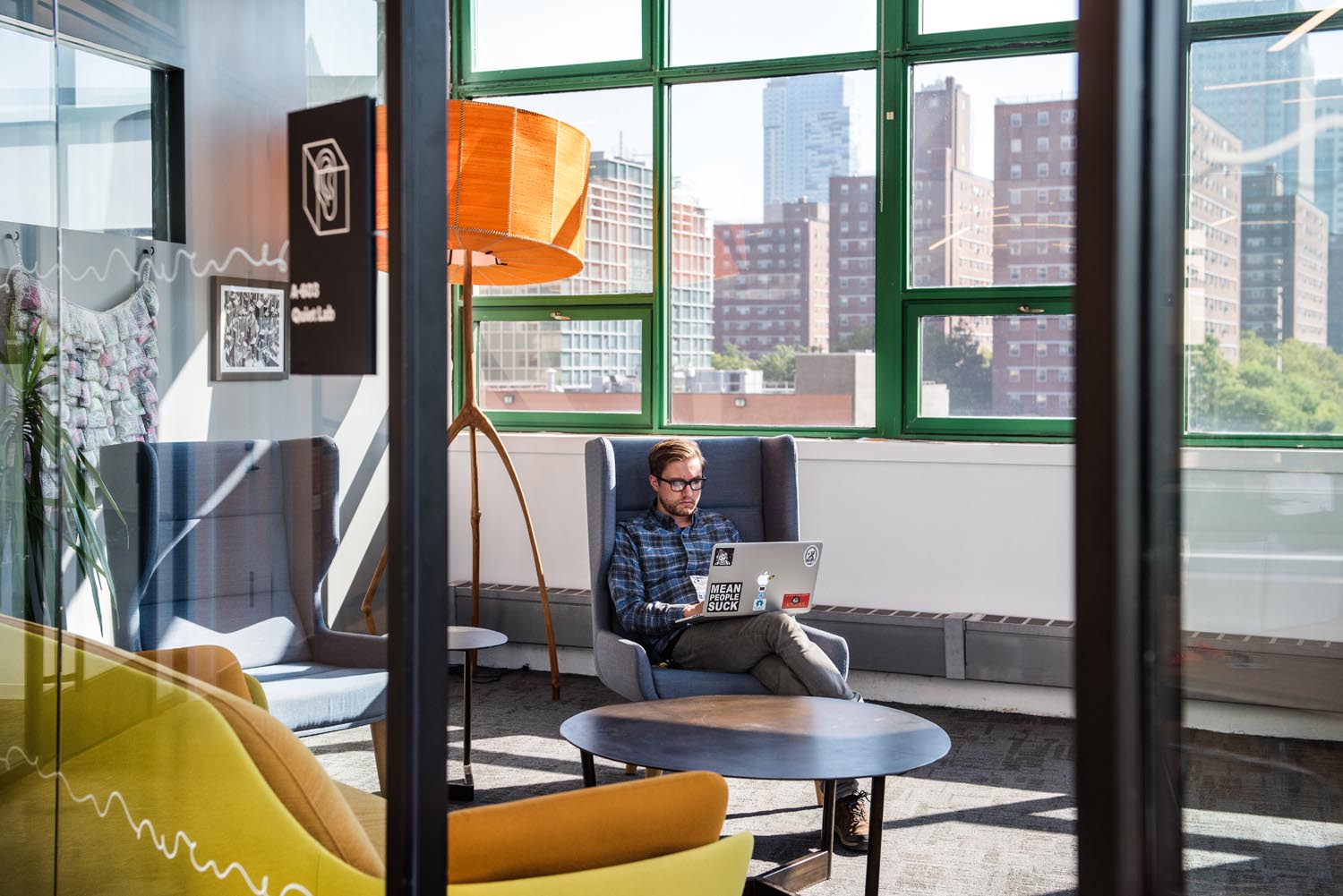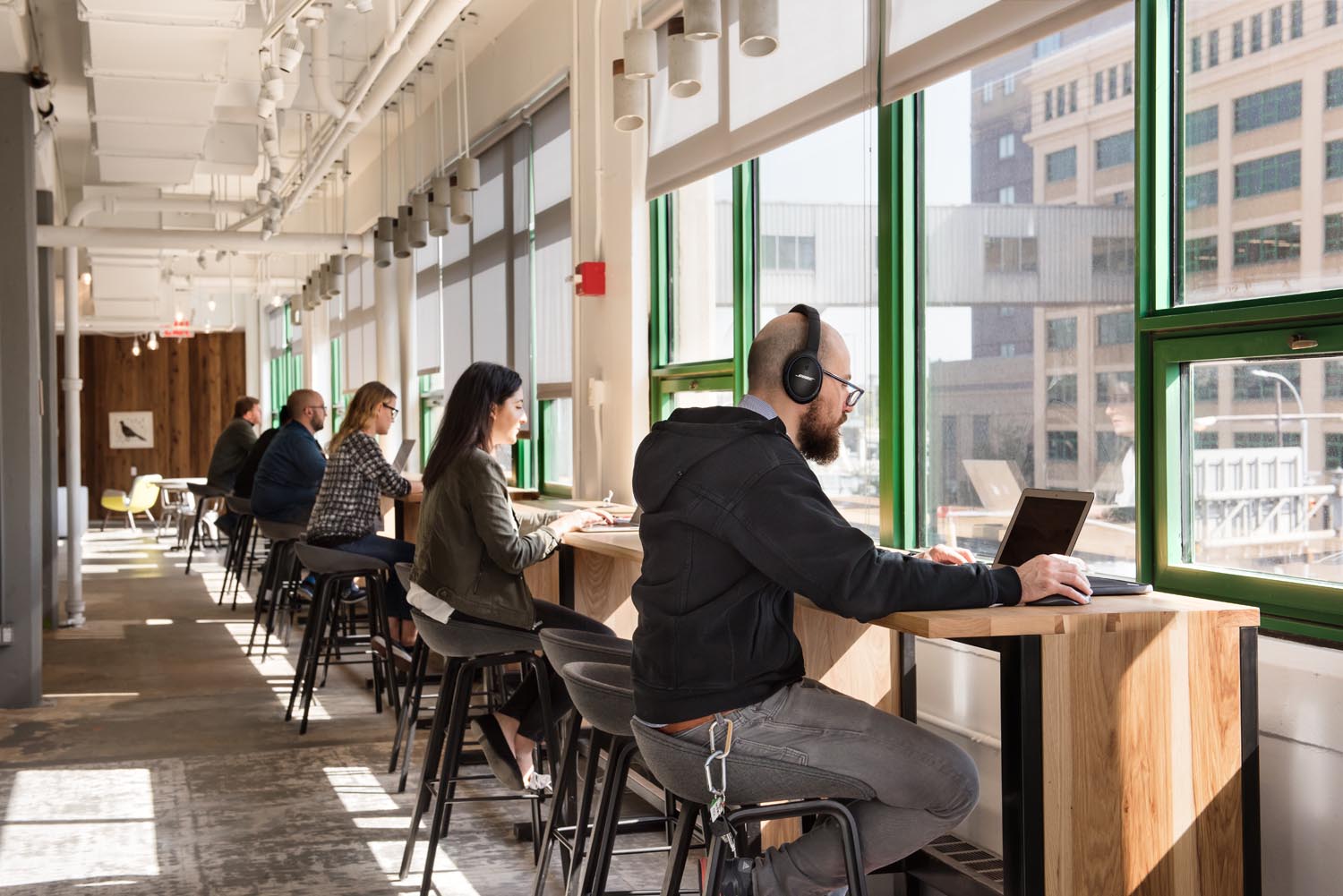 Petal 3
Equity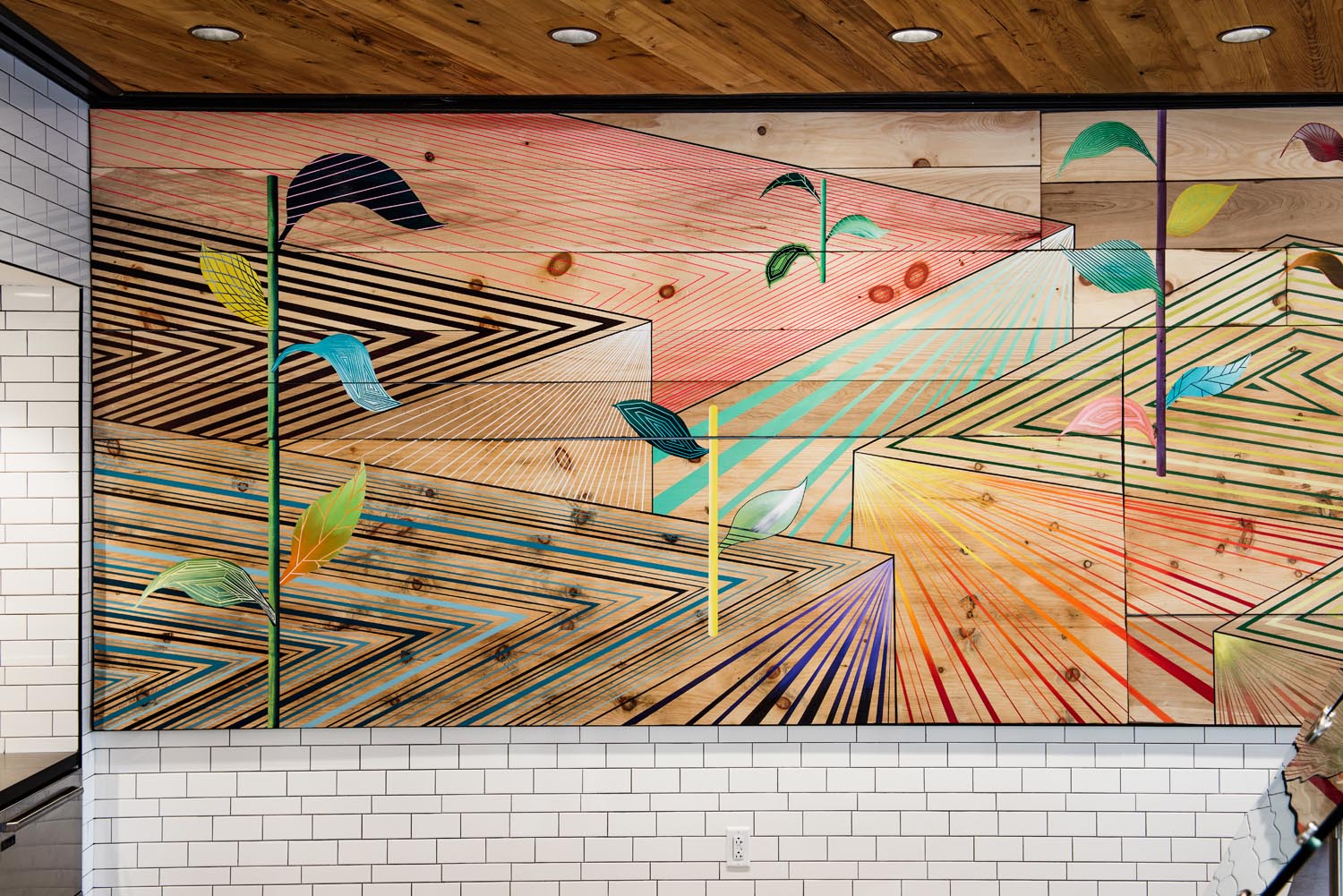 The challenge
Foster a true, inclusive sense of community that is just and equitable regardless of an individual's background, age, class, race, gender, or sexual orientation.
Our approach
We're constantly challenging the status quo of what it means to be an equitable and diverse workplace. Through special training programs, learning and development resources, accessibility improvements and partnerships, we're cultivating a dynamic workforce that's wholly inclusive of gender identity, race, ethnicity, socioeconomic background, education, ability, and sexual/romantic spectrums.
New York law requires bathrooms to have gendered signage, but we made ours gender-inclusive anyway.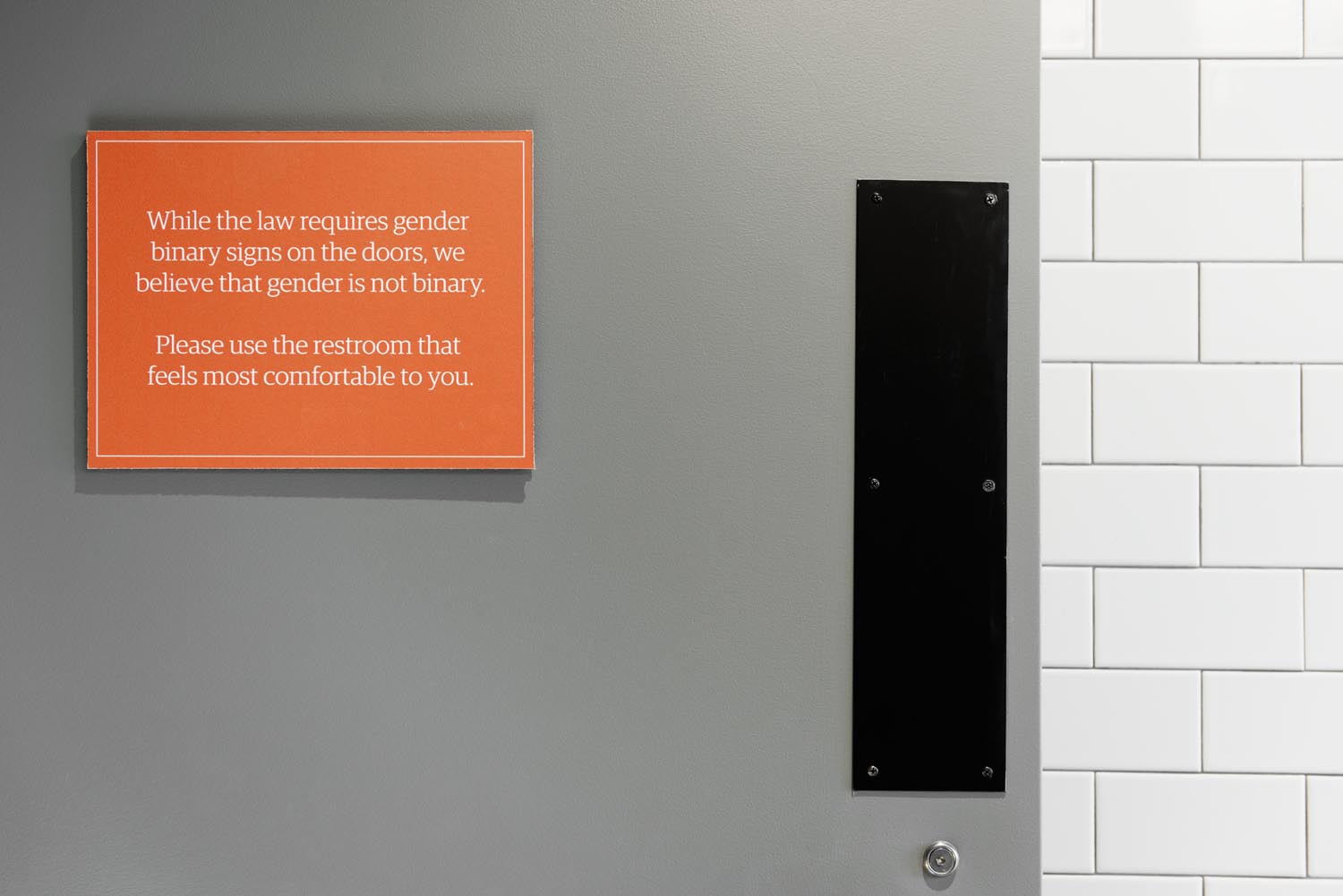 Inside, these "Mens" and "Womens" rooms are identical.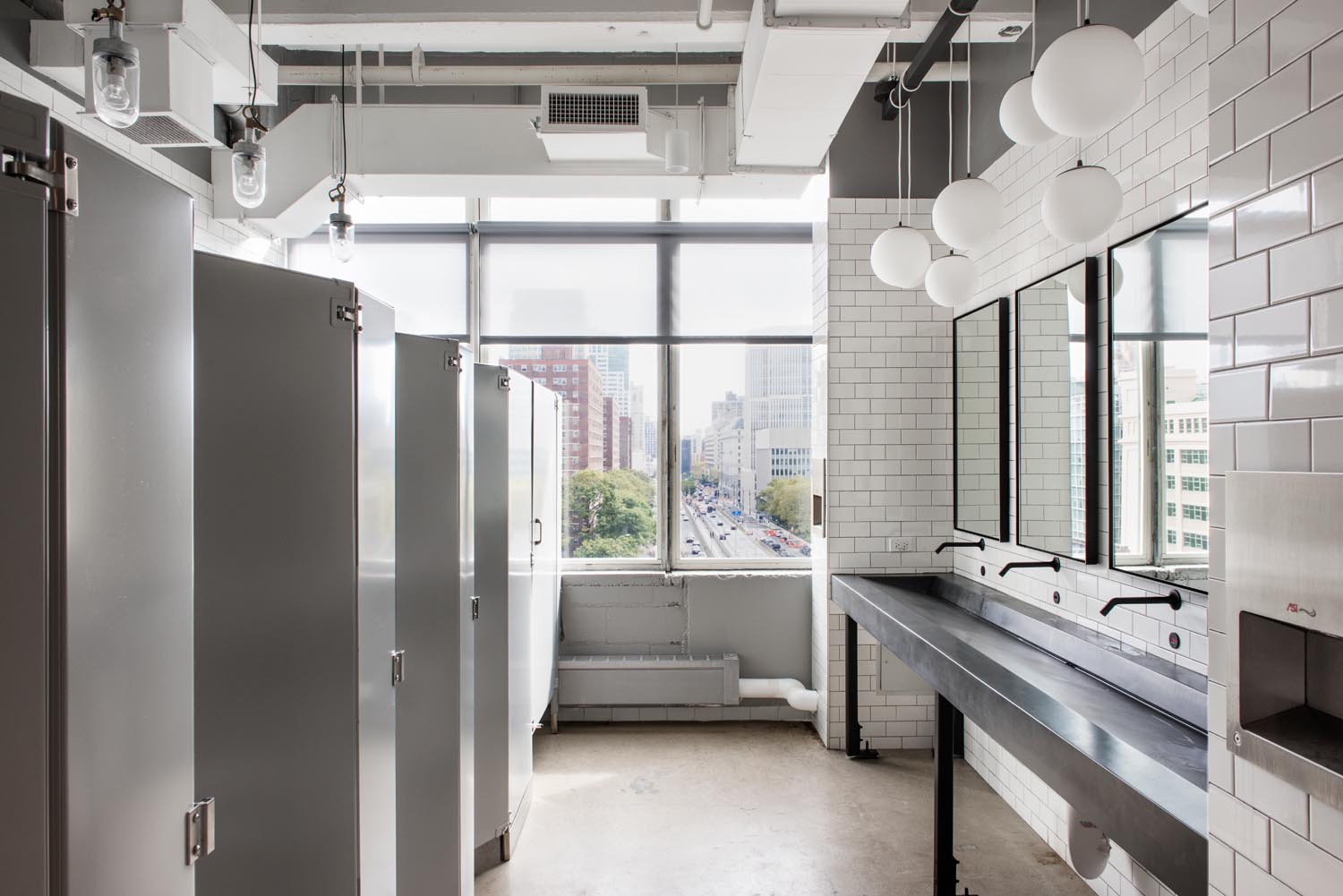 And for the new mothers and fathers who work here, our generous parental leave policy (26 weeks in the US) doesn't distinguish between primary and secondary caregivers, and when they return to work they'll have a cozy place to do all the things that new parents need to do.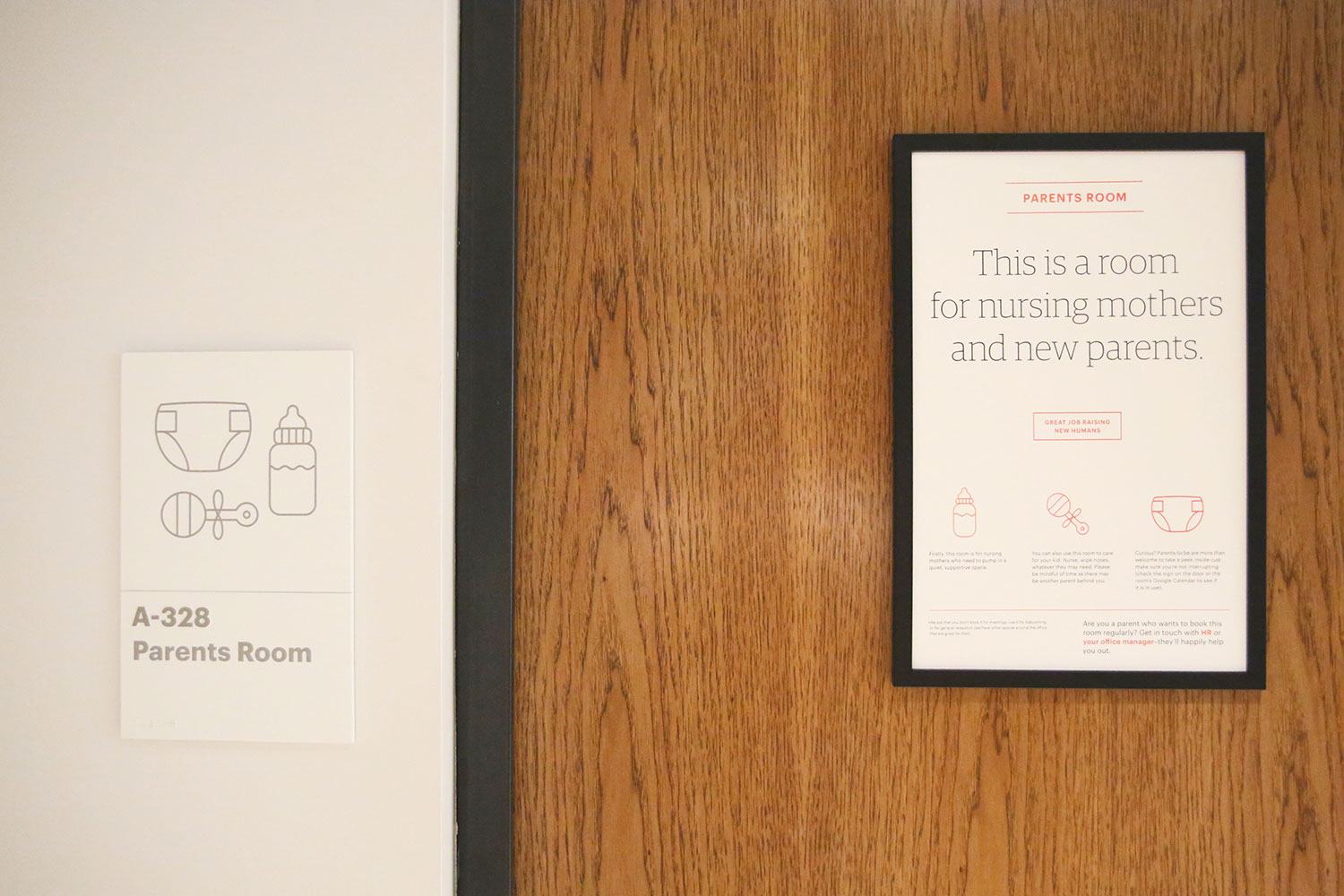 The challenge
Design a building that realigns how we understand and relate to the natural environment. Build only where it's acceptable for people to build, or protect and restore an already-developed location. Encourage the creation of communities based around pedestrians, not automobiles.
Our approach
We chose an existing site instead of new construction. We stuck to our roots in the Dumbo neighborhood of Brooklyn, and we'll keep supporting this community over the course of our lease.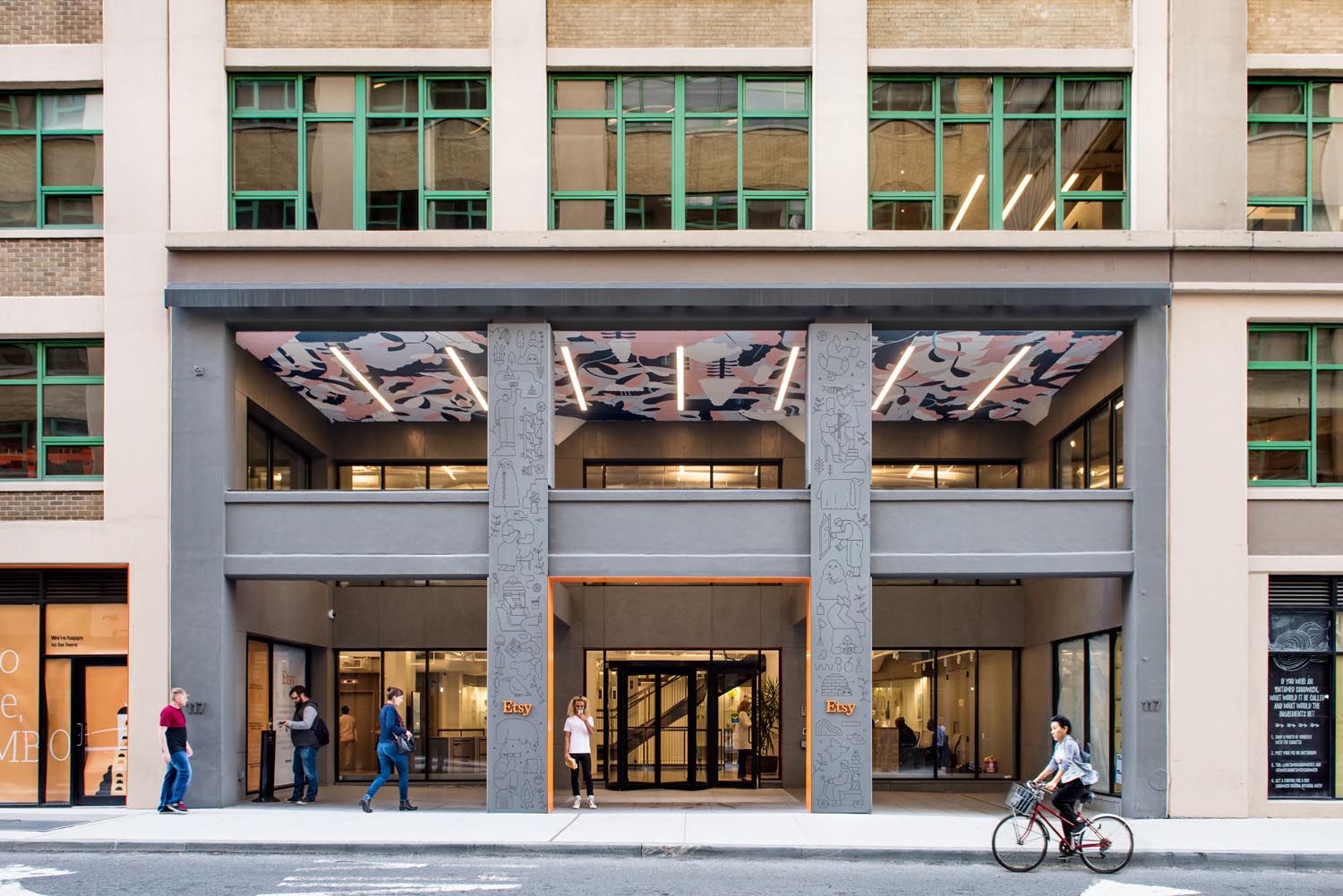 The building is convenient to public transit and bike paths, which helps promote carbon-friendly commutes.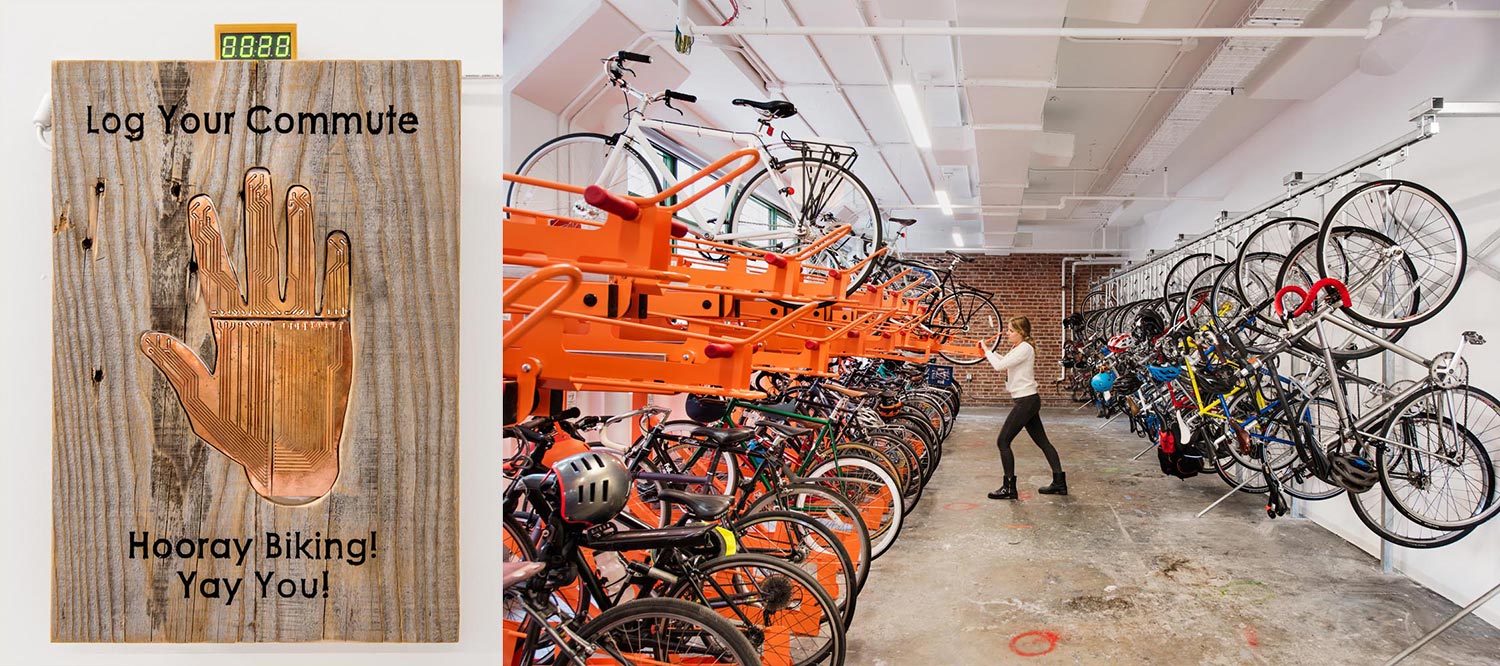 It's also near walking paths and parks that beckon employees to have those one-on-one meetings outdoors.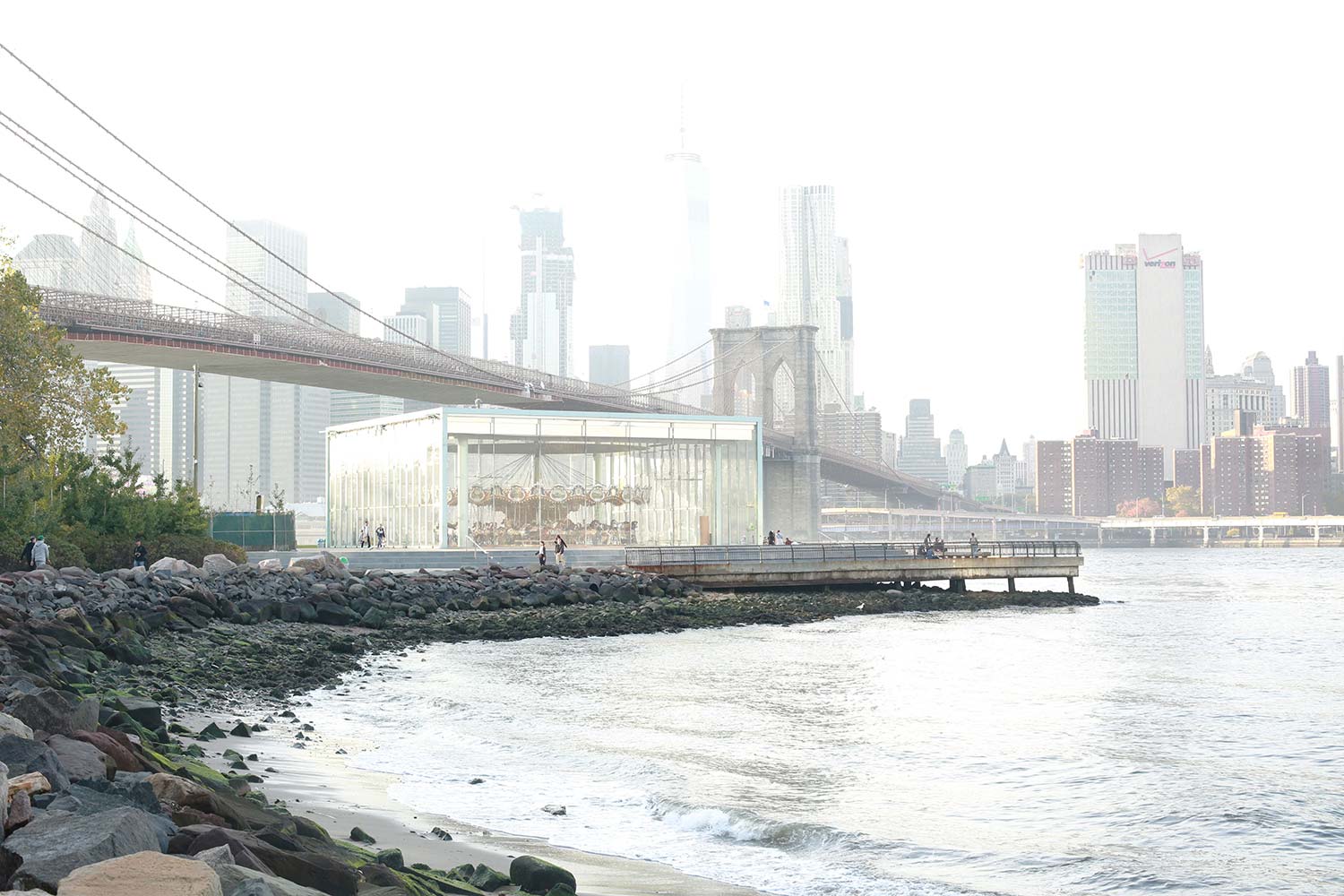 We've filled our rooftop and terraces with 60 species of native plants which are well-adapted to our local environment, creating a healthy habitat for insects, birds, moss, and ferns.
Shade-tolerant grasses create a rich, green environment of soft textures, providing a tranquil and pleasant place to unwind, socialize, and relax.
Inside, we've created multiple employee wellness areas. There's the quiet, green library. The "breathing room" for meditation and yoga. And the bike room, as well as showers, which encourage carbon-neutral and more healthful commuting.
To even out the impact of our new home, which occupies otherwise open and natural landscape, we purchased a "land offset" (a donation to conserve land) equivalent to the space our Brooklyn office occupies.
Petal 5
Water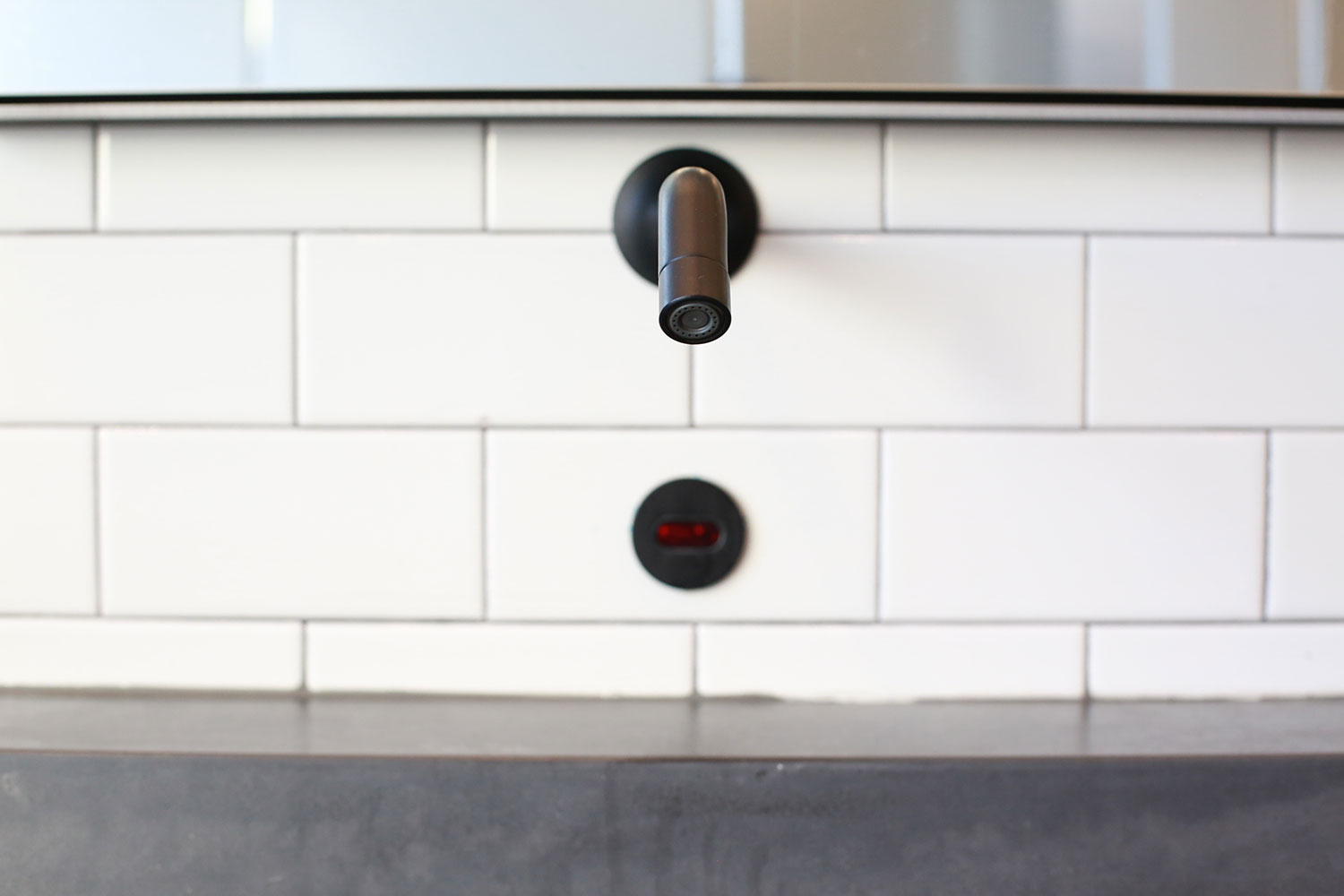 The challenge
Realign how people use water, and redefine "waste" in the built environment so that water is respected as a precious resource.
Our approach
We've outfitted all of our bathrooms and kitchens with low-flow water fixtures, and share tips for reducing water use on signage around the space.
Each time it rains, our rooftop collects rainwater in a 3,400 gallon cistern, helping to reduce runoff and flooding in our neighborhood.
We've also chosen plants that help store rainwater before it hits the city's stormwater system.
An innovative irrigation system connects the rainwater cistern to our living walls, creating self-sustaining mini-ecosystems indoors while reducing water waste.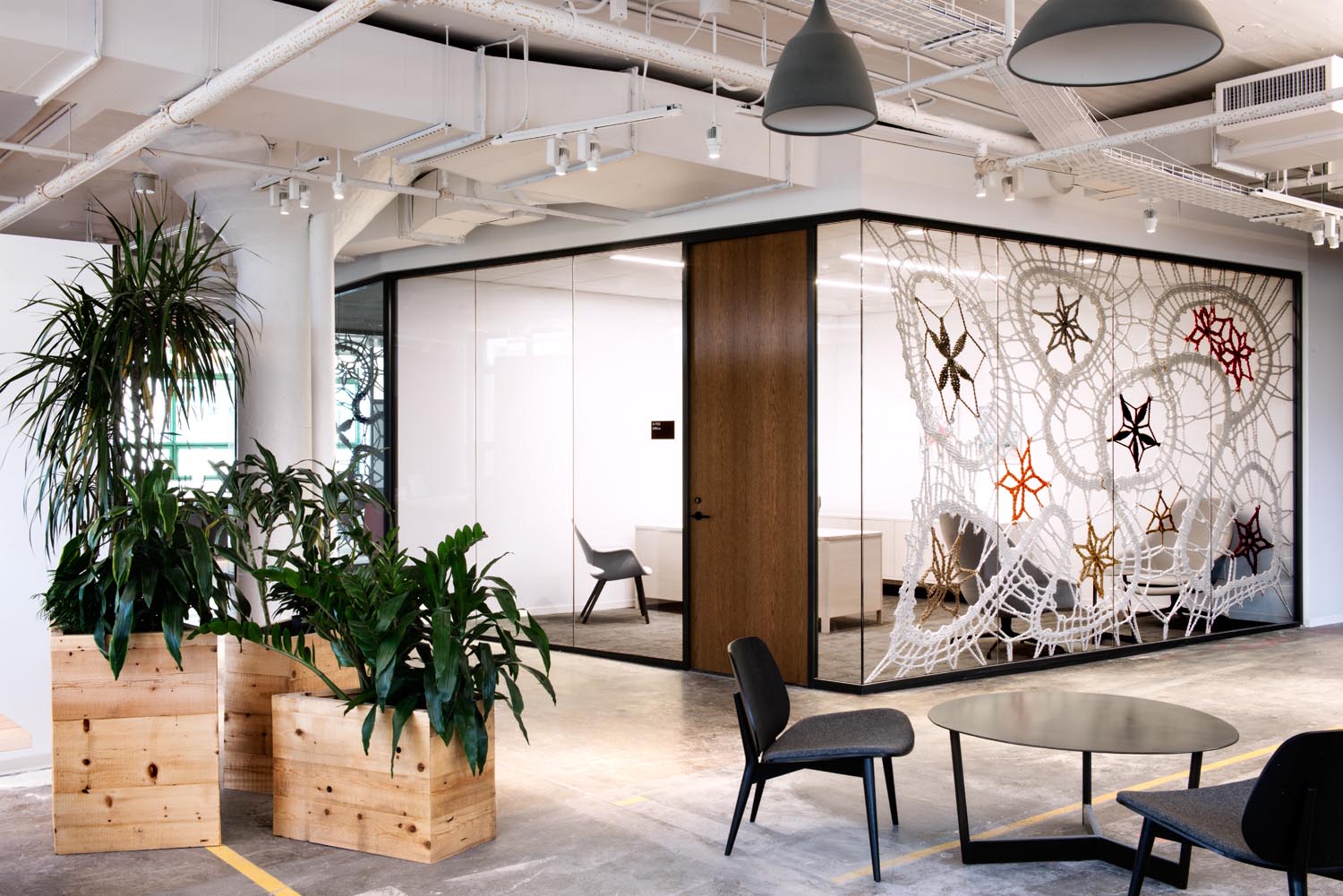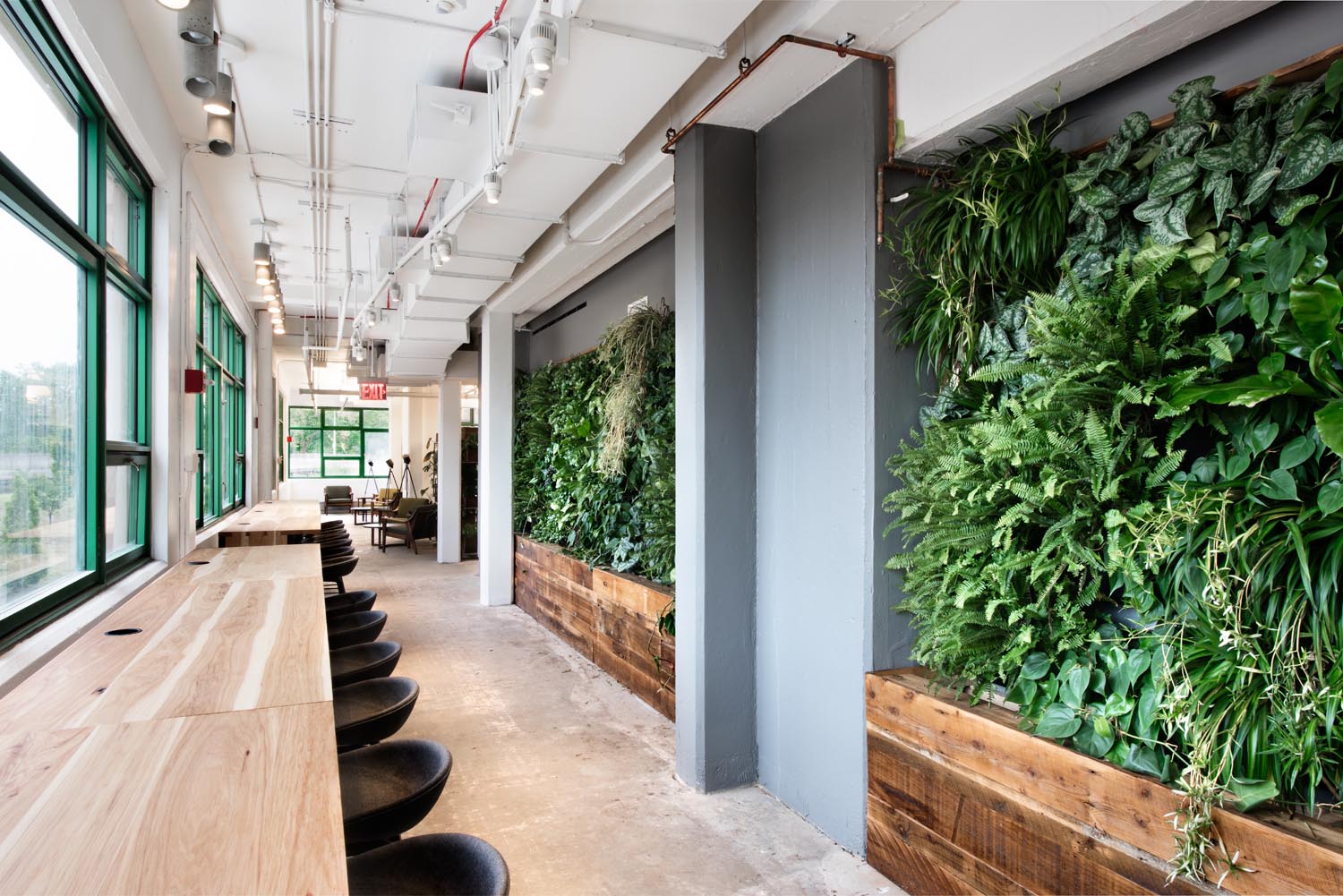 Petal 6
Health & Happiness
Complete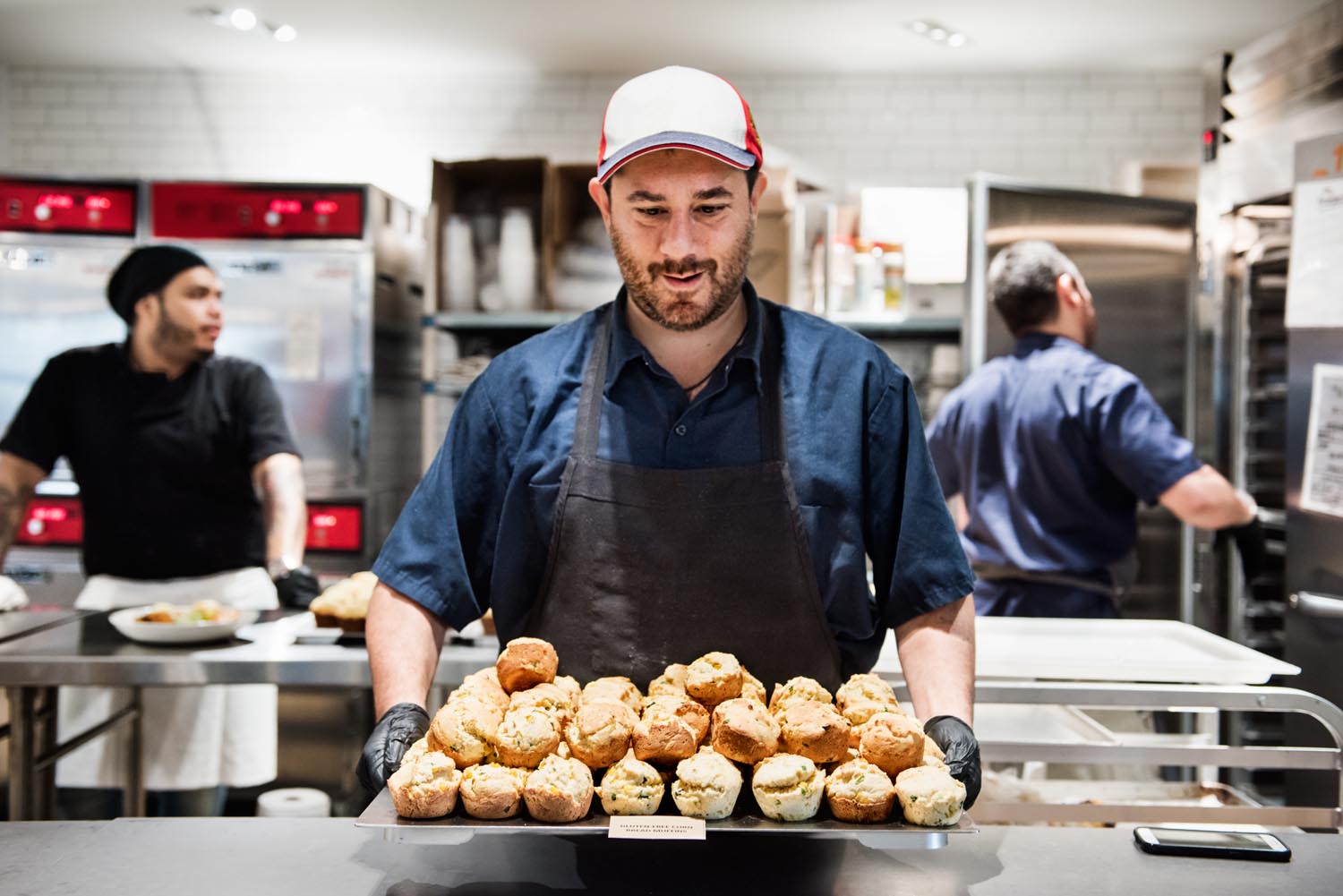 The challenge
Focus on the environmental conditions that are essential to creating a robust, healthy workspace. These include access to sunlight and fresh air, as well as design elements that nurture the human/nature connection, also known as biophilic design.
Our approach
Our open floor plan and abundant windows provide lots of natural light, and great views of surrounding greenery, in addition to the iconic Brooklyn Bridge.
Employees also have access to our beautifully landscaped roof and two outdoor terraces.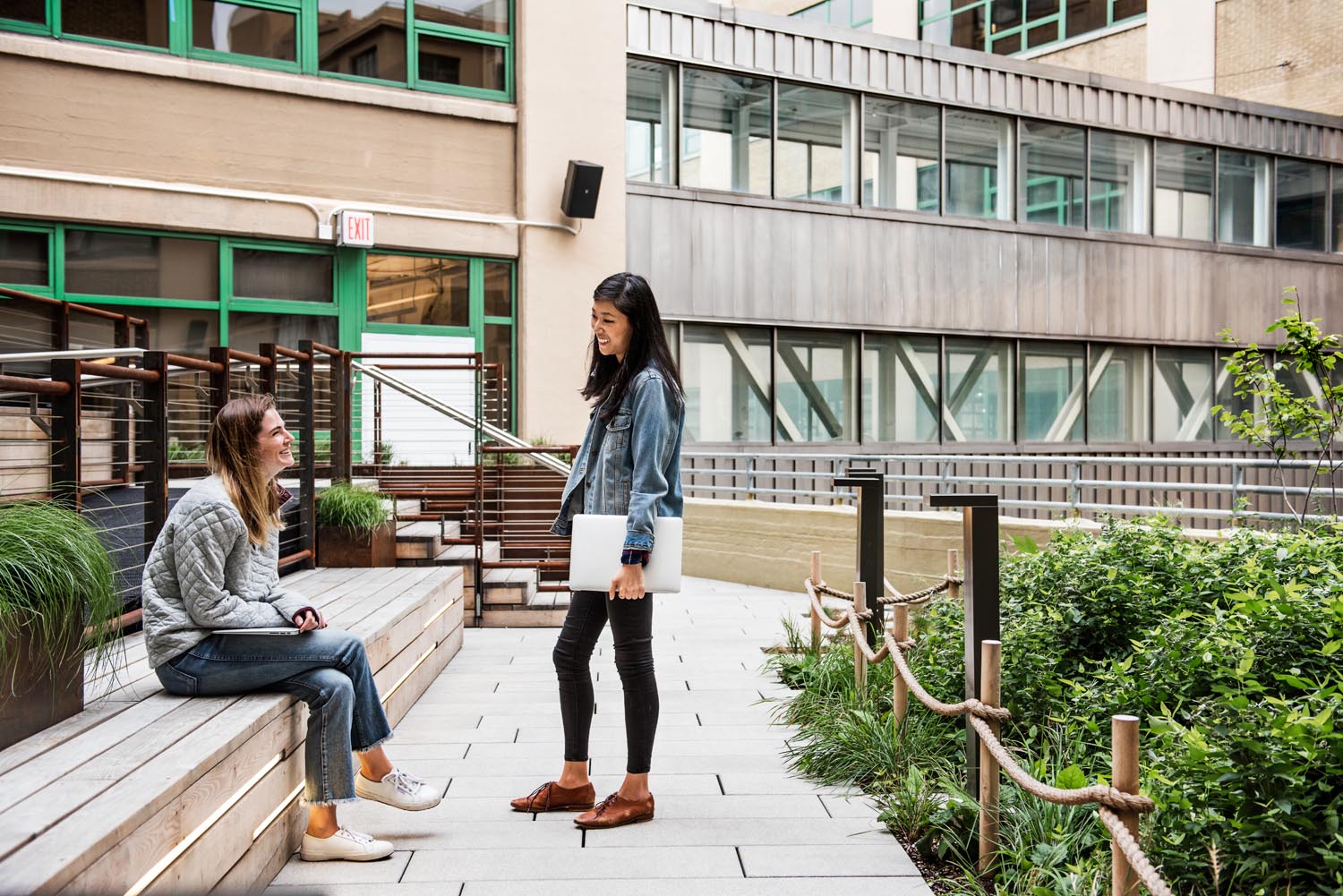 With advanced sensors, excellent ventilation, and by using only the healthiest products inside our space, our indoor air quality is off the charts, and much improved over the air outside.
We use green cleaning products certified by the Environmental Protection Agency's Safer Choice program, which help keep our indoor air free of chemicals and other impurities.
Our global food program, Eatsy, nourishes the Etsy community with meals rooted in the local food economy that are both healthful and sustainably sourced. We partner with nearby farmers, vendors, and chefs in order to help grow small businesses and support the local economy.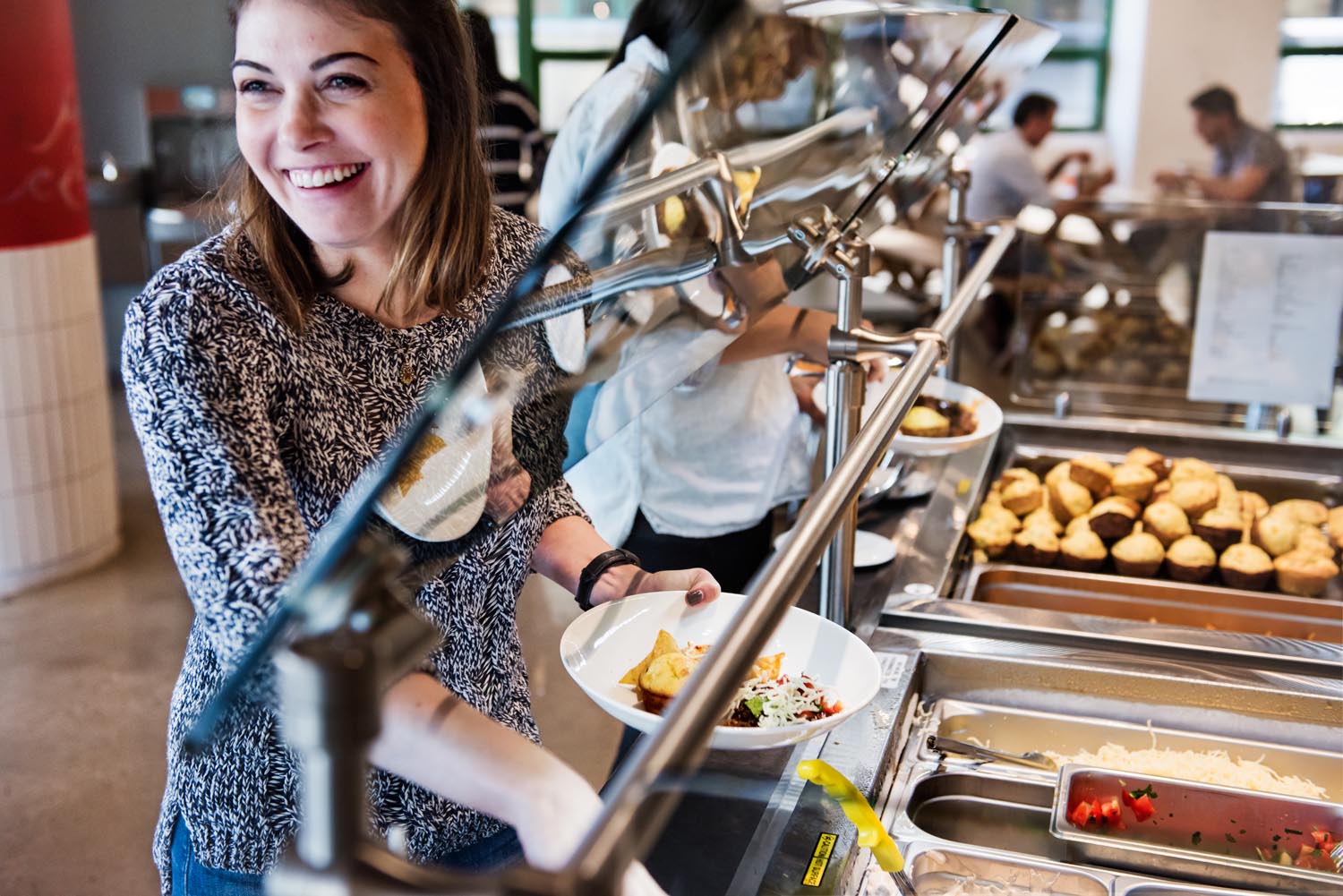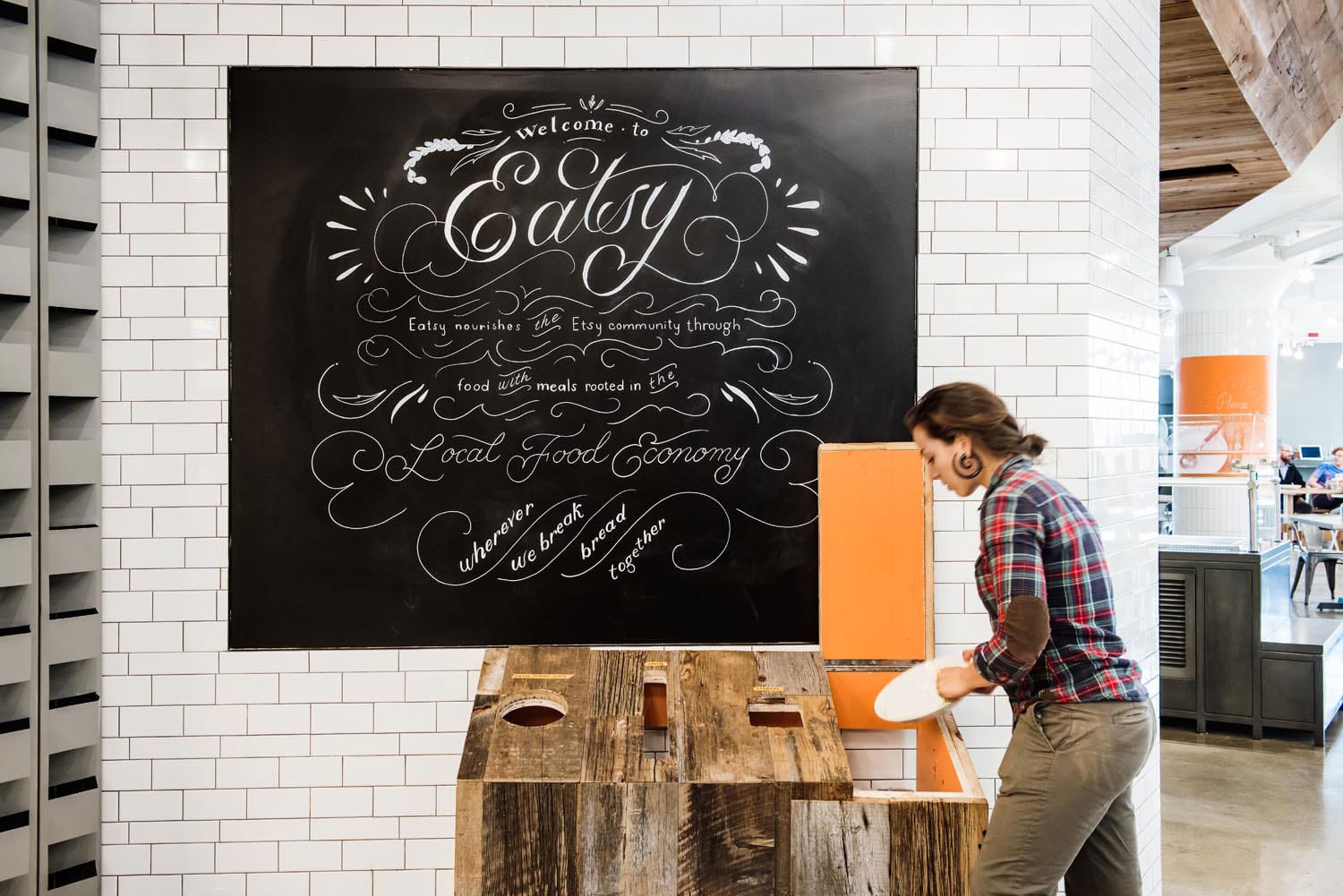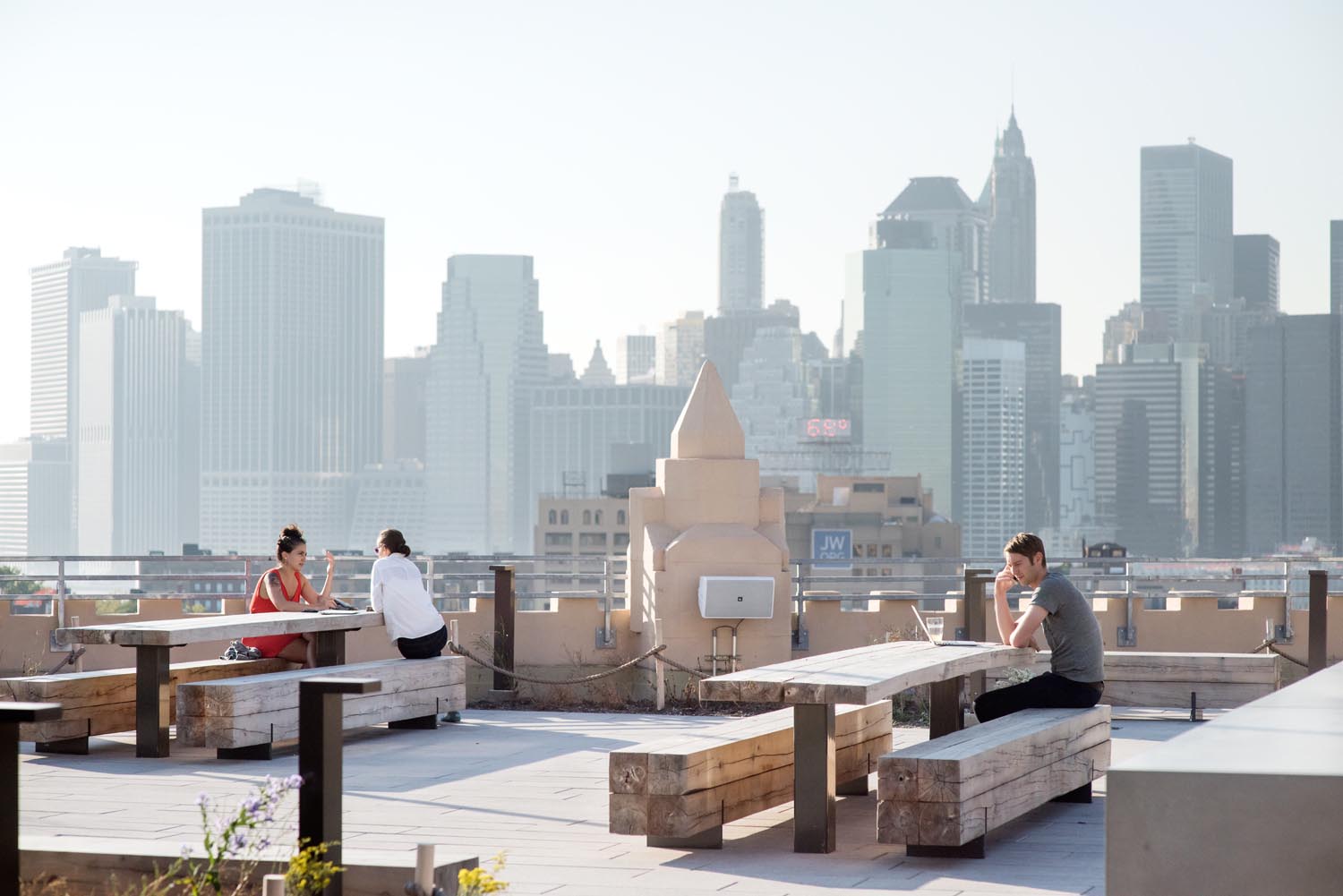 The challenge
Recognize the need for beauty as a precursor to caring enough to preserve, conserve, and serve the greater good.
Our approach
Beauty never left our minds as we designed every aspect of the space. Our offices around the world work with local makers to create furniture and art that's not just inspiring, but also a tangible connection to the online marketplace we nurture every day. We surveyed our Brooklyn employees a few months after the move and 95% of respondents thought the new HQ successfully embodied Etsy's mission and values.
The space is largely furnished with handmade and micro-manufactured furniture from local artists and Etsy sellers. Together they made hundreds of beautiful things for us, all while meeting the high sustainability standards of the Living Building Challenge.
Greenery abounds throughout the office too, celebrating and connecting us to the beauty of the natural world.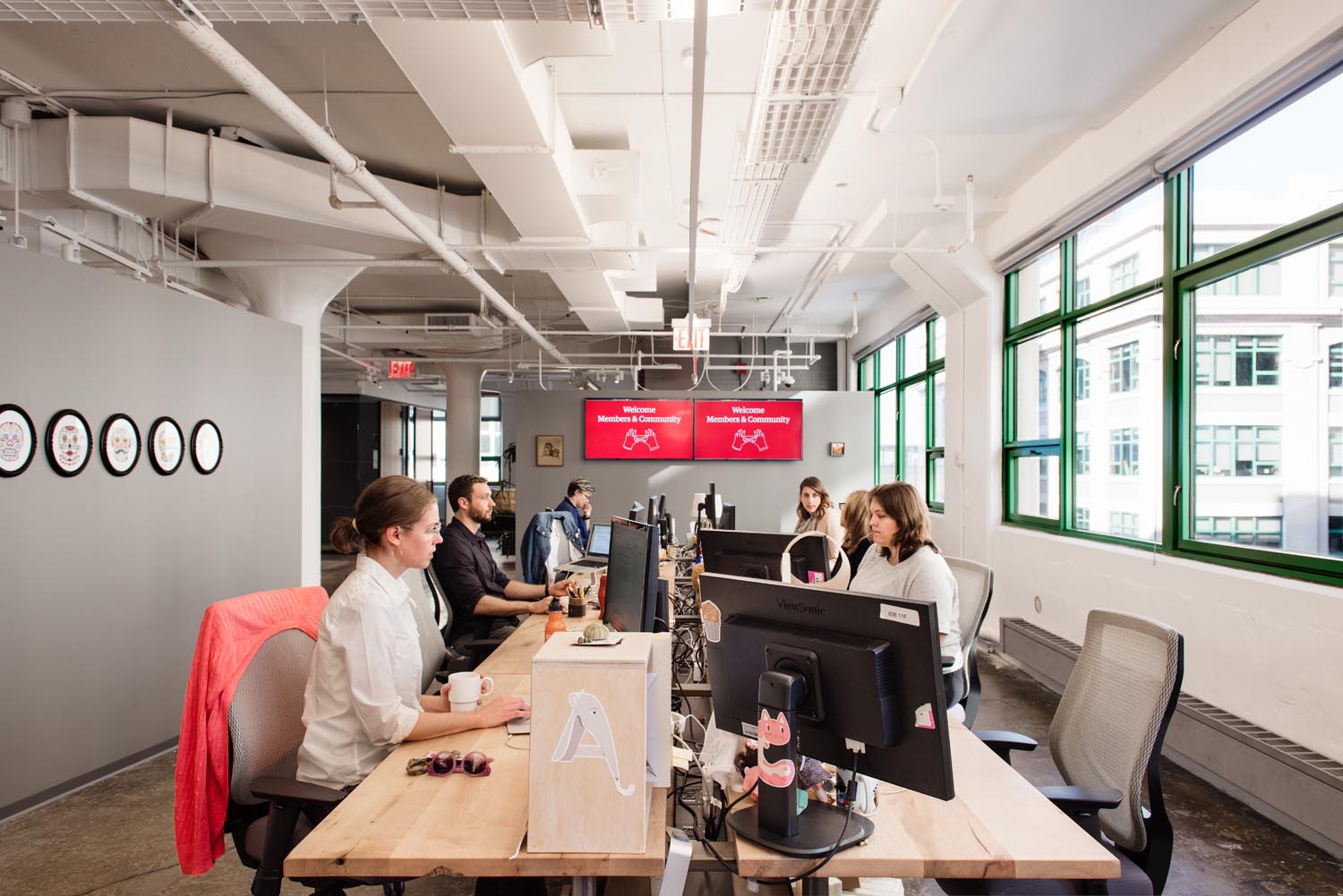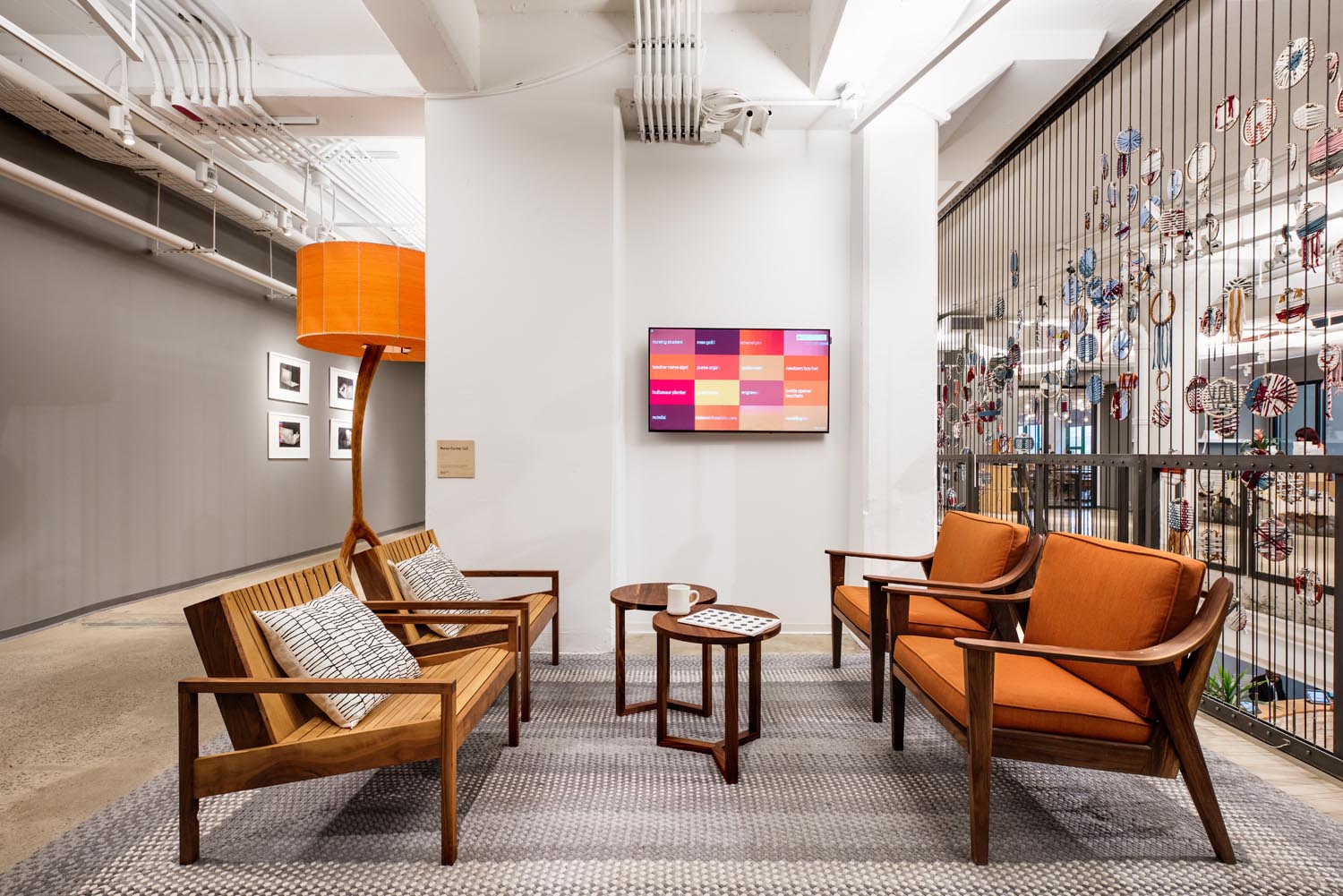 Stop by sometime
Interested in seeing our living building for yourself? Well you're in luck! Etsy offers public tours the last Tuesday of every month. Feel free to fill out our tour request form. Please note that we do not offer private tours at this time.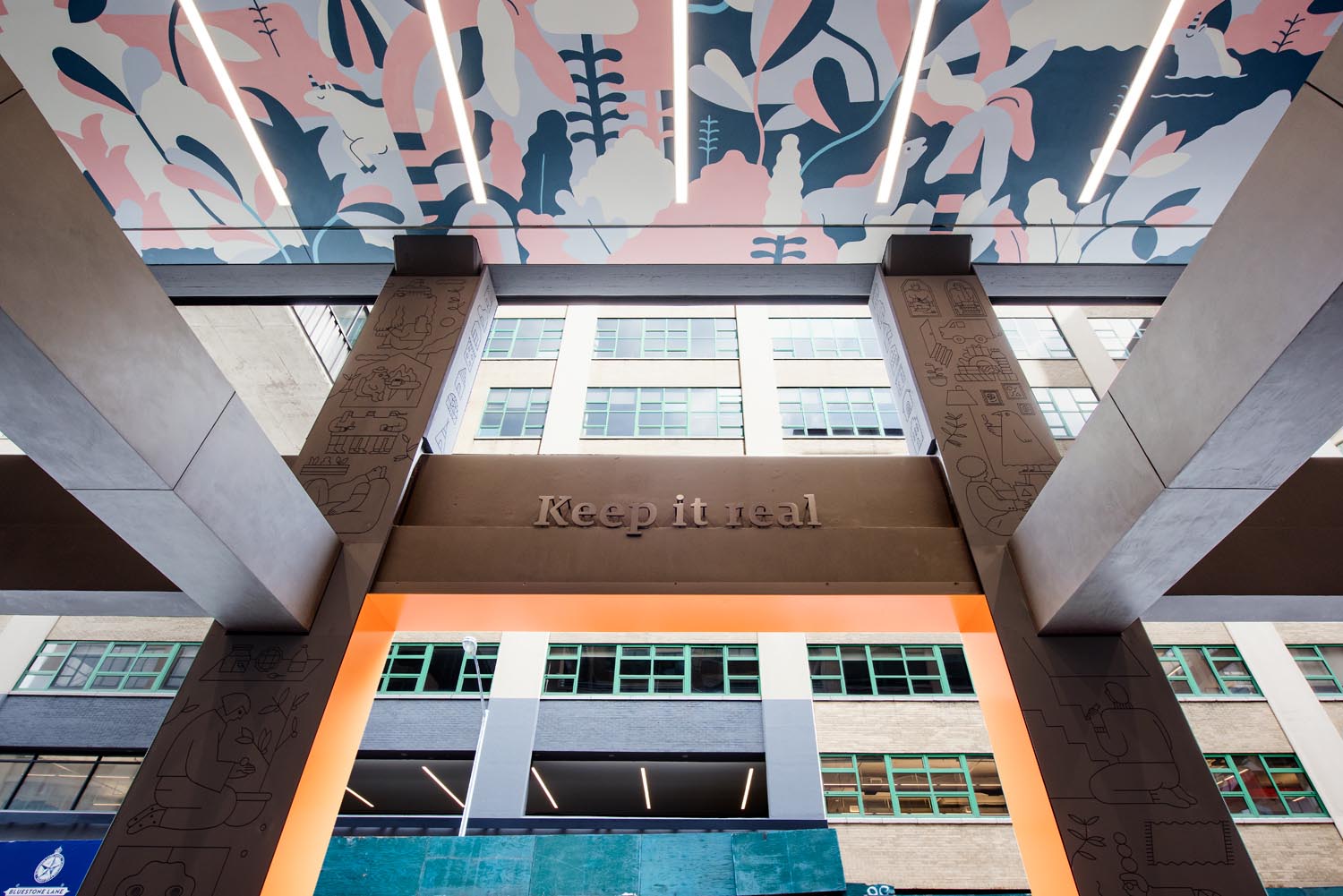 FAQ
Why did Etsy move into a new HQ?
We want to build a company that lasts, and we plan to measure our success in years and decades. Etsy sellers in particular depend on us and on our platform to grow their businesses, so we will strive to make decisions that are best for the long-term health of our ecosystem. In establishing our commitment to Brooklyn, our employees and our continued growth, we're living our values by planning and building for the long term.
We're building out a space that will inspire and support hundreds of employees, over the next decade, to continue to innovate and collaborate on the products and services that make our platform run. In doing so, we're investing not only in Etsy's growth and success but also in the growth and success of the millions of people around the world who benefit from our platform.
How did Etsy come up with the design of its new HQ?
Our community is the heart and soul of Etsy and is made up of creative entrepreneurs who sell on our platform, thoughtful consumers looking to buy unique goods in our marketplace, and the Etsy employees who maintain our platform and nurture our ecosystem.
Considering this, we crafted our new space in a way that embraces Etsy's unique identity while also serving as a canvas to showcase the vibrant voices of our community.
In this way, our new space balances functional design with adventurous, bold, and creative elements. We wanted to create a place where employees are not only supported to work collaboratively and effectively, but also where they're inspired by and feel connected to the creativity and craftsmanship that fuels our marketplace.
Our new HQ is also designed to connect employees and partners to our values, most notably as they relate to sustainability, community, and craftsmanship. Our values are clearly present throughout the space, from our green and outdoor spaces to our art galleries and installations, to our workspaces and food programming to our health and wellness areas.
What is the Living Building Challenge?
The Living Building Challenge (LBC) is the most advanced sustainability certification program for the built environment. Much like Etsy, LBC is focused on creating resilient, living systems that not only support healthy, vibrant, and beautiful environments, but also strengthen the local economy and our communities.
Why did Etsy pursue LBC over other certifications?
We believe this approach has the greatest alignment with our company mission and sustainability goals.
Why stay in Brooklyn?
Brooklyn is in our roots, and it's where we've been based since Etsy's founding more than 11 years ago. We enjoy many benefits as a result of being based here, in the world capital of other creative industries like media, fashion, and advertising, with visitors and residents from all walks of life.
Credits:
Analog Modern, workshop tables; Country Braid House, rugs; First Third, workstations, dining tables, lounge chairs, decorative desks art installation; Greenery NYC, interior greenery; Hendo by Jason Hernandez, coffee tables, bar height tables; In.sek Design, lighting, concrete tables; "Grow Your Own" by Jason Middlebrook, Eatsy art installation; "Perseus" by MANTZALIN by Manca Ahlin, lace screen art installation; Misha Tyutyunik, mural; Porter Cycles by Tom Porter, steel tables; Robert Sukrachand, side and coffee tables; Socotra Studio, cube stools; "Plume" by SOFTlab, Etsytorium art installation; Studio SNNG, hex stools; Timber Art Signs, Hooray Biking! Sign.