 No items listed at this time
Reviews

I am never disappointed when I receive artwork created by Jennifer. This is my 8th piece and I know it won't be my last. Every piece has a special meaning to me and I can relate to it in so many ways. The photos online never do them justice. Always grateful to have found this shop and able to own this amazing art! Thank you!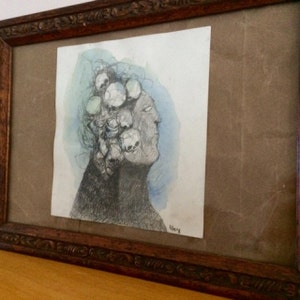 I LOVE this! Thank you for the coupon!

I am blown away...AGAIN! This is my seventh piece from Jennifer and I have to say that she always amazes me when I receive a new piece of work that she has done! Wow! This has become my most favorite piece and it will be displayed where it can be seen every day, of course! It is beautiful in so many ways! Your shop photos didn't do it justice! So blessed...and so connected!!!!!
About
Finding The Bones
It's probably no coincidence that we fell in love when the leaves were falling under a harvest moon so many moons ago...

Rich says he fell in love with me first, then with my art. I was swept away by his art (and him) .
No matter where the road leads... we find the bones, so to speak (and literally...when we moved to Portland from New Mexico we lugged at least 100 lbs. of bones with us). We sometimes talk about how our work is about revealing what's underneath.
In our art studios we always push each other to find the skeleton or bones of the work...

"We push each other to keep searching and I'm always struck by Jennifer's vision and insight, " says Richard.
"She is a pure painter, her work reveals this. She thinks in terms of the paint and what it can do. She's an extremely creative individual. She sees the world as only a painter can...in color and form. She is one of the best painters I've ever known."

I hold Richard's comments and feedback in the highest possible regard...he is truly an artists' artist. I'm always amazed to watch him work. His ability to unveil more complexity by taking away content is inspiring. Sometimes we disagree about when one of his pieces is at its' best, but in the end it's the process that finds the piece and reveals its' bones (or destiny).

Some viewers seem pushed back by the seemingly darker nature of Richard's work....I've only been truly frightened by one of Rich's pieces. His work is powerful and poetic. It seems to access the deepest recesses of the psyche. It's as good as it gets.
The piece that scared me was an old piece (from before we met).
He unrolled the huge piece of paper with yellowed edges. It was like some long lost scroll.
It was a full moon that night, too.
The piece literally made me shiver... every hair on my body stood up! The work seemed to track me as I moved across his part of the studio.
That night I trailed a burning piece of smudge sage all over the studio and across the piece (a tradition brought from our New Mexico days).
Richard reworked the imagery completely and whatever was howling at me from the work was silenced.

Richard had this to say about the scary piece, "I trust my wife's instincts, implicitly...she's usually dead on."

We love that Etsy has a world reach.We opened our Etsy shop in the fall of 2011 and great things seem to stir for us with the autumn breeze (as etsy has proven again).
Shop members
Richard and Jennifer Cutshall

Husband And Wife Team Of Artists

Richard and Jennifer Cutshall makes tons of work in their Northwest art studios. They each are in collections and exhibit regularly throughout the United States.

Boney

Curator, Studio Volunteer (our Gift Cat)

When we first moved to Portland we were sure that our house was haunted. Every night as we settled in...the door to the attic would slowly creak open. We discovered that there were no old bones in the attic, just one boney black cat...
Shop policies
Last updated on
October 21, 2011
Welcome to our Etsy shop....we are so happy you've found our page.

We are a husband and wife team of artists and we are new to Etsy; it's great to be a part of this creative community.

Our work is in public and private collections throughout the world.
We hope you will enjoy your visit...
Accepted payment methods
Accepts Etsy Gift Cards and Etsy Credits