Announcement Welcome to the Crimson Chain!
This shop holds a curated selection of the things we create. Our stock rotates so quickly that it is not feasible to hold hundreds of items. To purchase our massive inventory of regular-stock items, you will have to attend a convention, show or fair that we have scheduled. We travel everywhere in the US, so you may find us in your neighborhood!

You can find out where we will be on our website - http://www.crimsonchainleatherworks.com - there is a super handy list of events posted just for you!

We are shipping out of our warehouse and production facility located in Toledo, Ohio. PLEASE do not contact this shop about shows, things you saw at shows, wholesale orders, things pertaining to our southern sales division, things that YOU think we should be making, or custom orders. Thank you! :)
Announcement
Last updated on
Apr 11, 2018
Welcome to the Crimson Chain!
This shop holds a curated selection of the things we create. Our stock rotates so quickly that it is not feasible to hold hundreds of items. To purchase our massive inventory of regular-stock items, you will have to attend a convention, show or fair that we have scheduled. We travel everywhere in the US, so you may find us in your neighborhood!

You can find out where we will be on our website - http://www.crimsonchainleatherworks.com - there is a super handy list of events posted just for you!

We are shipping out of our warehouse and production facility located in Toledo, Ohio. PLEASE do not contact this shop about shows, things you saw at shows, wholesale orders, things pertaining to our southern sales division, things that YOU think we should be making, or custom orders. Thank you! :)
Reviews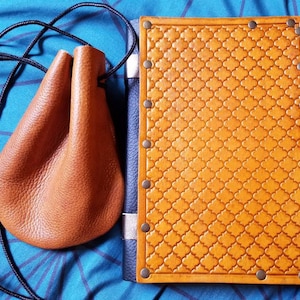 I've purchased things from this store before and have always been happy with them, but this one really takes the cake! I needed a good spellbook prop, so I ordered a custom notebook in brown with arabesque tiles. I expected it to be the same brown as the other notebook I have, but instead I received this beautiful, SPARKLY golden journal that screams "magic"! Absolutely perfect for what I need it for! It even came with a little matching pouch! Thank you Crimson Chain!

Very nice quality bag! Heavy weight loop attachment means you can load the heck out of it with loot. Very nice closure hardware.

My husband was so excited when i gave him this notebook! He didn't think it was something he would be able to get as he didn't get it when we went to phx fan fest. Thank you so much. Beautiful work!!
About
The Crimson Chain
Started many moons ago by Virgil Jones as a chainmaille and blade vending adventure, Crimson Chain branched off into leather out of a necessity for badass leather garb.

In the years hence, Crimson Chain Leatherworks has flourished into a one-stop shop for nerdy leather goods! We offer hundreds of items out of our booths, vending all across the USA.

We make everything in a workshop in Toledo, Ohio with a team of about a dozen creative folks hammering, cutting, sewing, staining and stamping their butts off to make glorious things for you!

We create leather coats, tunics, bodices and doublets for renaissance fair costuming, cosplay and LARP adventures. We create accessories for feasting, drinking, holding "potions," carrying weapons and simply looking cool. We make armor, pauldrons, quivers, belts, bracers and a full array of sporrans and pouches. We also create a line of ARD - Adult Recreational Devices - such as cuffs, collars, leashes and ankle cuffs.

To see everything we do, you will HAVE to visit us at one of our many convention or faire booths - a list of shows we will be attending is on our website. This shop is a curated selection of the things we do - it would be *impossible* to list everything!
Shop members
Virgil

Owner, Creator

Behold! Our fearless leader! Virgil is the owner of Crimson Chain Leatherworks.

Amber

Assistant, Shop Cat, Very Much Help

This is our shop cat, Amber. She assists us in the workshop with important cat things such as NERF dart retrieval, box selection, leather naps and fur therapy.

Andi

Etsy Mistress, Seamstress, Photographer

This is Andi. She is a seamstress. She is also the keeper of this Etsy shop - Andi is who you are talking to when you ask questions! She does all of the listings, photography and shipping.

Alan

Creator, Designer, Snark Provider

Alan is our prototype-maker and laser guy. He travels a lot, so you may see his smiling face in one of our booths!

Dan

Creator, Stitching Human

This is Dan! He works in our shop as a sewing person. Dan is also on the road a fair bit, so if you see him at a show, say hello!

Christine

Leather Artisan

Christine is our magical bag-making department. If you've ever bought a sporran, pouch or dice bag, she made it!

Bethany

Leather Artisan, Creator

Bethany works in our hammer department. They make all of the strap goods you see in our shop, such as books, bracers, mug wraps, frogs, cuffs and collars, etc.

Nicole

Creator, Seamstress

Nicole is a seamstress in our shop. She also travels a bunch, so you will likely see her at a show.

Sean

Creator, Leather Artisan

Sean works in our hammer department. They make all of the strap goods you see in our shop, such as books, bracers, mug wraps, frogs, cuffs and collars, etc.

Beth

Creator, Seamstress

Beth works in our sewing department as a seamstress.

Rob

Creator, Leather Artisan

Rob works in our hammer department. They make all of the strap goods you see in our shop, such as books, bracers, mug wraps, frogs, cuffs and collars, etc. Rob makes a lot of our awesome armor pieces!

Jon R

Creator, Leather Artisan, Stain Wizard

Jon works in our sewing department as the hardware guy.

John B

Creator, Leather Artisan

John works for our sewing department, cutting out garments.
Shop policies
Last updated on
September 3, 2016
Welcome to Crimson Chain Leather Works! We pride ourselves in providing top-quality, handmade leather goods that you will not find anywhere else!
Accepted payment methods
Accepts Etsy Gift Cards and Etsy Credits
Returns and exchanges
We DO NOT accept returns. Items are sold as-is, all sales are final. For garments and other wearables, PLEASE measure yourself carefully to be sure of fit, and contact us BEFORE YOU PURCHASE if you are unsure of anything or need help with deciding about a size.

If you have ANY questions about an item, please contact us before you purchase. We cannot accept returns--this is a company-wide policy. If there is a true defect, contact us immediately and we will work with you to remedy the issue. If your problem has something to do with the leather itself, keep reading!
Payment
We accept PayPal and Etsy Check-Out.
Shipping
We ship USPS priority mail. You will receive a tracking number with your order.
Additional policies and FAQs
Please keep in mind: leather is a natural product. It is not always smooth or flawless – it is the skin of an animal that has spent it's life grazing, wandering, getting feasted upon by bugs and probably macking on a barbed-wire fence or two. Leather has character – scars, bumps, brands and variegation in texture. It is not cost-effective to only use the pristine parts of the hide, so we use our judgement when it comes to natural inclusions.

We guarantee our workmanship under normal usage conditions. If you have a problem with your item, please contact us and we will work with you to resolve the issue.

We do not and cannot accept custom orders.