Announcement TwoAgainstAlz began as a collaborative effort with my late son, Michael Powell, who died in a climbing accident on October 18, 2016 after a successful summit of Mt. Whitney, the highest peak in the contiguous United States. It is with a heavy heart, but one filled with resolve, that I continue the work we began together.

Mike and I had first hand experience with Alzheimer's disease as I cared first for my dad and then my late husband over a period of 18 years. Believing that our memories are the most precious of human keepsakes and wanting no other family to face what we did, I began working with UsAgainstAlzheimer's and am a founding member of WomenAgainstAlzheimer's and ClergyAgainstAlzheimer's. TwoAgainstAlz was meant as a playful nod to the larger organization and Mike supported me wholeheartedly by contributing his gifts of photography and graphic design.

Now I go forward without him with the intent to honor his gentle and giving spirit and because I never, ever want to lose my memories of those I've loved and those who've loved me. I want that for no one.

100% of all sales will be donated to UsAgainstAlzheimer's Network, a 501(c)(3) organization whose bold but achievable mission is to STOP Alzheimer's & related disorders by 2020: www.usagainstalzheimersnetwork.org.

If you have an idea for a hand knit item that that you don't see here, please message me and I'll see what I can do. I hope you'll enjoy our handmade items, and thank you for your purchase!

Lynda Everman

Please join me on Facebook @ Help Stamp OUT Alzheimer's: https://www.facebook.com/HelpStampOutAlzheimers
Announcement
Last updated on
Jan 21, 2017
TwoAgainstAlz began as a collaborative effort with my late son, Michael Powell, who died in a climbing accident on October 18, 2016 after a successful summit of Mt. Whitney, the highest peak in the contiguous United States. It is with a heavy heart, but one filled with resolve, that I continue the work we began together.

Mike and I had first hand experience with Alzheimer's disease as I cared first for my dad and then my late husband over a period of 18 years. Believing that our memories are the most precious of human keepsakes and wanting no other family to face what we did, I began working with UsAgainstAlzheimer's and am a founding member of WomenAgainstAlzheimer's and ClergyAgainstAlzheimer's. TwoAgainstAlz was meant as a playful nod to the larger organization and Mike supported me wholeheartedly by contributing his gifts of photography and graphic design.

Now I go forward without him with the intent to honor his gentle and giving spirit and because I never, ever want to lose my memories of those I've loved and those who've loved me. I want that for no one.

100% of all sales will be donated to UsAgainstAlzheimer's Network, a 501(c)(3) organization whose bold but achievable mission is to STOP Alzheimer's & related disorders by 2020: www.usagainstalzheimersnetwork.org.

If you have an idea for a hand knit item that that you don't see here, please message me and I'll see what I can do. I hope you'll enjoy our handmade items, and thank you for your purchase!

Lynda Everman

Please join me on Facebook @ Help Stamp OUT Alzheimer's: https://www.facebook.com/HelpStampOutAlzheimers No items listed at this time
Reviews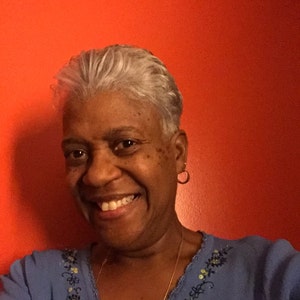 I LOVE my hat!! It will keep me warm all winter and the orange color has great sentimental meaning to me!

I have ordered multiple items from this vendor and have always had them exceed my expectations! Beautifully made items with wonderful details. Shipping is very quick and packaged nicely. One of my favorites!

Beautiful pictures. Great quality. Arrived quickly.