Reviews

Easy to apply, just follow the directions, looks great!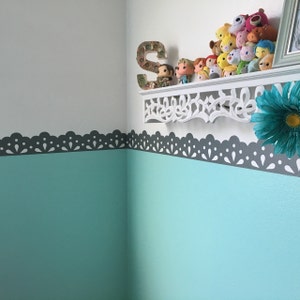 Just what we were looking for. Great communication. Smooth transaction. Thanks!

About
The Evolution of Walls That Talk
We are a husband and wife team, owners and operators, of ThunderStorm Graphics. We have years of experience in design, vinyl cutting and application. We started our sign shop in Texas doing a wide assortment of vinyl applications including all types of advertising from store fronts to automobile and stationary signs. Along the way we did a lot of decorative vinyl applications as well.

In 2009 we expanded our business by going online with an Etsy shop, Walls That Talk, specializing in vinyl quotes and graphics for interior walls. In 2011 we closed our physical store and moved to Arizona. We did not re-open a physical store in Arizona however we continued with our online sales at our Etsy shop, Walls That Talk.
Shop policies
Last updated on
April 1, 2016
Vinyl Wall Lettering for Home Decor

It is said that a picture is worth a thousand words,
but the truth is that a few wisely chosen words can
inspire a thousand pictures. People are beginning to
realize this truth, and the HOTTEST NEW CRAZE in
home decorating, vinyl wall lettering, shows this.

Enjoy the elegance and eloquence of vinyl wall lettering and
turn your home into a beautiful reflection of who you are.

When REQUESTING A CUSTOM ORDER please include
your media preference and the following for your chosen media:
If wanting Painted Canvas we need your color theme and quote.
If wanting Vinyl Lettering we need aprox dimensions wanted and quote.

*IMAGES DISPLAYED ARE FOR REFERENCE ONLY
AND MAY NOT REFLECT EXACT SIZE AND/OR COLOR.
Check size in description. Request FREE Color samples.
Accepted payment methods
Payment
We will ship after payment has been received.

Since this is a CUSTOMIZED item please allow :
3 to 5 business days to process vinyl orders
3 to 5 business days to process glass orders
5 to 7 business days to process painted canvas
NOTE: This does not include delivery time.

Every effort will be made to produce your order as fast as possible.

ARIZONA RESIDENTS please include 9.35% for sales tax.
Shipping
USA orders shipped Priority Mail for most items
USA orders shipped Standard Post for 16" x 20" sized canvas orders.

INTERNATIONAL VINYL LETTERING orders are shipped First Class International Mail. Buyers are responsible for any CUSTOM DUTY FEES or IMPORT TAXES that may be due upon delivery. Please allow 4 to 6 weeks for International delivery.
Since our items are custom made the EU Directive on Consumer Rights does not apply to purchases from Walls That Talk.

MULTIPLE TYPES OF ITEMS: If you make a purchase including a variety of products vinyl wall quote, painted canvas and or etched glasses then we may have to adjust the shipping occasionally and or possibly ship them in separate boxes. Please contact us if you have any questions about combined shipping of multiple types of items purchased.

WRONG ADDRESS: If an incorrect address was provided to us, you will be responsible for the cost of shipping the package to the corrected address. The USPS does not reship for free. Thanks for your understanding.

LOST/STOLEN PACKAGES:
* If the package hasn't arrived in the specified time frame, please let us know. We will file a lost package claim with USPS and assist with tracking down the misplaced package.
* If a buyer does not receive a package and the tracking shows delivered, the buyer will have to file a fraud report with their post office for theft or missing package.
Refunds and Exchanges
RETURNS & EXCHANGES for VINYL LETTERING (This item is final sale, non-returnable, non-refundable and non-exchangeable.)
Due to the customization options of size and color vinyl decals are custom orders. As such, we are unable to offer refunds or exchanges for our vinyl decals. If there is an error on our part then we will promptly take care of the problem. Thank you for understanding.

COMPATIBILITY: Unfortunately we cannot accept returns, refunds or offer exchanges on products that will not adhere. There are too many brands of paint, type of paint finishes, conditions, and variables to know whether the vinyl will stick to your specific surface. Please ask for a sample prior to ordering so that you may test adhesion properties on your surface.
COLOR: We offer free color swatches. No orders can be exchanged for a different color just because it didn't match your decor. Thanks for understanding.
To order a TEST DECAL or COLOR SWATCHES, please contact us. There is no charge for the test decal or color sample.

DAMAGE DURING INSTALLATION:
While no guarantees can be made that decals will adhere properly to all surfaces, we cannot be held liable for problems incurred during the application process resulting from poor surface preparation, incompatible paints or wall textures, or damage such as folds or tears. If your vinyl does get damaged during installation we will offer a one time identical replacement, whole or just the damaged parts, at a reduced price and buyer will be responsible for shipping. No discounted replacement will be offered if your original order is over 30 days old.

DAMAGE DURING SHIPMENT:
The paper backing sometimes gets wrinkled during shipping, this is normal but that does not necessarily mean the vinyl is damaged as the result of the wrinkles. In the event that a decal arrives damaged, please contact us and we will arrange to replace the item or the damaged portions. Please be prepared to send photographs of damages so that we can determine the extent of the damage. If the whole decal is damaged then it will be replaced pending an insurance claim. NOTE: No replacement product will be issued for orders over fourteen (14) days old.

**********************************************
RETURNS & EXCHANGES for NON-PERSONALIZED GLASSWARE:
If you are not completely satisfied with the non-customized glassware that you receive, simply return the item in the condition that you received it within seven (7) days for an exchange or refund. Shipping costs are not refundable and customers will be responsible for return shipping AND INSURANCE. (If we receive the item back broken and it did not have insurance then no refund will be issued.) Buyer will be responsible for return shipping if an exchange is requested.

RETURNS & EXCHANGES for our PRE-DESIGNED STRETCHED CANVAS ART
If you are not completely satisfied with the pre-designed canvas art that you receive, simply return the item in the condition that you received it within seven (7) days for an exchange or refund. Shipping costs are not refundable and customers will be responsible for return shipping if an exchange is requested.

CUSTOM PAINTED CANVAS AND ETCHED GLASS: (This item is final sale, non-returnable, non-refundable and non-exchangeable.)
Etched/personalized/custom items are non-refundable. If there are any discrepancies with your order please contact us immediately. The buyer will receive a final proof for preview before we create the order and it is the buyers responsibility to make sure the spelling and information is all correct on the proof at that time.
CANVAS:Since computer settings are different for everyone we can not refund or exchange for colors not matching exactly. If you are needing to match colors exactly then we would need a physical swatch or sample of the color you are wanting prior to painting the custom order.

If items are damaged in transit please contact us IMMEDIATELY. An insurance claim will be filed to recoup the costs of the art or glasses and they will be replaced. YOU MUST RETAIN ALL PACKAGING. Refunds and re-shipments for damaged items cannot be processed without packaging materials and pictures of the damage.

***********************************************

We do guarantee our products to be the best that we can offer in quality and workmanship. We sell only what we believe to be a top quality hand crafted product. We do not guarantee that it will work on all surfaces alike. All information that we know about the vinyl itself is shared freely.

The professional materials we use to create our vinyl artwork is approved as interior safe. Apply at your own risk. Walls That Talk, a division of ThunderStorm Graphics, shall not be liable for any direct, indirect or consequential damages, arising from the use or the inability to use the product. On occasion slight damage can occur with removal of vinyl decals, requiring some paint touch up on the wall surface.
Additional policies and FAQs
HOW TO INSTALL:
In your shipment you will receive detailed instructions and tips to make your installation easy. Please read all instructions BEFORE attempting to install and contact us if you have any questions about installing your design.

The average decal takes approximately 30 minutes to apply. However, this time can vary depending on your experience and the intricacy of the design.

If your vinyl wall decal is a layered design you will need to apply each piece separately.

For best results please allow any newly painted surfaces to cure 1 to 2 months before applying vinyl.

Vinyl wall graphics need to be applied in a timely manner, preferably within 2 weeks of receiving your shipment. The longer the vinyl sits after being cut, the harder it becomes to release from the backing paper.

Failure to properly clean the application surface before installation could cause adhesion problems such as difficulty during installation and poor adhesion once installed.

Vinyl may not adhere to surfaces painted with Teflon, Stain Guard or VOC free paints.VOC free paints are a green friendly paint with low odor or no odor.

***********************************************

WHY MY DECALS WON'T STICK?
If you're having trouble applying vinyl on walls, it may have nothing to do with the tape or vinyl. The qualities of the wall surface are just as important as those of the tape and vinyl. This is becoming more apparent as more households opt for upscale paints. There are compounds in these paints that either repel adhesives or degrade them over time leading to failure.

PAINT AND WALL SURFACE
The most common reason for failure in applied wall words is application on freshly painted surfaces or on incompatible painted surfaces. Just because it's dry to the touch doesn't mean it's ready for your vinyl graphics. If you apply vinyl over uncured paint it usually results in a rapid degradation of the adhesive leading to failure. It literally falls off the wall!

Some drywall surfaces that can cause poor adhesion:
a. Highly textured surfaces
b. scrub-able and VOC free paints
c. Newly painted surfaces
d. High humidity areas or moisture behind the drywall.

Vinyl lettering may not stick to a wet wall. Watch for walls that back up to cooling systems, water pipes, overhead windows or windows that have been boarded up. These areas are prone to condensation that may not be obvious at the time of installation. In other words, make sure the drywall isn't really a wet wall in disguise.

LIMITATIONS: Due to the wide variability of interior walls, sealants and paints, no claims for successful applications to or removal from painted wall surfaces are made. It is the users' responsibility to determine the products suitability for the intended wall. For these reasons, there is no guarantee for indoor vinyl graphics in drywall applications.
More information
Frequently asked questions