Announcement colorful Kindle Covers and more!
We also create cute iPad cases, Nook and Kobo eReader & tablet covers, passport holders, checkbook covers, and pretty and practical mini planners.
find us on facebook-
https://www.facebook.com/BeesocksKindleCovers

All items are made in a smoke and fragrance free studio (allergy sufferers please note that I am a cat owner) and all fabrics and materials are carefully stored in covered plastic bins.

My goal is to make a sturdy, protective, sleek, lightweight and colorful cover for your precious device :) Here at Beesocks, we cover the bee's knees!
Announcement
Last updated on
Aug 14, 2016
colorful Kindle Covers and more!
We also create cute iPad cases, Nook and Kobo eReader & tablet covers, passport holders, checkbook covers, and pretty and practical mini planners.
find us on facebook-
https://www.facebook.com/BeesocksKindleCovers

All items are made in a smoke and fragrance free studio (allergy sufferers please note that I am a cat owner) and all fabrics and materials are carefully stored in covered plastic bins.

My goal is to make a sturdy, protective, sleek, lightweight and colorful cover for your precious device :) Here at Beesocks, we cover the bee's knees! No items listed at this time
Reviews

This two-year planner is exactly what we were looking for. Thanks for the fast shipping.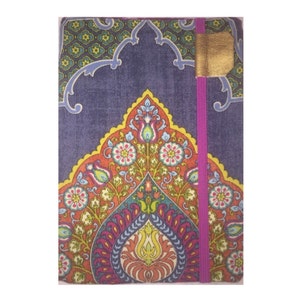 Absolutely LOVE my kindle case!! Beesocks was also amazing to work with!! She custom made mine Monday night, shipped it Tuesday with 1 day express shipping so I would get it by Thanksgiving. Received on Wednesday. Couldn't be more happy!! Thank you again so much!!
About
someone has to keep the bee's knees covered
Beesocks began on Etsy lo these many years ago (2005) making one of a kind feltpeople (flat felt dolls and custom portraits made from felt) They were pretty darn neat if I do say so myself! Felt is the most amazing material in the world, you can make anything out of felt if you put your mind to it. (I used polyester felt, a noble and versatile material that I am conveniently not allergic to)

As time went by Beesocks gradually evolved into making sewn covers for things, mostly kindles. The story goes like this- buy kindle, lose job, panic, make cover, sell cover, lather, rinse, repeat! (I was a professional cookie and cake decorator, it was a switch!)

At first they were completely hand-stitched marvels of creation that took FOREVER to make. I approached my neglected sewing machine with extreme caution and eventually we came to an understanding... it would sew straight lines, and I would feed it thread (and cover it with stickers and tell it how pretty it is)

Each cover is carefully made by me and modeled by my herd of glamorous cover models- multiple Kindles, Nooks, and oodles of non-working demo tablets, as well as a herd of rescues (broken gadgets adopted from ebay and given new purpose as supermodels)

Making kindle covers allows me to fuse my obsessive love of fabric with the analytical 'make stuff work' side of my brain. It also allows me to live off of my own creativity, there is nothing like the feeling of making something useful and pretty, and sending it off into the world for someone to use and enjoy :)

Your cover will be made in a fragrance and smoke free studio by little old me, from start to finish, from cutting the rectangles of fabric and batting to that last bit of hand-finishing.

Allergy sufferers, please note that my supervisor Bob is of the feline persuasion. (Bob does the majority of his supervising with his eyes closed in the kitchen window sunbeam)

oh, and its because of the socks. They're stripey. So...

Thank you for taking the time to visit, and for reading my about page :)

to get back to the shop-
http://www.beesocks.etsy.com

for some amazing creations (she made me so you know she's good) visit my mom's shop-
http://www.pvcreations.etsy.com
for excellent wood cutouts, marbled hair barrettes, and beautiful hand painted ornaments :)

You can also find examples of my art on Zazzle items as user Scorpi_Oh, and on fabric on Spoonflower as beesocks :) I have two other shops on Etsy-
http://www.ScorpiOh.etsy.com (for doll jewelry)
http://www.PassTheSalt.etsy.com (vintage salt shakers)

and TheSweetestSting, a currently inactive account
Shop members
beesocks

Owner, Maker, Queen Bee

beesocks lives near Austin TX in a rock house full of things.

Bob

Customer Service, CEO Of Naps And Crunchies, Owner

Bob is 9, he likes to nap and eat crunchies (and the occasional Fancy Feast) and then nap some more and when he's all worn out from all of the napping he likes a nice. long. nap.

the beesocks hive

Where It All Happens

the beesocks hive is made of rocks and wood and holds the stuff that makes the things.
Manufacturers
Spoonflower.com

Durham, NC, United States

Fabric used in certain items is designed by Beesocks and custom printed by Spoonflower.com, an awesome company that allows artists and designers (and regular people too) the amazing ability to have fabric printed with their own designs.

LA based online printing service

Los Angeles, CA, United States

certain printed goods are designed by beesocks and printed by a third-party printing company.
Shop policies
Last updated on
November 14, 2014
The Beesocks Hive is located deep in the heart of Texas, just north of Austin. The Bee is a self-taught and formally educated artist who lives to make anything and everything.

I started making kindle covers after I got my Kindle in January of 2010 and didn't see anything that I loved to cover my new baby. I had to make my own! The design has evolved from hand-sewn with soft felt inserts to machine-sewn with sturdy chipboard panels. I've made friends with my sewing machine, but each cover is still finished by hand and made one at a time by little old me :)

All work is done in a fragrance and smoke free hive. THERE IS A CAT NAMED BOB RUNNING AROUND THE PLACE NOW, SO I CAN'T SAY PET FREE ANYMORE, but rest assured Bob does not interact with the merchandise.
Accepted payment methods
Payment
PLEASE NOTE
If you are unable to see the shipping prices for this item, they can be seen by adding it to your cart. Etsy is currently running tests on shop layouts and one of them moves the shipping totals to the shopping cart (placing an item in your cart is not a commitment to buy, and will not remove the item from my shop unless the purchase is completed) Items are shipped via First Class Mail, average shipping prices are as follows----->

*Passport covers, checkbook covers, and luggage tags ship for $2.00-$2.25

*Gadget Covers will vary a bit according to size and weight, but most ship in the $2.50-2.75 range. Domestic shipping for one item will rarely be more than $4.00

*International prices range from $6.50 to $12.50, depending on destination and weight of item.

*these are average prices, please add to cart for the exact shipping total, multiple items will have combined shipping prices.

********
HOLIDAY 2014 SHIPPING CUTOFF DATES:
**US/domestic: please place orders by December 15
-----
**INTERNATIONAL/non-US: please place orders by November 16
international orders can take anywhere from 1-5 weeks (or more, although most arrive in 2-3 weeks) to be delivered and may incur VAT or import taxes/duties, please take these into account when making your purchase.
********

I accept payments via Paypal and Etsy Direct Checkout and Etsy Gift Card.

Customers who pay with a Paypal E-Check, please be aware that your item will not ship until the payment clears. An eCheck occurs when there is not enough funds in your paypal balance to pay for the transaction and Paypal uses funds from your backup funding source to complete the purchase (which takes a few extra days) Echecks generally clear in 3-5 business days.

Texas residents will be charges a sales tax of 6.5% upon checkout.
Shipping
All domestic (US) items are shipped via USPS First Class mail with delivery confirmation. (a few items may go Priority) I pack my items with extreme care, and sometimes use recycled packaging (nice and clean though!) Ready to ship items are normally put in the mail within 1-2 days of purchase. Made to Order items may take 1-3 days before being mailed.

Don't hesitate to contact me with any questions about your shipment-- I'm always happy to provide an update or tracking number (I always use delivery confirmation, with the exception of international orders)
*****************************************************************
What to do if your order doesn't arrive?
- Please let me know! "not responsible for lost or damaged packages" is a bad word around here, so if you let me know there has been a problem I can work on a solution for you.
*****************************************************************
International orders are very welcome :)
International packages are sent via USPS First Class International. Tracking is available to limited countries with First Class, but the majority of international destinations do not include tracking with this level of service (first class)

International packages usually arrive in 1-2 weeks, but can take longer (sometimes up to five weeks or more) depending on mail or customs delays.

Customers are responsible for any duties or taxes that may be due upon arrival of the package (many countries charge a tax or processing fee for imported goods over a certain value, please be aware of your country's laws regarding this) These charges are not postage due, rather they are taxes upon imported goods levied by your country. I am not able to mark items as gifts or lower the declared value on the customs labels. Thank you for your understanding.

UK CUSTOMERS- please note that your value threshold for customs is very low (£15) and you may also be required to pay a handling fee (£8) to the Royal Mail to get your package.
*****************************************************************
Your order will ship in a padded bubble envelope. If you would like a printed invoice in your package please let me know, as I normally only include those with international packages.
Refunds and Exchanges
If for any reason you are unsatisfied with your purchase, please contact me! You may return your item within 15 days in it's ORIGINAL condition for a full refund or exchange. I want all of my customers to be completely happy with their purchases.

Never be afraid to contact me regarding your purchase!

I do understand that sometimes an item just isn't right for the occasion or if you accidentally ordered the wrong size, or even if you just don't love it like you thought you would (or your loving spouse has surprised you with the gift of another cover and you don't want to hurt their feelings so you need to cancel your order, it happens!) please let me know, and I'll do my best to work with you to make it right!

If you have ordered the wrong size cover for your device I will be happy to exchange it for the proper size or accept a return for a full refund of the original purchase price. Even if you've purchased a cover as a gift, and you find out that your recipient already bought themselves a cover, I will be happy to accept a return.

Please let me know if your item has been damaged in transit. I may ask for photos of the damage, or a return of the item. I am happy to replace or refund with proof of damage (detailed photos or the return of the item)
---------------
If you are returning your item, please let me know via email or etsy conversation that you are sending your order back (so I will know to look for it) I can also generate a return label to facilitate the process for you.

Please note that if you use the 'return to sender' option for your return that it can take 3-4 weeks to come back to me. Refunds will be issued when I have received the item.

for credit card purchases, please note that while I may immediately process your return and submit your refund, it can sometimes take an entire billing cycle for refunds to appear on your statement, this is outside of my control and is dependent upon your bank or financial institution's policies regarding refunds. Thank you for your understanding.

Thank you!
Additional policies and FAQs
Custom inquiries are always welcome, I may not be able to accommodate every request, but it never hurts to ask :)

If you would like for me to make a custom eReader cover for you using your own fabric, contact me to find out if your fabric will be suitable, and how much you'll need.

the best fabrics for covers would be:
--darker fabrics, or fabrics with very little white
--lightweight quilting cottons
--twill
--lightweight canvas duck, or lightweight denim
--pinwale corduroy
--tightly woven linens or blends
fabrics with a lot of stretch, loose weaves, bulkiness, sheers, shiny satin, fur, knits, beading, or fuzzy surfaces (like flannel) are NOT suitable to make covers out of.

I can usually make a cover out of any fabric you may see in my shop, but please be aware that I may not have access to some of the fabrics anymore. I have oodles of fabric stored in skyscraper bin towers, so chances are I have *something* you might like :P Give me a buzz, let me know what colors, styles, patterns, and designs you like and I can put together some fabric pics for you to choose from.

for eReaders and tablet sizes not listed in my shop, please provide as much information as possible about the brand, model, and generation. I can make covers for many gadgets based on measurements, but it does require knowing exactly which model you have.

Each Beesocks design is one of a kind and original. ***Purchase of any items does not include the right to reproduce or replicate the designs***

Allergy sufferers-
I do have one cat, but he does not interact with the items. Your package will come from a non-smoking and perfume free environment. I don't like strong smells, so there will be no perfume, lotion, incense, air freshener or fabric softener smells :P