by solidio
When it comes time to preserve the memories of your special day, consider the sumptuous possibilities found in bound books and beyond.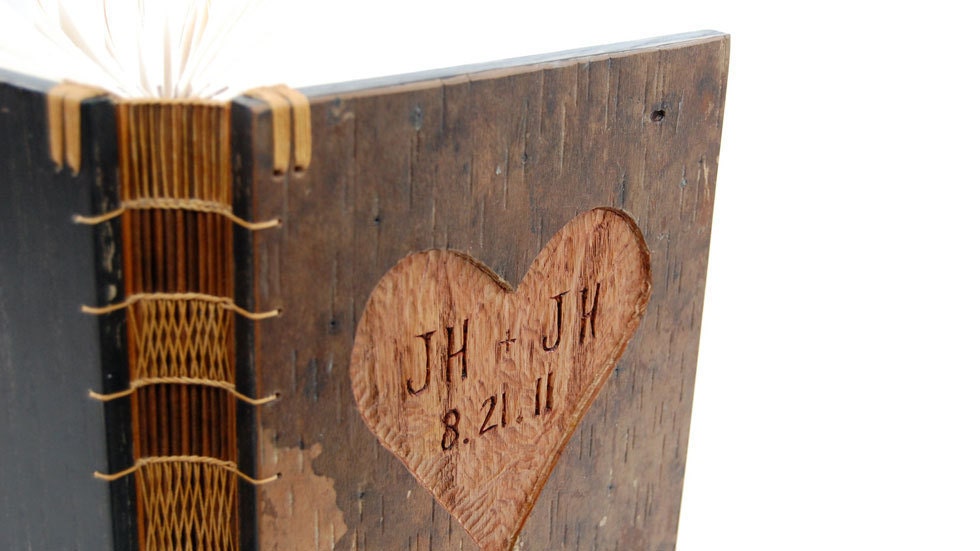 Of all the things you buy for your wedding, you only get to keep a few; the cake is eaten and the flowers fade. Your guest book and photo album, however, are items that you will have forever.
There are probably as many options available for handmade books and albums as there are Etsy sellers, so I narrowed it to two key factors you need to consider when choosing a book or album.
The Cover
I like to think of the cover as the personality of the book. It's the first thing you see and is also a tactile element. Remember that the guest book should look good in your wedding and also in your home, so choose a cover you like! It doesn't have to match your wedding perfectly, but should blend with your theme. If your wedding is filled with red roses, but your home décor doesn't contain much red, keep that in mind. Cover materials range from silk to wood, leather, paper, metal and a variety of oddball materials. This is truly a personal choice, and my best advice is to search the options available. If you have an idea for a cover, find someone that works in those materials and ask them if they can make a book or album for you. [collage id=143893]
Binding Style
The binding is important for two reasons: it affects the way the book lies on the table, and determines whether you can add pages to the book. One type of binding used for albums is called post-binding, and it is commonly used in scrapbooking. This type of binding allows you to add or subtract pages by unscrewing the posts that hold the pages together. The pages of the book do not lay flat, but they do tend to stay open while you are looking at them. You can usually find pages to add at your local craft store. These books often have standard page sizes: 12x12, 8x8 or 8x10. This binding is a logical choice for an album, but could also be filled with blank pages for a guest book. [collage id=143902] The other type of binding is constructed in a variety of ways, but has the common trait of looking like a book: it lies flat on the table and you cannot add pages to it.  These are your typical journals or sketchbooks. They sometimes use beautiful knot patterns, and can have an exposed or covered spine. This type of book would be a logical choice for a guest book, but can also be used as an album. You will need to attach your photos directly to the paper with photo tabs or adhesive. [collage id=143913] Over the years, brides and grooms have struck out on their own, seeking more unique solutions to guest books and albums.
Alternative guest books
are growing in popularity, shattering pre-conceived notions of how wedding memories can be preserved. Now, guest books come in the form of wooden puzzles, tree ornaments, wooden blocks, picture frames and large artwork. [collage id=143916] There are many options to fit just about any taste, or you can take this opportunity to contact a seller and see if they take custom requests. Many artisans will take the time to walk you through what choices they have and go over options with you. Keep in mind that a custom book could take 6-8 weeks to make, so order early!