As Etsy's 10th anniversary approaches, we're excited to reflect on the impact Etsy Teams have had on the world around them. Since Etsy launched in 2005, shop owners have created and joined more than 10,000 Etsy Teams. Today, nearly 250,000 sellers participate in a team. Teams are free to join, and anyone can start one. Over the years, Etsy Teams have been a great way for sellers to trade tips about running a business, host local events and craft fairs, support their communities or just socialize with their peers.
From mentoring others to raising money for all kinds of causes to creating long-lasting friendships, teams have left their mark over the past 10 years. Read on to learn how Etsy Teams from around the globe are helping others and giving back to their communities.
1. Teaching New Shop Owners in Greece
The Etsy Greek Street Team was founded in 2008 by a small group of sellers passionate about all things Etsy — even when the marketplace was relatively unknown in the country. "From even the earliest of days we were a very active team," says Nafsika Kokkini, Team Captain and owner of Athens-based jewelry shop, Nafsika. "We participated in lots of craft fairs, hosted gatherings and held our first Etsy Craft Party in 2010."
As the team grew rapidly, the members shifted their focus from craft fairs toward developing free educational seminars for sellers looking to learn more about running a business online. Now that the team includes roughly 1,850 members, Nafsika works with 13 Team Leaders to stay organized and engage new participants. "We are very lucky to have members who are willing to help out each other learn with tips and suggestions," says Nafsika. "Our discussion forum is very active. When somebody asks for help or has a question there is always someone online willing to answer."
As regular hosts for Etsy's Global Craft Party, Nafsika and the Etsy Greek Street Team are no strangers to the powerful connections that can be made in person. When an acquaintance of Nafsika's, a jewelry maker named Kosmas, asked her to explain the basics of opening a shop on Etsy, she was happy to oblige. When the two met again at the following year's Craft Party event, she was pleased to learn that he had not only opened a shop, Aluminio Passions, but had been wildly successful over the course of the year. "Now, he's making a living from Etsy and is able to afford rent on a new house," Nafsika says.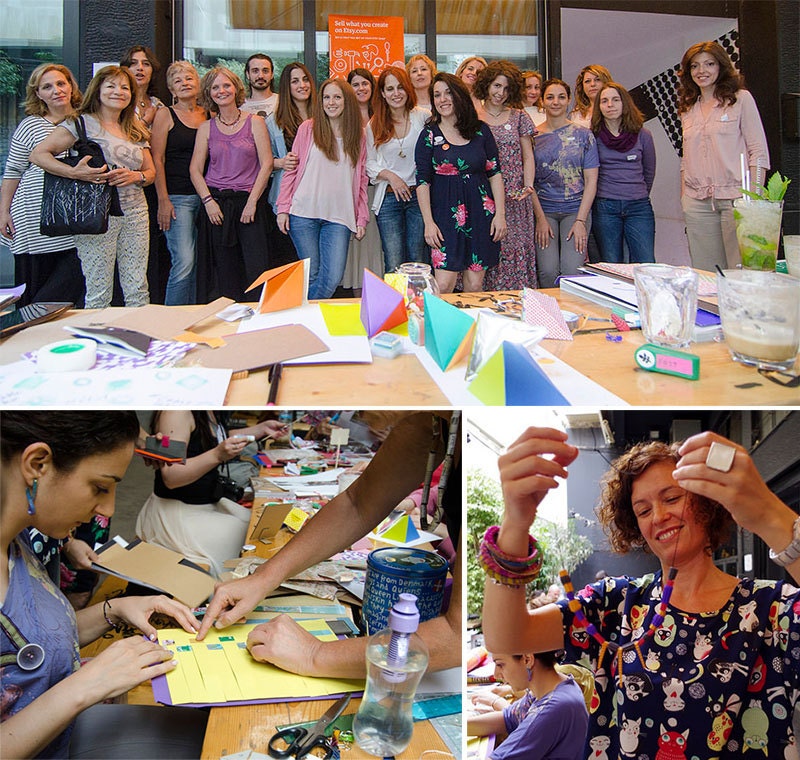 2. Forging Friendships in Canada
"Being a part of various teams on Etsy has influenced both my art and my business," says printmaker Ele Willoughby of Minouette. Ele is Team Captain of the Toronto Etsy Street Team (or T.E.S.T.). The team formed in 2009 as a way to network with nearby sellers, host independent craft shows and share information within the Toronto small-business community. Since then, the team has grown organically and added Leaders experienced in hosting events, graphic design, teaching and social media.
New members are encouraged to participate in team workshops, sales and social events, including picnics and pub nights. "Sellers love having a network of friends and colleagues in their own city," explains Ele. "My friends and teammates have encouraged me to grow my business and participate in larger shows like the One of a Kind Show and Sale." As the T.E.S.T. team prepares to host their second Made in Canada pop-up market, Ele reflects on what the annual craft fair means to their community. "The sheer scale of the event allows us to bring fabulous local Etsy talent to more people," she says, "and connect buyers and sellers directly."
3. Helping Others Grow in Italy
Etsy Italia's Team Captain Francesca B of EF accessories attributes her team's success to their close-knit bond and generosity. "I always tell new members, 'You will find help, at any time, and about anything,'" explains Francesca. "'Not just about managing your Etsy shop, but also about life.'" Francesca knows firsthand just how helpful the team can be. She joined in 2010 after realizing that she couldn't continue to run her Etsy shop without some moral support. After two years as a Team Leader, she became Captain in November 2012.
In order to help others, Francesca made a point of learning all she could about running an online business. "I devoured Seller Handbook articles and FAQs, watched videos and read books on entrepreneurship — all of which benefited my shop as well as helping others." Selling online isn't easy, but having a community behind you makes things go more smoothly, she says. It helps people learn more quickly, and encourages them to stay optimistic. "Connecting with others who share the same passions, problems and doubts is a powerful thing!" says Francesca.
Since the Etsy Italia team welcomes members from all across Italy, members have come up with various solutions for staying connected. In addition to chatting regularly on the team discussion board, members also utilize sub-groups on Facebook to share news about local craft events. "When team members travel, they get in contact with team members in those areas and get together in person," says Francesca. "Our community loves to network locally."
4. Making Connections (and Helping Chimps) Across the US
The Etsy New York Team makes it a priority to get involved with local community organizations, including participating in a winter coat drive to benefit Warm Up NY as well as knitting and crocheting squares to be made into blankets, hats and scarves for those in need. After Hurricane Sandy ravaged parts of New York City in 2012, many team members donated products to a benefit auction for their neighbors. The Team's director of operations, Jenny Topolski of Brooklyn-based jewelry shop J. Topolski also sought out foster homes for displaced pets via the team's message board.
Last year, Jenny received a call from a friend who had recently relocated to Los Angeles in order to work with the chimpanzees at Wildlife Waystation in Sylmar, California. After hearing that one of the chimps' favorite activities is unwrapping packages filled with nuts and edible plants, Jenny's "crafty alarm bells" began to ring, she says. Since the wildlife nonprofit has a tight budget and is short on labor, Jenny though wrapping presents for the chimps would be a great way to get involved with the community. But sending the finished products from New York City to Los Angeles would be difficult and expensive.
Luckily, Jenny remembered that a friend and former Etsy NY teammate MaryAnne Loverme had moved to California to open a boutique for locally-made products, called Los Angeles County Store. After the move, MaryAnne had joined another active Etsy Team in her area, the Pink Ponies. With the chimpanzee mission in mind, Jenny introduced MaryAnne and the Pink Ponies team to her friend at Wildlife Waystation. "If I have a connection that can help someone else, I love to share it," Jenny explains. With MaryAnne's boutique serving as the center of operations, the Pink Ponies team members spent two days creating healthy and engaging presents of all shapes and sizes for the rescued chimps to unwrap. The subsequent unwrapping was a major success, with happy chimpanzees, satisfied team members and plenty of photographic evidence to go around.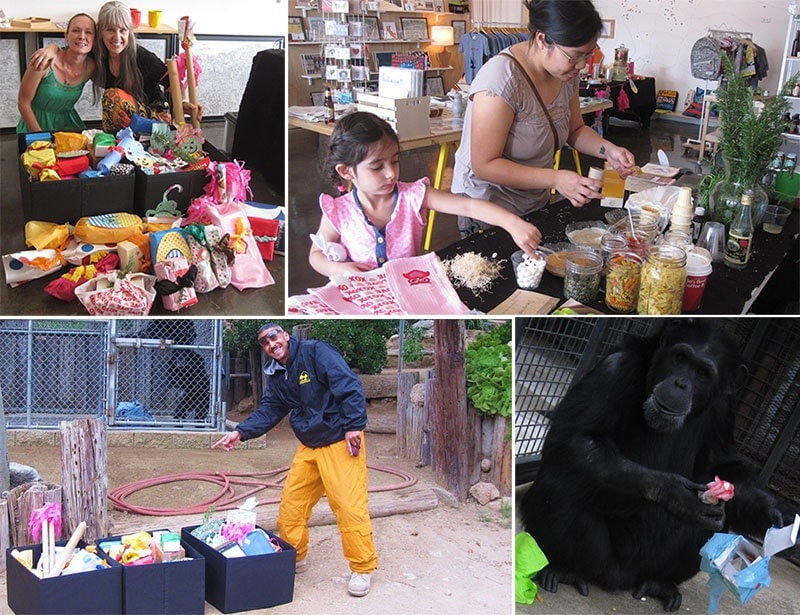 5. Giving Back in Texas
The Etsy Fort Worth team empowers its members to grow their businesses through education and neighborly support. The team holds classes for members that range in subject matter from social media promotion to tax basics for small businesses. "As makers ourselves, our goal is to be supportive to the handmade community," says Team Leader Julie Grimmett, who opened her Etsy shop, Coco Cocoa, in 2010. "We hold monthly meetings for members to connect, network and form friendships." After becoming a Team Leader in 2013, Julie encouraged Etsy Fort Worth and another local team she belonged to, Etsy 817, to merge into a larger, more active team.
Over the years, the Etsy Fort Worth team has partnered with a number of local organizations in hopes of giving back to the community. "We try to designate a charity at each of our craft shows, like the M.A.D.E. Pop-Up Bazar, that we can highlight and provide a benefit to," says Julie. When a devastating tornado hit nearby Hood County in 2013, the team jumped into action, fundraising for those affected. "Helping our neighbors was the perfect way to use crafting to help our community in need," says Julie.
Interested in connecting with a team based on your interests or region? Read How to Find Teams to Grow Your Etsy Shop for tips.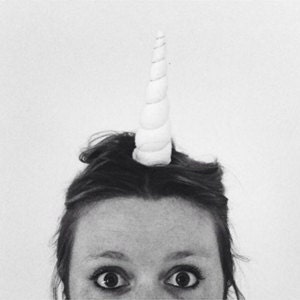 Words by Katy Svehaug
Katy Svehaug is a Senior Content Strategist at Etsy.