Celebrate this significant milestone with an equally significant 30th anniversary gift inspired by traditional and modern themes.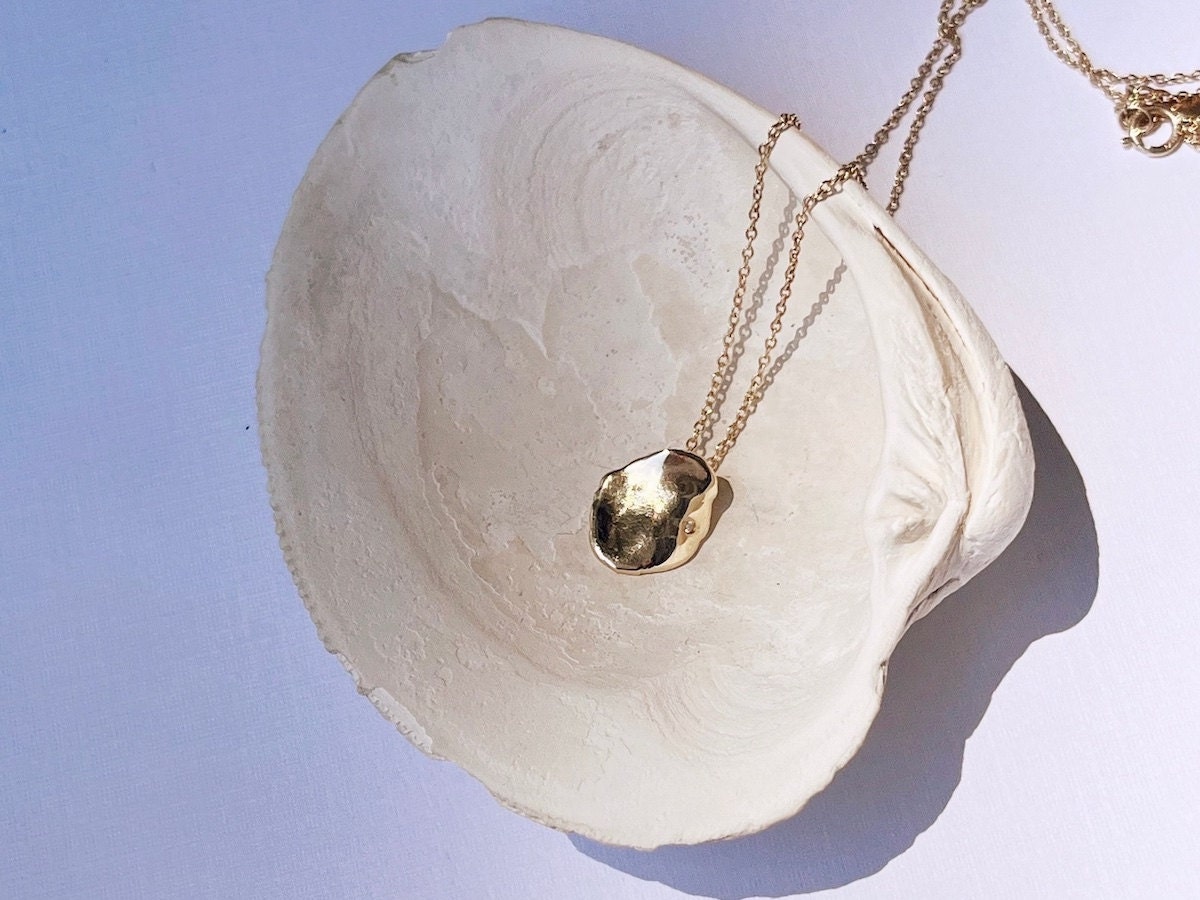 A 30-year relationship is an incredible achievement and something to be celebrated. If you're looking for the perfect 30th anniversary gift for your wife, husband, or partner, peek at the traditional anniversary gift themes for inspiration. The 30-year anniversary gift is pearl, which symbolizes purity, honesty, and wisdom. The modern 30th anniversary gift is diamond, which represents a lasting bond, strength, and durability.
Our shopping experts have curated this list of the best modern and traditional 30-year wedding anniversary gift ideas from many of the incredibly talented independent sellers on Etsy to spoil your partner—or to give to a special couple celebrating this tremendous milestone.
Whether you're after jewelry, home decor, or a simply unique piece you won't find anywhere else, we've got some stellar 30-year anniversary gift picks for you to choose from.
Best traditional 30th anniversary gift ideas
To celebrate the big 3-0, these pearl (and pearl-inspired!) anniversary gift ideas represent the strong bond of a loving and long-lasting union—and are jaw-droppingly gorgeous too!
1. Pearl drop earrings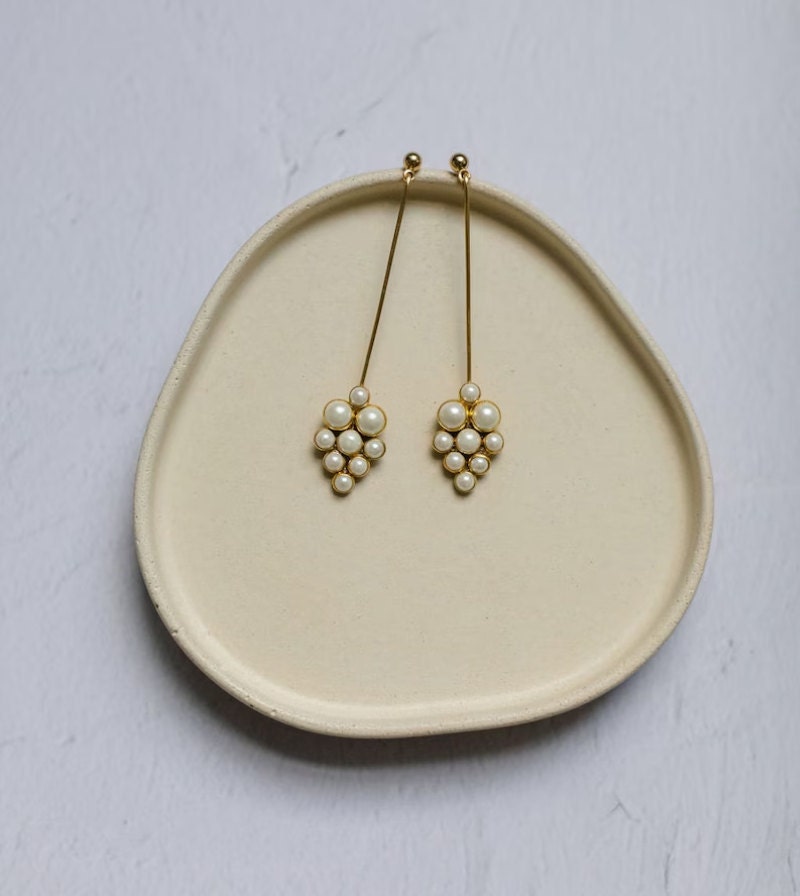 SHOP: Made-to-order pearl drop earrings from Hushed Commotion, $125
Gifting the woman in your life these handmade pearl cluster drop earrings will undoubtedly win you major partner points. This elegant earring set comes in either a gold or silver setting and is a total winner, in our humble opinion.
2. Taylor pearl anklet chain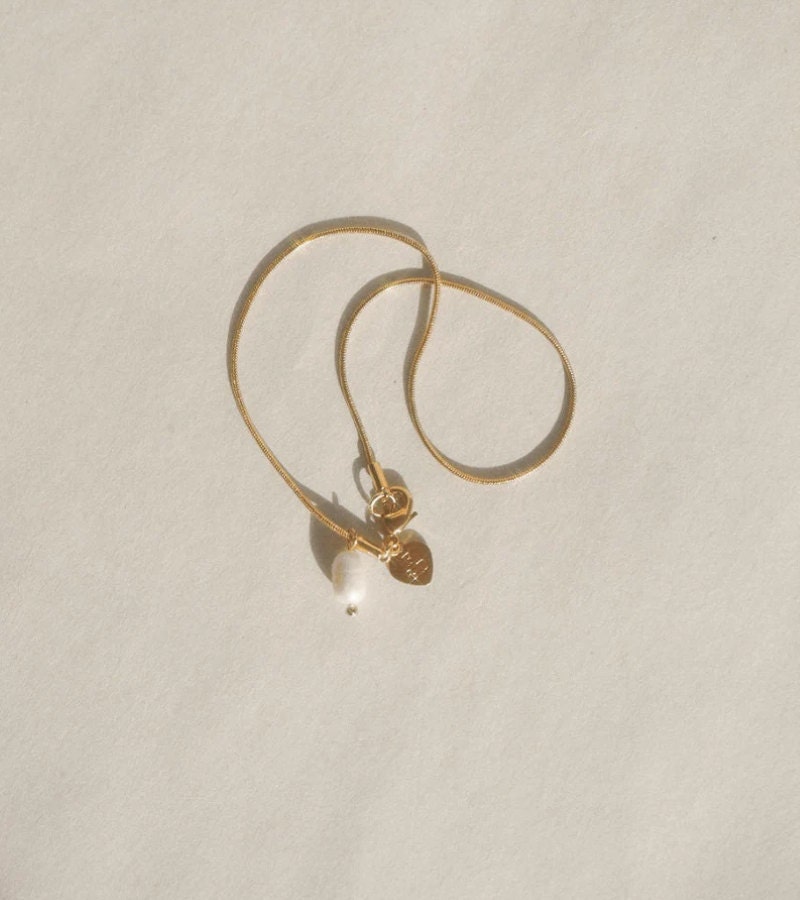 SHOP: Baroque pearl and gold snake chain anklet from Foe and Dear, $22
Featuring a genuine baroque pearl on a 14K yellow gold-plated brass chain, this pretty and unique anklet is designed and handcrafted in a small shop in Vancouver, Canada. It's discrete enough to wear every day, and it goes with just about any outfit.
3. Heart-shaped hair clips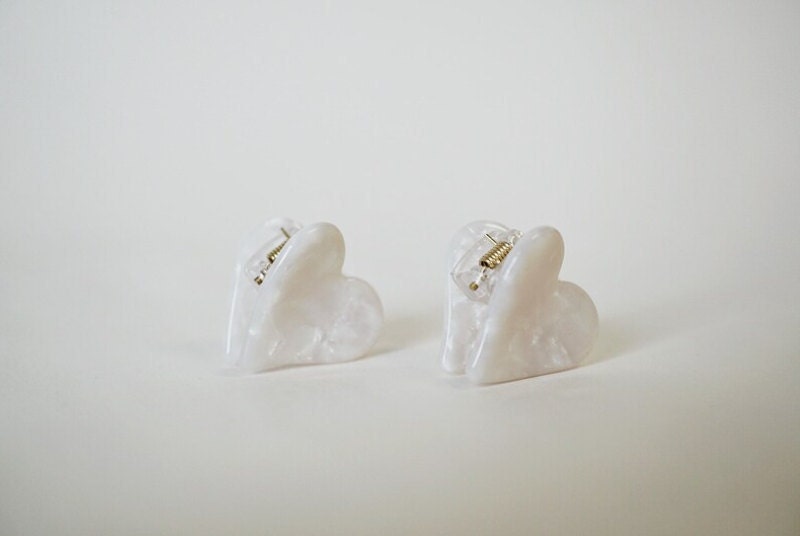 SHOP: Heart-shaped mini clips from Foe and Dear, $17 for set of two
For a traditional, practical, and affordable pearl-themed 30-year anniversary gift that your wife will not only love but also make good use of, opt for this set of mini heart-shaped hair clips. They have a beautiful iridescent pearl effect and can help her create many glam hairstyles.
4. Natural white pearl ring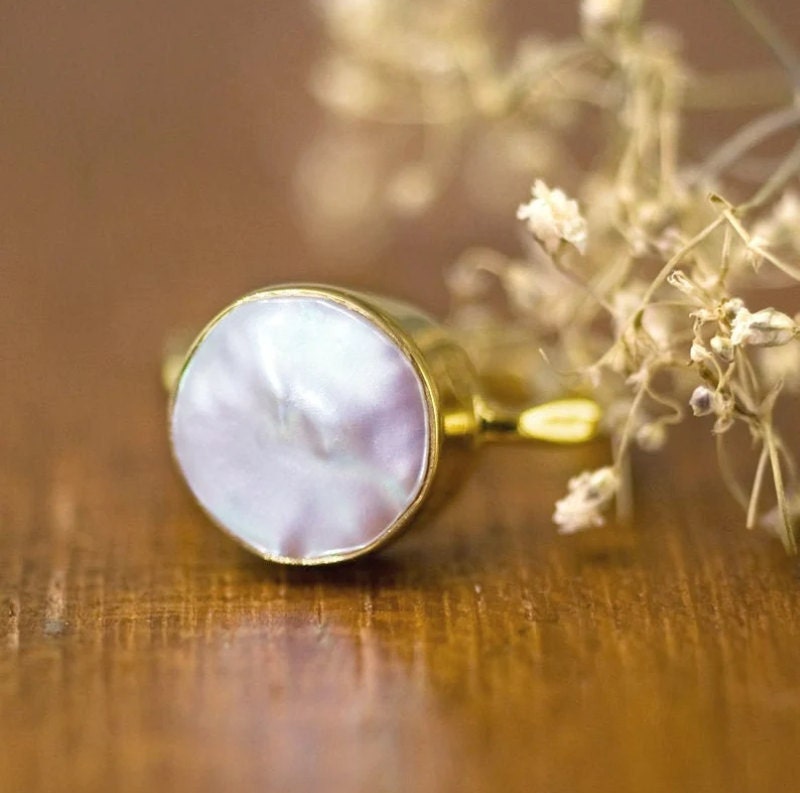 SHOP: Round mother of pearl ring from Delezhen, $66
With a shiny stone set in either 18K gold vermeil or 925 sterling silver, this stunning round mother of pearl ring will make a proud addition to anyone's jewelry collection. One satisfied buyer review reads, "Absolutely gorgeous! Very unique and dainty. I'm in love!" Another explains, "It's big enough to appreciate and stand out but not huge."
5. Dew drop necklace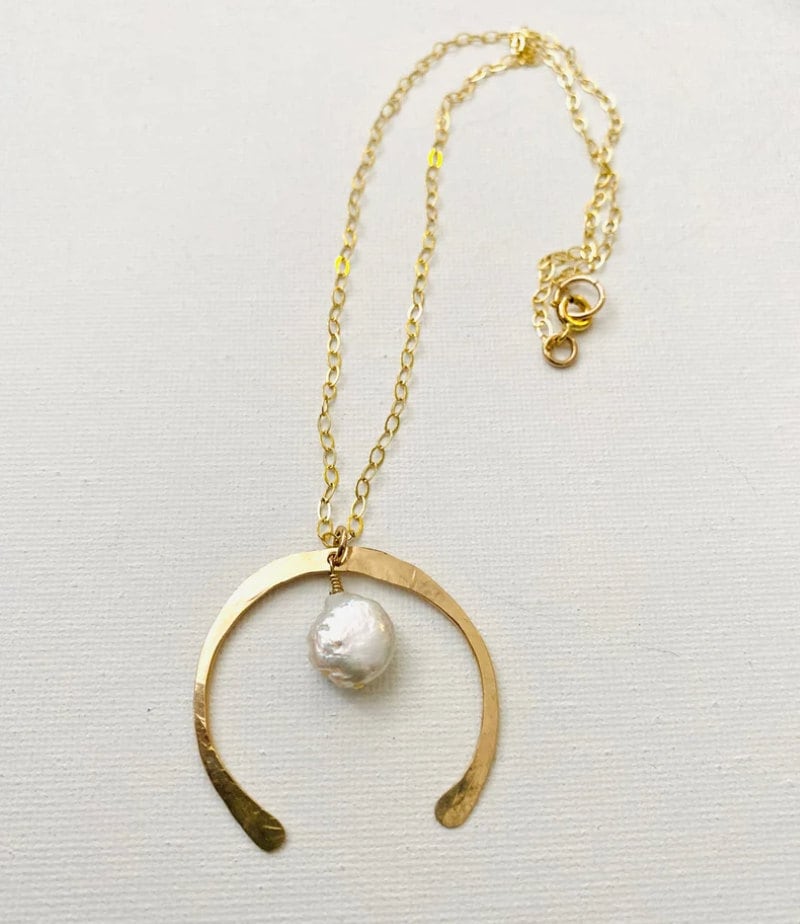 SHOP: Handmade necklace with freshwater pearl from Candid Art, $109
Made with 14K gold fill and a single round freshwater pearl, this extraordinary necklace makes for a very special anniversary gift. One buyer review states, "I can't fully express how gorgeous this necklace is in person. The pendant is so elegant and gracefully designed; it's a beautiful, simple statement piece."
6. Oyster painting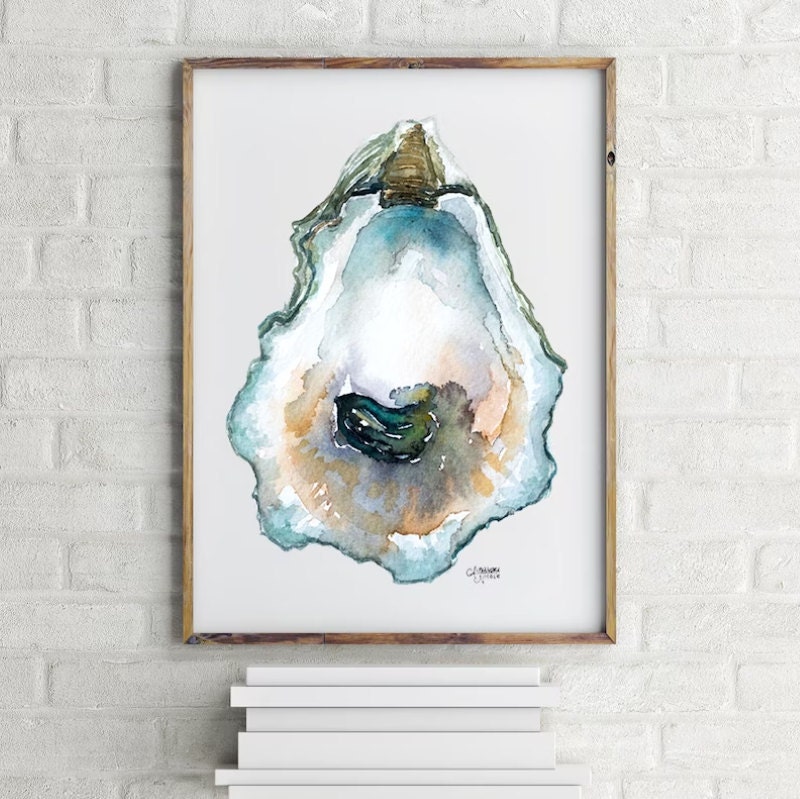 SHOP: Oyster watercolor print from Art By Alexandra Nicole, from $32
For an on-point 30-year anniversary gift for a wife or husband, this extraordinary piece of wall art will liven up any room, and always serve as a subtle nod to your 30 years together. "These prints way exceeded my expectations and are just absolutely beautiful," writes one buyer. "The paper quality is superb and I know I will enjoy them for years to come. Everyone I've shown them to are equally impressed. Gorgeous!"
7. Oyster tea towel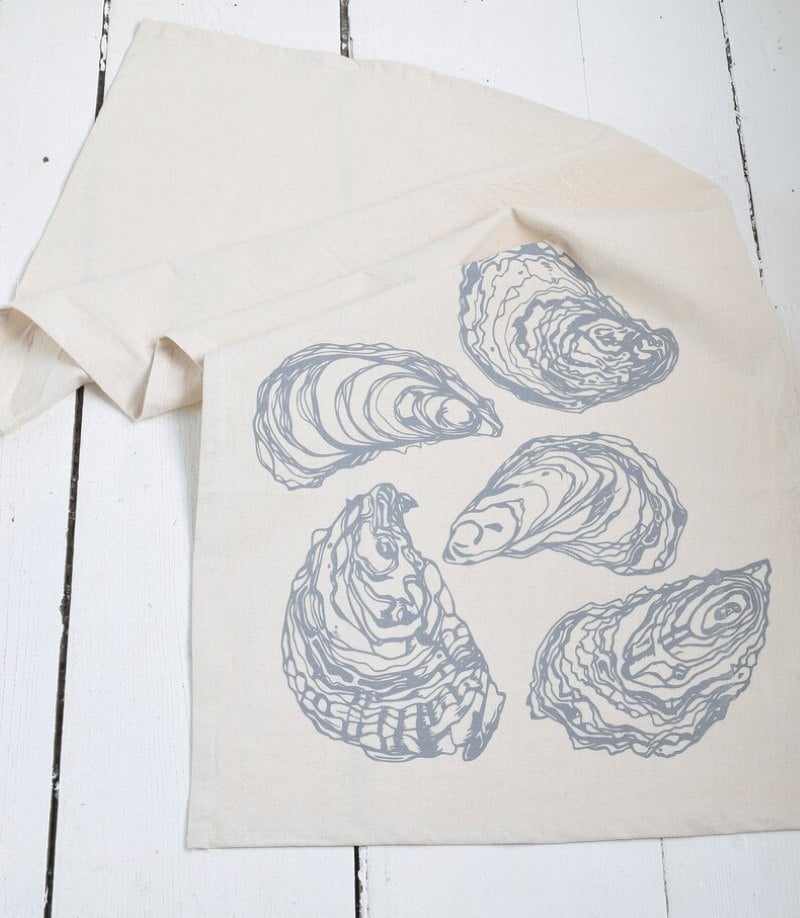 SHOP: Organic cotton screen-printed tea towel from Hearth and Harrow, $20
Simple, affordable, practical, and in-line with the traditional 30-year anniversary gift theme, these oyster print tea towels are made from flour sack cotton and the inking is done by hand. One happy buyer writes, "The dish towels are exactly what I was looking for and the quality feels good. I love the shape (like a Japanese tenugui) so it is versatile in use."
8. Pearl heart necklace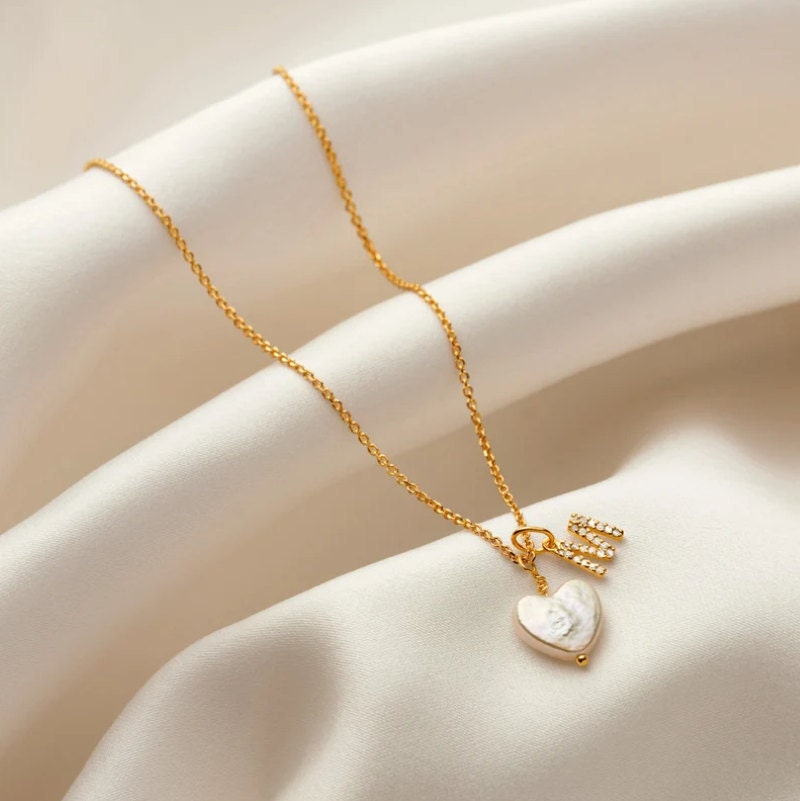 SHOP: Natural freshwater pearl necklace with diamond initial from Claudette Worters, $129
For a jewelry item that's thoughtful with a personal touch, this natural freshwater heart-shaped pearl necklace ticks all the boxes when it comes to a 30-year anniversary gift. Hanging elegantly alongside the pearl pendant is a real diamond-encrusted initial set in 18K gold-plated sterling silver.
9. Oyster candle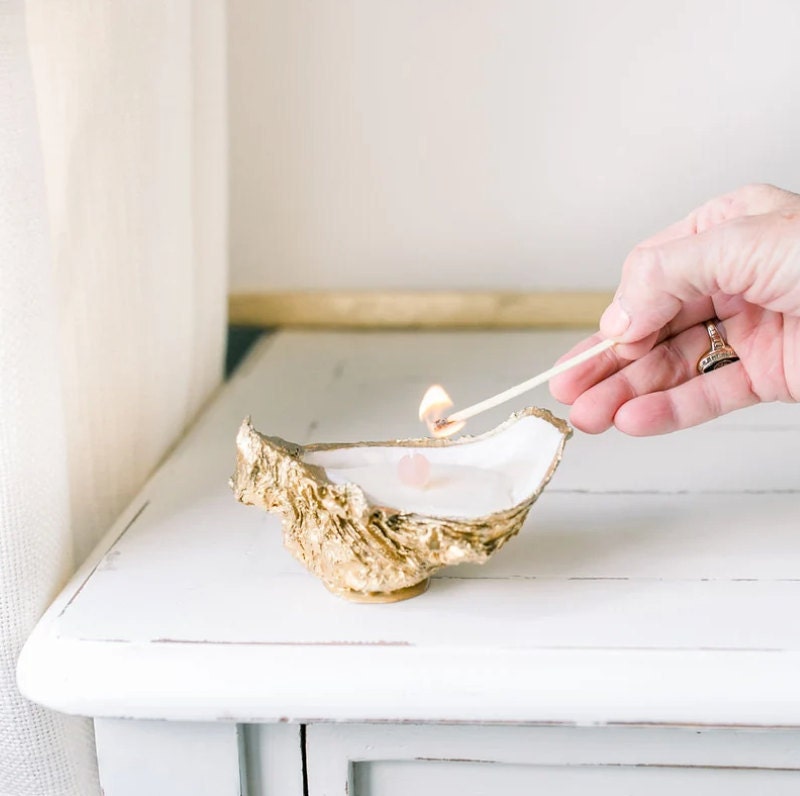 SHOP: Unique eco-friendly wax candle from Grit and Grace Studio, $35
These gold-painted oyster shell candles are filled by hand with a beautifully-scented beeswax that burns for five to seven hours. Once the candle has finished, the shell can be kept and used as a display dish. One five-star buyer review reads, "Absolutely stunning! Such a gorgeous piece with an amazing scent!"
10. Moon and star necklace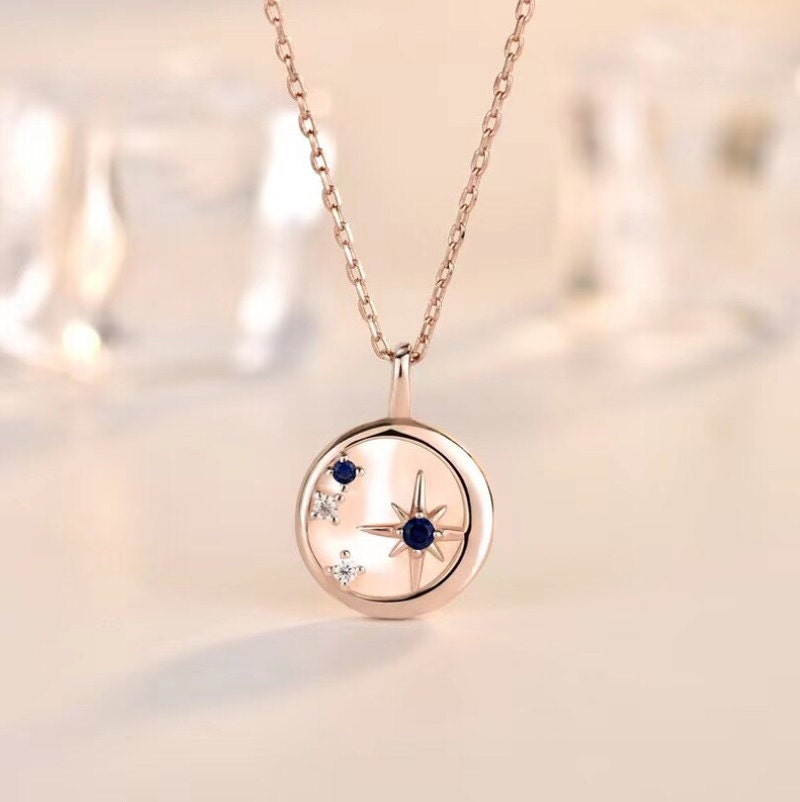 SHOP: Mother of pearl star and moon round necklace from Oh! Moon Jewelry, $38
This dazzling piece with sparkling blue and white gemstones embedded in a round mother of pearl pendant is available in solid 925 sterling silver or rose gold-plated options. Buyers call it an "amazing, beautiful, meaningful, special necklace," that's "super cute" with "a nice weight to it."
11. Teardrop pearl necklace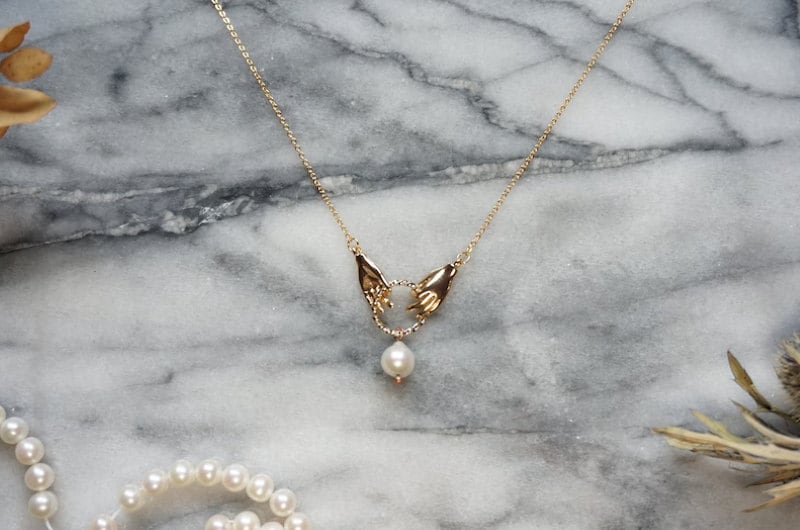 SHOP: Teardrop pearl dainty necklace from Atelier McChang, $34
A truly unique option for a 30-year wedding anniversary gift for your wife, this teardrop pearl pendant dangles from a dainty gold hoop that's gently held by two hands. It's handmade in a small atelier in London, England, and one buyer review reads, "The necklace was perfect, I have worn it almost every day." Another thrilled buyer writes, "The packaging was extra special and reminded me why I shop on Etsy versus large companies. Support small and get better quality!"
12. Oyster decoupage kit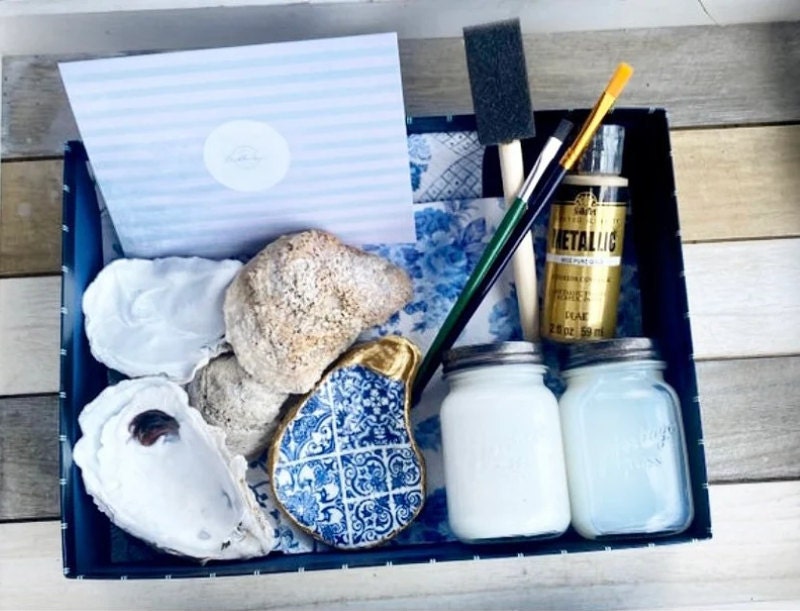 SHOP: Oyster shell decoupage kit from Candle Chicc, $65
For an artsy partner who loves to dabble in a little DIY or crafts, this oyster shell decoupage kit is sure to delight. The set includes five hand-picked shells, decoupage napkins, three brushes, modge podge, small scissors, and clear, step-by-step instructions. "The kit is adorable and well thought out," writes one buyer. "The instructions are easy to follow and the mini mason jars for the paint and modge podge are a super cute touch! Love the variety of patterns included in my kit!"
13. Mother of pearl fruit knife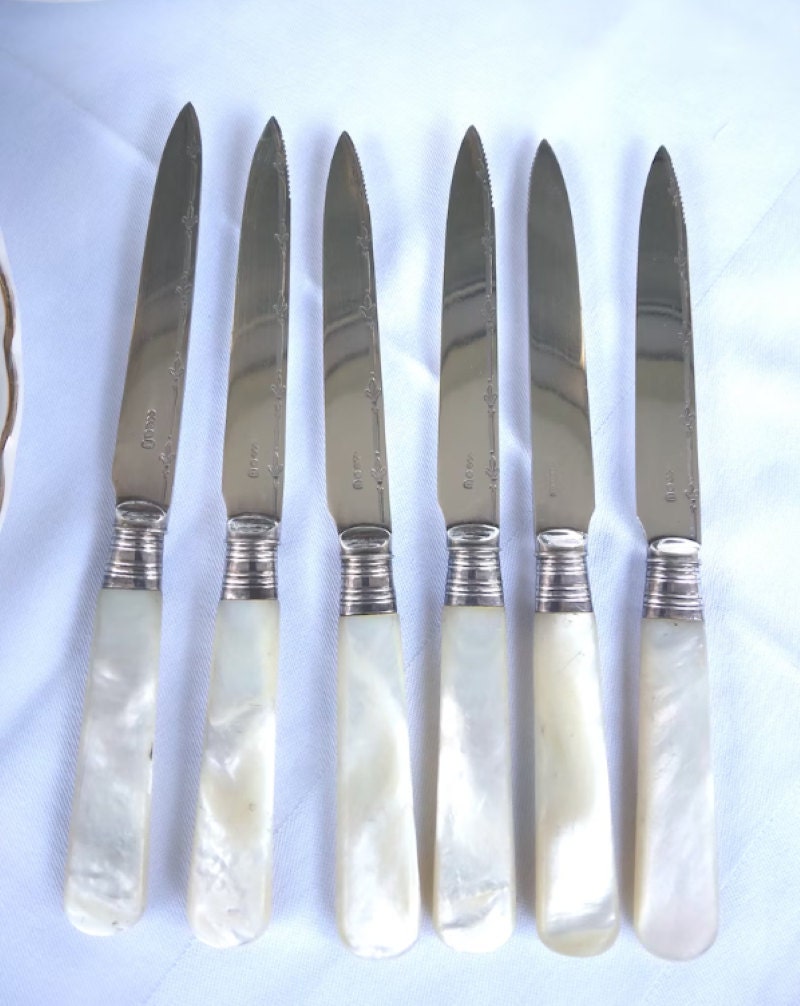 SHOP: Pearl fruit knives from Der Museums Laden, $207 for set of six
Add some elegant shine to your dinner parties with these pearl-handled knives. Perfect for a fruit board or even as a simple butter spreader, these vintage knives can elevate any occasion. The best part of vintage items like these? Each comes with its own history: These knives are likely from the late 1800s, and their slight traces of age mark their authenticity and charm.
Best modern 30th anniversary gift ideas
As well as being a girl's best friend and one of the hardest substances in the world, diamond is also the official modern 30-year anniversary gift. Commemorate the occasion with these glistening beauties.
14. Black diamond and pearl ring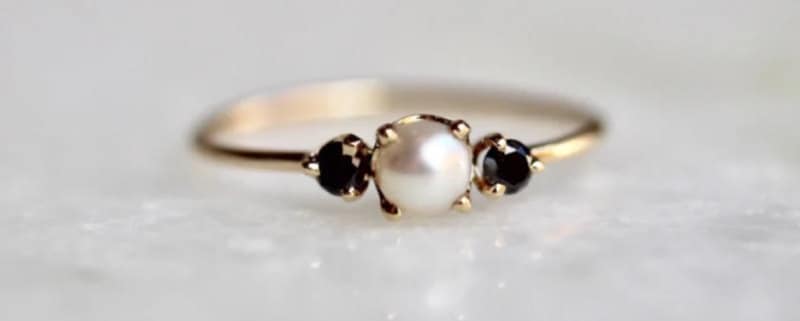 SHOP: 14K gold pearl diamond ring from Liesel Love, $356
Thirty-something years after you presented your love with a ring, you're now celebrating a major milestone, and a new ring—like this 14k gold pearl and black diamond dazzler—is the ideal way to commemorate the event. One buyer review describes it as "absolutely stunning, very dainty, and elegant but not crazy showy," adding that the "little black diamonds have some sparkle… Perfect for me to wear every day."
15. Diamond and pearl alternating half eternity ring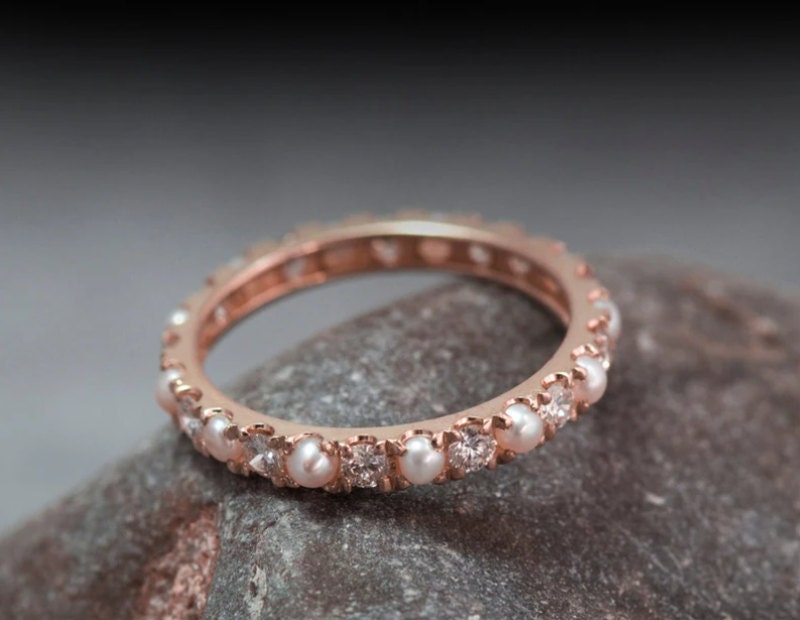 SHOP: Diamonds and pearls alternating eternity ring from ARDONN, from $514
As an innovative way to blend the traditional 30-year anniversary gift (pearl) with the modern take (diamonds), this exquisite and elegant eternity ring features a row of alternating diamonds and pearls embedded in a rose, white, or yellow gold band. One happy buyer writes that "it goes perfectly with my wedding band and engagement ring," and another adds that "it feels like a very antique piece even though it's not. Just the look of it makes me feel like it's from another time."
16. Minimalist gold bracelet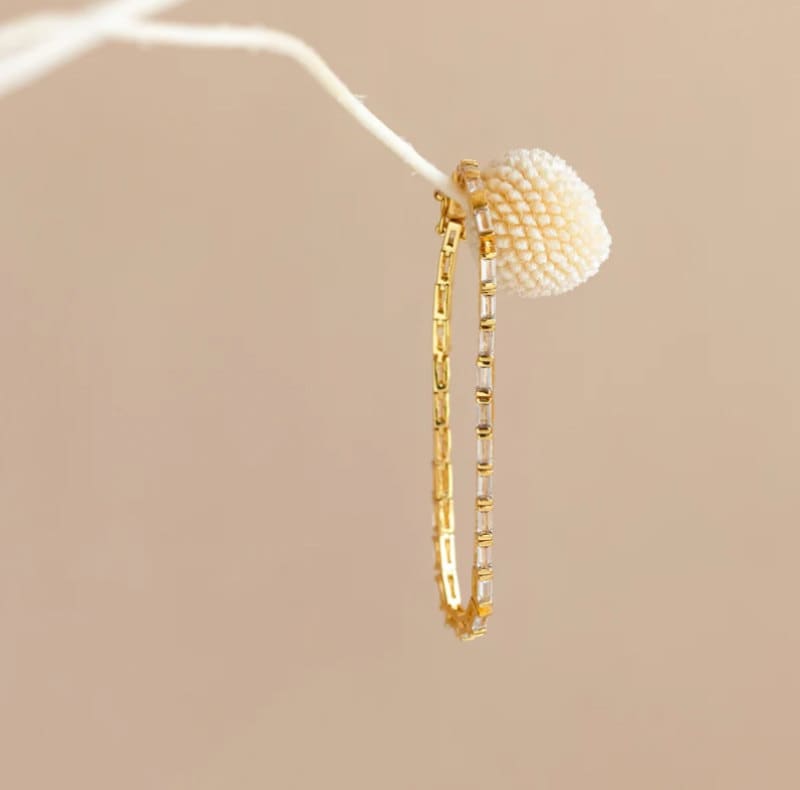 SHOP: Diamond tennis bracelet from Caitlyn Minimalist, $40
For some understated glamour, and to add a little sparkle to any look, this baguette diamond tennis bracelet makes a wonderful 30th anniversary gift—and it's also incredibly affordable. The clasp is magnetic which, according to buyers, makes it extremely easy to put on, and it comes in three different lengths so you can get the best fit.
17. Rose gold and diamond bracelet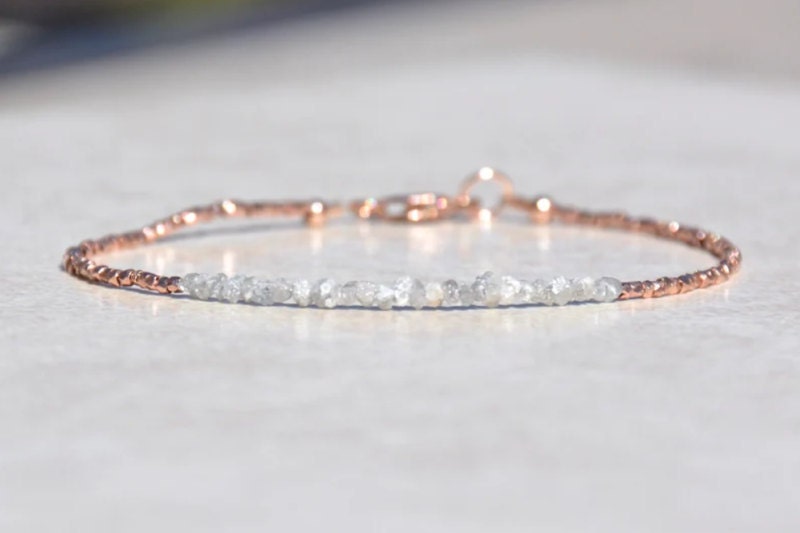 SHOP: Beaded gemstone bracelet from Walters Wish, $84
Handcrafted in a small workshop in Connecticut from shiny and lustrous 1.5mm rose gold vermeil and 2–3mm diamond beads, this dainty bracelet is sure to become your partner's new favorite piece of jewelry. It comes ready in a gift box, and buyers praise the seller's excellent craftsmanship, speedy turnaround, and fast delivery.
18. Baroque pearl-cast gold necklace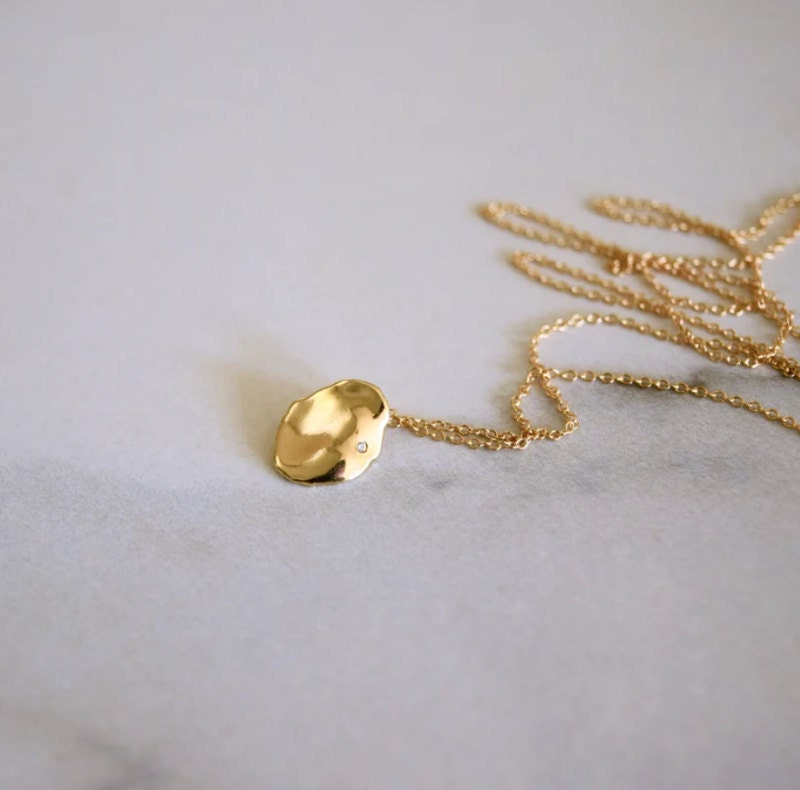 SHOP: Diamond keshi necklace from Everli, from $125
If pearls aren't really your partner's thing, this eye-catching number is an excellent way to thoughtfully incorporate the 30-year anniversary pearl theme into your gift. The pendant is cast from a keshi pearl featuring the stone's natural texture, but there's not a pearl in sight. Instead, it sports a tiny diamond for a more modern twist that adds subtle sparkle, and is available in sterling silver or 14k yellow gold.
More anniversary gift ideas picked by Etsy:
How do we pick the best 30th anniversary gift ideas?
As Etsy Journal editors and contributors research and curate shopping guides for some of the best-loved items on Etsy, we thoughtfully consider the creativity, customization, and craftsmanship that go into each product. We also consider buyer reviews, item ratings, and customer service, and tap the expertise of our in-house merchandising and trends experts to uncover high-quality finds for every budget. You can find more information about each item in the seller's listing details and can take a look at their individual shop policies and reviews, too.